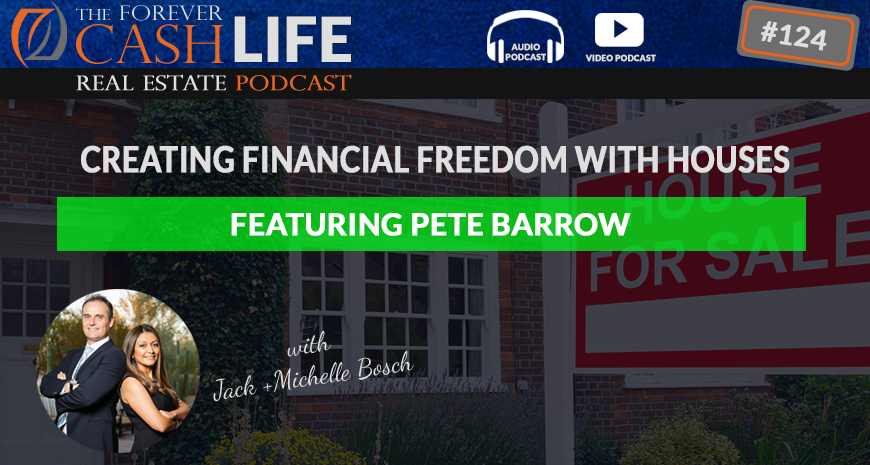 Pete Barrow runs Parrot Property Group – a real estate company based in Indianapolis. In this episode, Jack Bosch chats to Pete about his journey in the world of real estate investing – specifically with a focus on houses. Pete is incredibly hands-on with his properties and has some amazing advice to share with regards to how he goes about picking his investments in order to get maximum returns. The housing market is an incredibly difficult one to crack, but Pete has spent the time to figure out his niche and strategy and has created financial freedom in the process.
Listen and enjoy:
What's inside:
Find out about the Indianapolis housing market

Discover the strategies Pete Barrow uses to maximize returns on his investments
Learn how Pete picks the properties he invests in
Understand how Pete uses his tradesman skills in the real estate industry
Mentioned in this episode
Tweetables:
Transcription:
Jack: Hello, everyone, and welcome to another episode of the "Forever Cash Real Estate Life" podcast. Actually the "Forever Cash Life Real Estate" podcast. I said it the wrong way where it's all about creating passive cash flow with land, with houses, with multifamily, depending on this. Today we're going to talk about creating financial freedom, creating abundance, and doing that actually with houses today. So, it's going to be a different episode. So with that, let's get started in just a second.
Announcer: Welcome to the "Forever Cash Life Real Estate Investing" podcast with your host, Jack and Michelle Bosch. Together, let's uncover the secrets to building true wealth through real estate and living a purpose-driven life.
Jack: All right. So, wonderful. So, we have our guest today is Pete Borrower. Hi, Pete, how are you doing?
Pete: Hi, Jack. Thanks for having me on.
Jack: Wonderful, Pete. So you live in Indiana, right?
Pete: Indianapolis
Jack: In Indianapolis. All right. Wonderful. And tell us a little bit of your story. So, you created in essence, wealth, financial independence with houses. But before we jump into that, let's just share your background. You have not always been in real estate. Tell me a little bit about how did you get into real estate? What's your story?
Pete: Well, I was a carpenter, cabinet maker, handyman for 35 years and we lived on the East Coast, the D.C. area. I always daydreamed about getting into fixing houses and renting them, flipping them. But it's very expensive to get into that business. A few, about five years ago, six years ago, my older son, Sam, started driving around the country looking for a place he liked better than D.C. And after being all over the country, he settled on this place. And it was just so pleasant here. But part of it was the economy's steady and there's a lot of beautiful housing stock that's affordable.
Jack: Right. Yes. Particularly over the last probably a bunch of years there. Indianapolis, Indiana was very, very affordable. Prices have changed a bit, right?
Pete: It's really rocketed up.
Jack: Yes, absolutely. That's what I heard. So, I'm personally not active in Indiana but I have done a few land flips there. So then you moved over here. So then what happens, what's the next step?
Pete: Well, he found a house and bought it. And then we didn't really have it in our mind yet just what to do or even if we were going to be in real estate like this. But then we found another house, a foreclosure, and then we found a house that a landlord wanted to get rid of. And so now we had like five doors and I was driving out here spending four or five months a year working on the places. We got an…someone that I knew just offered out of the blue to invest with us and put a pile of money into a big package of duplexes that Sam, my older son, Sam, found for them. Suddenly we had a big portfolio that didn't belong to us but we managed it and shared the profits. Over the next year or so, we managed to get financing and buy them out. So, we got a big chunk of…we had, we were up to 30 doors within a couple of years.
Jack: All right. So let's jump into that. So, you're really, you are basically a handyman, carpenter working on these kinds of things for other people. Then your family wanted to move to Indiana. So, you spent a bunch of time here and you kind of stumbled into getting one house, another house, another house. And then what of that part? Did you make any kind of like an all of a sudden somebody else invested, then you guys managed and you bought them out. So, all of a sudden you own like 30 houses, even though you had never really before owned that many. You owned perhaps your own house, I would assume, but other than that not. So, what triggered you to say yes to those things?
Pete: Well, my son and my older son, Sam, he has always been entrepreneurial. And when he came out here, he was already starting his own little web hosting and design company. And so it was, he had the entrepreneurial skills and he understood finance, and I knew about houses. And then my younger son, Isaac, was managing a pizza place. He came out here. And so, we had a guy who had management skills and negotiating skills. So, we've got a guy who's really good with technology and strategy, a guy who's really good with management and day to day stuff, and then I can do anything on the house. So, it just seemed natural to do this. We have just about everything we need in-house.
Jack: That is beautiful. So, this is really cool to see so. First of all, you got this, a family together, which you as a dad, that's probably delightful because you get to have your kids around, right? So many families don't have the kids around.
Pete: Yeah, no, it is.
Jack: And secondly…so, that does make sense. Now, from an internally, I want to dig a little bit deeper here. And that is just like going to that and taking on, I mean, if you take on 30 doors, I mean, even at the prices back then in Indiana or when that happened a few years ago, that was not nothing to take on. It was not a $50,000 loan to take on for 30 houses. That's probably in the seven figures or close to it. So, how did that feel taking on that loan?
Pete: Well, believe it or not, our investors bought those 13 duplexes for something like 800,000 bucks. And when we bought them out, we didn't get all of them. We got like 10 of them. So, actually we got 20 doors plus another 5 that we already had. So, we have 25 doors. But yeah, there are three of us and we each got mortgages and Sam arranged all that. He's very good at digging around and finding financing and so forth. How did it feel? It felt fine because these places were, most of the mortgages were around 50,000, 60,000 bucks. And we had to put a lot of work into the places but, you know, well, a lot, 20,000 bucks a house. I'd say we're about 70 into each of these houses. But, you know, we had good tenants pretty soon and all of them, we could see they're in an area full of old '20s duplexes that were built, there was a big oil boom in Indiana in the '20s. And they built a lot of big, beautiful houses here. Some of those neighborhoods have really gone downhill, but now they're coming back up. And this is in area that's right between an old established area and a hot new area. So, it seemed bound to come up.
Jack: Okay. Wonderful. So, in other words, the reason why you felt, I mean, I'm talking about that, the reason I'm asking for that, because when we teach our real estate technique to people and they tell us the stories or even when I remember when we first started then and we needed to take on our first, like when we talk about our first mortgage, even on our own house that we lived in, I kind of felt like the responsibility, now I owe this money, right? And then we started with, when we bought our first a hundred unit apartment complex and took on a $4 million or $3.5 million dollar mortgage, I was like, "Now, I owe this money." And so, it's kind of like, as you step into the unknown, you prepare as much as you can and as much as you possibly can.
But there's always this thing when you put the signature on there, it's like, well, based on what everything it looks like this will work out. But there's still this moment like, okay, now I owe this. What it sounds from you though, that you guys also did your proper homework, you knew the location, you have somebody on your team, your son, that has done the numbers 100%, that you guys communicate well, is that fair to say? So did you really looked in there and it's like, well, this is a no brainer. Let's do this, right?
Pete: Well, it's always a risk and I know exactly what you mean about that moment where you're like, "Oh," when you sign the documents. I would have a lot more of that with a 100-unit apartment building. But yeah, we each only had a few mortgages. And I think the key thing that's made this whole business work is we're not just buying stuff wherever we can find stuff. This was a very promising area that was already starting to come up. It was about half beautiful rehabs and the other half a mix of people who've been living there forever and literally houses falling over sideways, vacant lots where houses had been torn down. So it was a real mix, but it was starting to come up, you know, it was a very good bet. You can't be 100% sure ever. It was a good bet and it did not seem it was ever going to be hard to get tenants or to resell the places.
Jack: Okay. Wonderful. So, yeah. So, that's it. I'm trying to get into the thinking behind it that you can go and make those decisions because a lot of people struggle with that. Just that right, that decision, that very first one, are they being able to pull that trigger. And particularly if the very first bigger one, because buying 1, buying 2, buying 3, but all of a sudden getting 20 doors is a little bit bigger step and so on. So, I appreciate that. Appreciate that you explaining how, why that was not that much of a thing. And it goes to show that you've got to do your research. You shouldn't be just jumping around everywhere just for the fun of it. And that's how you got burned. You got to do the research.
When we invest in our apartment complexes, we pick markets based on exactly that. We know where they're going, we know about, well, nobody knows exactly where they're going. But we know where they came from. We know what their growth was. We know all of those extra details. And as a result, we can be going in very, very confidentially, just like you to it. There's still that little like, now I owe it. But then you know that rationally speaking, all the tools are at your hand to make this thing work. And you guys have that too. So, now you have 25 units and they're spitting out a nice cash flow and you're continuously…and that's obviously a wonderful thing, right? When you're all of a sudden getting cash flow. Now, all of a sudden though, you just, you said you sold them, right? Or earlier before we started the call, you said you sold them.
Pete: We've sold a lot of them. Let me go back and respond to something you just said. I do like that attitude that this is not like a football game or something. It's money. You know, people empty out their life savings in their kid's college fund and buy stuff with it. And often, I don't like to be negative, but as part of our wholesaling business, we buy a lot of properties from failed investors, which means there are a lot of failed investors. And failure to do that homework, you know, just buying because you're excited is not a healthy thing for, you know, to do with your money. Anyway.
Jack: No, I agree 100%.
Pete: Well, I forgot what your question was. Sorry.
Jack: The question was why did you sell them now?
Pete: Oh, well, you know, when we bought them we thought we're getting these cheaply. It's an up and coming neighborhood. The city is stable. In 20 or 30 years, these things will have doubled or tripled in value. And then we'll look at selling them and buying in a whatever neighborhoods cheap then. Well not we, because I'll be gone. But what happened is in three years, they doubled and tripled in value. So, we have pretty strict standards about, you know, we don't want to buy the thing unless the return is a good proportion of the investment. And if you have $70,000 in a duplex and you're getting 1500 bucks a month in rent, that's pretty good. But if it turns out you could sell that duplex for 180,000 bucks and you're still only getting 14, 1500 bucks in rent, that's not so good. So, whether this is really the peak of the market or not, no one can know. But what I do know is those places are no longer returning enough to justify keeping them. We can take that money and put it in neighborhoods that have not come up but that are showing the same kind of promise, but they might, you know, after the next 10 years cycle or whatever.
Jack: Right. So, I like that. In the finance terms, that's return to basically you're looking at return on investment versus return on equity. And in the finance world, return on investment is what's most everyone looks at it. It's like, "Oh, I bought this house for $70,000 and it's part of this duplex and it spits out $1,500 a month." That is awesome, right? I'm paying a $400 mortgage with escrow and taxes and everything and I'm making $1400, $1500. So, I'm netting, let's say net $800 to a thousand dollars after some repairs and vacancies. So this is fantastic. But so this is now 15% per year. Let's say if your net a $10,000 a month, a year on each of them, that's a 15% year to year return on the purchase price. And if you put in only on the down payment, it's a huge return.
So, that's fantastic. But if you look at it return on equity, the equity in that deal now that you have is probably $130,000. And now the thing spits out $10,000 based on a $130,000, well that's only in 7 or 8% return. So, now if you can free up that equity and rolled it over into other into literally like two or three more of these duplexes that you now fix-up. But now each of those are at least two of them and each of them now brings in, now you're getting making $20,000 on the same money. Now you're back into the 12% to 15% returns on that money. And that's very, very smart. That's very smart to do that if you know where you can move the money in afterwards, right? And obviously, that's something that you guys know how to do.
So this is why, again, parallel, this is what we do with the apartment complexes. We tell our investors that we have a three to five, five-year holding period, but really the goal is to optimize them within three years, sell them so that we can take that, all that bigger appreciation that we force through the increase in incomes and then roll that over. Because if we would hold it forever, it wouldn't be, the returns wouldn't be…the value is now $10 million on that deal, let's say. And we're still only making this and it doesn't make sense anymore. So now you roll it over and you use that money and get another deal that's on the lower end and bring that back up. And then, so, it's not fix and flip. It's like buy and hold but sell when the numbers make sense.
Pete: Yes. And that's one of the hardest things. I have no business background and it took me a while to get used to the idea that whatever the place is worth right now, that's how much money you have in it. It doesn't matter how much you spent on it. If it's worth 180,000 bucks, you're leaving 180,000 bucks lying there. Now, we've had extraordinary luck at buying into places that took off. And part of that, I think anybody could have done it over the last few years. But we have really just shopped and shopped and bought, you know, 1 house out of every 100 or 200 that we look at. And we've gotten a lot of them that just the neighborhood, you know, a lot of them have turned into what I call accidental flips, where by the time we get the house fixed up, you know, and then that might take us a year to get to it. By the time we get the house fixed up, the neighborhood has come up so much that it might've made sense as a rental when we started, but it doesn't make sense anymore. We sold a house just a few months ago that was across the street for a warehouse where the, it housed a recycling business for returning felons.
And so that's not very high end. But in the year it took us to get around to fixing the house up, that warehouse is filled up with hip little coffee shops and brewpubs and craft shops. It's now a hipster paradise and they're building a place around the corner with a movie theater and coffee shops. And we sold the place for, you know, twice what we have in it. It just would not have made any sense as a rental at all. But we did all the work thinking we had a rental when we got to the end, oops, it's a flip. That's an accidental flip. And we've had a lot of those lately.
Jack: And that's okay. I mean, what I hear from you though is very clear and I want to make sure that our audience here said very clear that you got to know what you're doing. You got to know, like you said one thing that you just skimmed over very quickly, that you're buying one property out of every hundred or 200 that you look at. Like, this is what people do wrong. This is what people jump into it. That's why you buy from failed rehabbers here because, or failed investors, because they buy one out of every five they look at and because they're so eager to get one. And so, and the other part again, I want to reiterate, that if you're in the housing business, you've got to have all three pieces. You've got to have the finances down, you've got to have the negotiation down, and you've got to have the work down or at least be able to manage the work that's on. That's why you guys have someone who runs the numbers. You have somebody then that can negotiate. And the three of you have a good look at the market and you wouldn't have bought that house that you accidentally turned into a flip because you wouldn't have bought it if it was a neighborhood that was going down. You already knew it was an upcoming neighborhood. You just didn't think it would up come up that fast.
Pete: Right. That's exactly right. There was enough stuff in place nearby that we thought it was fated to happen eventually. [crosstalk 00:18:38]
Jack: Exactly. So, you've got to look at those things of what's happening and then based on those, you make your buying decision. So, there's a lot of research in it. It's not just buying something, fixing it up, particularly now that we're like 10 years into a boom cycle, a lot of people do that wrong. It's even more important that if we hit any kind of like a snag or any kind of like, and I don't expect any kind of major crash whatsoever. I expect a settling of prices for a little bit. But that doesn't mean that certain neighborhoods are not continued to be redeveloping. So, even like when Detroit fell apart, then everyone had moved out of Detroit, the inner Detroit, the people who were in Detroit moved closer in and entire areas in the City of Detroit were completely redeveloped and prices shot up there.
But 5 miles outside or 10 miles outside, houses, where rows of houses are abandoned. So it's always…you've got to keep your eye on that. And that's very, very useful for both…particularly in the house flipping area. Because on the land flipping, when you buy for 10 cents on the dollar, you can make money in a downward market. But in the house area, you usually don't have that luxury. So very, very kudos to you. My hat goes off to you for you guys, for really having honed in on that. And that's also going to…I believe that's also going to carry you through any kind of like adjustment in the market because you guys know where to invest. And deals can be made in any market, particularly in a shifting market.
Pete: Let me say a word about that. Yes. We have continued to buy, it's just slowed way down because even in this horrible, it's a terrible seller's market. It's not a good market for us. Even in this, with our wholesale business looking at so many houses, we turn one up once in a while. It's just now we're buying 3 houses a year instead of, you know, 20. So, the other thing I wanted to say is the way to gauge these neighborhoods, I think it also really helps that we have all these different skills. Because my sons will sit at the computer and look at comps and look at, you know, and look at what's going on and look at prices. I'm just out driving around and looking at the neighborhoods all day. So, if there's a new flip on a certain street that wasn't there last week, you know, I'm going to see it and I'm going to see what, just what kind of people are walking around. I'm going to be out and talking to people. You know, I read the newspaper, so if there's some industrial thing, there's some commercial thing going up, I'll know about it. Well, they will too. But I think it's really important to…I think it really helps that we are kind of hands-on that I'm out. They're getting into the technical stuff, but I'm out doing the work and talking to people and seeing the neighborhoods. And you just get a feel for what's happening, what's promising, what's not.
Jack: Yeah. You have your ear on the ground in other words, and you constantly drive around and you see, oh, there's popping. This is popping. There's a bunch of hipsters moving in, there's a coffee shop opened up. And then all of a sudden it's like, okay, there's something moving here. And that's the key to it. So, you can't really do that remotely all the time. That's one of the reasons I go frequently to the places where our properties are located, our multifamily properties for that matter. Because I want to walk around the neighborhood. I want to see do I want to buy more there. And then when a new opportunity comes up, we look around there too because it's that the neighborhood it's in plays, of course, a big role. So, wonderful. Great.
Pete: I always tell people if you're thinking about buying a house, you know, go there on Friday or Saturday night when it's dark and just sit there and turn off the car and just see what happens on that street. And you may learn an awful lot. And that seems kind of obvious but no one seems to do it, you know.
Jack: Yeah. And if you're afraid of doing it, it might not be the right house.
Pete: Yeah, exactly. If you don't want to be there, then you know, do you want the kind of tenant who's going to want to live there?
Jack: Exactly. Right. So, that's great advice. So, I really love it. Thank you very much. This is really beautiful story. So, now as a result, how would you describe your life?
Pete: It's constant work but it's very satisfying. It's, like you said, it's very nice being in business with my sons. And I won't pretend it's all beautiful every single minute of the day, but basically it's good and I'm just incredibly pleased at their accomplishment and, you know, we work reasonably well together. But whatever comes up we have to push through it because it's not just business, it's family.
Jack: Yeah. Absolutely. But at the same time as, because it's family, you're able to push it through with it because you can yell at each other and then the next 10 minutes later, hug each other, right?
Pete: Something like that. I mean, what choice have you got, but…
Jack: That's right. And that's like same with my wife and I. When we work together and we yell at each other for 10 minutes later, we hug each other because we're committed to each other for life. So, there's no other choice, right? We got to, otherwise, we all put some thinking into what just happened and then we get together and talk it out. And then it's clear but then we move forward from there and both learn something in the process. So, wonderful.
Like a lot of our investors are like, let's say, beginning investors that are considering, some of them, I mean, obviously, we usually don't talk much about houses because of the hassles that come with it and things like that. But you got your beautiful model off actually having your pieces together because you have the different, the analysis, the negotiation, the comps, the thing that the computer savviness and the handyman, the hands-on ability altogether in one family. So, and that's obviously a key thing. So, if somebody wants to get started in real estate though, and hasn't started yet, and is kind of on the fence what to do, what kind of words of advice would you give them?
Pete: Just start learning. You know, it would be great if you had some tradesmen skills. Now, a lot of people sneer at that advice because they'll tell you the worst thing you can do is work on your own houses. But, you know, you should be thinking about rolling your money over faster and faster. But there are different ways to do this. Our way is to scurry around like rodents and pick up the little crumbs that we think are valuable but no one else wants. And then to rehab them well and cheaply with our own terrific crew, manage them ourselves to keep the money in-house. So that's a way to get into this without having a swimming pool full of money. If someone wants to get into this business, I'd say the most important thing is just make sure you're in a market where you can do it. There are a lot of people from California who tell me that you can barely afford your own house and it's all you can do to have a place to live and that investing is just horribly expensive.
Unfortunately, a lot of them are investing out here without ever having been here or seen the place and those people are not doing very well. We actually moved to here to be in a market where this was possible. I don't know if many people want to do that. I do know one out of state guy who's moderately successful. He's from Colorado, but he comes here and spends months at a time. He keeps a truck and tools here. He knows everybody in town. Everybody knows him. He knows the neighborhoods better than I do. And he's bought pretty smart. He even, he's made one pretty big mistake and I think that's going to cost him. But by and large, he does pretty well.
Jack: Awesome. And that is actually something else that people, it's almost said like Jack, well, if I want to get started, prices are so high here. Well, then move, right? Luckily, God made us in a way that we are not trees, right? We weren't put into the ground and we can't move. You can pack your stuff, go out there and move. And, of course, this can sound scary, but as I just posted on Facebook a couple of days ago, everything you want is just beyond heart, right? It's just on the other side of heart. So, therefore, if it sounds scary, perhaps that's just the thing that somebody might have to do. So, kudos to you. Congratulations to your success. I love what you guys do. I love that it's a family operation.
I love that you're doing this the right way. And with that said, I am going to conclude the podcast right now. So, thank you very much, everyone, for watching this. Seeing their success story in houses, which we usually don't cover much of, but in this case, I'm super excited. I was super excited to have Pete on the call so he can show how a family can, with some really solid core values and the ability to work together, different skill sets, put their skillset together to succeed in the highly competitive and highly competitive house world. So, with that said, if you enjoyed this, give us a thumbs up on YouTube, give us a five-star review on iTunes and other platforms. You might watch this and share this with your friends. And then with that said, thank you very much, Pete, for being on the line with us.
Pete: Thanks, Jack, for having me. I neglected to even mention the company name, which is…
Jack: Oh, go ahead. Yes, absolutely, please.
Pete: Which is Parrot, P-A-R-R-O-T. So, we work with wholesalers, buy and hold, management.
Jack: If somebody wants to buy properties in Indianapolis, go contact Parrot. Do you guys have a website?
Pete: We do, parrothomebuyers.com. And I can give you a phone number.
Jack: All right. Sure.
Pete: (317) 204-2900.
Jack: All right. We'll put all of that into the show notes. Sorry, I almost forgot about that. Great. If you have properties out there in Indianapolis, in good and upcoming areas, as you saw, you can contact Pete and his family and his team and they'll can hook you up. Right. With that, thank you very much. Have a great day.
Pete: All right. Thanks, Jack.
Announcer: Enjoyed this episode? Then make sure you like, subscribe, and post your comments and questions below the video. We're looking forward to hearing from you.
Enjoy this podcast? Share the love!