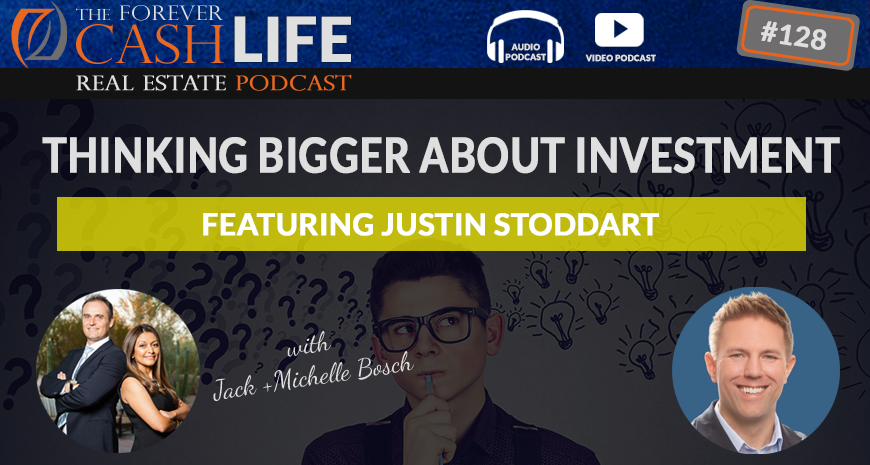 Justin Stoddart is an advocate for the real estate industry and recognizes the urgent need to help inspire real estate industry professionals to think bigger. As an industry challenger, educator and leader, Justin is intent on helping to reshape the value proposition of the real estate industry to the consumer while helping real estate agents have stronger businesses and a better quality of life, so that they have lives of great significance and impact.
His efforts include hosting the Think Bigger Real Estate Show where every day he interviews one of the biggest thinkers and highest producers in the industry. Justin is also an author and a nationally recognized, award-winning producer and speaker/trainer.
In this episode, Jack Bosch speaks to Justin about the entrepreneurial mindset – Justin has a ton of incredible insights into how you can take your career to new heights by thinking big. You'll get some practical advice into how you can change your habits and patterns of thought so that you can stand out from the crowd and become a thought leader in your own right.
Listen and enjoy:
What's inside:
Learn about Justin Stoddart career history

Discover how you should be thinking about your value proposition
Learn the power of a abundant mindset
Find out why you need to invest in yourself
Mentioned in this episode
Tweetables:
Transcription:
Jack: Hello everyone and welcome to another episode of The Forever Cash Life Real Estate Podcast. I'm your host, Jack Bosch here. And I am excited to talk about thinking bigger today, right? Thinking bigger today, and I have a special guest here today. His name is Justin Stoddart. Is that how you pronounce it, right? So…
Justin: That's perfect, Jack. Perfect.
Jack: Wonderful. So with that, Justin but…We're gonna get started in just a second. I can't wait to talk about how to think bigger because you are an expert in thinking bigger. So with that, let's get going in just a second.
Announcer: Welcome to the "Forever Cash Life Real Estate Investing" podcast with your hosts Jack and Michelle Bosch. Together, let's uncover the secrets to building true wealth through real estate and living a purpose-driven life.
Jack: All right, and here we are back with Justin Stoddart. And you're the host of the "Think Bigger Podcast." Is that correct?
Justin: "Think Bigger Real Estate Show." Yep.
Jack: The Thinking Bigger Real Estate show. So, tell us about what brought you to…Oh, give us a little bit of your history. And tell us about what made you create a show that's called the "Think Bigger Real Estate Show?"
Justin: Yeah, a great question, Jack. So my background is I was a high-end home builder for a number of years. 2009 hit and I like to say, it gave me a great opportunity to choose a different career path. You know, sometimes you get in a career, and it's making you good money. And there's really no way out. It's it feels, right, your lifestyle is gonna match your income. And I didn't love what I did. I didn't realize that until the crash. I really had the opportunity to ask myself, "Is this what I wanna do for the rest of my life?" I loved parts of it, but I didn't love most of it. I didn't love building homes.
My passion was building people. My passion was building business. And unfortunately, I spent way too much time building homes. And so I got the opportunity to kinda reevaluate and redesign what I wanted to do and was recruited actually by a title and escrow company, one of the largest in the country, who was launching a direct operation in the Portland, Oregon market. And they knew I had some background in business strategy, business development, and recruited me to come work with them. I really didn't think I would be here for very long. I'm a serial entrepreneur. Was raised by serial entrepreneurs. And I just assumed that that would be an interim stint until I launched my next company.
And what happened kind of changed my perspective. I was fortunate to work for somebody that understood me, that knew that I was an entrepreneur at heart, and allowed me to do things very, very differently. Rather than just showing up as a customer service representative, they allowed me to start to become a leader in our industry. And so one of the ways in which I have been able to do that is by launching my own brand, my own show called "The Think Bigger Real Estate Show," in which every day I get the opportunity to interview big thinkers, like you and your wife who are some of my favorite interviews up to this point, but people that really help us to expand…
Jack: Michelle is great.
Justin: …our own possibilities.
Jack: She really is the thought leader in our family, and is the think bigger leader definitely.
Justin: Yeah. So, that experience has given me the ability to expand my network, expand my thinking, expand my possibilities. And, you know, at the end of every one of my shows, I get the good fortune of asking people like Grant Cardone, and you know, some other really big thinkers, "What's something that somebody like you, a big thinker, does to continue to expand your possibilities and expand your thinking?" And so I get these giants pouring into me on a regular basis, really helping me to craft kind of what my future can look like, by following their advice. So, that's why the show came to be. It becomes a value-add to those that work with me, and a value-add to the audience that follows. And also a kind of a deeply personal growth plan for me.
Jack: That's wonderful. So now, you work in the title and in industry, correct?
Justin: That's right.
Jack: Right. So, you've been…In the previous session, before we got started on the podcast here, you told me that one of your passions there is to actually not just do title work and things like that but to actually become a leader in that industry. And you do that through the podcast. But what created that craving in the background? What's the goal of that? Was it, like, you said something about, that most title companies just wanna be customer service reps, and you wanna be more. Explain that part of it. Why is there a need to be more than customer service reps?
Justin: You know, it's a great question, Jack. You know, I think…and just to clarify for your audience, I don't actually have the responsibility of doing the escrow work and doing the title work. I'm a business development representative. So my job is to go get new clients. And I realized that if I were to show up as a typical customer service representative, typically, what that entails is me showing up either as a solicitor or as a vendor, meaning I'm there to try and replace an existing service without adding additional value. It's simply saying, "Hey, you have a problem solved. I'm gonna try and solve it a little bit better." If you've ever read the book, "The Blue Ocean Strategy" that puts us in a very bloody red ocean, where we're filled with other people that are all competing on this same premise.
And that causes price wars and it just causes an unfavorable work setting, both for myself as well as those that I'm approaching. I realized that if I wanted to create a blue ocean that I needed to solve a problem that had not already been solved, that I needed to come with value that was not being taken care of or considered by my competition. Yet most of my competition, I would say, and even myself when I got started, we set out to identify what is a problem that is not already solved from our customers. And so that's kind of where it began to answer your question is, "How do I solve a problem that's not already solved?
Because if I show up to solve something that's already solved, then I'm gonna quickly get the stiff arm. So, part of it was just me being stimulated by the career that I had chosen. But another part it was, I didn't feel like I was doing my customers a service if I was there solving a problem that they had already fixed. They already had a title and escrow company. If I was there to talk about apps that they could put on their phone that my company produced, they're probably the same apps or very similar to the apps that my competition was putting on. I needed to really elevate the conversation, and be able to come in and truly lead. And not just be there with my hand out looking for business, but to lead them and be a peer to them, and a mentor to them in areas in which they had problems that had not yet been solved.
Jack: All right. Very cool. And that is…I love that subject because it really brings us to the leadership aspect of things, that most people just stand on the street corner, or on the virtual street corner of Facebook or somewhere and just scream, like, "Buy my stuff. Buy my stuff," but they don't really give people a reason to buy their stuff. More than anything, they don't put themselves in a category of one. Instead, they go to do a race to the bottom on pricing, or they do a race to the…or whatever it is. They just add a few extra services or something like that. So, what did you come up with? Like, what did you come up with as one of the points that put you in a blue ocean?
Justin: Yeah. You know, what I realized is that the typical brokerage model puts agents very much in silos. So, you've got the Keller Williams silo. You know, you've got the RE/MAX silo. You've got the Coldwell Banker silo, the XP silo. That because these brokerages compete against each other, they oftentimes don't really open up to let everybody in the door to learn together. Now, if they do, it's very much under the premise of, "We're gonna recruit you to our brokerage." And so I set out to create a mastermind series, in-person mastermind, that allowed me to pull people from all the top brokerages in my area, bring them together, and sit at the table with them as a peer helping solve business problems.
I realized that me coming from the outside as a vendor, per se, or in their eyes, a customer service representative, that I needed to elevate their perception of me. And the best way for me to do that would be to demonstrate value. Again, not just have a pitch, you know, a better 60-second commercial, but to really invite them to a setting in which they would be surrounded by other top-producing professionals that would allow those top-producing professionals to teach each other, and at the same time, give myself the ability to show that, "Hey, I've been a business owner most of my career. I can hang with you guys. And I'm not just here to facilitate the meeting, and maybe buy lunch. Like, we're here to actually talk about business."
And I knew that for them to see me differently, I need to be in that environment, as opposed to one like you said, on a virtual street corner trying to sell the same thing over and over. So, that was one way in which I did it were these top agent masterminds.
Jack: I love that. I like that. So, that's just kinda easy to be translated into the real estate space, too, for example, into the direct real estate investing space, versus the services space, because, for example, when we flip land, right, as you know, or we do apartment complex investing. So, when we…the way we separate ourselves from others is very similar in the sense that we don't just sell a better piece of land. We don't just invest in a better piece of apartment complex. I mean, the other apartment complexes that other syndicators invest in are probably just as similar as ours, right? There's nothing special about our apartment complex investing. But, for example, one of the things we do is we add purpose to them.
So, for example, one of the things we do in our apartment complex, if they are in an area where the schools are not very good in it, we partner with a local church, for example, or the local community college and provide free tutoring for the kids in our apartment complex, right? So, those are little things that not only do they actually do good, and at the same time attract better tenants, because what it does to our investors, our investors are looking at that as, like, "Well, that's a different strategy. I really wanna be part of that, versus just investing my money for profit." So, they're still getting the same profit. But here, they also have a purpose aspect on it, which kind of puts us into a different classification of syndicators here.
And it's not the same, obviously, but I love the idea of what you're doing here in that you're basically going to the brokerages and becoming a problem-solver with them, which now they're seeing you as a peer. And because you are helping them in a truly without the…Like, with a truly no hidden agenda kind of way, there's, like, "Well, of course, they're gonna give you their business," right? So, it's not even a competition in there because if your service is the same as others, but you help them in all these other ways, then their most natural way to help you is to give you their business. So totally, and it makes no sense. And it can be spread over so many different other industries, the same concept. Love it.
Justin: You know, I love what you said, Jack, that, you know, your concept of, let's solve a problem. Again, going back to the theme of, let's solve a problem that's not already being solved, right? There's lots of apartment syndicators that can give people favorable investment options, but what you guys are saying is, like, "Okay, that problem is solved by a lot of people. Yes, we'll solve that problem. But additionally, we're gonna give people a purpose behind their investment," right? That's what you found was a concern that had not yet been totally solved. And so by, as you mentioned, kinda layering on top of your existing maybe more common offer a very uncommon offer, you start to stand out. I love that. That's a really great way to approach it to cause people to look differently at yours and even put their heart behind it, not just their money behind it, but their heart behind it. They get emotionally invested.
Jack: Exactly. Exactly right. Exactly right. So, that's exactly. And on the land side, I mean, that's gonna be translated into the land flipping side in terms of, like, don't just sell people a piece of land, but help them with the other pieces that come with it. Like, how to get, like, resources around it. So, it's not that hard to find all the resources, but nobody does it. Like, people when they buy a piece of land, and they wanna develop it, or they wanna put a fence around it, or a well on it, or a septic system, they don't know where to go because most people buy it a little bit at a distance. Well, that can be easily solved.
So, there's lots of different things, and I love that and The Blue Ocean. I love that book "Blue Ocean Strategy," and I love the theory behind it. Wonderful. So, that brought you now to The Think Bigger piece. So, out of all of these different pieces, you selected the Think Bigger piece. So, what is that all about?
Justin: You know, it was we were trying to come up with a name for a podcast. I started to look at what was happening in the industry. A lot of people were…I started to see some of the people I really admired with their own show. And I thought, "Boy, it'd be great to get on their show." And then I thought, "Why don't I just start my own?" Right? "Why don't I just start my own show?" And, you know, one of the things that I was taught early on, is that if you can become a part of somebody's business, then it's gonna be natural that you're gonna get their business. And so taking this mastermind concept of, "How do I be in conversation with really big thinking, high-achieving professionals, and put it on demo, put it on display to everybody that wants to watch?"
I realized that I felt like I had a different perspective on the industry. But it was a little bit of a secret that, you know, and I couldn't scale it fast enough through one-on-one meetings. And so I thought, "What if I were to have these more strategic conversations, but put it out for everybody to see," you know. And one kind of frame of mind is like, "Well, you don't wanna do that because you're gonna give away all your secrets." And it's, like, "You know what? At the end of the day, if my competition wants to study me, and take my secrets, great." First of all, they're not me. Maybe they do it better. Maybe they do it worse, but the reality is have an abundant mindset. Give it away.
And so part of the strategy was, "I'm gonna start interviewing people on a daily basis, having these strategic conversations on Facebook live every day right in front of my competition, right in front of my customers, right in front of my prospective customers. All who wanna get value from it, great." And one thing that I realized, as I started to do that, is that I started to become different. I started to become better. But even if let's say my competition said, "Oh, that's a great idea. I should start doing that, too," once you get kind of the brand of you're the guy that's doing that, it gets hard for somebody else to step in and not be a copycat.
And even if they did, I would welcome them. But they're behind, right? Because now for almost a year, three years, if you consider the entire tenure of the podcast, I've got a little bit of a jump start because I've got my rhythms, I've got my systems, and I've become something more than the day that I started this. And so it really became an opportunity, again, for me to put on display the fact that I felt I had a different value proposition. And what's come that I didn't necessarily realize is how much of an impact it would have upon me personally, and how much it would impact my thinking, and cause me to see the world entirely different, which has been welcomed, but kind of unforeseen going into this.
Jack: Well, wonderful. Great. So, you basically developed what I learned about a concept called "The X-Factor." And the X-Factor is really is an unfair competitive advantage over others that eventually will be caught up on. But it gives you a multi-year head start over everyone else, right? So, and the truth is nobody else wants to do those kind of things because they all just wanna do the least possible to make the most, right? So, I mean, human nature is to be lazy in my opinion. Human nature is to be just, like, do the minimum. And you're doing the exception. You're doing the other thing. You're figuring out, "How can I do the maximum? How can I do more, and in different ways?"
So, my experience, if you're giving it away, like, for example, we have our course the "Land Profit Generator." You know, there's articles describing every single step of the "Land Profit Generator" out there in the internet. You just would probably have to spend 20 hours or so, or 20, 30 hours finding them all, and bringing them into the right sequence. But the information is out there. But the reason people pay for the "Land Profit Generator" is because, first of all, it's not on paper. It's video. But then it's…because it's put together. So, but people are, generally speaking, they don't want to do that extra step. Like, even though you give everything away, they're like, "Yeah, okay, it's great, but we're doing fine the way we're doing. Let's just keep going the way we're doing."
Justin: I would agree with you, Jack, that there's fewer really hungry people out there than there are people that are just pretty content and okay, just getting by. You know, this isn't about me patting my own back saying, "I'm so much different." I think there are people out there that are hungry like me and hungry like you, and it becomes, like, "Where do I channel that? Like, what do I do, you know, with that hunger?" And for me, this has become a channel for me to put that hunger, and really build a brand and a platform that allows me to grow, and allows me to add value to other people. And I'm sure at some point, you know, somebody might come along and do something way cooler and way better. And that's okay.
Like, I'm totally okay with the fact that sometimes the first iteration isn't always the best. Someone may come and one-up me, and I'm not fearful of that. I'm okay with that. I think I'm on my own journey. And I've got my own goals. And if someone can come along and inspire me to think bigger and do things differently, better, great. All power to them. I hope people do. I hope I inspire my industry at the end of the day. First and foremost, I hope I inspire my children to go pursue big things.
Jack: And I understand you have six of them?
Justin: I've got six of them. And they're the most amazing little people, aside from my wife, which is probably the reason why they're so great is because they're her offspring. Our offspring I should say, but you know, my wife is truly the superhero behind all of that. I get to go to work and have fun conversations like this. She stays home and, you know, manages the…
Jack: Right. Right.
Justin: [inaudible 00:18:05]
Jack: So, kind of a couple of other questions. One of them is, for example, so you've been interviewing people that already think bigger, and what is their pattern behind what you see they say that in any respect? So, just an open question. Is there any patterns you see in their responses, in their stories, in their lessons, in their things that they tell you?
Justin: You know, I would say a common theme is intentionality. I would say hunger and intentionality, is that there has to be a certain amount of horsepower behind somebody. I'm not talking raw talent. I'm not talking skills. I'm just talking, like, a hunger for something more. A hunger, and not just to build a big statue of themselves, but a hunger to really impact. A hunger to live a non-mediocre life. I think of all the people I've interviewed, I can't think of one that was just kinda ho-hum and just, you know, kinda getting by. There was a fire within them to impact and to do great things. That's number one. And I think…I don't know if people are born with that.
I feel like I was. I'm grateful for my parents for that. I think it can be cultivated though. I don't think if you don't have it that it can't be cultivated. If you find…everybody, if you tap into a "why" that's much bigger than you, and you realize how you can influence it, I think that hunger can be cultivated. So, that's number one is hunger.
Jack: I totally agree with that. It's I didn't grow up with a mission to change people's lives, and with the…I was more like that ho-hum kind of middle of the road, not good grades, not bad grades, having fun kind of kid with a, yeah, I know I would probably do well in a good career or something like that. Never afraid of work, but I never went out there to create something. Initially, when I was growing up, I was never, "Okay, I'm gonna grow something huge," or something like that. It came when the opportunity presented itself in a situation when life had put a lot of pain around us, in terms of pain of being separated from my wife, pain of being in a job that I didn't like, pain of being not making much money and having to make ends meet.
And all of a sudden an opportunity to break out of all of that presented itself, so we found it. And that's great, and out of that came the passion to really go like, "Okay, if we create this, we can create that." So, it can totally be cultivated. I agree. And out of that came the realization that this is actually easier than other things. We gotta show this. We gotta [inaudible 00:20:34] out of seeing people's lives change came kind of, like, the mission to make this happen for more people. And so it's just a little seedling that starts growing, and then all of a sudden, you go with lots of intentionality of the thing. So, I 100% agree that it can be cultivated. Very few people I think are born with it.
Justin: You know, the second thing that I've found is a common thread between those that are truly big thinkers is they take that fire, and they continue to fan the flames of it, and they continue…and they are intentional with it. And when I say intentional, they intentionally put themselves consistently around the information and the people that continue to fan those flames. You know, I think about like Grant Cardone, for example. You know, when I interviewed him, he was at a retreat and off learning. He said, "I'm not here doing seminars. I'm not here teaching, speaking, training," although he, you know, gets paid $100,000 for an hour-long keynote. He wasn't…that wasn't the purpose. He said, "I'm simply here to see…to find my own blind spots."
He said, "There's…I can think of names right now that are in the self-help personal development space, who quit learning." I mean, they were at the top of their game, at the top of the world. And they figured they just would always be that way. They put it on cruise control. Next thing, you know, they're upside down out of money because they didn't have any more value. They didn't continue to be intentional and surround themselves with information and people to continue to help themselves to grow. And I think there's a deep lesson in there for all of us. Now, you know, I'm not at that level and, in fact, no one that I've spoken with has been at that level of influence yet.
But I do think that there are…you know, there's obviously some common threads for all of us of being very intentional about putting ourselves…Like, being willing to invest in ourselves, being willing to buy courses, right, like the one you guys offer, being willing to really make deep, deep investments of time and of money to build the network and build the knowledge that will help you get to that next level.
Jack: Yeah, I agree. That's the key. The moment you stop learning, there's no such thing like stagnation. You either grow or you shrink. And so those who have stopped learning are very quickly replaced by others that keep learning and yeah, they keep expanding and so on. So, 100%. Very cool. So, anything else that came from there? This makes total sense from my experience, what I've seen, what I've experienced, and Michelle and I experience everything you just said. And I just spent the weekend literally harping on people about that. And it's incredible how people love it, but life has been sometimes so harsh on them or different things that they have a hard time implementing it in their life.
That's why I'm getting stronger and bolder and bolder about that, because I'm trying to kind of break through their, like, skulls to create that little opening, so that perhaps when they go home, they keep going down that road. And whether it's with our program or somebody else's program, it doesn't really matter at all. It's just that they keep feeding and keep thinking bigger. So, and these are exactly the things that the successful people do.
Justin: You know, one thing that also stands out to me that I've started to do I think as a result of the really big thinking people that I've been around is that when any of us say that we can't get to the next level, there's some sort of constraints. We put it as, "I don't have enough time," or, "I don't have enough money." Those are typically the two biggest. And I started to realize that you've kind of got to start to give up some sacred cows. For me earlier this year, it was two weeks into the college football season. I played a year of college football. I'm a huge fan. Have been forever. And my week typically consists of at least two full college football games, or the combination of that.
And I realized, like, that's eight hours a week that oftentimes I was left disappointed because my team would lose. And I actually made the commitment. In fact, I did a big announcement. It was a retirement announcement. I retired from being an avid college football fan. And I kinda made a big scene or a big deal of it. And I got a lot of feedback. And it wasn't so much college football, right? For some people it's Netflix. For some people it's social media. For some people, it's "The Bachelor." Like, whatever it is, we spend too much time being spectators of other people's lives. Like, think about how much time we spend being the fanboy of our favorite sports figures, celebrity, follow and track, everything that they say.
We love their life. Yet, we complain about our own lives that we don't have enough time, we don't have enough money. And if we started to give up some of those sacred cows and say, "Look, you know what? It isn't as important as Justin Herbert, the head quarterback of the Oregon Ducks, of him winning the Heisman Trophy." I would love that, you bet. But what's more important is that this Justin steps up and produces on his biggest goals. And there probably isn't room for me to be a huge fan of both at this point in my life. Maybe at some point, but right now there's not.
And so now this isn't…I'm not fanatical about not being fanatical. Like, I watched the fourth quarter of the Ducks game on Saturday. I had a great time with it. But it's not consuming me. It's not consuming my entire week. And again, this isn't picking on sports fans. Again. I'm one of them, right?
Jack: No, I agree. I mean, I do the same. I record the Cardinals games, the Phoenix…Arizona Cardinals games, because usually…I mean, no this year they have a chance. Let's put it that way. But they have no quarterback and so on. But I record them because I go and because then afterwards, I don't watch the game. Instead, I spend my weekend with my family. But then at the evening, I just quickly fast forward to the most important scenes. And then I got my fix, right? I've seen it. So, I don't have to spend three hours, or let alone go to the game. I go to, like, one or two games a year. But it's an entire day. Like, the game starts at 2 pm, you leave the house by 11, so that you park and you either tailgate or you hang out in there.
And by the game time is over, it's like 6 pm or 7 pm by the time you're back. So, this is an entire day that a lot of people give up, and then no wonder it's, like…And the other part is, like, if you look at these guys that people follow, what most people don't know is how many sacred cows they have given up in order to get where they are.
Justin: That's brilliant. That's brilliant, Jack. You're right is that they're out there on the field as a big-time player because they were willing to give everything to it. Yet, we sit in the stands and idolize them, yet wishing that we could be playing big on our own respective fields. And the difference is that they're willing to sacrifice and we weren't. Therefore, they have fans and we don't, right?
Jack: Yeah. Exactly right. Exactly right. So…sorry, we had some background noise, so I muted myself for a second here, but great. So with that, I just have a couple of last questions. And that is, for example, given that you're into thinking bigger, what is one of your favorite books that you have read lately about, like, just about personal growth?
Justin: Yeah, I appreciate the question. I'm actually partway through a book right now called "How Will We Measure Our Life?" or "How Will You Measure Your Life?" It was written by one of my all-time favorite mentors, Clayton Christensen. He's a Harvard professor, built some amazing businesses, wrote a couple books called "Innovator's Dilemma "and "Innovator's Solutions," some of which Silicon Valley giants say are some of the most important books to read when it comes to living in a time of innovation. Anyway, his book about "How Will You Measure Your Life?" has impacted me greatly because I think oftentimes we can have our ladder up against the, you know, the wrong wall.
And I'm not just talking about career-wise. I see people, again, not willing to give up the sacred cow for the sake of their family, right? In fact, that's what really stood out to me. It wasn't so much the business side. It was the fact that I was sitting in front of the TV watching as a spectator while my kids left the room because they're not football fans. And it's, like, "What? Four hours. Like, at some point my life I'm gonna wish I had those four hours back." And so it really kinda walks you through, like, speaking and interviewing people that are at the end of their life who have had great success. What do they wish they would have done differently? What do they wish that they would have…Like, where they would have put emphasis?
And this isn't everybody becomes Mother Teresa and goes and serves in orphanages. These are people who are very business savvy, who have very successful business lives, yet go at it through the paradigm of being sure that first things first, whatever that is for them. But typically your most important relationships are at the top of that.
Jack: Wonderful. Great. So with that, I don't really have any other questions. This was, I think, a perfect ending to the podcast. So with that, thank you very much, Justin, for being here on the show. And where can people find you?
Justin: Yeah. And I really appreciate the opportunity. Honestly, the success that you guys have created for yourself, more importantly for other people, is inspiring, Jack. So, just to have the opportunity to come on and have this conversation with you is, you know, helping to expand my thinking and my possibilities. So, thank you again for that. The best place to find me is really to go to the website, thinkbigger.realestate. And again, that's not a .com. Again, it's just thinkbigger.real estate. That's where you can see a lot of my show notes and interviews, including the interview with the incredible Michelle Bosch.
Jack: Thank you.
Justin: But from there you can find me, follow me, contact me. So yeah, that's probably the best place to go.
Jack: All right. So, wonderful. So, thank you very much. We'll obviously put all of that into the show notes. And with that, thank you very much. That's a wrap and I'll see you all in the next Forever Cash Life Real Estate Podcast show. And in the meantime, make sure you give us a thumbs up if you're watching this on YouTube. You give us five stars if you are listening on iTunes or other platforms, and I'll see you next time. Thank you very much.
Announcer: Enjoyed this episode? Then make sure you like, subscribe, and post your comments and questions below the video. We're looking forward to hearing from you.
Enjoy this podcast? Share the love!