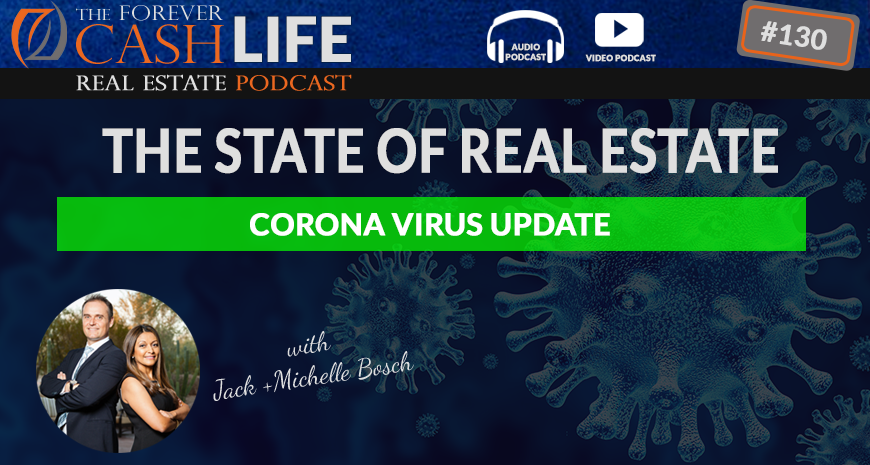 The COVID 19 pandemic has impacted the global economy in a big way and it has lead to a lot of panic and confusion about how people should be making their money. In this episode, Jack Bosch discusses his insights into how various sectors of the economy will be affected and what you can do to ensure that once all of this blows over, you will be one of the winners. There is a real estate investing method that has survived multiple recessions and continues to work in harsh economic climates – land flipping! All of this and more in The State of Real Estate: Corona Virus Update.
Listen and enjoy:
What's inside:
Learn how COVID 19 is affecting various sectors of the economy

Discover what you can do to ensure you do not lose money during this time
Find out where Jack Bosch is investing his money in the pandemic
Mentioned in this episode
Tweetables:
Transcription:
Hello, and welcome to another episode of "The Forever Cash Life Real Estate" podcast. My name is Jack Bosch and we are going to talk today about the state of the real estate right now with all this corona stuff going on. All right, there's a lot to update you so stay tuned. Okay, so, let's go. So, as you guys know, we are in the real estate market, right? My name is Jack Bosch. I came over to this country in 1997. My wife came over in 1995 from Honduras, I came from Germany, and we built this method called land flipping or land profit generator method, right, land profit generator. And with this method we are buying properties for 5 to 25 cents on the dollar, pieces of land, right, we focus on land here, buying them for 5 to 25 cents on the dollar, go selling them for either like half price, 60% of the market values, so doubling, tripling, quadrupling our money, or we sell at close to market value with seller financing and monthly payments.
All right. So, since coming over here, I've gone through three recessions, right, three recessions. Those three recessions have taught me a lot. So, first of all, what they have taught me is that there is a light at the end of the tunnel, right? That also taught me that there's winners and losers in every recession. And the third thing that I talk about is that there's very simple things that you can do to be assured that you are one of the winners on the other side. So, let's look at the state of the real estate union and let's look at where we are first. And then I'm going to give you some things that you can do to make sure that during that recession that we're about to go into, that we're actually in it already, that it's just the numbers are not out yet, that you can come out a winner instead of a loser.
Okay, so, number one, where are we? Okay, so nobody saw the coronavirus coming, right? Obviously, even the Chinese didn't see it coming when it started in December when it started back there, and then it swept over the country. So, the fact of the matter is there's all kinds of conspiracy theories and all kinds of stuff. And even scientists say that it's not a big deal. A lot of people say it's a big deal. I am not going to comment on it. I'm not a virologist. I'm not a scientist. I'm not a data mining person. I'm not going to comment on the validity of everything or whether the measures that we're taking as a country, as a world are appropriate, not enough, or overblown. I don't know. I'm just following what people tell me. I work from home anyway. I have been working from home for the last five years full time. But even before I only went to the office twice a week when we had an office. But for the last five years, our entire staff of 30 plus people in our different businesses is completely virtually working from home with the exception, of course, of our property management team that works on the properties because we own also multifamily properties. But in our land flipping team and in our educational coaching team, we are all working from home. So, from that point of view it wasn't much big of a difference for us but it is a big impact on the world.
So, where are we? This is that the world is going into a big recession triggered by the coronavirus but not necessarily caused by that only. So, let's look at the stock market first quickly. The stock market has cratered, the stock market, as of the recording of this year is down about 25%, 30%, right? It's going to have some some rallies and some going down. I predict the stock market is going to go further down because the true fallout of the coronavirus stay at home, shutting down of the economy has not yet been felt. It has not yet been felt. There's still lots of people out there saying that this will only just be a small recession. Well, it won't. I hope it will, that it will be a short recession, but it won't be a small recession. So, therefore, I think that is still underestimated. We'll probably see the stock market going down. My estimation is that the Dow Jones will go down to like 15,000. So, what can you do about that? Number one, well, we'll talk about that later.
So, the next thing is, so let's look at the real estate market. Well, the realtors are still walking around and saying like, "Nothing is happening," other than, of course, in the hard hit places like San Francisco and New York where it's already literally shut down town. And again, this has only been recorded on, what day is today? It's March 23rd, so it's coming out just a few days afterwards. So, it's very possible that in the meantime already the entire country has shut down or at least has been going into what they call lockdown, which is really not a lockdown because you can still go to the grocery store, you can still go to different places. There's no curfew or things like that. You can still drive around all day long, and go different places. But in Spain and Italy, though, if that's where we're going and it looks like that's where we're going because almost everything that has been implemented so far has just been implemented a couple of weeks after Italy and Spain, in Italy and Spain, literally the military is on the roads and does checks and asks you why you are on the road? And where are you going? And if you're not going to a doctor or to the grocery store or something important like that, then they can give you a ticket of up to $1,000. So that's where we're potentially going.
Having said that, what I'm much more interested in is what is the implications on our life? So, let's look at it. Let's look at the economy. So, everybody's estimated about 20% of the population won't be able to go to work right now. Now, the other 80% will go to work. So, if 18% to 20%, that's actually the accurate number that I heard, I don't know if it's accurate, but that's the number that I've heard from multiple data analysts, including like the Wall Street firms and so on, if 18% to 20% of the people cannot go to work, a lot of their income is going to go down.
So, also a lot of the small businesses are going to be massively impacted. If you have a barber shop, like you look at my hair right now, I wanted to go to the barber shop three or four weeks ago and I've forgot about it. I couldn't get it done. I thought I'd go later. Now I went to the barber shop and the barber shop was already closed. So, I have to order myself from Amazon some shaver thingies to get my hair cut and hopefully that's going to look something. We'll figure it out. But otherwise, you'll see me with a big bush of hair. I mean, I don't have much left here but other than that, you'll see me very soon with like ever growing hair. Barbershops are closed, right? Nail studios are closed. Where people sit on top of each other breathing on top of each other, that stuff's gonna be closed. All the restaurants in pretty much all over the country are already closed and only do delivery and takeout only.
Now, with that said, the good, established restaurants with a big following will probably survive that. They're being creative. They're doing things like offering gift cards. So, you can buy like a gift card, let's say, from anywhere from $5 to $500 but then don't use it until this is all over and the restaurants are open again. In other words, what you're doing is you're providing them revenue right now. And we're doing that, we're going to restaurants and we're buying gift cards left and right for these restaurants that we love, because I don't want them to go out of business. So, we're gonna pay right now, get a $250 or $500 or $100, whatever it is, gift card, get that, put it over here into the drawer, and then 3 or 6 months from now, when everything has gone back to normal, I will go to those restaurants and consume those gift cards when they're back and stable and profitable and so on and so forth. But it gives them the option to survive right now.
The small businesses that don't have a massive loyal following, the small restaurants, they are at severe risk. The ones that are not being capitalized, the ones that took their life savings, put in the restaurant, and then put another loan on top of it, they are potentially bankrupt, right? They're potentially bankrupt unless the government decides to do something for the small business owner. But there again, I went to three recessions. What have they done in the big recessions? They helped the big business owners not the small business owners. So again, I'm not value judging it. I'm just telling you, this is how it was. In 2008, they bailed out Bank of America and Ford and all these different things. I don't know if they bailed out Bank of America, but they bailed out the car industry and other industries. Well, they didn't bail out the local community bank that went bankrupt, but they helped them, that one was sold to another company. So, monies were not lost at least by the investors there. But the bailout was only done for the big ones. It's the same going to be the case here. If a bailout is necessary, it's going to be the biggest companies out there that are going to get government grants, loans and things like that to make it through that.
So, what else? But again, 18% to 20% of the people will not have work and unfortunately in the United States we are, no value judgment, it's just a fact, in the United States most people or many people don't have employment benefits to the degree that like somebody who works at a bar or at a restaurant doesn't have paid vacation, right? Or doesn't have much paid vacation, doesn't have sick time and things like that. In our team, our employees get paid vacation and they get paid sick time. So, on top of it, we're virtual anyway. So it's those 15% or 18% to 20% of the population, a lot of them will suffer a lot.
All right. So, what that means, if you're one of those, if you're working in an industry, you know your paycheck, you know that if you work in a factory, a lot of factories are shutting down. In Germany, where I'm from, Mercedes Benz has shut down. BMW has shut down. All the major car factories are shut down, completely shut down, people are at home. There's actually multiple reasons. One is the coronavirus. But the other reason is that actually the supply chain has been disrupted. Now, both Michelle and I have Master's in Business Administration. I have a master's. Michelle has a master's from one of the top schools in the United States. I have a master's from one of the top universities, business schools in Europe at the University of Mannheim, Germany. They refer to it as the Harvard of Germany. So, in anyways, I'm not saying that to brag. I'm just saying that we love digging into data. We love analyzing this. We love thinking about these things. We love thinking about it, what the impacts are from that.
So, when you look at that, if 60% is like the shipped traffic, like the freight traffic, right? You know how these factories, car manufacturing, or anything you produce, if your factory has stuff that comes from China, this business is going to suffer from it because of the following reasons. Like, unless this is high, high value stuff that it's worth to ship by plane, if I want the new iPhone, it's not gonna be put on the boat, I can order it and they're gonna put it on a plane and two days later I have it. That still works although Singapore Airlines have literally shut down 96% of all its air traffic. So, who brings you those? It's FedEx, right? It's FedEx, it's UPS and those guys. Those fleets are still operational, and they're truly the lifeblood right now of international trade in the valuable stuff range. The other stuff, the big, bulky stuff like car parts that need to be shipped from China that are produced in China but assembled in South Carolina, North Carolina, wherever it is, but assembled in those places, those areas, those factories are going to suffer right now. The people working there are probably not going to suffer too much because they have…the big unions are in there. But again, the companies, the smaller companies that deliver to those car factories locally, and the services that deliver to those and the restaurants to those, they are all going to suffer because if the factory shuts down then life shuts down in that area. So, think about that, right? Think about this. There's a big, big impact on that on the world to happen.
So the next thing that happens is… So, with that said, 60% of the traffic between between China and the United States has been shut down. And that was three, four weeks ago, three, four weeks ago. By now that probably is even lower. That perhaps only 20%, 30% of all the boats even leave China and come over there. Michelle and I, we ordered online, a set of face masks, because we figured, "Hey, we're gonna have to go out there. This is serious. We don't know but it sounds like it's serious. We need some face masks." We ordered them. Therefore the last two weeks they've been sitting on a shipping dock in China and not getting on a boat because it's a low dollar item, it's not worth sending it on a plane over here. So, it sits on a shipping dock and it's not getting brought to us. It's not getting shipped to us. It's not the highest priority stuff. Produce from the U.S. is being shipped to China. There's lots of export going on from the U.S. to China too and that is sitting there, especially there's a fight over refrigerated containers. It's sad and it's fascinating. So, you can do something about that and the local lives. You can support your local businesses. Like if you need to get your nails done, go prepay for a nail appointment, right? Ask the same, "Can I prepay for it now so that you don't go out of business because you're my favorite nail lady?" Go do things like that because the 80% or 82% of the population is still having a job and they will continue having a job and their job just had to be sent home. Now, what that means is, so that all of a sudden, literally almost everyone except for banks and pharmacies and I think grocery stores and so on, work from home.
So, now you have the entire population working from home, which adds an interesting dynamic to everything here because here's the thing, now we're starting to get into influence on real estate. So, first of all, there's going to be long term influences and long term impact. Because here's the thing, if all of a sudden everyone, first of all the bandwidth, the internet bandwidth will have to be expanded for everyone to have access to all this stuff on an ongoing basis. That's already happening but it's going to be probably happening even faster. Secondly, it's gonna first affect office real estate. Because if all the office real estate is… All these big companies that were hesitant to go into virtual working are now forced to experiment with it. Actually, they're forced to make it work for that matter. Like title companies, wherever it is in the real estate space, lenders, any other big companies that usually fill up a big office space, they're all working from home now, they all have to make it work because otherwise their business comes to a grinding halt. Well, what they will realize, what we have realized five years ago is that working from home actually works. Working from home is actually a lot of fun. And while I anticipate most of them going back to the office space, I bet you that there's going to be a movement, a groundswell movement of the employees, of the staff saying like, "Hey, this was actually not so bad. If it worked back then, why can't we do it now anymore?" And a lot of these companies are going to start moving to at least a part time virtual model, and many of them are going to go towards a full time virtual model. What does it mean for office space? We will need ultimately less office space, right? That's one of the things that comes out of it.
So, what else is there? So, those are some of the impacts that this probably will have. All right, what else is going to happen? Well, the school system. Let's look at the school system. Like school system is now forced to go virtual, which means that people are going to realize that their kids are learning, potentially, if it's done well in the school, learning just as much as they'd done otherwise. Two years ago, two and a half years ago, Michelle and I, we actually took our daughter out of school for half a year and homeschooled her. In three months of homeschooling, she went through an entire year's worth of advanced honors math. And then when she went back to school, she was bored for the next half a year because she had already learned everything. And that was in three hours a day, three times a week, learning math and other subjects. And at the same time, she kept up with all the other subjects and then we took about four or five months to travel around the world. Now that opened up our eyes to the powers of a efficient school system. Like in school, they're spending there from 8 a.m. to 3 p.m. and they're wasting so much time that literally three hours of focused learning can overcompensate, can teach a kid more than they're currently learning in those seven or eight hours that they're in school. So, many families will realize that. Many families will also just want to send their kids back to school. But others are realizing that actually, homeschooling is a concept that actually works. The school system will have to realize that they have to modernize, right? Those kind of things.
Let's look at my notes again. What else? The healthcare system will realize that it's completely outdated and completely, not outdated, but it's not ready for a pandemic. So, instead of pouring billions and billions of dollars into guns and into, not guns, I mean,, into military, perhaps the government is going to start putting in some money into getting us ready for the next pandemic and getting up, getting more hospitals ready and having a bigger stockpile and things like that, so much different standard operating procedures will be adopted. What else? The economic impact is going to be huge, of course. The economic impact is going to change. Then again, lots of people are really suffering right now. We need to help them. If you have a stable job, go help them, support them. Again, the most obvious thing is the restaurant.
The other ones is like, your favorite… There's a movie theater in Phoenix here, which is a true Hindi movie theater. They show strange and different kind of movies and they have a bar in it and things. And they're completely shut down. And the owner estimates that this over a few months is gonna cost them half a million dollars and he doesn't have that kind of money. So, he's selling virtual tickets right now to a fictitious movie show. Basically, it's a donation and if he can raise like a bunch of money then he can maintain, may keep the place open through this and then have a cultural important place in town that is not just the run of the mill, big box movie studio. So, we donated to that. We bought a few tickets, things like that. We're buying the vouchers. And I encourage you that if you have a stable job that is work from home right now, do that. Order out. Have stuff delivered to you. Tip well. Do those things to help in your immediate circle.
But what can you do in order to be big time successful? Let's look at the impact on the real estate industry. So, first of all, single-family houses are going to go into a halt. I don't think a crash is happening. But just a halt is happening. In other words, and a few people are going to have to sell their houses at more discounted prices to the few house flippers that are still actively out looking there. So, I belong to a house flipper group. And in that house flipper group, there, even though we don't flip houses, but it's a great group because they have their big time operators all over the country. So, it allows us to keep our ear on the ground. I'm paying upwards of $20,000 a year to be part of a group like that for the only reason that I have my ear on the ground through the network of people. And of course other reasons, like when we bought our house, we needed a bridge loan and it was done through that. When I'm refinancing some portfolios, it goes through them. They're very well connected guys, but the main reason is that if something happens in any market, through the network that we are in that group we hear about it right away. So, I love masterminds.
So, having said that, through that group, I already hear that first people shutting down operations, people are letting go the house flippers because what's going to happen is the counties are shutting down, the courts are shutting down. So, if you have the court shutting down, you can't record, right? If the clerk is not there you can't record. If the town companies are shutting down or at least work virtual and figure this out, and it takes longer then a closing is gonna take longer to do, right? Again, the 82% still have jobs and the other ones are still getting on unemployment or there's other grocery stores and lots of stores are, and Costco and all those places are hiring. So, you can get $20, $25 an hour right now by doing Grubhub and delivering food and stuff like that. So, there's always a way to make money in this industry. But let's say there's a 10% to 15% net of the population that suffer. That means that 85% of the population does not suffer, just their life is changing over the next few months. So, the buying power is still there. And there's nothing structural that, from what I can tell, nothing structural in the economy that would make the economy collapse or go down. It's a short term, two to four months kind of like environment where we have to hunker down, where we have to defeat the virus and so on. And then business should very quickly go back. And actually there's an overcompensation. People are already saying like, "It's driving me crazy to be at home. When this is over I'm going to go out for dinner every single day and I'm gonna tip like crazy," and things like that. And yes, you should do that. We will definitely do that too. So, the bottom line is, there is…
But if 90% of the population have money then they can carry on with their mortgage payment, they can carry on with their rent payments, they can carry on with all the different things that they have to do. But, that means that, if they need to switch a job to another city, they can't move right now because they can't pack up. They can't get out in the public and get helpers to move them and all this kind of stuff. So, as a result though, what that means, ultimately, is that the real estate flippers will be…the house flippers, particularly the house flippers, will be definitely impacted by this because if they are in a rehab, the rehab now takes longer because the workers are not there because they were sent home. If they finish the rehab, the buyers are not there because they have been asked to stay at home. If they are now selling the property, if they have a buyer, if it's under escrow, the title companies take longer because the courts have shut down for a few weeks, and you can't record the deed. So, you got to take into consideration that as a house flipper that you can no longer buy houses in seven days or less. You got to put in wordage into your contract that says that it might take 90 days for you to buy that thing because it might take that long. And then on the selling side, again, the buyers are not necessarily there, depending on which area of the country you live, whether there's many coronavirus cases or not, whether it's shut down or not, but in many cases, the buyer traffic has gone down so it's going to take longer to sell that property. Now, longer doesn't mean it doesn't sell. It just means that you got to carry the mortgage for a few months longer and until this is all over, but then the economy should bounce back very, very quickly, in my opinion.
So now, let's look at the multifamily space. The multifamily space, everyone talks about that with… Almost every jurisdiction in the country now has basically said that you cannot evict somebody as a landlord, until whatever it is, April 30th or so. So, in other words in April, there's no evictions happening. Also since the courts are shutting down in many places, you can't evict somebody anyway. So, what everyone that has multifamily, like we do is preparing for, is that there's going to be a dip in rent connections because there's always a few bad guys that are going to take advantage of that and say like, "Hey, you can't evict me so I'm not going to pay rent." We are sending a very stern, since we have multifamily, we're sending a very clear and stern message to our tenants. And that message basically says, "You're fully expected to pay rent. You're fully expected to pay rent if you have a job and you're fully expected to let us know if you have a hardship because of which you cannot pay the rent. If you have that hardship we need you to show us some proof. We're going to work with you," and then we are going to work with them. But if somebody just… We make it very clear that, "We're still filing evictions, we're still posting evictions and just because you can't be evicted, you can't pay your rent."
But it will affect them and it will affect those most who bought with the expectation of rent growth going up higher. So, if you bought a multifamily or if you're a passive investor in a multifamily property that bought at market in a competitive market with the expectation of future rent growth to be 3% to 5%, you better hold on to your pants right now, because that is not going to happen. Most likely the impact of this recession is that there's going to be a much bigger unemployment, there's going to be an impact like that and rents will probably not be able to shoot up like they have shot up in the last 10 years for the next few years. So, when we buy multifamily, we always buy properties where the market rents is here but we can buy them here. So, our calculation is, bring the rent up to market and we fulfill all our financial obligations to our investors. So, we don't talk about bringing this up to… We don't talk about buy this here and bring it over here in the expectation that the real estate always goes up over time. Yes, it does but it goes up like this. Or it starts here, it goes up like this and it goes down and it goes up higher and it goes down. It goes up higher and it goes down. We are right now at that point where it might not go down by much but it certainly will not currently go much up.
So, as a result, if you are investing in multifamily right now, make sure that if you're a sponsor, make sure that you're not counting on future rent growth, you're only buying based on getting rents up to market, and even there have some buffer in it. So, therefore, we are very well capitalized, we expect a little hit on our multifamilies but that is not an issue. But if you have multifamily, inform your investors that you're not going to be able to pay out any dividends for the next quarter or two. Now, if it all turns out less than we expected, then you just pay the dividends six weeks later, right? But if it happens, if there's a bigger hit, then you want to hold on to that.
Now, let's look at it. What else? Single family owner occupied. You want to sell your own house, you gotta have to wait a little bit, right? Because right now there's just like… The buyers are just not necessarily going to roam the streets and look at houses because they're supposed to be six-feet away from each other and they're supposed to be only going out for things that they really need to be going out. So, as a result, it's gonna take longer, the real estate market will kind of freeze. You already saw the result of that, of the combination of that. Zillow had a buyer program, open door and a buyer program. Some other companies, I've forgot them, all these kind of like these virtual buying companies, they will say like, "Commit your address and we give you an offer, " most of them have shut down operations right now and they're not buying anymore. So, the same thing. But even if you sell your properties, escrow is going to take longer.
So, we talked about office space already. Longer term, there's going to be less office space. Retail is suffering right now because all these restaurants, they need help because they can't pay their rent because they have no money coming there. Again, except for the ones that are really super popular and they have good operations and so on. So, we love multiple restaurants, but two of our favorite restaurants here in Phoenix are Tarbell's and Tarbell's the Tavern which is one of a "Iron Chef America" restaurants. Delicious food, very affordable prices. Particularly in The Tavern, it's very normal price and they do delivery and so on. They have been in Phoenix for like 30 years or so. They have a super well-established clientele, a lot of community support but still they need help. The other one is Pizzeria Bianco. Pizzeria Bianco as New York Times has declared, the number one pizza in the United States. And Oprah Winfrey has eaten there and so on. They have four locations in Phoenix plus another restaurant. They have changed everything to delivery. And they're doing a great job with social media and things like that. And they're cranking out pizzas like crazy, because people go and pick them up or get them delivered. It's the local guys that you're really being careful with.
So, now, how do we take advantage of all of this? Not take advantage in a bad sense, but how do we make money? Where's the opportunity in all of this? The opportunity in all of this is in the following areas. Let's look at single families. Single families, if you're an operator right now, get on the phone, call people on the phone, have people sign documents with DocuSign, right? Because most of the small… In any kind of market, there's a lot of players that are like Chicken Little. The Chicken Little people will go away.
Actually, we forgot to talk about land flipping. Land flipping in my opinion is one of the very few real estate methods that works in all environments. It's truly recession proof. We know that because we have been flipping over 4,000 pieces of real estate. That's another opportunity, of course, but let's talk about… Actually, let's cut that out, Ethan. If you can go back to where we make the opportunity.
So, where is the opportunity here? So, how can we use this scenario, this world right now and make money and get ahead of things and be one of the winners once it all comes out? Here's this, in order to look at opportunity, so you got to look at what's working in any market. All right. So, number one, what's working? Let's look at it. There's one method that still continues to work and that we have gone through, three recessions and it worked through every single one of them. We came up with this method right after the dotcom bubble burst method. And then we continued actually optimizing it through the last big recession, 2008, '09, '10. So, what is that? That's land flipping. Land flipping works. It works right now. Our students, while the house flippers are shutting down, our students are seeing some of the biggest checks that they have been seeing. Like one of our students just put out an offer for a brand new sub-division of 14 lots which he took a piece of land, he subdivided it, and he got in with us. The first day he got an almost full price offer for all 14 lots. Other students are getting deals done for $75,000 profit, $100,000 profit, $22,000 profit.
Why does our method still work? Number one, because it's land and the buyers don't have to go visit it. They can look at Google Maps, Google Earth, Google Street View, and all this kind of stuff. Also, it works because you don't have to go see it. Everything can be done virtually from home. Number two, it's completely location independent. I have students in Germany that in the last couple of weeks have sold multiple properties from Germany in the United States. Number two is because we're talking about an affordable price range. And we're also talking about giving the option of selling with seller financing. So, what we do, as you guys know, we buy these properties for 5 to 25 cents on the dollar, sell them for either half price, 60% of market value for cash, or with a higher price with seller financing. When we do that, in an environment like this, what's gonna happen is more people will need seller financing. So, as a result, they're going to want to put down a down payment and make monthly payments because people don't…it's not that people don't have money. People are just more careful with their money. They're not going to move to a new house if it's not necessary. They're not going to buy that second home for themselves. They're not going to go take their vacation and buy a condo or timeshare or things like that. But they are going to buy something, especially with the stock market crashing, they're going to take money out of there, they'll start from there and they're going to move it into a real asset that particularly if it's located like in an infill lots of location, or in the outskirts of town, so where it's in the path of growth. These properties have always been attractive and these properties have always been selling.
When the market went down like this in 2008 and '09, and '10, we were selling all the way down, all the way on the bottom and all the way on the way up. Why? When you buy properties for 15 cents on the dollar… Like one of our students this week got a deal on the contract worth $50,000 he put on a contract for I think something like $1,800. That's the kind of deal. When you buy that it freaking doesn't matter what the market does. There's always people in the market looking for real estate. Now, the other thing is, what you can do is, if you're in the house…
So, this is one area. And this is why, by the way, we're starting right away, just today, on Monday the March 30th, we're starting a 5-day crash course teaching you how to do that. You can go to lpglab.com, lpglab.com to register for that and be still part of that. The other thing that we're doing is we are… Now, what other people are doing is, if you're in the housing area, you can make money in the houses area. Now, how do you make money there? In any market, the 80/20 rule applies. In every market, there's 80% of people who are just Chicken Little. Those are the people that they're dabbling with the market. They're doing a flip here, a flip there and so on. They are scared to death right now and they're all pulling back and going back to their day jobs. So, what happens is just the herd just got thinned out. The herd massively got thinned out and you are now able to pick up the same or better deals that others have before with the only difference, you cannot promise to buy them in seven days. You need to allow yourself 90 days or so to buy that property and then go flip it to somebody else.
So, what's happening, the smart house flippers, they're paring down, they're going smart, they're continuing their marketing, but they're perhaps changing the marketing over to phones, and they're calling the people who are now at home and who are in a financial bind and they're looking to buy and they need cash because the same people that need cash still need cash. Like, the amount of distressed sellers has not gone down. As a matter of fact, it's going up with people having less money and perhaps spouses, one of the spouses lost a job and so on, so people need to sell their properties. So, it's actually an opportunity to get into the market now because a lot of the noise has gone bad and a lot of the Chicken Littles have gone away. So, however, house flipping is always hard, so land flipping is much easier because the same is happening to land.
We usually have almost no competition in our market. But in some of the fastest growing cities, there were some competition popping up, but not from people we have taught but instead from builders, from house flippers that now wanted to buy a piece of land to build a spec house on it instead of just fix and flipping it and selling it. A lot of the people that we know again, in our mastermind, they started adding land development to their business and started buying land and developing it and building houses on it and then flipping those. Those guys are going to stop doing that so you have now these lots available for yourself and lots is always easier than houses because there's no tenants, toilets, termites, no repairs, no mortgage, none of these different things. The sellers are just as willing to sell. As a matter of fact, they're more willing to sell right now. So, that's why we love it.
What else can you do when you're investing where you can come out ahead of it? Now, if you look at the multifamily space, in the multifamily space what's happening right now is that the banks are clamping down right now. So, anyone that wants to refinance is going to have somewhat of a harder time doing that short term. Also, if somebody wants to sell right now, there's going to be a lot of deals falling out of escrow. Now, why is that? Because the lenders are concerned about the economic impact right now, particularly on the renters, I talked about it, the renters are starting…there's going to be an impact on the properties from rental revenue and they are not willing to close on that.
Typically, Fannie and Freddie Mae only give loans if the occupancy is over 90% and if the numbers are at a certain range. So, if those numbers start dropping in the next couple of months, they're going to delay closings which they have to anyway because recorders are unavailable, etc., etc. So, you can start hearing a pattern here. And then they're going to start, actually, retrade or renegotiate, it's a different word for renegotiate, with the buyers and force them into either into higher interest rates or lower loan to value ratios, meaning they have to raise more money, and not everyone is going to be able to do that. So, there's opportunity in deals that fall apart, that you can jump in in perhaps a lower price. Grab those if you are properly funded, if you have the right net worth and things like that.
And also, what's going to happen is that I think in the A class, if there's unemployment happening, if the unemployment creeps up, usually the A class is hurt the first because the A people are moving to B properties and the B people moving to C properties. Well, we own C plus properties. C plus, B minus properties, that's where we are in our multifamily space. So, we're going to be somewhat buffered of that. But the A class people, these beautiful luxury properties, they're going to potentially start losing their shirt. Particularly if you live in a city that has a lot of influx, the influx is going to stop for a little bit right now because people can't move out of the houses anyway and some of the jobs are not available anymore so they're staying hunkered down. And so now, these big properties, they're not going to be filled up anymore and some of them might go up and will go back to the lender. Some of the B and C class properties will go back to the lender if they have been bought at too high of rates. If they're refinancing is coming due right now and they can't refinance very well, they're also going to be hit hard. But it's mainly the ones that just were bought a couple of years ago, and they were bought with razor thin margins, with the expectation that things are gonna go up, or they were brand new build, they're only half full, and now they're hitting a snag and they're not filling up anymore, those other two areas that you can expect for some blood to be on the street. And if you position yourself right, you can actually be the buyer of those assets at substantially discounted values and be set up for the future really, really well.
All right, so with that said, this is… The key is, you've gotta be prepared. Knowledge is power, right? Applied knowledge means wealth, right? Knowledge is potential power, applied knowledge means wealth. You got to look at this. So, if a lot of the people that lose jobs are more the B and C class people, I mean, they live in B and C class properties, of course, they're not be B and C class people, but they live in B and C class properties, then those are the ones that are going to not be able to raise their rents right now, those are going to be the ones that are not be able to do that, where they have a little bit of an income drop. And if those were bought wrong, the ownership is going to have some issues. But again, if 15% of the population lose something, then there's going to be distress in the market. Landlords are not getting paid on commercial properties on like the little strip mall with four restaurants in it. Local stores go out of business. So, small businesses go out of business and this is super, super sad but I can't change it, you can't change it but what we can do is we can figure out where do we want to be positioned in order to make money? And you've got to keep yourself positioned in that put yourself in that role. If you want to get into multifamily, go talk to potential investors now, explain the opportunity to them, ask them to be patient, and then jump in when the right opportunity comes along. We are getting lines of credit and putting lines of credit on all the free and clear stuff that we have in order to have more cash available in order to take advantage of that opportunity when it comes up.
At the same time, the stock market is another option. The stock market is one more option where you have an opportunity. The stock market keeps dropping, it's going to go up a little bit and down. It's almost like every day you see it go up a bit, expect the next day to be going down and expect that to be happening for the next couple, three weeks. And at some point of time, you got to pull the trigger. If you have money on the sidelines, if you want to invest in the stock market, go and invest in some of the biggest companies that you can think of that are the lowest values that you see right now. Like I'm thinking about investing in Wells Fargo, Bank of America. There's no way in hell the government is going to let those businesses go out of business, those banks go out of business. At the same time, I'm also thinking about investing in the biggest airline in the country, American Airlines. All of these airlines have been severely depressed. All of these stocks have been severely depressed right now, way beyond the 20% that they perhaps were overvalued. The Dow Jones is only down 30%. But some of these stocks are down 70%. That's the kind of stuff that if you buy them, they'll make it through somewhere because the United States needs private airlines. They're not going to let go of the biggest airline in the country. And so, the small airlines might go out of business, but the big ones will make it. They'll get line of credits and things like that, and they'll make it through. And then you own those shares, and then when the market roars back and all this pent up demand of seminars and events and conferences and all stuff comes back in, the stock market should rise fairly quickly and give you at least probably a two or three fold return in the next year or year and a half. That's what I'm positioning myself to do. So, I'm taking some of our liquidity and moving it into a trading account.
But more than anything, we are expanding our team on the land flipping side because land flipping is the simplification of real estate. It works. On top of it, if people are scared of a virus, what better place to have than a piece of property outside of town that they can put their RV on and hunker down, and the rest of the world can have the pest or whatever it is, and they can hunker down and survive it, right? That's a doomsday's prepper thinking but there's millions of doomsday preppers that feel like they've just been validated and they're coming into the market. They're buying. The people that are sick and tired of the stock market, they're buying. The people that see the opportunity that the prices might drop a little bit, they're buying. So, right now is the time. The sellers, now, perhaps some sellers lost their jobs, they need to sell. So, you have sellers that sell at cheap prices, buyers that have time because they work from home, they're on the internet. They're looking at properties and they're looking at places, they're buying, so the market is hot for us. It continues to be hot, and now is the time to get into that market.
So, with that said, this is my state of the real estate union address here and the impact of the coronavirus. Don't despair. The best news of all of this is, this is a blimp. This is an event that all my friends compared more to a 9/11 event. It's not a big structural crisis as 2008 happened. It's a one time jolt to the system that stopped everything just like 9/11 stopped the country in its tracks for a few weeks. And then everything restarts, and we're going higher from there. That's what I expect. But certain asset classes will be long term affected. So you might want to keep that in mind.
All right. With that said, thank you very much. This completes another episode of "The Forever Cash Life Real Estate" podcast. Please post your comments below. [inaudible 00:45:32] on YouTube. Give us a five star review and we love feedback. All right. Bye-bye.
Announcer: Enjoy this episode? Then make sure you like, subscribe, and post your comments and questions below the video. We're looking forward to hearing from you.
Enjoy this podcast? Share the love!