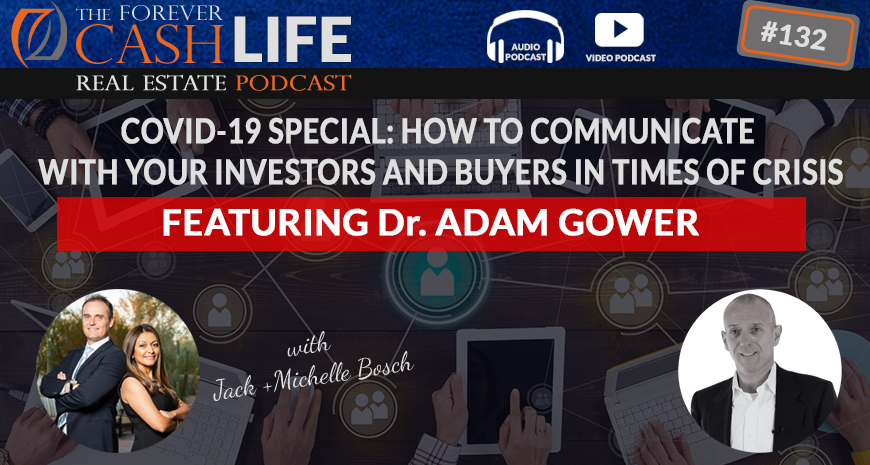 Combining decades-long experience in real estate investment and finance with his industry-leading digital marketing expertise, Adam Gower provides developers the tools they need to raise unlimited capital online. He is the creator of the only accredited investor-oriented training programs focused exclusively on passive investing in real estate syndicates for wealth and income.
In this episode, Jack Bosch discusses the COVID-19 crisis with Adam and tackles the issue of communication – how should you be communicating with your investors and buyers? What exactly should you telling them? What messaging should be the focus for the next few months? It is a crucial time to ensure that everyone is reassured and that you are being open and honest and Adam breaks down the steps you should be following to ensure that everyone is happy and catered for.
Listen and enjoy:
What's inside:
Understand how to communicate during the COVID-19 crisis

Find out the tools that are available to do so
Learn what messaging you should focus on
Discover tips and tricks for streamlining this process
Mentioned in this episode
Tweetables:
Transcription:
Jack: Hello, everyone, and welcome to another episode of "The Forever Cash Life Real Estate" podcast with your host, Jack Bosch here. I'm excited to talk about something a little bit different, and that is about communication, and communication with your investors, with your customers, and things like that. In the times of crisis that we are in right now, in the times of economic downturn, we need to be extra good at communicating. So let's start in just a second.
Male: Welcome to "The Forever Cash Life Real Estate Investing Podcast," with your host, Jack and Michelle Bosch. Together, let's uncover the secrets to building true wealth through real estate, and living a purpose-driven life.
Jack: All right, so there we go. I'm excited to have you here on the show. And our guest today is Adam Gower. Adam, how are you doing?
Adam: I'm doing very well, thank you, and thank goodness as well…
Jack: Yes, wonderful.
Adam: …that you're doing well, right.
Jack: So, quick words about Adam. Adam has 30-plus years of real estate experience, has done over $1.5 billion in transactions, has a Ph.D., so he is a very smart guy. And in his own words, he's stunningly good-looking too, and honestly, just, I mean, obviously, you can tell, and modest. We're just kidding. We had already a little bit pre-chat here before we got started, and we had a whole lot of good fun already.
And now, you're focusing, Adam. Even though you have done all those transactions, you own a bunch of real estate, you're now focusing on digital marketing content platforms that allow real estate investors that raise money or to have customers to communicate better with their customers. So, tell us a little bit more about your, that history data just went over, in like 30 seconds, and then how you got into that?
Adam: Sure. So, first of all, thanks for having me on the show. These are inauspicious times or auspicious times, one or the other. And my business today is primarily in building digital marketing systems, content marketing systems, for real estate developers so they can raise money online, all right? So, basically, what we build are very sophisticated communication systems to force-multiply your efforts online so that you can basically move from the in-person world. I mean, when you think about [inaudible 00:02:26], and I think about what we do, it is so critically important that people learn this process right now, right? If you think about your listeners, we've all been condemned to being at home, right? Amazing, too, we're all stuck at home on this shelter in place regimen [inaudible 02:02:52]
Jack: And to let everyone know just quickly. To let everyone know, we are recording this episode on March 24, 2020. So, even if it comes out perhaps a couple of weeks later and we're already let out of our houses again, this is still gonna reverber…how do you say that? Like…
Adam: Reverberate, yes.
Jack: Reverberate for…I'm from Germany originally, so some accents sometimes and words are missing, for many, many months to come, and it's going to change the way people communicate and people work. So, yes, right now we're stuck at home everyone. And go ahead.
Adam: Yeah. So, what we do is particularly relevant today. And so, you and I, let's talk about some of these techniques so that your listeners can also employ them, right? In this new world that we have now. And actually, one of the questions that you asked me beforehand was, you know, or something that we discussed talking about was, what can we do now that will not only get us through these circumstances, but that will serve us well in the future once all this is over?
Jack: Exactly, yes.
Adam: So, the idea of communicating online is, you know, for a lot of people very, very foreign. And the systems that we build are designed specifically to enable you really to amplify your voice, to be an effective voice even if you are working remotely, right? From your home or even from your office. And so, we now build these very detailed systems that create a lot of content and automate the communication process. And so, now, you know, that we are seated at home, understanding how to communicate effectively is very, very important.
And, you know, one of the hardest things to do is to know, actually, what you're going to say, and how do you actually communicate during periods of crisis like we're in now. So, for example, do you continue with the same kind of messaging that you have, or do you alter that messaging? Do you attempt to bring the office environment into your home? In other words, if you're used to talking to people or meeting with people one-on-one, do you try to continue to do that? Right? Do you think that, "All right, my day has to be filled with dozens of phone calls?" Right? "I had all these meetings before, I met people in the office. Do I now have to pick up the phone and call everybody individually? Do I have to set up Zoom calls and talk to everybody individually?" Or, "Can I somehow leverage that whole process, everything that we're doing, in order to be more effective at communicating?" So, for example, you are recording a podcast with me now. And anything that I say to you or anything that you say to me… You asked me to introduce myself, okay? So, I introduced myself. But why would I want to do that 1000 times, right?
Every single time that you meet somebody, you go through the same basic series of communication with them. Who are you? Where are you from? What do you do? How did you get there? Well, instead of doing that, repeating that process again and again, why not commit that to a recorded recitation of your background and put it up on your website, for example, so that anybody that does want to get to know you can go to your website and can learn who you are just by watching that one canned piece of content?
And while we're all sitting at home, right? Trying to figure out how to talk and how to communicate with each other, this is a great opportunity for figuring out, how do I get my messages? Those messages that I put out there repeatedly, how do I put those out in a way that I only ever need to do it once again, right? Like the personal bio, for example, put that up online, or let's say you have…whatever your business is, it doesn't really matter what your business is. Explain what your business is on a Zoom call. I mean, it's really incredible. I record Zoom, even when there's nobody on the line, right? A lot of my content, I actually produce on Zoom just by hitting record and recording myself, right?
Jack: Right. I do the same thing.
Adam: And then I broadcast that. So that is something that you can take away from what you're doing today, being forced to do today, to communicate remotely with people using technology. Just think about recording everything that you say and do, and then editing clips of that. For example, some of the high points, some of the pearls of wisdom that you come out with that impressed even yourself, right? And create something for social media. Go to, you know, create a little thumbnail for it, put it up on YouTube, and then link to it on your social media. And once you do that, now suddenly, you are leveraging your time much more effectively. You're reaching prospects, you're reaching customers, you're educating them, you're telling them what they want to know, right? Who are you, and what you do, but you're doing it on autopilot, right? And while we're stuck at home, understand, learning how to do that is…or we have this incredible opportunity to learn how to do that and to experiment with that, right?
Jack: Makes perfect sense, makes perfect sense, yes. So, now, you talked about this one piece of being able to communicate certain things in video and certain things in that and, we're, for example, we're doing that. One of the products that we have is a software. And instead of having to explain everything in our technical support part, we have switched from articles and we have only limited live support. We do have that, but we have limited live support. It's mostly done through videos. There's like hundreds of videos in the meantime out there, where every single question can be answered very quickly. In our support ticket, most of the cases, all they need to do is point to certain videos, which explains step by step exactly how things are happening.
Now, how can somebody use that if they want to raise funds, right? Now, for example, I belong to a Mastermind Group with a whole bunch of house flippers. Now, I'm not a house flipper. I'm in real estate, but I do syndications of multifamily, and it can be used there obviously to communicate with your investors. One video, streaming out, sending out to everyone about the times, and things like that, or you can also…but, like, in terms of funding, a lot of my house flipper friends telling me that a lot of their private lenders are drying up because they're, like, not willing to give a loan on a rehab project during the times where they don't know how long the rehab project's going to last, because if the county offices are closed, then that, of course, doesn't move [inaudible 00:10:38]
Adam: It slows everything down. I see where you're going…
Jack: Yes, it slows everything down.
Adam: …and I know you gotta switch off that beeping. So, let me answer your question straight up. These are crisis times that we're in right now. So the way that you communicate today is slightly different than it is during normal times. However, the mechanism that you use, there's no reason why you shouldn't use the same mechanism. Right, that mechanism is digital communication, is using the online world, using all the tools that you have at your disposal, right? At the end of your computer are various SaaS systems that you can connect to. You have access to those now, right? Recording your answers.
So your question was, how do you raise money, right? So, that's a good question. If your listeners want to know the full system for how to do that, I'm just going to make a bit quick plug, but I want to get back to the important subjects of today. At gowercrowd.com/waterfall, [inaudible 00:11:37] completely unrelated, don't ask me how I managed to get that URL, but waterfall, or in the American vernacular, waterfall, right? You will find a whiteboard workshop where I walk through the entire system, right? So you can understand exactly how to raise money online.
Now, the difference, though, with today, and especially what you're describing in your Mastermind, all these folk who are going out trying to raise money and hitting what? A wall, right? They're hitting a wall. How do you deal with that kind of situation? It's very, very difficult. But here's something that you should be thinking about doing. First of all, you want to think about creating some crisis communications.
Now, again, you and I talked about what are we going to actually talk about today? We're going to talk about cap rates and IRRs and, you know, whatever, the normal stuff that we're going to talk about, something that people can actually use.
So, today, everybody is different in the way that they are relating to the world and how they're dealing with the situation around them. The best thing that you can do is to start to think about how you are dealing with what's going on. And the way that I like to advise my clients, we have private clients, we build these systems for them, and we basically construct all the communications for them across the board, all the content, video, and whatever it is. So, you want to be sending out communication to people in your network. And that can be in whatever way you are most used to.
Now is not a time to start experimenting. So if you're used to sending out video clips or videos, that's fine. If you like emails, if it's audio clips, if it's a webinar, whatever the media is that you're sending out, then you want to be addressing, this is what I'm advising my clients right now, three topics in your communications. Number one, you want to be acknowledging what's going on. So for your house flipper friends, you want them to be… And plus, presumably, they have investors, and the banks are saying, "We're not lending you." So they're coming up against the brick wall.
So the first thing that they want to talk about is an empathetic acknowledgment that we are in bad times and that people are suffering. And part of that… This is a three-stage communication. As part of that, you also acknowledge what are the headwinds that are hitting you today? It might be bank lending. Rates have gone down, but liquidity has dried up, right? Banks are not lending. This is what's happening. This is what's happening on a macro level that might loosen that, and describe, right? Workers are not showing up, we're unable to get materials, no brokers are showing houses, etc, etc. This is the world as we see it now, right? So you address those issues head on.
In part two of your communication, and you can do this in a series. Again, everybody's different, so you've got to tailor it to your own circumstances. But in part two of your messaging, now you address how you're dealing with the headwinds. What are we doing? We're seeking other sources for materials, we're talking to other banks, we're doing X, Y, and Z, whatever it is that you are doing to handle a situation. If you are showing people around, we've put a gallon jar of hand wipe, you know, on the front door, or this is, or we're wiping everything down, or whatever it is that you're doing, articulate that in part two.
In part three of your communication, you want to be looking forward to where you think we're headed, and how you are preparing for whatever it is you think is coming down the pipe. All right? And you've got to be very careful not to be insensitive to the world, right? I mean, there's plenty of people now, ever so, well, ever so slowly, you're starting to see acknowledgment that there may be opportunity that arises. Look, opportunity is a good thing to see in the future, particularly today, because it speaks to a degree of optimism. And what we need today, right, is optimism, because there's so much pessimism floating around.
But on the other hand, that messaging, if you're going to have an optimistic message that says, "There will be opportunities," buy opportunities, on the flip side of that, of course, there's somebody suffering. So, that kind of messaging, particularly now, has to be very carefully nuanced so that you don't come across as being callous or insensitive. So, those are the three stages of communication that you might want to be thinking of.
Jack: I'm glad we're doing that. We're doing that in the form of email. We just send out email for the multiple apartment complexes that we own, to our investor basis, that follow pretty much exactly that. That makes sense. It's logical. Everyone knows what's going on. Everyone by now knows that the economy is going to suffer in the next quarter, perhaps even two quarters. And we all know that the stock market crashed, and we know that because of that, we are in a short or mid-term recession right now. So because of that, we need to address that. And we can't just pretend it's not happening. That's just gonna make you look ridiculous if you pretend it's not happening.
By addressing it, but then having a plan, you look like what you are, hopefully, which is prepared. So that's exactly how we did it. We spent a week gathering all data, all thing, making a plan, talking to our investors, talking to our property management companies, our lenders, everyone involved. We had our plan together and then we went out quickly, as quickly as possible, but with as much research as possible, back to our investors, and we have gotten nothing but positive feedback, because what investors want in this times is more communication, not less communication.
They want to know whether or not their money is at risk, which in our case, it's not, because we're very well-capitalized, and again, it's only a dip or a crater, let's say, to come back. And our financing is very conservative. We only have 70% loan to values when we bought them, so we are very, very good on those ends. And our loans are very affordable, let's say. So we're going to breeze through those things. But they don't know that, right? They don't know that. If they only hear quiet from you, then…not you, but our listeners, if they only get to hear kind of quiet from somebody, then they have, as we call it in Germany, they have kopfkino going on, mind movies going on. They have all kinds of movies going through their head of what all the stuff that could happen. And the best way to counteract them is just to communicate often, frequently, and in high quality, using those three steps. So I like that a lot. So, now, how does your solution make that easier? Because we still use email for that. How does your solution allow them to go and systematize that?
Adam: All right. So, look, email, of course, is a great tool, right? But it needs to be… Look, so now, this is bigger picture. Right, Jack. So, this is a bigger picture solution to communication.
So, email, once you craft your email and send it out, that's great. And it may be you can track who opened and who clicked, right? You can track who opened your emails. So, that's great, you know who's engaged. But that is a tiny window on the audience that you have. And what we build off, what I call full-stack communication systems. So, for example, let's say you have a view on what's going on today, or at any time, right? You want to talk about land banking, or you want to talk about the subtleties of the IRR calculation, [inaudible 00:20:35] cap rate trends, etc. So what you can do is to create communication. And it might be an article, right? A thought leadership piece, that you situate on your website, so you put it up on your website.
Then you can create a piece of artwork that sits on top of that, a featured image, right, that represents what that is, that is optimized for social media, uses your brand, uses your brand guide, your colors, your font, and your logo, so that everything that you put out online, anyone that sees it knows that it's from you, right, basically. So that goes on to your social media, that goes out into the world.
Every single piece of content that you put out has a CTA, a call to action. That call to action might be, "Here's Adams's view on the current situation. Click here to find out more." And that image might be something that is powerful, right? It might be a headline of some sort, right? That's "This will be over soon," or, I'm pulling this out my ear. Right, something, "and here's why. Click here." Now, that will direct traffic back to your website. And on your website, you will have your article or your content, be it a video or a podcast or whatever it happens to be. And on that page, you will include a lead generation form. And that lead generation form will say, "Sign up for our newsletter. Join our waitlist."
Jack: Okay. So, I get that. That's the standard kind of internet marketing method that we have been implementing and also teaching. Even to our land flippers, they do some of the same things to get people on their buyers' list for potential real estate purchases and so on.
I was referring more to your existing investor base. Like, how you have already have investors that you want to keep updated, and [inaudible 00:22:41]…so, no. And let me say the other way. So your system allows lead generation, and investor communication?
Adam: Yes, of course.
Jack: Okay.
Adam: And, in fact, when you create the right kind of content, it doesn't just serve to generate more prospects, which is, of course, the lifeblood of any business, and to nurture those prospects to becoming investors with you. But it also reassures your existing investors and your existing network that you are active and engaged. So, if these were normal times, you would want to have high-level educational content on your website about things that you might assume everybody knows already, but you can't make that assumption, right? So, let's say you do have an article about the internal rate of return, or where you think commercial real estate is going during this crisis, how it's going to emerge from this crisis. You have to have that on your website, and be communicating that with both prospects and existing investors. Why? Because if you don't, they're still gonna ask that question. And if you don't answer it for them on your website, they will find it on somebody else's website, or possibly a competitor.
Now, the reason that I was going down the funnel description, which obviously you know very well, was because you had asked me about emailing. And the reason that it's beneficial to set up a system in a particular way is that when you send out an email to your network, to prospects and investors, you want to know how engaged they are. And the classic way of doing that is to see who is clicking, who is opening your emails, but more importantly, who is clicking on links in the email? So, when we send out emails, we don't like to put the whole content in that email. We invite a click. If you want to know more, go here. And we do that because we built some proprietary systems that allow us now to track user behavior on our website. So what that means is that I'm able to create a hotlist of people, based on their activity on the website, what pages they look at, how long they spend on the website, so that we do know who are the people who are most engaged. And at times like this, those might be the people that you choose to call personally, right?
You can automate the whole process, but if you've got people who are spending maximum amounts of time on your website, you're able to identify who they are. During good times, they are perfect candidates for direct contact to upsell to. But during times like now, they are perfect candidates to reassure, right? To call and say, "You know, what's going on, just wanted to let you know, see how things are. If you want to talk, give me a call."
Jack: Right. Very good. Now, if you listen to that… I like the aspect that you're going into that with the end goal in mind. And the end goal in mind is, number one, is that, did you reconfirm your existing customers that you have all aspects covered? Number two, that you go in and have a lot of information for new potential customers. And number three, the analytics part of it allows you to see who are my best prospects. And right now, in the time that we are right at, you then choose, obviously, to, and all times really, for that matter, you choose to contact the hottest prospect first, right? And you can do the same thing now. That is a very, very, very valuable thing of tracking. And tracking is obviously very, very important, and a very much underutilized and underestimated piece of technology that people use.
Like, for example, we have a software called Investment Dominator, which is our CRM for our land flipping customers. And it has tracking capabilities in there too, for the advertising, so that we can know which advertising brings in what leads at what cost, because, otherwise, if you generate 100 leads, you don't know if your money is spent right. And your software seems to have the same capabilities that [inaudible 00:27:32]
Adam: Yeah, but you know what? A conversion in our business is a very different thing. We're not selling widgets, Jack, right? I mean, it's a tough business. If you're selling widgets online, you can advertise, you can measure how much you spend, and you can track the investor journey through the entire funnel, all the way through to conversion, conversion being "bought the widget."
With real estate investment, nobody goes through your entire funnel. Nobody goes through the entire investor journey and writes you a check for $100,000 without communication. In other words, you cannot join the dots all the way, from top of funnel, all the way through to conversion. So, for example, when we…
Jack: You cannot, but you can connect the dots of which place you put content out, gets you more responses than others.
Adam: Yes, you can do that.
Jack: And then, ultimately, based on the number of people who invested, you know that this place is a better place, brings in a more qualified investor, and I don't mean that in the context of the financial thing of like a sophisticated versus accredited, I mean it just a more of a qualified person that asks more, that is more accredited or a higher-level, high net worth, and so on, that investor than perhaps this path over there.
Adam: Exactly.
Jack: I'm only talking to that level, not all the way through.
Adam: Yes, exactly. So, this is something that we have developed, having spent hundreds of thousands of dollars to try and test this.
Jack: Yes, absolutely. This is expensive to invest. We haven't done it for the land side. You've done it for the investments side…
Adam: To raise [inaudible 00:29:10]
Jack: …which is very, very cool.
Adam: Yeah. And the issue is that, you know, you could put out content. For example, you could advertise, you know, Facebook or Google advertising, and get tremendous conversions according to the, you know, your typical agency's conversion metrics, which is, how many leads do you get? But that doesn't mean anything in our business, does it? Because our business…
Jack: Exactly. That's exactly where I'm going with that, so that…
Adam: …requires somebody to actually write a check. So, you might get 1000 leads on one channel, but not a single one of them actually is worth anything. However, you might pick another channel that only gets you 10 new leads, and all of them write you checks. That's the channel you want to go to. And the dots between those, that's what's difficult.
Jack: Exactly. So, that's what I'm talking about. Those are the most important dots to connect, in my mind. The other ones, once you have picked up the phone in your communication, you can track people in different ways. But that's the first one. That's the one where you can really help decide where you want to spend your effort. And you have built that. That is fantastic, that is wonderful.
Adam: So, you guys still advertising now? Have you pulled back?
Jack: We are. We are in both areas. We advertise because we also teach this, so we advertise for our land course. We actually are doubling and tripling our advertising for that right now, because our method works in a recessionary environment. It has worked in the last big recession, it works in this recession. We haven't seen a drop off at all. As a matter of fact, we have an increase in interest in our methods. So, we're advertising a lot there. But we're also advertising for our land properties that we're selling through our website and placing them. But then, there's lots of free different places that you can put them up there.
But again, the effort is, needs to be in relation to the results, and that's where tracking comes in. So, even if somebody takes the time that they're stuck at home, and creating really good, nice advertising with their time, not spending money, then you still want to use that in a way that it gets you the best results, so that's where our tracking comes in very handy.
Adam: Yeah, so look, I mean, another advantage of putting out a lot of content on social media, and this is what we learn from, is that you can identify what content performs well. And when you identify what content performs well, you can dovetail that into an advertising campaign, for example, and eliminate certain layers of split testing. So you don't have to do all your split testing by paying for ads, right? You can get your best-performing social media posts and just adapt those into ads. But as far as, look, you know…
Jack: Let's jump into that for a moment. You just flew over that, and that's a very powerful principle that I think I want you to just explain a little more. So, what you're saying, if I understood you right, use content which you created for free, or you had somebody create for you, you put it out there on social media, and you see what traction each of those gets. Some is going to get 10 views, some of it gonna get 100,000 views, or, if you're lucky, some of them is gonna get… So you take the best-performing ones, and then turn those into paid advertising?
Adam: Exactly. Yes.
Jack: This is really cool because it… Typically, what you do is, and you can explain it a little more, but typically what you do is you have to put two out there, pay a bunch of money to see which one is better. But with your method, you pay no money. You let the market decide which one is more attractive, and then once you have the results, then you only spend money on the ones that are already successful.
Adam: Yes. Jack, exactly right. Actually, let me pivot to how you use that during times of crisis as well.
Jack: Absolutely, go right ahead.
Adam: What you just described…
Jack: That's wonderful nugget here. Let's go.
Adam: So, what you just described was split testing. And this is where your audience is telling you what they want to know, what are they reacting to favorably? And so, the two sides of that are, you can either pay to do that on Facebook, where you create dozens of different ads that have different wording and different colors and different pictures, and then pick the winners, and then compete against the next set of ads to see which is going… That's an iterative process, it's constantly, goes forever. So that's one way you can do it.
Another way you can get into that cycle is to create a lot of content, put it out, then see what works well, and then double down on what works well. During times of crisis, the way you can use that, like now, to understand what is it that people are reacting to the most, in a fast-moving environment like we have now, is to think about what is it that my investors are asking me? So if you get… And I just spoke to somebody this morning about this as well. If you get a phone call from an investor, saying, "I am worried about bank lending," right? "I'm worried about bank lending. What's going on? Are you able to raise money? Or are you able to get loans?" You can bet that if that one investor is asking, all of your investors are asking. So you can use digital communications to answer all of them at the same time. So instead of sitting there passively, answering just one person on the phone, let's say, or sending out one email to one person, take that same question, right? Your audience has told you what they want to know. Take that one question, craft a really decent, detailed response, and use that to distribute to all your investors. In other words, you are crowdsourcing, in effect, the content that you're putting out.
And in a world that is changing as rapidly as it is today, every time you get a concerned call from a tenant or from a banker or from an investor, create content from your answer, and use that to communicate online, either by email or by putting out social media posts. And again, obviously, as you know, you can automate the whole process. But that's how you get to the nub of what it is that people want to know about.
Jack: Absolutely, that's a great, great tip here that people can use with their land flipping, with their house flipping, with investor sourcing, because it's the exact same thing. When people are worried about…if the house sellers are worried about a certain thing, if you can address that, you stand out from the crowd. If a land buyer is looking for a certain thing, and you can address that, like, for example, with seller financing, which we offer, then all of a sudden, they can get into a property with less cash, and etc., etc.
So, very good. Well, we gotta wrap this up. It was wonderful to talk to you. Again, can you give us a link again so people can find out more about your platform?
Adam: Sure. Thank you so much. So the best place to find out everything is gowercrowd.com. So that's my last name, G-O-W-E-R, crowd.com.
Jack: Gowercrowd?
Adam: [inaudible 00:36:39] But I haven't actually counted it, but I'm guessing probably over a million words of content on my website. I've actually calculated it.
Jack: All right, wonderful. Yeah, that's, content is still king. I mean, every time I look for something, what comes up is content websites. So, content is still king, always has, always will. So with that said, great, thank you very much, gowercrowd.com, right? No, yes.
Adam: That's right, gowercrowd.com.
Jack: Okay, wonderful. So go there, check it out, and follow these really fundamental principles of internet marketing, either through their platform or even on your own. So with that said, thank you very much.
This concludes this episode of "The Forever Cash Life Real Estate" podcast, where I'll talk about all things cash flow and things that are really related to that, like today, more from marketing and internet marketing conversation, which is very timely, because if everyone's sitting at home or being in lockdown or not anymore or close to it, and we're navigating somewhat of an economic crisis, knowing these things is even more important than ever.
So with that said, give us a five-star review, comment, share it, well, wherever you see it on YouTube or iTunes, and give us a thumbs up and the five-star reviews. And soon, we'll be here with another episode. With that said, thank you very much, Adam.
Adam: My great pleasure. Thanks for having me on.
Jack: All right. Thank you, everyone.
Male: Enjoyed this episode? Then make sure you like, subscribe, and post your comments and questions below the video. We're looking forward to hearing from you.
Enjoy this podcast? Share the love!