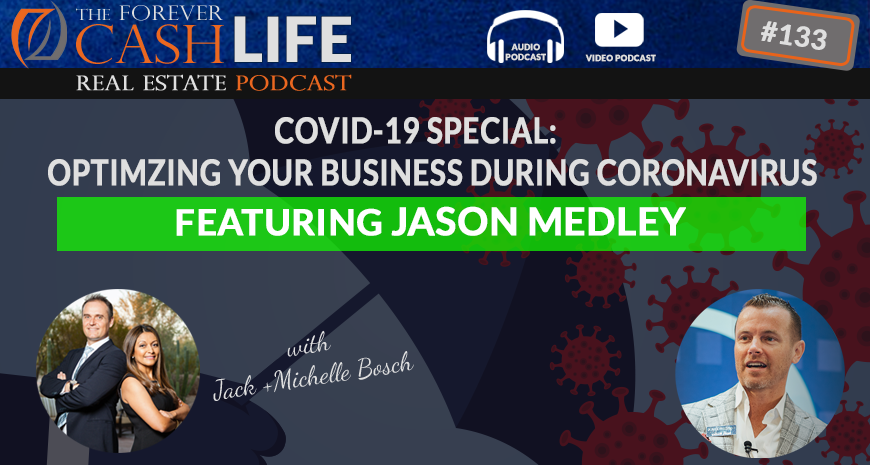 Jason Medley is the founder of The Collective Genius – a COMMUNITY of investors that are really focused around placing high caliber real estate investors on the FAST TRACK to becoming visionary leaders that scale their business, build wealth and give back. They always say, "we are ruthlessly and relentlessly are in pursuit of relationships that create results for our members."
In this episode, Jack Bosch and Jason discuss the impact of COVID-19 on the real estate investment world and where they think we are at right now in terms of the economic downturn. It is a crucial time to plan for how you will respond to a potential loss in income and – more importantly – how you can mitigate this. So, Jason breaks down his tips for what you can do to optimize your business taking into consideration the lessons learned during previous economic crises like what happened in 2008.
Listen and enjoy:
What's inside:
Understand where we are at in the economic downturn

Find out how to optimize your business
Discover the power of mastermind groups
Learn more about The Creative Genius
Mentioned in this episode
Tweetables:
Transcription:
Jack: All right. Hello everyone, and welcome to another episode of the Forever Cash Life real estate podcast where we talk about real estate, where we talk about cash flow, where we talk about flipping, where we talk about building that financial legacy and independence. And I have a very special friend with me today, Mr. Jason Medley, who is actually the premiere host of the premiere house flipper and real estate mastermind in the country. We'll get started in just one second.
Announcement: Welcome to the Forever Cash Life real estate investing podcast with your hosts Jack and Michelle Bosch. Together let's uncover the secrets to building true wealth through real estate and living a purpose driven life.
Jack: All right, so here we are. Jason, welcome to the show.
Jason: Thank you, sir. Honored to have, honored to…I'm glad you have me on, and you were saying all my favorite stuff there: forever cash, and good life, and real estate, and flipping, and tripping. And I'm, like, all right, you're talking my language. Let's go.
Jack: Let's go. So again, so you're here. We have created this kinda special coronavirus pandemic recession kind of series that we drop in between our regular podcast episode to provide some extra, like, leadership in these times and give you some up to date information of what's going on. And I brought you on, Jason, because I don't think there's anyone else in the country that has the ear on the ground or the crystal ball or the ear on the ground, whichever way you want to call it, better than you because of your role and your position as the founder and creator of Collective Genius Masterminds. So first of all tell us a little bit about you. Tell us about what the CG does. And then let's jump into telling us what you see in the market happening right now.
Jason: Sure. Absolutely. So for those of you who don't know, I run, again, I run a mastermind called the Collective Genius. And really what we do is we're a community, right? Above all things, we are a…
Jack: And I've been part of that community for probably, like, eight years or so.
Jason: Yeah. Well, and that's really a perfect example. It's not just a community. It's a community of very high caliber investors, right? So folks, you know, similar to Jack playing at that level. So we're a community, and what we do is we put high caliber real estate investors on the fast track to becoming visionary leaders and scale their business, build wealth, and give back. And so the way that we do that is we effectively create a board of directors, if you will. And once a quarter everyone kinda flies together into Tampa or into San Diego. And actually next quarter we are going to be doing our first virtual event because of all this crazy nonsense.
But effectively each person goes through a process, right? Where they share a system, a strategy, a resource, something of value with the rest of the organization. And then they share what they're struggling with and what they need help with. And everyone else in the room says, "Hey, I've been through that before, Jack." Or, "I've got that mastered. I can help you with that." And so, you know, that is, and it's not just a sharing of information. There's hundreds of millions of dollars of deal flow. Again, Jack is a perfect example of that. Jack has bought, how many houses have you bought from Joe Lever and other Collective Genius members?
Jack: I bought 17, actually 19 houses, but two didn't go through. But 17 houses that we bought from Joe, 5 houses from another member. When we bought this house we got financing through one of the guys off there because we needed a short term, hard money loan because the seller financing was taking longer. The seller didn't want to wait. So we took a short term, hard money loan through one of the Collective Genius guys. Like, literally, one little message or one text message to another member, and boom, we had it lined up. That's why we are able to be in this house and some.
Jason: Yeah. So that's a perfect example. Jack has bought 20, almost 25 houses from other Collective Genius members for his portfolio. And then in addition in his new dream home, he needed a short bridge loan in order to close. Got that loan from a Collective Genius member. And then, you know, an example of, like, right now with this whole thing going on, again, this may not be the situation with land, but it might be. I don't know enough about the business. But if you need to be able to buy a piece of property but you can't go over to the seller's house, you might say, "Well, I don't know how to close deals over the phone. We've been doing it in the living room for 15 years. What do I do?"
And so CG, in CG what we do is we match people via connections where someone will say, "Listen. This guy over here, he's been buying houses sight unseen over the phone with his acquisitions teams for two years. So we'll put you together with him, and he'll teach your team how to do it." So don't worry about it. Right? So that's the kind of environment that we put together. And it's way bigger than that. You know, our members vacation together. They peak Mount Everest together. You konw, they go dirt bike racing together. We do a lot of things too from a charitable perspective. You know, last year we raised $300 grand for a bunch of charities. We built some houses in Mexico. So just, again, a community, not just about real estate but just about life.
Jack: I want to add to that. That is fantastic. And that's one of the reasons I'm continued part of it because I love the connections. I love the friendships. I love all of these pieces. I love the giving back. I love that it's done in a fun environment and so on.
Jason: Yeah.
Jack: When I joined back in the days, and I didn't know many people yet, the reason I joined, even though I'm a land flipper and everyone is a house flipper, the main reason that is still, now it's only one of many reasons, but the main reason back then was, and it's still one of the many reasons, is that I don't know of another place where you can ask how is the economy, what's coming, and you have people that already are further ahead down on in the column of growth or further ahead of a recession or further ahead of pandemic or further ahead think that have not, that already have relationships with builders that see what is foot traffic doing, that see what is this demand doing. So you have this group of hyper active and action taker guys that are all playing at a super high level that literally you can tap into. And I do that, tap into literally at least at a glimpse of the immediate future and have a glimpse of what's going on because they are not watching CNN or Fox or CNBC for their news. They're getting their news from their actions from talking to people from the reality on the ground so with that they are weeks, if not months, ahead from the actual economy and from what the newspapers are going to report.
Jason: It's funny you say that. I'd like to think that we were two-plus years ahead because…
Jack: I agree with that. I agree with that. Yes. Go ahead.
Jason: Yeah. None of us, obviously, know or knew, I should say, that we were gonna have some pandemic. Right? However, you've got a lot of seasoned investors, like myself, and probably Jack, I'm assuming, too because we're similar in age. This is our third, this is my third black swan. You've got coronavirus. You've got 2008 financial collapse. And you've got 9/11. Right?
Jack: Right.
Jason: It's every 10 years. It's not about, you don't ever know what's gonna happen, but you should know, after you reach a certain level of maturity from a business perspective that every 10 years something is gonna happen. And so we have, for two-plus years, I'd like to think we've done our best to get our members ready for this because for two-plus years we've been banging the drum about we're at the top of the economic cycle. We can't keep going like this. Something is gonna happen. Make sure you've got retained earnings in your business. Make sure you've got retained earnings, the rainy day fund for your family. Make sure you've got liquidity in case something like this happens. Because right now, there's one thing that everybody wants. It's peace of mind. And the people with the most peace of mind are the people with the most liquidity, the most cash. You know? There's other things that go into peace of mind, obviously. For me it's…
Jack: This and having a method that works. I mean, there is a lot of struggle going on in the house flipping world of what works and what doesn't work and how to adjust for that. Our method, just to let you know, still works. So actually a lot of people are using our method as a hatch against that because it worked all the way down in the last recession. But you're 100% right. You predicted that for the last two years at every meeting. It's like, "Hey guys, we don't know how long it's gonna last. Build up cash." And we have been preaching that in our seminars and things like that. You've gotta do this right now so that you build up the cash so that when something happens, the economic expansion cannot last 20 years. It's that you gotta do something. So I 100% agree. But should have, could have doesn't help everyone. Right?
Jason: Yeah. No. Well, the time to prepare for the storm is prior to its arrival. But now that it's here, that's a different plan.
Jack: What are we doing now? What do you see in the market happening right now? And what do you see from with your conversations happening for the next, let's say, year? Now it's a tough question because a year, everything changes on a weekly or monthly basis right now, but where do you see the consensus or the opinions in the group? What are the trends or thoughts in the group? Without even locking yourself down, what are the trends or thoughts that are the two or three main opinions of where it's gonna go?
Jason: Yeah. You know, I know it seems like we've been dealing with this thing forever, but at the time you and I are talking, it's only been three weeks.
Jack: I know.
Jason: And so I think the smart, mature investor who's got a little wisdom realizes that we're too, this is, we're still in the data getting stage. Right? Jack, you're a great marketer. So the way that I'd like to liken this or give example is whenever you're testing, like if you're mailing out postcards for land, right? Before you say, "I'm gonna send 50,000 of those postcards," you're like, "I've got three postcards here, and I'm gonna send 7500 out, and I'm gonna send this postcard to 2500, this one to 2500, and this one to 2500." And then you look at your results and you go, "Whoa. Postcard number two was the winner." Right? But before you could figure that out, you had to get some data. Right? And as much as I would love to, I don't think it would be prudent of me.
I will give you my opinion. Okay? But I can also genuinely tell you that I feel like, even though it feels like we've been dealing with this thing forever, we are, it just happened. And we are still very much in that data gathering stage, and I don't think enough time has gone by to where we can determine, like, what this thing looks like. Because in one day you get an unemployment report. In two weeks, 10 million people unemployed. And then the next day it's like, wait, New York, it looks like their cases are stabilizing. They're not increasing. Right? So you've got such good news countered by such bad news or vice versa that we're too, this is too fresh, I think, to determine what direction it's gonna go. Now I will give you my opinion on it.
Jack: And I agree with you on that, just as a side note. We do our tests with 500 letters, not 5000, but I understand because our response rates are lame. But yeah, go ahead. I get the point that you said.
Jason: But before you attack the opportunity…
Jack: Oh yeah, we test.
Jason: You've gotta get some data before you attack, right?
Jack: Yeah, we scream it from the rooftops. Test, test, test. And I told the people who send, like, too many letters without having testing. Test and get data and so on is absolutely 100%. I'm with you. Go ahead.
Jason: You test. You get your data back. Your data then dictates your decision or shows you your opportunity. And I think that's where we're at. We're in the testing phase, if you will. We don't, it's too early. We're still getting data in. But if I were going to give you my opinion, I think that although the economy is never worse than when it's at its best. And typically when there's a collapse, whether it was 2008 or this time, when does it happen? It happens when it's up here. Right? It's at the top. And although from the outside it appears to be doing the best it's ever done, a lot of times there are underlying fundamentals that have yet to be exposed. And then something like this exposes them.
And what I mean by that is that the economy was very propped up by cheap debt, corporate buybacks of shares, right? It's not that the stock is doing that great, but the buy back shares. They decrease the number of shares, which increases the value. There's a lot of manipulation that was taking place to create the highs that we've been enjoying. And I think now that this has happened, a lot of those things that were below the surface, right, we were only seeing the tip of the iceberg. The stuff that was below the surface is going to expose itself. And I personally think that we're gonna be headed into a recession that is not just marked by two quarterly decreases in GDP and then we just kinda snap back. I think it's gonna be, we're gonna go into a period of recession. Now here's the good part. Don't let that disappoint you. Right?
Because, again, Jack has probably heard me say this five times since he's been in CG. For every real estate investor, for every land investor, for every house flipper, there is opportunity in every expansion, and there is opportunity in every recession. Okay? There's opportunities on both sides. But right now, we are in what I call the gap. Okay? Between the expansion and between the recession there's this time frame. Right? In between my hands there is this time frame. And that time frame is where everybody is trying to figure out what's happening, right?
I give this analogy at CG sometimes where I show pictures of a bike, like a 12-speed bike, and I show the gear set. And if you were little and you used to ride that bike, even if it was downshifting, which I think our economy is doing, when you would shift that gear, that chain would go off of one gear, and as it was moving to the next it would make that kinda gritty, grindy sound. And your brain would kinda be like, "Oh, is that gonna catch? Right? Is it gonna be okay?" And that's where we're at right now.
We're in the gap of maybe sellers haven't quite come to the conclusion that their house might not be worth as much. And then if you can buy the house, you can't buy the house because the secondary market on Wall Street, the paper, the liquidity has dried up or they decreased LTVs on which they are able to loan on, which means you've gotta come up with more cash now. And then if you don't wanna come up with more cash, because what's everybody wanna hold onto right now? More cash, right?
So there's kind this, we might be in that stagnant period, if you will, between the expansion we had and the recession that's coming. Again, there's money to be made on both sides, but in that middle, in the middle, in that gap it can create a lot of uncertainty. And sometimes you need to have liquidity to be able to make it through to the other side. I think right now we're in the gap. I think we're gonna move into a recession. But I don't want that to be a dirty word. I think there's plenty of opportunity.
Jack: We made most of our money, we made a lot of our money in the recession by being able to buy during those times if you are prepared for sales. So what do you recommend some people do right now in that time in order to prepare? Because the gap period, and that's why we just finished a nine-day training program basically where we did live trainings with our people and said, like, this is the time right now to prepare so that you can, whichever way this turns, you can take advantage of that situation. This is the time to invest, to invest in yourself, to up those skills, to learn, to be able to take advantage.
Last week's Friday, there is now a Zoom call that you host that we're talking about a different way of financing houses that now happening, and it's the same thing on our end. Like, when everyone did cash deals right now. Well, it's gonna be time soon that people do more self-financing deals because the buyers wanna hold on a little bit to their cash, and so on. But what do you recommend people do right now in the gap in order to get ready for the other [inaudible 00:17:13]? One thing is obviously try to generate or do or put more cash to the sidelines, right?
Jason: Yeah. Here's the thing about the gap, right? Nobody knows how long it's gonna last. So you gotta do… You know, it might last three months. It might last three weeks. It might last three years. Right? But you've always, I've always, at this point in my life, being almost 50 years old, I plan for the worst and hope for the best. And so I would suggest a couple of things. Right? You've got to get as lean as possible. Getting lean is going to give you more liquidity. Right? And so you wanna figure out how to accelerate receivables and how to cut expenses. It is much easier, I think, in my opinion, and much quicker to first cut expenses. Right? That doesn't mean, there's a difference between an expense and an investment. Right?
So I wanna make sure everyone understands the different there because investing in yourself right now, that is an investment. It's not an expense. Right? So if you're looking, if you're trying to position yourself to take advantage of the opportunity that will present itself on the other side of this, investing in yourself is an investment, not an expense. So let's look at…and I'm gonna do my best to answer this based upon it's a broad answer. Everyone on the call I'm sure has a different level of business sophistication. And so I'm gonna attack it from two spots. If you're fairly sophisticated and if maybe you're just getting started or don't have a sophisticated business, per se.
So if you're highly sophisticated the first thing that I would do is that I would get with your team. I would get out your profit and loss statement. I would, for 2019, I would cut and paste your expenses onto a new tab in that spreadsheet. I would first rank them highest, lowest. And then I would begin examining those expenses and determining where you can shred expenses. Now let's just say, hey, I've got plenty of cash. I don't need to shred expenses today. Okay. But what you should do while you still have a logical mind, right? Not an emotional mind but a logical mind is say, here's what I'm gonna do. I'm gonna set some buckets in place, some parameters, some thresholds if you will that say, hey, the business looks okay right now. It is April. If in May we don't do x amount of gross revenue or x amount of profit, these things have to happen. And these things might mean the service we're using over here, the product we're using over there, the person on our team who's not mandatory for us to move forward.
You've gotta look at those things and you gotta break down buckets. Okay? Bucket one says in May, if we don't hit these revenue points or hit these profit numbers, this is what we're gonna do. Okay? Bucket two is in June, if we don't hit these revenue or profit numbers, this is what we're gonna do. Bucket three would be July. If we don't hit these numbers in July, this is what we're gonna do. And you should really have it to where you can be as lean as you can be within 90 days because of those three buckets. Now you may have to make adaptions to that based upon, you know, like, if you said, say, you know, if we don't do $400,000 in revenue and $180 grand in profit in May, then we gotta do this. Well, if the numbers are horrible and way below that, then you may have to kinda go to the things you needed to do in bucket two.
But one of the key takeaways there is that you need to approach that exercise while you are currently logical because if you get into that situation and decide to try to do it when you're emotional about it, you're not gonna make the right decisions. Right? So that would be number one. If you're not running a business with a balance sheet and a P and L and cash flow statements, get this out. Open up your credit card app. Start flicking and start chopping. You know? Look at the credit card that you business expenses on, and start looking through there and figuring out.
I'll give you an example. We were getting ready to start to do monthly case studies. I was hiring a service to interview our clients to talk about how CG has helped them, etc. We were gonna begin direct mailing them. Right now, I thought to myself, first of all, from a mailing list perspective all I have is their business address. Most of them are home. Right? So it's gonna go, and it's gonna sit. And when they do get back in their office they're gonna be going through that process of, "I've already got so much to do. I'm gonna just shred through my mail." Right? In addition to that, it's gonna be super hard to get my customers to slow down to do those interviews because everybody is in hyper drive mode. That was gonna be $1500 for that report and probably about $5 grand to mail it, so $6500 bucks a month. Right?
I cut it. It wasn't necessarily just a financial move. Part of it was also logic. Right? I don't have their home mailing addresses, and most people are home right now. So they ain't even gonna get it. Right? So think through, look at things you're doing, okay? Look at the things you're doing. Go through that exercise that I just shared with you. Okay? Then the alternative, because that's typically faster, at least in my mind, to go through that exercise than it is to go out and generate revenue, new revenue. Right? But that's what you wanna do. You wanna figure out. You wanna look at your existing business and figure out how you can generate new revenue.
Now the reality of it is that can be challenging at times like this because depending upon where you live in the United States right now, if the virus has your county or city under lock down, and people can't do construction, and you can't, you know, like, buy and sell houses, that can be tough right now. That's just the reality of it. I'm not gonna paint a beautiful picture. However, I can tell you I had a call with a CG member yesterday who said, "Hey, that's the situation in my city. I'm picking up my game and going to another city."
So I'm not suggesting you stand still, but you gotta think through how can you accelerate receivables in some form or fashion. And then how can you mitigate losses, right? If you have a rental portfolio, right, like Jack, I would be in constant communication with those renters. Right? How can we help you? Are you gonna be on time paying rent this quarter? Do you need assistance? If you do, here's how to get it. You wanna be a beacon of communication right now. Okay?
Jack: Great points. And for us, for those who are listening perhaps are doing the land flipping in our way, that would mean that instead of sending the letters first class mail so that you get the responses back so you can do the skip tracing, you know transition to bulk mail, standard mail, so you save about 30% in mailing costs, right? That's your number one expense anyway, right? So you drop, right, 30%. If you don't wanna use the call center right now, it might be time to perhaps temporarily or put it on the calendar that if you don't hit your numbers, which again we haven't seen much impact in our business at all.
Actually we've seen more sellers accepted than the price is still high, but if this continues for over, like, half a year, from the last recession, we see that the prices start dropping off, you gotta buy cheap or sell cheaper. Your margins are a little bit compressed, so you need to adjust some of these things. So perhaps you put it on your June, or July, or May, or June, or July's thing that if you don't hit your numbers by then, you go from the call center to a voicemail box. Right? Right there is savings. Right? You go from a VA perhaps to doing center things back yourself, if that's happening. Right? But again, we don't see any impact in our business yet.
But I wanted to have Jason on because Jason, he lives in the world where the impact is immediate right now. So we wanna be smart about our business and already see what are those that are being affected right now doing in their business so we can learn from that so that if, which depending on how long you say. If it's a V-shaped recovery, we won't see any impact. If it's a year, year and a half, we'll see a smaller impact later on this year on our end, which still might be enough of an impact to adjust some of your cost basis, right? So you're still always gonna be able to do deals, but you gotta adjust those. So we have now a window into the future of what we potentially will need to do, and it's never a bad idea to look at what cost savings others are doing in order to pre-plan those. And I love when you say to pre-plan them now when you're in a rational mind versus later on if, all of a sudden, you might have to do some emotional things, and that usually doesn't work out very well.
Jason: Yeah. Another thing that's critical right now is communication in every form and fashion with your team, with your customers, with your family. I'll give you an example of all three. Like Jack said, we have monthly calls inside of CG for the COOs, second in commands. We have monthly trainings, but by and large we're an event-based business where we get together once a quarter. With this going on, we are leading the charge. Every Friday our customers are on Zoom calls, on their cameras, 100-plus people. We call them all hands on deck, and we're doing them every Friday to stay out in front with our customers to figure out. It's not about where the puck is. It's where the puck is going. And that's what we're doing with our customers because right now, in an instant, we've gone from a seller's market to a buyer's market. It's gonna get easier to buy from distressed assets, but it may be a little harder to sell. Now that may not be the case for land guys because I know a lot of times, Jack, you carry the paper, right?
Jack: We carry the paper. Now we are going from a cash economy to a more seller financing business, from a… But if there's an impact on price, then we're also going into a little bit lower price environment. But we, the dynamics are a little different. We're also lagging in the day indicator. Like the big developer land is a leading indicator. The smaller ones, the $5000 to $100,000 pieces of land, they're actually lagging indicative to the economy because we're B to C. We're selling to the regular customer that's still sitting at home, still has a job, and says, like, "Yeah, I want that piece out there so I can be away from the coronavirus." Right? So, but this will be affected to some degree if that continues for longer periods. So it's nice. It's good to plan for those things, absolutely.
Jason: Yeah. At the end of the day in the household market and in the multi-family market, it's gonna get easier to buy a distressed asset, harder to sell, because the liquidity that's been financing the purchase of the distressed asset has either gotten harder to get, you can't get as much of it, or in some cases, like from rental property's prospective, it's evaporated unless you have a relationship with, like, the community [inaudible 00:28:46]. Right? So that's a takeaway. Easier…
Jack: And even there, guys, I just wanna let you know. I am working today with one of you guys in CG on getting myself a $2.5 million line of credit that they are offering that we can use for when the opportunities pop up because we have plenty of cash in the bank. We are very, very… We heeded his advice. We heeded our…we realized we gotta put cash on the sidelines. So we have been putting a lot of cash on the sidelines in the last year and a half, but right now we missed the boat on putting actually loans in our rental portfolio.
So even we are not perfect, but we still, right now, we're working with members of CG, of Collective Genius, on getting a $2.5 million additional line of credit, which would give us a $3.7 million line of credit plus our cash in the bank to attack this when the opportunities start popping up, when we do see the opportunities at a point. But we agree to buy them to buy and hold. Our opportunities are to buy and hold. So we're monitoring this market on the house and apartment complex side to see when do the numbers again make sense like they made sense in 2009 when we started buying houses. If it comes to that that they make that kind of sense again, we wanna be as freaking liquid as possible to just buy, buy, buy, buy, buy, and position ourselves for another quadrupling of those values. And that's it. Then we're done. We're done at the level that we never even thought we would be done.
Jason: He who has the cash or access to the cash makes the rules.
Jack: Right.
Jason: And here's another big point right now, and I think a real opportunity for people to step out as leaders, is if you listen to some of the things we've talked about on this call, Jack's bought almost 25 homes from people in Collective Genius. Jack needed a short term loan for his dream house. Jack is working on a $2.5 million line of credit right now. Your network is your net worth. Let me put a new spin on that, right? I like to ask people, who's doing the heavy lifting? You or your Rolodex? Right? So right now is the time for you to elevate your Rolodex.
I'll give you an example of that. Right? We have a gentleman in CG, Jim Zaskill, I don't know if you know him, Jack, who he just did a call in his market. He's in Philadelphia. And he invited a bunch of other investors, title companies, attorneys, real estate agents that sell product in the markets in the zip codes he likes to focus on. He did an educational call, and at the end he said, "Hey, I'm looking to form an alliance here in our market, so when we're on the other side of this we all thrive. But it needs to be high caliber folks. If you're interested in being on this alliance and doing these types of calls with me on a regular, weekly basis to help each other through this so on the other side of it we help each other out of it and into thriving, send me a little bit of information about yourself and what value you think you could bring to the call."
Now when he has that next call he's gonna have a group of power players on there, and he's gonna be the leader of those power players that walk people through this. That's the tribe. In Philly they're gonna come out the other side, and they're gonna have an alliance and a loyalty to one another because they struggled together. Right? You become loyal. When you struggle with people…
Jack: You become loyal to each other, yeah.
Jason: Loyalty is built, right?
Jack: That was a great idea. And really, anyone can do that at any level. But let me just give another example to that. I have one regret. I have one regret, and that…I mean, probably more than one, but this is the one financial regret. The one regret I have is that in 2008 and 2009, we had beautiful liquidity from our land flipping. We had over $70,000 a month coming into our bank account every month just from the seller financing notes. We used every dollar of that to buy houses as fast as we could get. But at some point of time, we ran, not ran out of money, but we enticed people to pay off their loans earlier so we could get to cash faster. And so we dropped payments a little bit, but the point is that we wish we would have…we asked ourselves, how can we buy another 100 houses? And we did not have the network because we had, for five or six years we had the blinders on, which I credit a lot of our wealth to that up to that point because we just focused on the one thing, which is there's a big point to getting in line and staying in line.
But when it came for that time of opportunity we did not have the network back then, which is because of that when you, Jason, actually reached out to me, then a couple of years later. So I said, like, "Hey, you wanna check this out?" I immediately came on board because your network is your net worth. Right? Another friend of mine in another market had the network in place, and he now owns 1000 houses, 1000 rental houses. Right? We own 40 or 50. Right? So the difference is your network. Now I'm not sitting here crying and complaining. I've done well. Right? It's all okay. But the point is you gotta build your network. You gotta build your network. You gotta be plugged in. And you gotta, if necessary, pay to be part of that network. Right? So this is just, and not in the good times. In the good times anyone can make money. It's in these times that you need that network is more important that ever before, and I couldn't be happier than to be part of Jason's here. So Jason, how can people find out more about you?
Jason: Pretty simple. You can go to a website we have set up. It's called Learn More About CG. It's a short video. It's about four or five minutes long. It'll give you kinda a peak, an inside peak into the network that we've built. If it's something that you're interested, it's a super chill process. We don't sell people. We really want a structured environment where we invite folks into CG, and then only if we're the right fit. Right? If we're the right fit for you and you're the right fit for us, you can come on board. And if not, that's okay too.
Jack: And this is not for beginners. You have to have some experience. You have to have done a bunch of deals, but I give you that criteria that were there. So this is for the advanced people watching this that are already doing a bunch of deals in whichever niche in which you are doing.
Jason: Yeah. And one of the cool things too about the way we structure it is because a lot of people don't…like, when you're on the outside looking in, you don't… "The Collective Genius Mastermind? What is that? I don't understand it." Right? So one of the cool things about what we do is we pretty much, we structure a risk free type of environment where…because there's two reasons. Right? We wanna check you out as much as you're checking us out. And so we put you into the mix where you get to experience our culture, experience the type of things that we're doing inside the organization, the types of connections we're making, the caliber of people. And then after you've experienced it, we kinda huddle up and say, "Are we right for each other?" And if we are, we continue forward, and if not, no harm no foul. Right? If we decide, "Hey, you're a great person, super smart, maybe not the right fit for our culture," or you decide, "Hey, this isn't what I thought it was." No harm no foul. Right? We just easy breezy.
Jack: Love it. And again, this is mainly for, like, for house flippers, financing, for multi-family, mobile home, things like that, not necessarily much for land. But again, I love it. I just love being part of it. With that, Jason, thank you very much. We covered a lot. We covered, I think, the biggest takeaway of that, there's lots of takeaways, but one of them is, like, I agree with you that we are in the gap right now. But the gap is the time to prepare. Right? You don't want…a gap is, like, not the eye of the storm. It's kinda like, just, there's stuff happens. You know? There's things changing. You're analyzing. Where is it lead? Where does it go to?
But one thing you gotta do in the gap is be prepared because the gap is not gonna lead to just… It's just gonna disappear, and all of a sudden goes everything back to roses. There is gonna be some impact to this. We just don't know exactly what it's going to be, and I agree with you. So pay attention. Plan for it. Talk to people. Attend sessions like this. Educate yourself. Put the ear on the ground. Turn on your brain. Make your own decisions about what it is, and then act on it, because otherwise you just have a bunch of information. You're still missing out on it.
When I saw the coronavirus coming I said, like, I need to sort the stock market. Two weeks later, stock market crashed, and I missed the boat on it. I could've made millions of dollars on that thing. Right? But I missed it, and it's the second freaking time I missed it. But anyway, so it's because I'm not in the stock market anyway. But that's my thing, just, like, I'm not in there. So I was like, oh, let me move some money over. And by the time it happened, it was too late. You gotta act quickly, and act quickly to be prepared. Act quickly to take advantage of opportunities. With that said, thank you very much, Jason, for being on the show.
Jason: Thank you, sir. Honor. I appreciate it.
Jack: All right. Thank you. With that, that concludes our episode of the Forever Cash Life real estate podcast. Make sure you give us a five-star review. Share this, particularly this one here with estate, with an update about what the house flipping world is doing and where we are seeing. So with that said, give us a five-star review. Share it. Give us a thumbs-up. And see you guys in the next episode. Bye-bye.
Announcement: Enjoy this episode? Then make sure you like, subscribe, and post your comments and questions below the video. We're looking forward to hearing from you.
Enjoy this podcast? Share the love!