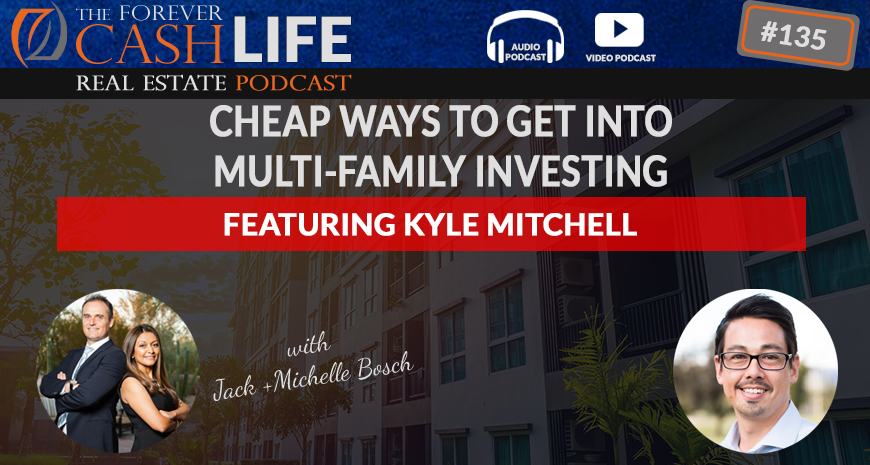 Kyle Mitchell's passion is in helping others reach their goals in all areas of life by doing things the right way and creating long lasting relationships based on trust and clarity. He is a managing partner at Limitless Estates, a real estate company specializing in the multi-family niche. In this episode, Jack Bosch talks to Kyle about how got started in the sector by leveraging a combination of research cheap, simple to implement networking strategies.
If you've been wanting to get started in a real estate investing niche but don't quite know how, this episode will give you the tools you need to begin your next investment journey.
Listen and enjoy:
What's inside:
Discover how Kyle Mitchell got started in multi-family real estate

Find out how to leverage meetup groups to meet people in the industry
Understand the ins and outs of multi-family real estate
Mentioned in this episode
Tweetables:
Transcription:
Jack: Hello, everyone. And welcome to another episode of "The Forever Cash Life Real Estate" podcast where we talk about asset creation cash flow. And today we're gonna talk about if you wanna get into the subject matter of multifamily investing, how you can go from really starting without millions of dollars of assets and with creative ways that don't cost a whole lot start building the network, the expertise, and the connections, and the deal flow, in order to get into that subject matter. All right, let's get started in just a second.
Male: Welcome to "The Forever Cash Life Real Estate Investing" podcast with your hosts, Jack and Michelle Bosh. Together, let's uncover the secrets to building true wealth through real estate and living a purpose-driven life.
Jack: All right, here we are back. And it's my pleasure today to introduce our guest, Kyle Mitchell. So first of all, Kyle, how are you guys? How are you doing?
Kyle: I'm doing well. Thanks for having me on Jack.
Jack: Wonderful. So Kyle is a multifamily investor, has been doing that for a few years now, and the reason we brought him on right now is that he has a very creative and very cool way that we're gonna dive into in just a moment, by using some of the tools that everyone knows is available, you might have actually attended them already. And I've participated in part of those already, and he's actually leveraged them to his own benefit and those around him into a portfolio that is now $17 million worth, right? Is that correct?
Kyle: That's right.
Jack: Right, and probably brought you a seven-figure net-worth in the last few years from wherever you started out. Is that about correct?
Kyle: Yep, absolutely.
Jack: Okay. Wonderful. So great. So Kyle, give us a little bit about your background. Where are you from? I know you live in California. But tell us, how did you get into real estate? Why into real estate? Where you're from? What's your story?
Kyle: Yeah, great. Thanks again for having me on. And I'm born and raised in Southern California and I first got started in real estate back in 2013. And at that time, I had a full-time job, wasn't planning on leaving my job at the time, and was just trying to create some extra income for myself. So at that time, I was buying some single-family homes in the Midwest and I got up to about nine single-family homes. I've since sold some of those off and selling more of those off and moving them into multifamily. But at that time, I was just trying to create some cash flow for myself. And a couple years later, after I got that portfolio, my company was shrinking when I wanted to be growing, and so I started looking at different career paths for me to take because I was kind of tired of being in my corporate job. And that's when I found multifamily…
Jack: What was your corporate job at the time?
Kyle: I was a regional manager for a golf management company.
Jack: Okay.
Kyle: So much like property management for apartments, it's property management for golf courses, just a different asset class, right. So what I did was hire, fire, implement systems, manage budgets, drive top-line revenues, and control expenses. And so a lot of that I relate now to what we do in multifamily. So as soon as I found multifamily, 11 months later, I left my full-time job and I pursued this full-time.
Jack: Okay, awesome. So you had a job, you made a decent amount of money, probably nothing crazy, right, not minimum wage either, just some decent amount of money, so now you transition into multifamily. Did you have a network of people that already did multifamily? Did you have like all your ducks in a row already in terms of, like, deal flow, and accreditation, and expertise with Fannie and Freddie, and like basically the non-recourse lenders, and etc., etc.?
Kyle: Not when I first got started in multifamily when I switched over, but certainly before I left my job, yes. And that's what I spent the first 11 months of being in the multifamily space, that's what I focused on. So as soon as I found it, I knew it was the vehicle that I wanted to go with. So the first thing I did was started to educate myself. And then we got a coaching program. We did one-on-one coaching for six to eight months. And we made sure that we educated ourselves. The next thing we did was started to go to events, and seminars, and meetups, anything that we could do to meet with people who were like-minded and doing the same thing that we wanted to do. I'm a big Tony Robbins guy. And he always says, "To model yourself after others," right, so you don't have to recreate the wheel. So we were…
Jack: Success leaves clues, right?
Kyle: Exactly. So we were looking for those successful people to partner up with or at least gain some knowledge from and that kind of catapulted us to where we are today. And I did it by modeling after others in the meetup space. We started a meetup and then slowly a couple months later, started a podcast, then started another meetup. And by creating that educational platform, it really helped us to be at the front of the table for people to come ask us questions. We got introduced to people a lot quicker, our network grew very fast. And once that had happened, we were ready to start making offers on deals. That's when I decided to leave my job when we did have our ducks in a row.
Jack: All right, so let's go back right into that because you just skimmed over a really, really cool almost like bootstrapping strategy that you guys did. So first of all, you did coaching and all this is great because this actually, success leaves clues, why figure this out yourself, particularly in a high complexity area of multifamily where there's way more complexity things than there's in the single-family houses? So you did the right thing on that and then you took action, you selected the market, probably that you liked. And then instead of just trying to chase the brokers in that market, you basically actively created the platform that other people could learn alongside you probably, right, at the beginning. So you basically put up the face, "I'm the organizer of that meetup," but behind the scenes is like, "and I'm learning just as much as you guys there," probably. Is that right?
Kyle: Yeah, that's right. The thing is, is that when we first started the meetup, we kind of had that imposter syndrome, but you have to get over that. We definitely never spoke about anything that we had not gone through. But we did know how to pick out a mentor, how to pick a market, how to get started. And so those are the things that we started talking about at our meetup. And as we began to develop and do more deals and things like that, and grow in the space, that's when we began to implement more things that we would talk about at the meetup. But absolutely, I was learning along the way. But getting access to more and more people with a bigger network, therefore, my network group.
Jack: Right. So again, let's get into it. What I really love about that is that you…and everyone who listens to this, please pay close attention. So instead of just saying, complaining about, "Hey, I can't get the brokers to pay attention to me because they're being flooded by phone calls every single week." Instead of saying, "Oh, I don't know who to use as a property manager in that market, I don't know who to use who's a good mortgage broker, or who is a good title company in this market," you just went into a market that you had researched that this was your market of choice, it happens to be my market in Phoenix where I live even though I don't own property here. I may not own single families here, my multifamilies are in other markets around the country because it's just a very expensive market here right now. But it is also a very growth market.
So you came into this market, and you basically said, "Let me set up a meetup." So you took the bull by the horns and said, "Let me create an environment where people come and there's not gonna be just beginners coming. There's also going to be some people coming that just wanna be networking more in that area." And I've attended some meetups. I've been one of the ones upfront being interviewed at some of the meetups. And there were guys in the audience that own more units than I own. And I was the guest of honor basically being interviewed over there. So the meetup, it's not just beginners come there. It's actually some players coming there. And you start being introduced to that. And since you're the guy who organizes it, guess who they come to? You get first dibs on deals, you get to be taken more seriously by the brokers. So this is a brilliant strategy. Now, how much does it cost to set up a meetup?
Kyle: Really, it's free if you can find the venue, it's all about finding a good venue. You know, we pay $200 for our venue. But I have another meetup in Southern California that we pay zero for that one. So it's really just setting it up on Meetup, which is I think $35 a month that you pay and that's it. And you can definitely charge people to attend your meetup if that's the way you wanna go. We don't do that currently, but this should be a break-even or very cheap way to get started.
Jack: And then how quickly has it grown to how many people?
Kyle: Yeah, it fluctuates definitely in the time of year, we have anywhere from 40 to 70 people depending on who we have speaking. And what we do too is leverage our partners and allow brokers to come in and speak to people. So we're introducing them to potential clients, we allow our property management company to come in and speak. And by helping them out, we're helping ourselves out as well.
Jack: So it's wonderful, of course, yeah, you wanna provide…you have a platform for them to get more business that means just you're gonna go up the ranks and their mind when they know of a deal that they can pass on to you. So it makes total sense. This industry is very much a relationship industry where if you can go up to be one of the top five spots for when certain deals come along, then you're golden. And then you're gonna get deals that the mass of the market are never even gonna see. And how do you do that? By being an influencer that's being taken seriously. So it's a brilliant strategy that you're pursuing on that end of setting this up, of getting people or going off having you perceived as a leadership position, which you obviously then are. And it costs you maximum let's say 200 bucks and perhaps in your case, since you live in SoCal, a Southwest flight ticket over here.
Kyle: Right. Yeah, exactly, which is pretty cheap. And we look for properties here and we can check in on our properties. So it makes sense.
Jack: Right. So 500 bucks, perhaps, it might cost to do this and you do that once a month. So if somebody is serious about a deal that potentially be a multi-million dollar deal then 500 bucks invested is really nothing to do this. Love it. And potentially, you could even do it for free if you find a venue for free and if you already live in the market that you wanna invest in, it can be completely for free. Love this idea. And I wanna make sure I really draw out a little bit more from that from you. So then you started…the next part, you started a podcast. So that is obviously interesting. Obviously, there's 700,000 podcasts out there, but you…and I like the sequence because the sequence is you create a little platform first and then you create the podcast, which now the people in the platform can promote the podcast for you, right?
Kyle: Yeah, absolutely.
Jack: And you just start with three listeners.
Kyle: Yep, exactly. I mean, what we did was we did a 30-day launch. And so we had interviewed 30 people before we launched and we did 30…actually, it was 31 straight days of launching our podcast. It was in March of last year, I believe. So we did every day in March, we launched a podcast, and we posted on social media to gain traction. And that worked out really well. If I had anything that I would do different, I actually would have done 60 days in a row to even get more traction. But at that point, we went to one day a week, but we had a plan that we put into action three months beforehand, planned out how we would launch our podcast so we could leverage not only our meetup group, the rest of our network, but also the way in which we launched it really helped gain credibility for our podcast much quicker.
Jack: Wonderful. So there we go. So now how much does it cost to do a podcast? It costs a microphone, perhaps 100 bucks if you use a nice one, right. It costs a camera on your laptop. Oh, you already have one. So that's free, right. And I use the light here, which is a ring light, which costs another 100 bucks to make the lighting a little better. But that's about it. So what's the average cost for a podcast recording?
Kyle: Yeah, it's pretty cheap. I mean, we use Zoom as well. So that's like 15 bucks a month. And then if you do your own editing, which I don't do anymore, but I started it, you can do your own editing in iMovie. And so technically, that's pretty free too, you've got to have a hosting platform. So I don't know, a couple hundred bucks for the equipment and 50 bucks a month for the hosting and all that kind of stuff and the recording.
Jack: Yeah, lipstick account or something, whatever you use there. Yeah, so we pay perhaps…I think we pay a guy somewhere between 100, 150 bucks per episode to put it all together and so on, and he's in South Africa. So he creates our podcast for that, so where cost of living is lower. So he charges a little bit less than others and he's watching this afterwards because he's gonna edit it. So, love him, love his work, and it's a beautiful…it's really not an inexpensive way to create a platform. So now when we put this together, what were the results of that?
Kyle: Yeah, just more credibility, number one, for our investors, right. When you go to our website, we've got a podcast, we've got several meetups across the nation. We've been on other people's podcasts. We have a YouTube channel because we record our podcasts and put them on our YouTube channel as well. And so when we were first getting started, I would always direct the brokers to go to our website, so they can see that we were serious. I think there's a lot of people who are just getting started in this industry that don't have a website, don't have a personalized email, they're just using a Gmail account. And so you lose your credibility pretty quickly with these brokers. They wanna deal with serious people who really do this full-time, although I didn't do it full-time to start, but who are going to be serious about making offers and taking down deals. And so when you have that credibility piece, which we built, it's not a slam dunk, but it makes it much easier to get closer to these brokers which have the key to the castle, basically.
Jack: They, in many cases, do. Great. But in terms of like now actual tangible results in terms of the deals, did the deals end up coming from the brokers who you got contacted to at the meetup, or did they come through the meetup, or did any partners or investors or title companies or any of the people that you ended up doing…any of the people who attended these things or came to the podcast ended up actually doing business with you?
Kyle: Well, yeah, so we had brokers on the podcast, and we've done one deal with them. And we have seen a lot of investors come from our meetups, definitely. And that's probably the biggest thing that we've done there, and just introductions through people we've met at our meetups that then introduced us to a broker or a property management company. But a lot of what we do, a lot of the business, or a lot of the vendors we work with are through the meetups and the podcast, certainly.
Jack: Okay, so see, so there's actually…it's not just something that you do for entertainment and become kind of famous that some people think, "So, why do you do that? There's no tangible results. No, there's tangible results, right?
Kyle: Yeah. You know, the way we got our second deal, which is our largest deal, a $15 million deal was we met someone through our meetup. So afterwards, he came up and said hi, we struck up a friendship. We knew each other for eight months after that, but we invited him to speak at our meetup. And he had a full-time W2 job. I had left my job at that time. And he said, "Kyle, I got this deal. Can you take a look at it?" Next day, we were out there in the market, walking the property. The following day, it was under contract, we had it under contract. And if I didn't start a meetup, I would have never met that person. And I would have never seen this deal. So that's actually…
Jack: That's an interesting observation that I also make, for example, when people come into coaching or into…they do like, is it worth it to do something or is it worth it to go to an event like that? And it's like, I always look at things…I always try to track things long term. So like, if I remember going to a meeting 10, 12 years ago that was absolutely useless meeting, I didn't learn a thing, which is rare because I'll usually you will learn something everywhere you go, right. But this was really I don't remember, if I learned much at that event, I probably learned something. You never learned nothing, but probably learn something. And the true wise, they say, "Oh, it's a good reminder." But in that case, it was just like some kind of a strange meeting anyway. But I met one guy there. And there's one guy several years later, when we needed to place a large investment, gave us a $500,000 loan that helped us bridge that gap and get into the deal for that, right.
So in essence, what I'm saying is like you always…like some people think that "Oh, no, that was a waste of my time." No, it's only a waste of your time if you literally just look at that and don't see…if you just sat in a room and just like this and didn't talk to anyone then went back home, it probably was a waste of your time. But if you talk to people, if you keep track of people, if you build friendships, if you build relationships, if you truly track the impact of that and you trace it down, it can almost always be traced down to a specific event, to a specific place that you went, to a specific conversation you had. And ultimately, so I love what you said about yeah, you had an eight-month relationship with them. So you could say like, "Well, great. I gained a friend by having a meetup." But no, you ended up getting a $15 million deal from that, it just took 8 months.
Kyle: Yep, 100%. And right now, I always say that I'm one person away from solving my next biggest challenge. And that's because we've been able to grow our network, right. So the more you grow your network, the more you're gonna be able to put out fires easily. And really, that's what this business is, as an entrepreneur, it's solving the next challenge that's in your way. So the stronger your network is, the easier that's gonna be to get it done. And that's why we continue to build these platforms and build our network.
Jack: So great. So with that, that's a perfect kind of wrap up of that part. So then the last question about that is, so now you've gotten the deal, the $15 million deal, I assume, just gonna assume that you didn't just grow up with $15 million net worth. So in order to take that deal down, how did you go about that because it's, obviously, from my knowledge is that if you wanna go with any kind of what's called agency debt like Freddie or Fannie or so, you got to have or even any other lender, most lenders, they require you to have a net worth or the key principles together have a net worth of the purchase price of the property at least plus one year's worth of cash flow. So in this case, it probably sounds like you needed the combine net worth of $15 million, and probably something like $400,000 to $500,000 in cashflow and cash reserves to cover any kind of like or even more potentially, to cover that kind of the mortgage payments in case like something dramatic happens.
Kyle: Yeah, absolutely. And so I work with business partners on all these deals, and multifamily is a team sport, and you definitely need to have a team around you. But what we dd is we reverse engineered what we would need in order to take down that size of a property, because that was in the space that we were looking at, right. So you know, if you're gonna take down a $15 million deal, you know what your net worth requirements need to be. So you need to know, who has that on your team collectively. And so we went out there and we built our team by reverse engineering it. The person that sent me the deal, luckily his net worth is pretty high. So that helped out but we had about four or five people on this deal to help out with the net worth liquidity, upfront money, due diligence, underwriting, all those different things. But we started with the number we wanted and worked our way backwards on what the team would need to look like in order to get it done.
Jack: All right, that sounds good. And that's the way to do it. I mean, in the process, you probably had to give up a good piece of equity in that deal. So you're not the 80% owner of that property because you probably own a good piece but every one of these people that came in, you need to give them some piece for them for being able to come in.
Kyle: Yep, it's definitely a team sport. And you can't do it all by yourself. I mean, I would never be able to take down a $15 million property. So as they say, it's better to have $1 of $100 or whatever their saying is, you'd rather have $1 of $100 than zero of nothing, right, or…
Jack: Right, or a slice of a watermelon than a full grape.
Kyle: Exactly, exactly. So I'm happy to take a piece of the deal and work with other people who…this team is now looking to take down bigger deals together. So these partnerships are bearing even more fruit by allowing other people to come into the deal and really utilize their expertise in whatever piece that is whether that was the underwriting, due diligence, capital raise, and asset management pieces.
Jack: Wonderful. Very good. So now let's shift over, let's talk about what kind of deals you do.
Kyle: Yeah, we focus on BNC value-add apartment investing. And so what we really look for is inefficiencies, whether the rents are below market, the property hasn't been taken care of, the property management company maybe is not taking good care of the property, deferred maintenance, things like that. So we purchase these properties and get them running more efficiently and drive the bottom line.
Jack: Okay, so, if I may say so, it's a bit of a crowded market right now, there's a lot of people in that same industry, including us, in that same kind of niche, it's exactly what we do, too. So how do you separate yourself from the other people in the marketplace?
Kyle: Yeah, I mean, we have a lot of operational and management experience. And I think a lot of people in this space, they see this as buying apartments. But when you get down into it, it's about managing a business. And so we have a lot of that operational know-how and so when we look at a P&L, we can see trends and things that we can kind of go in and add our expertise to, but we also separate ourselves by building relationships. I mean, I don't live in Phoenix, but I'm out in Phoenix two to three times a month. We're hosting a meetup there. Anytime we get a chance, we'll host an evening social where we'll invite investors and brokers into the same room. So again, introducing brokers to other investors to potentially give them business and hopefully, in return, we get something back. So it's all about relationships really in this business and that's what we focus on.
Jack: Very cool. That's a very good way, again, creative ways to keep building those relationships. And so now on the property itself, how do you make your property stand out from other properties in the area? Now, like before I got into multifamily, I honestly did not even see multifamily properties, and probably the same happened to you. You drive through neighborhoods, you see houses because you live in a house, let's say, but you don't see in every corner there's a multifamily. Now that we are in multifamily, we make our money land flipping but they'll be rolling it over and invest into multifamily. So for us, multifamily is an asset allocation place to keep these properties ideally for longer-term. And occasionally we syndicate too. But now that we are having…our eyes have been open for the last four years on multifamily, I see a multifamily property on every corner now. They're literally across the street from each other and they're kitty-corner from each other. There's entire neighborhoods, that like 50% of the properties seems to be multifamily. So how do you separate? How do you elevate your property from others in that kind of clusters, if you're in a cluster like that?
Kyle: Yeah, I think it starts with buying the right property, right, in the right area, and having the right business plan. But once we purchase the property, we really focus on exterior renovations and deferred maintenance first so that you can see it with your eyes that the properties changing. I think it's really important when you take over a property to be able to communicate that to the current residents, because I think a lot of the residents think immediately, "Oh, man, someone else bought the property, there's new management here, what's gonna happen? Their rents are gonna go straight up." So it's important to say, "Hey, look, this new management is going to put money back into the property, they're gonna make it a safer place to live, a better place to live."
So we work on things like that and really getting our infrastructure set, meaning things like work orders done. And there's a lot of properties out there that they're backed up on work orders, maybe they get 20 to 30 work orders and calls from the residents on a weekly basis and they only do half of them. So residents are living in a place where their apartments are not really safe places to live or clean places to live because the property management company isn't doing their job. So we really focus on making sure the residents are treated well immediately and they can see a change and difference and the place that they live immediately.
Jack: Wonderful. That's a big thing, I fully support that, we do the exact same thing. The last property we bought, first thing, we fixed the playground. Then we added some pergolas and barbecues, we power-washed the siding, which was in good shape, was just dirty. We had planted some plants, we planted some grass, just to make sure that this property starts right away shining. And then only for some people had garbage on their balconies and stuff and moved to invisible places make sure that these rules are enforced so that the property looks nice. Now when somebody comes in, they're like, "Oh, this is great." Put a lighting system in place, lit up the property at night and so on. So probably very similar things to what you guys do to right away show the current tenants, before we even raise the rents for $1, just show them, "Okay, we're making this place great." And that's now a year-and-a-half later, it's actually only really paying off because now we got higher renewal rates, rent increases, and all those things come into place.
Kyle: Yeah, I think that's important. On our first property, we actually had 16 month-to-months when we first took over and so you have to prepare for some of those people to leave. Well, we did it exactly like you said, we didn't raise the rents until all the exterior stuff was done, and 14 of the 16 stayed, and that is absolutely huge. You're not spending money on turns. You know, vacancy is your biggest downside, so you wanna limit that as much as possible. And so when 14 and the 16 stayed with rent increases, that was huge for our property. So it's things like that, that really make a difference and then focusing on the exterior stuff and the eyesores and making the place a better place to live. Really, you can have better resident retention that way.
Jack: Absolutely. Wonderful. So I love this. So thank you very much. So now how somebody can find out more about your podcast, your meetups, your website, things like that? Share it with us?
Kyle: Yeah, thank you. I appreciate that. Our website is www.limitless-estates.com. I also love giving out my phone number, 562-833-5010, happy to help in any way that I can. And all of our information is on the website. We have a free passive investors guide if you're interested in learning more. That investor guide focuses on the things that you should know before you do your first passive investment.
Jack: All right, wonderful. That's great. We're gonna put, obviously, all those links and the phone number into the show notes so that you guys can find it, just click on it, go over there. With that said, Kyle, I just have a couple of last questions for you. I don't know if you're a reader, but what is one of the last books or that you have read that made an impact on you?
Kyle: Yeah, "Shoe Dog," actually, which is Phil Knight's. "Shoe Dog," it's about his journey with starting Nike. And I thought it was an extremely well written book and a very amazing story. And it just shows you that you just can never give up. You just got to keep plugging away, believe in your dreams and then go for it.
Jack: Wonderful. And then if somebody is really like a beginning investor, trying to figure out where to go, how to go about this real estate thing, what would you give somebody like that as a piece of advice?
Kyle: Yeah, have a plan and then take action on that plan. I mean, it's sounds simple, but it's gonna separate you from a lot of people. You know, many people don't write down what their plan is gonna be. And a lot of people, if they do have a plan, they don't act on it, and so be intentional with the things that you do and be consistent.
Jack: All right. So with that said, that concludes our latest episode of "The Forever Cash Life Real Estate" podcast. As always, give us a five-star rating, share it with your friends so we can let more people know about these amazing investment opportunities out there and the opportunities for you to become a top real estate investor. All right. Bye-bye.
Male: Enjoy this episode, then make sure you like, subscribe, and post your comments and questions below the video. We're looking forward to hearing from you.
Enjoy this podcast? Share the love!