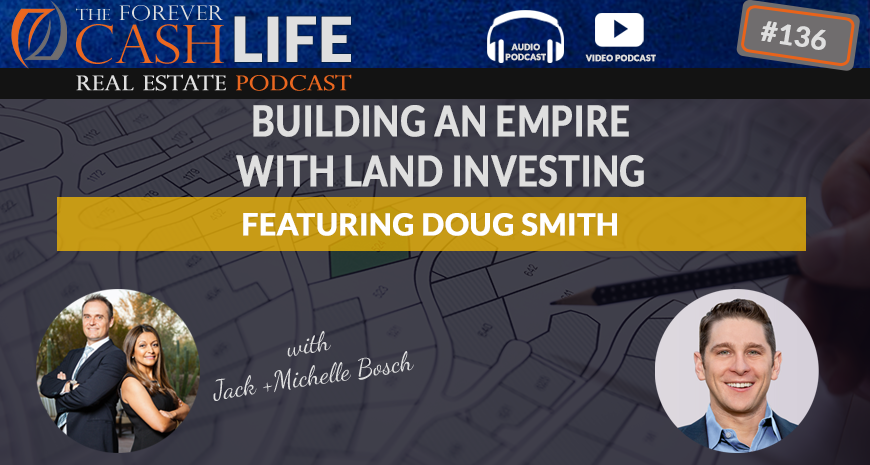 Doug Smith is the CEO and Lead Invetor at Hawthorne Funds, a Houston-based private equity firm that couples his funds with those of other investors to purchase, subdivide and sell large rural tracts of land in Texas. Their unique approach to adding value during the holding and disposition process gives them a competitive advantage that generates outsized returns for their investors.
In this episode, Jack Bosch talks to Doug about why he moved from house investment into the world of land and how he has scaled his business far beyond that of the typical land investor. You'll see how you can turn land flipping into a multi-million dollar empire without many of the issues that investors in other real estate niches face.
Listen and enjoy:
What's inside:
Discover how Doug Smith has created an empire with land investing

Learn why a season house investor switched to land
Find out the benefits of investing in land
Understand which properties will retain value during an economic downturn
Mentioned in this episode
Tweetables:
Transcription:
Jack: Hello and welcome to another episode of the "Forever Cash Life Real Estate Podcast," where we talk about all things having to do with cash flow. In today's episode, we're gonna talk about land but in a different and a mass scale way of buying hundreds of acres, subdividing them, selling them with seller financing. And I'm super excited to dive into that. All right. So here we are, and I'm super excited to dive into land flipping in a different way than we do this, and I'm super excited to have our guest today, Doug Smith, sharing with us how he takes hundreds of acres and subdivides them. Hey, Doug, how are you doing?
Doug: Great. How are you doing, Jack?
Jack: Wonderful. Wonderful. So just to give everyone a little bit of a background, Doug and I know each other for many years already, and he used to be one of those evil house flippers, right? Not evil, but they are great guys, they just don't know that land is easier, right? So he used to be one of the house flippers, and then I think he took off a year or half a year and he went to Spain, right? And…
Doug: Yes, I lived in Madrid for a year, in 2016.
Jack: And then you came back and then things changed. So give us a little bit of the history, Doug. Like, give us a little bit about who you are, how you got into land, how you got into real estate, like, a little bit of your story.
Doug: Okay. It sounds good. And I'll try to be brief so that we can really get into the meat of the topic and start helping people and maybe provide some tips that they can use to flip more land, right?
Jack: Right.
Doug: So, I'm from Lubbock, Texas, West Texas, grew up on a cotton farm, got a college degree, and become a computer programmer for ExxonMobil in Houston. Hated that, quit, started flipping houses, realized you can make good money flipping houses, but it's a huge pain in the butt, right? There are so many moving pieces, and it's really hard to scale. So around that time, I started myhousedeals.com, which provides a listing of investment properties, and so I spent several years focusing on that. I still had rentals from all my flipping. I kept some, right? And then that went bust and then boomed again in the 2008 recession. I built it back up again. It was doing great. I partnered with somebody. They became the president of that company. I moved to Spain for a year, lived in Chile, too, as well. And somewhere in there, I took off 2011 as well and played [inaudible 00:02:13] that year. Every now and then, I tend to do that so…
Anyways, while I was in Spain, or before I left for Spain, I started flipping houses in Houston again, but this time, I was buying them for cash then selling them on owner financing. And that was going very well. You can do a lot better than the stock market with that, and it's a lot higher rate of return, and it's more stable, right? You're just collecting on those notes every month. And then we experimented, me and my business partner at this point, we experimented with doing this with land, buying a bunch of land, subdividing it, and reselling the land on owner financing. And it took about a year and a half for that deal to go through from start to finish. But afterwards, we round the numbers in Excel and realized the margins were enormous, that we had just made a killing because we had sold all this land in owner financing, then we had sold the notes and, just when all the dust settled, it was a lot more profitable than land deals, or than house deals. We did go back in and buy a few more houses, but that's only after Hurricane Harvey because we thought we could pick them for cheap in the flood. That was so-so. But other than that, I've been a land guy ever since. So that was about four years ago when I completely switched from houses to land. I still collect on some house notes, some rentals, but it's land. And it's a great game to be in, and it's a shame I had just now stumbled upon it.
Jack: All right. Well, I mean, we've known each other for years before that, but nobody would ever believe me, right? So…
Doug: Yup.
Jack: So, great. So why land?
Doug: Well, the margins. There's a few reasons. Like, when you get outside of town, you get away from a lot of these smarter, more sophisticated investors, right? I mean, these are bloody red waters here in Houston, like, mid-sized or a large city with people that are trying to…they're smart people, and they're trying to become financially independent, just like you are, and they think the way to do it is houses, so you are just competing against…with all these other home buyers. So I wanted to get away from the competition. Now, land as well is beneficial with what we're doing is because we're basically buying wholesale, and we're selling retail. We're buying in bulk, and we're chopping it up, and then selling for a lot more, right, for the little slices.
Also, what's working out for us is that the change of use when you take something that was maybe for agriculture use, and you're switching it over for residential use, well, now, it's valued completely differently, and it's really…it's valued at a lot more, which you can sell it for, right? Selling on owner financing is great, too, because, well, most people don't know how to do it, or they're scared of it, so we don't have as many of other, like, competitors trying to sell on owner financing. And then when you do that, you can oftentimes sell as well for maybe 10% more or so than you would if you just sold retail and you open up to a lot more potential buyers as well. So there is probably some other beneficial things, too, but there is just…the list of reasons to do land deals as opposed to house deals is very long.
Jack: Right. Wonderful. I now know. I have been preaching that for about now 11 years or 12 years now, so that is fantastic. So let's dive into a couple of things that you just said. So what you guys do is different than what we do, right? We are known as the land guys. We are known as, basically, buying properties for 5 cents to 25 cents on the dollar or putting one in a contract, doing double closing assignments, transactional funding, whatever you need, we're buying outright, sell them, and not touch them, and just pass them on, and make anywhere from 50% to 1,000% returns on these deals. If we sell them with seller financing, the returns can even be higher than that. I like to keep my notes because I love the cash flow. What you guys do is slightly different. So you guys go into somewhat outside of bigger cities, within what distance, about an hour?
Doug: About an hour drive. Sometimes an hour and a half, but that's really pushing it. If we can do 45 minutes, we will, but that gets more expensive, right?
Jack: Right. So the one thing is saying, the further you go out to the city, it's something I've been explaining forever, is, obviously, it makes sense, the more rural it gets, the cheaper the land gets. So you guys go out about an hour out and then you buy how much land?
Doug: The smallest deal was 88 acres that we subdivided into 10-acre or 11-acre parcels. The largest was 852 acres, so…
Jack: All right. So let's say you buy it, for the simplicity of it, you buy 100 acres. All right, say 200 acres, 200 acres. So you buy 200 acres and then what do you do with them? Walk us through the process of what you do with those.
Doug: So we subdivide it, we map it out, and we sit down and think about how we can divide this out in a way that would be appealing to potential buyers. And then we start bringing in contractors to put in water wells, gates, coverts, driveways, home sites. I mean, I don't know if I mentioned power. And then we're starting to experiment with septic tanks. But very minimal improvements that mostly pertain to infrastructure so that a potential buyer can go in and do whatever they would like with the property. And then we start, I don't know if you have any questions related to that, but then we start marketing the properties on…
Jack: All right. So let's go into the individual, just on a high, high, high level into some of the individual steps. So, you know, when you buy 200 acres an hour out, it's typically not zoned for residential. So you talked about the opportunity of rezoning it to residential, is that something you need to do out there, or is this mini-ranchette, as you call them, are they also still owned…are they still…? In many counties that I operate in, land in those areas is just called vacant land. It's like unzoned or zoned vacant agricultural, and it comes with line of rules that you can put in one residential property for every five…on the size of the lot, whatever the size of the lot is, but it needs to be a minimum of like five acres or so. You come into those situations that you do that, or you do this [crosstalk 00:08:13.006]?
Doug: Well, we try to buy in the surrounding counties where we're not gonna run into any sort of problems like that. But in the State of Texas, if you're subdividing into 10 acres or larger, you don't have to go through the platting process. All you have to do is just bring in a surveyor, and that will cost you a good amount of money because it could be a lot of land, but that surveyor will basically…they'll chop up the land for you. And that's about it. When we're selling the land, we put in some restrictions for what the buyer can go. We don't want them to have a bunch of chickens out there, like chicken houses or like a feedlot or something. So we pass along some restrictions, but we're not being…
Jack: Okay. That's smart.
Doug: …confronted with a lot of restrictions ourselves, which upsets…
Jack: But that's good.
Doug: …some neighbors, but as a whole, it's working out.
Jack: But that's good because that's, again, state by state. You do this mainly in Texas. And in Arizona, the laws are somewhat different. There, you have to go through a more detailed process to get…if you split it into more than five units, so into more than five properties, you gotta go through a much more detailed process. So that's interesting. So when somebody wants to do that, you wanna make sure that you do it in the states where…you will check the regulations behind subdivisions and sector relations between not just… You're not creating technically a subdivision because it's 10-acre plus lots, but you're creating an assembly of 10 or 11-acre lots, right?
Doug: Right. Exactly. It's not technically a subdivision, so…
Jack: Right. So, technically, what do you do with roads, for example? I mean, obviously, a 200-acre parcel, an 800-acre parcel doesn't have roads in it yet.
Doug: Well, we try to buy land with a good amount of road frontage. That's why maybe 95% to 99% of the potential properties that we are looking at don't work, is because they don't have enough road frontage because we wanna be able to carve it out to where every little track that we're gonna create, every ranchette has access to a road. So…
Jack: Okay. So you do sometimes that lot behind the lot concept for that, or you do mainly just because we have one road, but it's like…? Walk us through…
Doug: Let me show you…
Jack: …that a little bit.
Doug: Let me… Well, I'm…
Jack: You can draw it out, too.
Doug: I'm holding this up. But basically, it could look like that. Like, maybe there's a road up here, and there's a road way down here. And if we're gonna have really long and skinny lots so that each one can have access to the road, to one of those roads.
Jack: Okay. That makes sense.
Doug: Yeah. I know a lot of people are listening to audio, but it was a horizontal road, right, up top…
Jack: Tell me about it.
Doug: …on a horizontal road down low, and they were carving out really thin vertical lots.
Jack: Right. That makes sense for that. Okay. That's awesome. So now, what kind of utilities do you put in on those lots before…? What kind of, like, improvements do you make to these lots, and how much do they cost, typically?
Doug: Yeah. That's a really good question. So for each ranchette, which is usually about 10 acres, we put in about $15,000 worth of improvements. So we'll put in a water well for each ranchette, and that will cost about $6,000. It really depends on how deep they have to drill, but it's about $6,000. And we're always working to get that down, like, buy them in bulk and so forth. We bring in power, and that's only a few hundred dollars, and they're somewhat…we've just got somebody that makes that call and co-ordinates that. And sometimes if we have to bring in power from, like, a little bit further away, like, one time we had to bring it from a half a mile away, and that cost substantially more, thousands and thousands of dollars. But usually, it's not that difficult.
Jack: But then once… That's right. But you're spreading it also over, in this case, 20..
Doug: Yes.
Jack: …ten-acre parcels…
Doug: So we can absorb it.
Jack: So if you perhaps [inaudible 00:11:57.712] start paying 20 grand to get the utilities in from a half a mile or whatever it is, then from there on on, it's only a few hundred dollars for each lot, right?
Doug: Yes.
Jack: So, like, it's the cables, and it's the pole, and the labor, right?
Doug: Yes, you're exactly right. And we don't really mind spending the money to do that kind of stuff. We kind of like part… This business is…the way we're doing it is kind of expensive. We kind of like that because it keeps other people out. So it's a barrier to entry. So sometimes things being a little bit more expensive or a little bit more troublesome are actually good for you.
Jack: Right. No. Absolutely. I mean, you… The beauty of the land flipping world is that nobody even thinks about it, which keeps most people out, but those who actually start looking at it the way we do it, there is no barrier of entry. They can get in very quickly and very easily and do deals fairly quickly. But we are protected in our market by just most people couldn't even conceive it, and even though I've been shouting it from the rooftops, there are not that many people that have actually gotten started in the land world because I've been shouting it to you for years the same thing.
Doug: I know. Well, because, it seems, on the surface like it's just another category. Like, there's multifamily, there's commercial, there's mobile homes, there's self-storage. It just seems like another 1 of the 10 or 15 different categories, right? Like, I guess, no one ever slapped me upside the head and told me about the margins. Maybe you should have mentioned the margins. That's…
Jack: That's all right. I mean, I'm okay with the house flippers not coming over. I'm okay with the average person that runs a business and sick and tired of running 24 hours in their business or runs an exhausting job, and just says, like, "Hey, this is better," to come over to us. I don't need all of the house flippers come over. We're attracting a lot of these frustrated house flippers that hit their head against the house flipping and started realizing, "This is too hard," to come over to us. And a lot of people who are just like…we have, dentists, doctors, and all kinds of people, and engineers and bartenders, from all walks of life, but they just want something, and they're open-minded to that. But now, this is… Yeah, go ahead.
Doug: If I could start over again, I would have gotten directly into what you're doing, what you're teaching, and then I would have either kept doing that on a larger and larger scale or I would have transitioned into doing what I'm doing now, which is actually buying the land and improving it and selling it. But, for sure, if I had known at that point, I would have gone directly into it.
Jack: Right. So now, what is the average budget for a deal that you do? Like, what numbers are we talking about? And you don't have to go into break up but, like, the average parcel an hour away from a big city costs, what, a million, 2 million, half a million?
Doug: Well, the most we've ever spent was 2.7 million, so, usually, they're several hundred thousand dollars.
Jack: Okay. So…
Doug: And then after we've got another one at 1.something million. So we've bought 3,000 acres so far, and we've sold half or more of those. The others are in the process of being sold. Usually….
Jack: Now, how do you sell them?
Doug: That's a good question. By the way, we usually buy for 2,000 to 6,000 per acre, and we usually sell for 12,000 to 17,000 or 18,000 per acre, and it kinda depends on where, like, the location, and also the topography of that particular ranchette, different factors.
Jack: The 2,000 to 6,000, and you put 1,500 per acre in place, and then you sell from 12,000 to 16,000, well, yeah, these are healthy margins. These are…
Doug: They're good.
Jack: …pretty good margins.
Doug: We have a lot of staff, too, right? And you've mentioned this on one of your previous podcasts that these home flippers have a lot of overhead, but we've got a lot of this overhead, too, because we've got a sales team, we've got all this office staff, we've got a CFO, there's an attorney, and then I've got an operations manager, and I've got an executive assistant. Like, that eats into some of the margins, but the margins are still there to cover all that in profits. And this is a private equity fund. Like, that's how I started structuring a year ago, right? So now I've gotta pay all the investors as well. But even, like, regardless of all that, there's still money to be made for me and my business partner, right?
Jack: Yeah. So that is a great point. So your strategy is not the strategy for somebody who runs an 8 to 5 job and basically said, "Let me do some land on the side." This is really…
Doug: No.
Jack: …more strategy.
Doug: Your strategy is. Yeah.
Jack: Yeah. This is a strategy for somebody who potentially is listening to this, has been doing what we're doing or has been doing real estate at a high level already or has been doing what we're doing and has been…gotten up to a limit of what they can do and basically say like, "You know what? That might be the next step for me." And that's why I wanted to bring you on because I loved your angle to it. I've been familiar with it. I have another friend in Houston that does the same thing, and he actually takes it to a level even further. He actually gets cable television and other things in there, and he owns his own water company, and then he basically goes and rents them out to…
Doug: Martin?
Jack: …different people.
Doug: Is it Martin?
Jack: Yes, that's exactly right. That's exactly right.
Doug: We're in EO together, Entrepreneurs Organization.
Jack: Oh, right, wonderful. I'm with him there, too, [inaudible 00:17:07] there.
Doug: I thought you were in EO. Okay.
Jack: Yeah. So is our [inaudible 00:17:09].
Doug: It's funny. Yeah. I don't mind.
Jack: Yeah. So there's multiple ways that you can even skin that cat, and then you can go above…
Doug: I know.
Jack: …with that. But the bottom line is this is…for those who are ready to really take our business model and even take it a level higher and start…instead of just flipping without touching, which is what we do, right? Yeah. I haven't even seen one of our properties in 13 years, right? So we do everything right from here. But in your case, you probably go out there a couple of times and…
Doug: My business partner does. I try not to.
Jack: Okay. Right. It makes sense. I mean, there's just dirt, right? But…
Doug: Yeah.
Jack: But at the beginning, probably you go out there once or so, but then…
Doug: Mm-hmm, sometimes.
Jack: But, again, for those who wanna take this a level higher, this is a great model. So I like it. And you said you do this as an investment fund, a private equity fund?
Doug: Yeah.
Jack: So, talk to us about that a little bit.
Doug: So, basically, I was doing these deals with my money. Basically, the agreement was…the situation was that it's gonna be my money and my bank loans to buy all the houses initially with this business partner and then all the land. Well, I was doing that, right? So I would get 75% loans, right? And those were personally guaranteed by me, right, on my credit? So I was responsible for bringing the 25% down and then paying for the improvements, which were tens or, sometimes, hundreds of thousands of dollars. Well, after doing that for a while, and we had so many projects in play, and the money had not come back yet, I was running out of liquid capital, right? I was getting dry on cash, and so, I also, at the same time… I knew the profits were huge. It was just gonna take a few months for some of that to pop. At the same time, I had a lot of people in my social circle, wanting to invest in these deals with me, so I went to an attorney to see how we should social structure it so that they could participate as well. And the end result was, "Okay, the best way is a private equity fund, and this is how they're gonna get paid out. This is how you're gonna get paid out." It cost 50 grand to create the fund, they're not cheap, but ultimately, it laid the framework for what we have going on right now.
Jack: And how is your currently capital stack structured? Like, if somebody puts in 100 grands with you guys, what do they get?
Doug: They get 15% per year on their money. So, basically, the…
Jack: And within which time do they get cashback out?
Doug: They start to get it right away in monthly payments, and the sunset on the fund is after three years, so they get all their money back.
Jack: Okay. That's a pretty good return.
Doug: It's really good. I set it up that… It's, like, so high that people are skeptical, but the reason… So, a lot of private equity funds, they have a 6% to 8% pref return, and then they'll do some sort of split on the back end where maybe the sponsor is getting 20% or 30%, and the investor is getting the rest, like, a huge chunk. Well, ours is set up totally differently. So you're getting a huge pref return, but you don't get as much in the back end. It's very minimal. You get like 5% or 10% of each deal on the back end, but the idea is that you're just gonna be really happy with your huge pref return. So I think it can scare some people because they think it's too good to be true, but once they understand it's not, then it's a very good for just word of mouth. Everybody tells their friends about it. And I would rather everybody just be talking about the fund and the good returns they're making, and then bring some more investors than me hiring someone to go out there and raise capital or me always having to be at every meeting and trying to shake money out of people, right?
Jack: No. Absolutely great. I mean, we do also multifamily, and our model is more of the model that you just explained on the…for the smaller pref and a bigger piece because the profitability of multifamily is not very high when you optimize the property. But then when you optimize it, the profitability is higher on the back end when you sell it all out. In your case, it's kind of similar, but since you've got things already going, you have a very profitable cash flow stream coming in that now allows you to pay the 15% and then you don't have to give up much at the back end, which is totally fine. You can't… Yeah. It makes total sense. So…
Doug: So we're able to do a lot more deals than, otherwise, we would have. Like, I've raised 5 million for the fund, and somewhere between 1 and 1.3 of that was mine. I'm the largest investor in the fund, and I think that helped as well. But we were able to do a lot more deals than we otherwise would have. We would just kind of sitting on our hands waiting for some of this money to come back. When you go out, and you raise several million, you can just go do more deals and make less per deal, right? Because I'm having to pay out all these investors, but when it all shakes out, it's much better.
Jack: Now, how do you look at the world right now? Are you getting into shopping mode right now?
Doug: We're not seeing that the values have dropped for land for sale yet, at least with what we're looking at, maybe you're seeing it.
Jack: No. Not yet.
Doug: Okay.
Jack: But, typically, it takes about six to nine months after an economic correction for that level of land that we're talking about to actually also drop in value. So it's a lagging indicator to the… We've gone through the downtown in 2009 and 2010. We were able to tell that even both demand and supply are very high for…not supply, but the demand was very high for about six to nine months after the market crash in 2008, late 2008, and then sometime in 2000…almost '10, the price just started coming down.
Doug: Interesting.
Jack: And so we are right now… This time around because the impact was so hard and so quick, we're seeing opportunities to buy cheaper quicker while the prices are still very high, so our margins have actually gotten bigger right now. But depending on how quickly this is being resolved, there will potentially be some tremendous buying opportunities in 6 to 12 months or some even more tremendous buying opportunities for some of your land probably towards the end of the year, I would expect.
Doug: Yeah. I was thinking that if we're gonna buy it for cheaper, that we're gonna probably end up and sell it for less as well, right? I mean, if demand is then…
Jack: Right. Unless you have the ability to buy enough, that you can park it for a little bit, and then take your time with developing it because if you then come out of the development, let's say, two years later, then by that time, everything is going back up again, and now you bought cheap, and you sold big, which is basically what, if we look at 2009, the builders like Toll Brothers, and D.R. Horton, and those kind of guys… I know Toll Brothers raised $1 billion from their investors in 2009 and went land buying in 2010, 2011 when prices were rock bottom. They're only building on that land in…they only started building on much of that land in 2015, 2016, 2017, because prices had accelerated enough that they now can basically take advantage of the super low prices they bought at and sell at the super high prices they typically sell.
Doug: Oh, that's nice. If I were to do that, though, I'd paying out these investors and bank loans and all of that all this time, and that might eat up the profits, you know. If you just have the money sitting there, and you wanna park it, then yeah.
Jack: That might require you to change your model for that if you see a big…
Doug: Sure.
Jack: …opportunity and go to a more split profit model and land banking model. But I'm just sharing from experience from what I've seen 12 years ago.
Doug: Yes, that's good. Our deals normally last a year to a year a half, by the way, so, you know, we need to drag them out a little bit. You know what might be something interesting about this recession, though, is that maybe we will see…there will be an increase demand for land, okay? Just with people wanting to get away from the virus, right? At the same time, a lot of these people have less money, so it's like, what's gonna win out, like, the fact that economically, they're in an inferior position or the fact that they really want that land?
Jack: However, here's a great question, and that's a great question. However, what I found, again, in the 2008, 2009, and 2010 recession is that the cheap properties, the chunk stuff, the $5,000, $10,000 properties or below $10,000 properties, particularly the below $5,000, which in our model, you pick up for 200 bucks, those wouldn't sell any more after 2008. And they're for many…for five, six years, they didn't sell, right? So what continued selling is the $40,000, $50,000-plus things because the people with money continued having money and the people without money didn't have any money. And I just saw right now an article about who is most affected by coronavirus, and it's those making less than $2,500 a month, right? They lost…
Doug: Yeah, you're right. They can't work from home a lot of times, right? So…
Jack: They are in work, in physical labor work, jobs that require their presence, or they're waiters and things like that. The entire Vegas, everyone there works probably under $2,500. They're all home. And, with that, the managers and supervisors are also home, but the top level of management is still managing those hotels and money because the asset still has to be managed and preparing for the reopening and so on. So the bottom line of what we found is that the really interesting good properties continued selling really well because the people with money continued having money. And the first part of your comment is 100% true, it's already shown, there's been already a huge spike in interest in rural property just in the last month. So it's definitely something that is happening right now.
Doug: I've seen it even with a couple of Facebook friends just longing for, like, rural land, and I'm like, "Okay. It's good to know," right? I'm sure it's not just those few people in the world, right, that are looking…
Jack: No, I mean, people are sick and tired of being sick and tired in their places, and they wanna just roam around and have bonfires and feel free again instead of just feeling contained. So…
Doug: Yeah. What about…? A question for you, during the last recession, you said some of these lower-end properties in rural land were not selling as well, what if you were to sell those on owner financing? Would that overcome the fact that there was less demand for them?
Jack: For those below $5000, not even [inaudible 00:27:07]. Even in an economic downturn, what always happens is there's a shift towards seller financing. So you'll see a lot more of your properties also reselling for owner financing coming up very soon because people do have money during those times, not everyone, but the 80% have money. They're just choosing to spend that money more carefully and not plunk it all down on a ranchette, but instead plunk down 20% in monthly payments. And once they feel economically safe again, they'll pay it off. So what happens is that 2009, 2010, 2011, we got lots and lots of seller financing deals happening, but then in 2012, 2013, 2014, they all sold out, they all paid off because they're like, "Okay, we got our jobs back, everything looks good again. Okay, I don't wanna carry that loan at 12%. Let me pay it off." All right? So they paid it off very quickly, which is all good because it's more cash in the bank, right? So I was never afraid of that ever. I'll never be sad when we can redeploy it.
Doug: I mean, you can redeploy it, for sure. I do like when they pay them off.
Jack: All right, man. So love how this turned out, love that we went from your technique into more like an exchange of experience in the land area and what happens in a recession. So how can people find out more about you or if they wanna invest with you or something like that? How can they find out more about you?
Doug: Well, I send out a newsletter every few weeks, this is more of an update to all the investors in the fund, and I can include you on that email if you would like. Just shoot…
Jack: Sure.
Doug: Just shoot me an email, doug@hawthornefunds.com. It's doug@hawthornefunds.com. Or go to hawthornefunds.com just to check out what we're doing. There's a lot of pictures of properties and stuff like.
Jack: All right. So we'll put that…
Doug: I'm not raising money… Yeah. Go ahead.
Jack: We'll put that into the show notes. But you said you're not raising money?
Doug: No, because I raised that 5 million and we're just deploying it and so… But I will raise money again at some point, so if you wanna actually like follow along to see what's going on, so that when I end raising money, you'll be educated. You'll even be able to make it…
Jack: That's perfect. Yes, do that. That's great. And, again, Doug is a great guy. I've known him for many years, and I love that he speaks Spanish now, too, and… So…
Doug: That was a son of gun to learn, I mean…
Jack: I bet, especially like…
Doug: …as an adult. But, yeah. Have you spent much time over in Spain?
Jack: I have spent half a year in Spain, living there when I was in my early 20s and then I spent quite a few vacations over there, yes.
Doug: Okay. Yeah, I imagine from Germany, it's, like, probably a common spot to vacation, right?
Jack: Yeah. I lived there, I worked there, did an internship there, and as a child, lived in Argentina, too, so that's why…
Doug: Wow, that's awesome.
Jack: …I speak Spanish so… And now I'm married to a lady from Honduras, Central America, and her mom lives with us, so she only speaks Spanish, so we have lots of Spanish going on in the house.
Doug: Yeah. So are you always practicing or you feel like you're, like…?
Jack: No, I speak probably a good half an hour to an hour of Spanish a day, but just around the house.
Doug: Yeah. Good. I do that…I have rules with certain employees that are Hispanic or speak Spanish that we only can speak in Spanish so…
Jack: Okay. That's awesome.
Doug: …you have to stay on it.
Jack: All right. So we have the cleaning ladies today. They only speak Spanish, so it always starts like, "Hey, come over. Please come over. Mia, can you look at this? Can you look at that?" It's all in Spanish. So…
Doug: That's great.
Jack: Well, that's it, guys. Thank you very much. Hey, we'll put the information about how to get in contact with Doug into the show notes, how to follow along with what he does. I loved it. I love the idea of going into that. Last question, how did you come up with that model?
Doug: Because my business partner said that he found a deal outside of town of some land selling for a lot cheaper than it should have been, maybe, selling for, and he had the idea to maybe carve it up and sell it. We sold those in 30 or 40 acres at a time, and the margins were so good, and then eventually, we realized we could go all the way down to 10. The smaller parcels you have, usually, the higher price per acre you'd sell.
Jack: The higher price per acre. Yeah.
Doug: We started doing that and… Yeah. It just started with that one experiment.
Jack: All right. Very nice. That's all it sometimes takes. You stumble into your luck. You stumble, and if you keep your mind open and you have the ability and the knowledge and the preparation to try certain things, then all of a sudden, this could become your next thing. Perhaps, if you have listened to this podcast for the very first time and you stumbled into this, never thought land flipping would be interesting, contact us. You know where to get a hold of us, right, landprofitgenerator.com. Go through our Facebook group, Land Profit Generator Real Estate Investing. And with that said, thank you very much. That's a wrap. Thank you, Doug.
Doug: All right. Thank you, Jack.
Jack: Thank you.
Enjoy this podcast? Share the love!