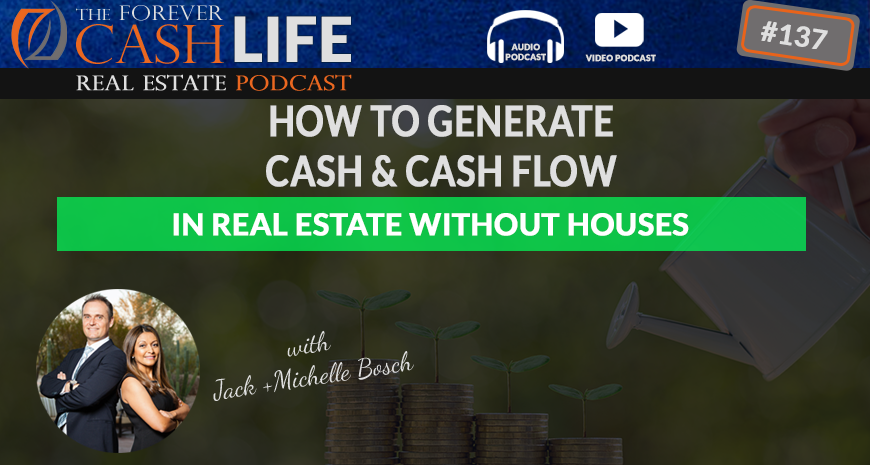 We're going back to basics in this week's episode! Land flipping is the real estate investing technique that Jack Bosch and his wife Michelle used to generate wealth and become financially free. In this episode, Jack Bosch dives into his history with this technique and explains exactly how and why it works. If you've never heard of it before or if you've been on the fence about getting started with this amazing, little-known niche – then strap in and discover a simpler way of investing in real estate without all the difficulties that come with houses.
Listen and enjoy:
What's inside:
Discover what land flipping is

Find out how to become financially free with land
Understand why land is simpler than houses
Mentioned in this episode
Tweetables:
Transcription:
Jack: Hey there, Jack Bosch here and welcome, to another episode of The Forever Cash Life Real Estate podcast. I'm super excited to come to you today with an episode on going back to the basics on how to create cash and cash-flow from real estate without ever having to deal with houses all from home and literally without using any of your money. If that sounds crazy, just stay tuned.
Announcer: Welcome to The Forever Cash Life Real Estate Investing podcast with your host Jack and Michelle Bosch. Together let's uncover the secrets to building true wealth through real estate and living a purpose driven life.
Jack: All right, so yours truly Jack Bosch here. And as mentioned in the intro, I'm going to talk to you through the basic steps today of how we got started and how our students today are getting started in making six figures a year, high six figures, even seven figures without ever touching a house, all from home with a method that works today, right here in this pandemic, in this lock-down, or whatever you wanna call it, in this recession, better than it has ever worked before. So how does it work? Well, first of all, we are focusing on a method that is almost competition free, where you can buy properties literally for 5 to 25 cents on the dollar, where you can flip them for half price, meaning tens of thousands of dollars of profit potentially, in a matter of just a few days, or where you can sell them such that they bring cash-flow for many, many years by doing what's called seller financing, by marketing them up almost to market value. Sometimes that is 10 times what you bought the property for and then…or what you have it on the contract for, and then selling them with a down-payment, which often covers what you even have the property on the contract for and then just receive monthly checks for years and years and years and years.
That's the method we're gonna talk about. Now here's the thing, I mentioned earlier that my wife and I have been doing this. I haven't mentioned that yet, but I've mentioned to you that you can do that without ever touching a house because we're not dealing with houses. What we're dealing with is the very little well known, little known method called land flipping. Land flipping is again, it's the same as house flipping just without the houses. As a matter of fact, it's even easier than house flipping because you don't have to look at tenants, toilets, termites. You don't have to look at trash. You don't have to look at foundations, bathtub, plumbing, and mold.
You don't have to look at roofs. You don't have to open the doors. You actually don't even have to be there because there's nothing to see. It's just a bunch of dirt, right, a bunch of land with perhaps some trees on them. And that's it.
So all of this can be done from home, which is exactly where we have been doing our deals from for the last 13 years. And we have been doing deals for the last 18 years. The first five years, we thought we had to go see these properties. And then we realized, "What the heck are we doing? Google Maps is around. Google Street View is around. All these different places are around that you can use from the comfort of your home and you don't have to actually go look at these properties. So here's the thing, we have done over 4000 deals, my wife and I, my business partner wife. And our team has done over 4000 deals using this exact method. We just did a deal last week. We have multiple deals for sale right now, right? They're getting lots of people being interested in them. We expect them to be sold soon.
We are constantly doing this. Now we also teach this in our students also to do that. If you wanna know more about that go to www.landprofitgenerator.com, again, landprofitgenerator.com. Okay, so now how does this work? So here's the thing, if you watch some of my episodes, you see or you would hear talk, hey, we don't have to deal with houses. We don't have to deal with mortgages. We don't have to deal with all this kind of stuff. Now, today is the day we're actually laying out the business principles for you. So here's the thing, we specialize. And we stumbled into that, right? We wanted to make houses work. But houses were so complicated. There were so many loose ends, so many different things. There was like high prices. You have to preferentially get a loan to buy a house. You have to figure out how to inspect them, how to estimate repairs. You have to draw everything when somebody calls and wanting to see the house. And we just despaired over the house world. However, once we started getting into land, things started just to pop. The very first piece of land we got for $400 and sold for $4,000, which is an amazing profit, but it's 10 times our money.
The next deal we bought for $500 and we sold for $10,000. Now that's better. But then we have also done deals where there's a deal we bought for $1,860 or $1,875 and sold for $86,000, right. Or we have bought properties for $3,800 again, went and sold them for $30,000, or for $350 we bought them and sold them for $35,000, etc., etc., etc. And this is exactly what's happening today are small deals. The deal we sold last week, we bought it for about $500, sold it for $6,000. And after closing costs, we got like a $5,600 check for it. So now this can be done by anyone from anywhere because the beauty of it, you don't have to know anything about houses and really very little about real estate in order to make that happen.
Now here is how this works. All over the country there is people who no longer want their property. Now we know that because you wouldn't be real interested in real estate if you would not know that already. Because if you watch HGTV there's people pulling down $500,000 houses for $350,000, putting $50,000 back into it and then selling the house for $500,000. What they don't tell you though, is that their profit is not going to be $100,000. It sounds like it is but it's not. Because there will…there's mortgages involved. So there's extra fees, there's cost overruns involved. There's also agents fees involved like more brokerage brokers on the buying side and selling brokers on the selling side, and all these different things that if they have $100,000 margin, if they're lucky, they're making like $50,000 or $60,000 on that. If they portray on HGTV that they make a $50,000 margin, they're lucky if they end up making $25,000 or $20,000 on that deal.
So it's never as good as it's shown over there. However, when we do a deal, we put it on a contract for $1000, we sell it for $20,000, and after closing costs of $2,000, we're making $17,000 because there's no other people involved in it. So having said that, all over the country rarely know because the house flippers are getting houses at some discounts. This happens on land even more than it happens on houses because the land in itself in the mind of the owner is not providing them cash-flow. Well, it isn't usually, right, most land now. We just signed an agreement on a piece of land we own in our town where I live, Phoenix, Arizona, that a construction firm is now renting for $2,000 a month for the next 18 months. That's gonna bring in $30,000 in revenue on a property that didn't really cost much more than that. So in 18 months, I got the majority of what I paid for the property back and that property is not even one that I wanted to flip. That's a property that I wanna hold on to because there's a lot of development going on in that area and I'm waiting for the price to go up.
But generally speaking there's land all over the country that the owners no longer want. They're sick and tired of paying property taxes. They don't want to pay these property taxes or the property doesn't bring them any income and they're just want to get rid of this property. Because again, the big difference between land and houses is there's still some kind of a useful to appeal to a house even if it's a crappy house, but on the land side, at least to the owner, they're like, "Well, I'm not using it. I'm not doing anything with it." Perhaps down the road…perhaps in the past 20 years ago, when they bought the property, they were actually going on the property and put their RV on there, did some hiking on there or something like that in the area, or they had plans to put their retirement home on there and retire in style there. They had plans to basically have it go up in value and then pass it on to their kids. And perhaps it has not gone up in value. Perhaps now their grand-kids are born and they don't wanna move away from the area. Perhaps their life plans have changed and they have no more interest in moving over there. Or perhaps if it's a rural area, the days of hiking and camping and stuff are over and they don't wanna do that anymore and now they have this property sitting there without using it and it just costs them property taxes. So they no longer want the property and they just wanna get rid of it.
Well, in come we, right, we and our students and you. Now we have figured out a way to find out who the people are who no longer want these properties. And I'm not talking…only talking about the motivated sellers that the house flippers are looking for, right? A motivated seller is somebody who sells it and sells you their property for 70% or 80%…70% or 75% of market value. We are looking for not the motivated sellers. We're looking for the non-wanters. In other words, the people who really say like, "You know what? You want this property? You can have it. You know what? I don't want this thing anymore. I've paid property taxes for 30 years. I don't care what it's worth. You wanna have it." The garage sale mentality. Somebody buys a $500 bicycle and two years later they sell it in the garage sale for 35 bucks. That's who we are looking for, just not with a bicycle, but with a piece of land. Many of them out there. We have done 4000 deals, and our students are doing thousands of deals all around the country every single year with us.
So with that said, we have figured out who these people are, how we can contact them. And we have figured also out how to make them an offer that they actually accept. So therefore, as a result, we have figured out we're looking for three kinds of properties first of all. The kind of properties we're looking for is number one, is properties right on the outskirts of town, in what's called the path of growth, in growing areas, of course, right. So there's areas in the United States that are constantly growing a little bit and those areas I mean, they're like, big cities like Atlanta, like Denver, like Dallas, like Houston, like…you name it. They're all over the country, like even Boise, Idaho, and you name it, all over the place. There's cities that are growing.
Well, if you go right outside of these cities, where this cities end you can find land where the acre's worth $30,000, but in the city, the acre is worth $300,000. So therefore, you can buy these pieces cheap. And there's owners that have owned them for 30 years, 20 years and so on, they no longer want these properties because the city is not yet there. It might take another 10 or 15 years for the city to get there and they no longer want to wait that time. They're like, "You know what? I waited. I was hoping this property would go up in value. I just don't want it anymore." So they're willing to give up this property literally for 5 to 25 cents on the dollar. So this property is worth $30,000, they might give it up for $5,000. So you offer them $5,000, they'll accept it. And then what you do is you go market these properties to the people that actually want them. And who wants those kind of properties? The properties, number one, is another financial investor who has a longer time horizon and has no problem waiting another 10 or 15 years for the city to indeed approach that property and make that property also be worth $300,000. We have seen lots of people over the last 18 years buying properties from us right there, like that, waiting 10 years and then making their money buying something from us for $50,000 that we put on a contract for $10,000. And then they're paying $50 grand for it. And now these properties are now all surrounded by development and these properties are worth $300,000.
So we are providing a tremendous value to those people. As a matter of fact, we ourselves are holding on to some properties like that. As you do more and more deals and make more and more money, you actually also want to hold on to some of those and then be yourself the beneficiary of that increase in property value. At the same time… So this is buyer number one, financial buyers. Buyer number two is a buyer that is going to be interested in a lower cost lifestyle, but they don't wanna live out in the boonies somewhere. They wanna live as close to the city and often these are future retirees. Retirees have realized that in 10, 15 years when they retire, they can't afford their lifestyle in the city anymore because their pension or their social security is gonna be $1500 and they have not much savings because probably they had to bring 2 kids to college and so on. So now they have almost nothing to fall back on. But they have cash-flow still from their job. So what you're doing is that you offer those properties to them as seller financing. They are now paying monthly payments to you to pay these things off. And then by the time they go retiring, like I say the property is 20 minutes or half an hour outside of the city, they go put a mobile home on there, they go put a small house on there, and they pay that off and they can retire in style.
Now they have a pretty clear lot and then perhaps have a Franklin mobile home, they are by that time, perhaps only 20 minutes away from the city, which means in 20 minutes they're at the grocery stores, doctors, medical doctors, hospitals, movie theaters, restaurants and things like that, yet they live a little bit further away where the cost of living is lower. Those are the people that we're looking for, in what we sell these properties on that path of growth belt around the bigger cities. The second kind of property we look for is large acreage in rural areas because the hiking, hunting, dirt biking, RV-ing and ATV-ing kind of crowd is millions of people in the United States. And what they want is a place away from it all where they can take their RVs to it, perhaps meet a few friends there, perhaps they all take their RVs on there, practice social distancing, have a bunch of fun, and at the same time, have a bonfire night, go shoot some cans, go through bow and arrow shooting, perhaps there's a lake close by, they can go hiking, they can go biking, they can do all these different things. And then after the weekend, they come back refreshed into their work life in their cramped apartment or in their small house in a cramped subdivision. And they don't really enjoy that but they do that to pay the bills while on the weekends they wanna get up. So that's basically property number two already have the built in buyer base right there.
And property number three is right in the cities, the infill lots. Infill lots are lots that are empty, where somebody wants to fill this lot in with a lot. So they're basically [inaudible 00:15:16]. Think about a street with 35 houses, 1 empty lot that hasn't been built on yet. That lot is ready to be filled in. And that's why the term for it is called infill lot. So those are the three. They're obviously interesting to financial buyers, if it's an up and coming area, or they're interesting to builders. Builders will buy those properties in a heartbeat and build on there and builders even buy that today in the environment that we're in if the price is cheap enough. So having said that, that's what we're looking at.
Now, how do we find these buyers? Well, very simply, we figured out how to get a hold of them. We figured out who they are, where they live. And what we do is we get a list from a list broker or from the county database and then we actually go and send them letters. We send them letters. We have a proven letter in our program called the Land Profit Generator, where you can find out more on landprofitgenerator.com. We found out what speaks to those kind of sellers. So we figured out the exact wording to use. We figured out the exact letter to use. We split that said letter hundreds of times. We came to a letter that, hold yourself if you're a house flipper, gets an average of between 3% and 15% response rates, 3% and 15%. Ask any house flipper out there if they get more than 1% or 2% on their postcards or letters that they send out, they are doing fantastic. If we get less than 3%, which occasionally happens, we are really disappointed by that count. So we usually get anywhere from 3% to a 15% response rate right?
Let's say that the average is 6% to 8%. That's about usually six to eight times more responses than the house flippers get. So now what do we do next? Once they call us back, we have their letter requesting them to call back, we take the phone calls or this can be also outsourced. We have a script for our students to go follow. And then they take the phone call, ask some questions, then we show and then they do a little bit of property analysis. But even there, they don't have to find out everything about the property because by offering only 5 to 25 cents on the dollar, we can afford to be slightly wrong on the value. Let's say we think the property's worth $50,000. We're gonna make an offer for let's say $10,000 on that property. What if we're wrong and this property is only worth $40,000? Can we still make money on that deal? The answer is yes. Yes? Now that's a yes, because we're gonna sell it for $20 grand, make $10,000 or after costs $9,000 and be a happy camper and move on to the next deals, or we sell it for $25,000 and make a $14,000 profit after closing costs. That's fantastic. We can do this all day long.
Now having said that, let's compare it to the housing world again, if you make an offer on the $200,000 house and you figure out that it needs $20,000 in repairs, the next guy is gonna want to make a $30,000 profit. So it's $150,000. And you're calculating some closing costs. So you need to buy it for $140,000. And now you wanna make $10,000. And you now buy this property for $130,000. You wanna pass it on to somebody for $140,000 so they can put in the $20 grand in repairs, sell it, have some closing costs, and then make their $20,000 on the deal. Then, if you're off by $10,000, and the property is not worth $200,000 but $190,000 you just lost the entire profit margin on your deal because if you now sell, you can't sell it for a $140,000 anymore. You have to sell it for $130,000 which is exactly what you're buying it at, otherwise you won't find a buyer that's willing to buy that property.
So in other words, you're losing your entire profit margin. This is not so in our housing world. If you have a $200,000 piece of land, you're gonna offer, let's say, at $200,000, we go above the 25% limit. But let's say you offer $80,000 for that property, you offer 40% of market value, you get it accepted, it turns out that property is not worth $100,000…not $200,000, but that property's worth $190,000, it doesn't matter. You're still gonna sell that property for $130,000, this piece of land, and you have a smoking deal. Heck, even if it's worth only $150,000, you go sell it for $110,000, you make $30,000 on the deal, and you have made a killing on the deal. So we have this buffer of safety in our deal that allows us to actually to not have to spend hours on property research and hours of value research. We can just take five minutes to figure out what that property roughly is worth and we go make our offers, right.
In another episode of this podcast series, I'm going to go and show it, tell you how to make offers for land and how to actually evaluate the value of these properties. So now what you do is you make your offers. Now typically, obviously not every offer gets accepted, but on average 1 for every 25 to 50 offers gets accepted. So let's say you get a 10% response rate in your letters. Let's say you sent 1000 letters, which by the way, again, in the housing world, you're gonna send out 10,000 to get a deal. So you send out 1000 letters, you get 100 phone calls, you make 100 offers, you should be having on average 2 deals from that. Now, if each deal is a $10,000 or $15,000 deal you just spent $800 on marketing to make $20,000 to $30,000 in profit.
How many times a week would you like to do that? Now that's what we're talking about here. So now the nice part is once you have that property under contract, now there's only one step missing, which is selling the property. And that's again where the beauty of it comes in. When you have a property under contract for 20 cents on the dollar and you go sell it for 50 cents on the dollar you more than double the money. Now the other part is when you take that property, you have it on contract, let's say you buy a property and get it at 10 cents on the dollar… Like for example one of my students Simon, he just got a property under contract that's worth $50,000 and he got it under contract…he and his brother, they got it on a contract. They're college students and they got engaged in that. They're early starters in their investing life, fantastic couple of brothers. They got this property under contract for $1,900. So it has a few back taxes. With the back taxes let's say it's $5,000, $6,000 of back taxes. So it gets them up to about $7,000, $8,000. So the total purchase price for these properties is $7,000, $8,000 but it's worth $50,000. So that's approximately 15 cents on the dollar. So they have two options now.
Option one, take that property, sell it for $30 grand to somebody for cash and make a $22,000 cash profit. Second option, sell that property for let's say $45,000 with seller financing, and ask for a 20% down-payment, nothing unusual. In houses there's often people…banks often ask for 20% down-payment. In commercial real estate they always ask for a 20% down-payment or even 25%. So now somebody puts down $9,000 down, and then starts making monthly payment of let's say, $600 for the next 10 years, it pays that thing off. So if you add this all together, they're gonna make all their money back. If they have $8,000 in a deal, they're gonna get a $9,000 down-payment. So in other words, they already got all their money back when they're selling the property, and now it's cash-flow just coming in. Who would like to do that?
Now to make things even better, you can do these deals without using any of your own money, because there's three possibilities for you to do that. And we'll have another episode on Forever Cash podcast about that too. Possibility number one, is you do what's called a double closing. A double closing is a process where you buy the property and you sell the property on the same day, in a back-to-back transaction. Basically, you buy it and you sell it and you do both within like five minutes from each other. As a matter of fact, what you often do is you sell it first, you sign the selling documents first and then you sign the buying documents. And the best part of it is that you use the end buyer's money to pay for everyone involved. So let's take the example again. Let's say Jamal and his brother Toge [SP] sell the property for $30,000
cash.
A buyer wires in $30,000, so then you go sign the documents for the purchase from the seller and let's say the seller gets $2,000, $1900, let's round it up to $2,000, $2,000 and then $6,000 in back taxes are going to be paid. So in that case the buyer wires in $30,000, the title company is now gonna have you sign the seller side of the selling documents, you sign the buying documents, then you sign the buying documents and the end buyer signs their buying documents. You sign the selling documents and the end buyer signs the buying documents because this end buyer is buying from you. And so you're the seller here, and then you bought from the seller. So all of this is being done in the same day, and often you selling is actually signed first, and then you buying is signed second. And then the title company is taking the $30,000, paying themselves about $2,000 for the cost of all this paperwork, then they're gonna pay $6,000 to the county, they're going to pay $2,000 to the ultimate seller. Now how much is now left over? $2,000 to the seller, $6,000 to the county for back taxes, $8000, and $2,000 to themselves, $10,000 are gone but the buyer wired in $30,000. What happens with the remaining $20,000?
Well, they go to you. So you just earned… You bought the property for $2,000 plus back taxes is $8,000, you sold it for $30,000, minus closing costs, you make $20,000 but you didn't have to bring up the $2,000 and the $6,000 or the closing costs. All the money came from the buyer and the $30,000 were used to buy and pay the seller, pay the back taxes, pay the title company and pay you. That's an option. That's version number one that you can do. The second version that you can do this without using any of your own money, the second version you have done this is…you can do there is that you can literally take properties and agreement you have with the seller, you have that sale agreement, you now find a buyer, you can just assign your sale agreement to the buyer, the buyer now takes your position in the deal. And the buyer now buys that property from the seller, and you are out of the picture.
Now, you probably wanna continue to be in the picture a little bit to help coordinate things to make sure the deal goes through because otherwise you don't get paid. But other than that, you're out of the picture, right? So therefore, let's say the assignment… So you have it under contract for $2,000 plus $6,000 in back taxes, $8,000, you assign it to the other guy for $28,000, meaning that you get a $20,000 assignment fee here. And then he closes…he pays for the closing costs and all this kind of stuff. So at the end, he's out of pocket $30,000 but you received a $20,000 assignment fee out of escrow.
The third way that you can do it is that is also really cool is that you can use what's called transactional funding. Transactional funding is that somebody else, a short term lender, we're in the process of offering this to our students, we're not yet ready but in the future we're gonna offer that very soon, is that a third person comes in, a lender, and lends you the money that you need to buy this property for one day. So here's the thing, the seller sells to you for $2000, plus the $6000 closing costs, plus there's a $1,000 closing fee. So the total mounted amount that you need to buy this property is $9,000. So then that's fine. Then on the selling side, you sell it for $30,000. And let's say you arrange that the buyer pays that part of the closing fee. In that case, the buyer actually doesn't have to wire in $30,000 but wire in $31,000 because it's $30,000 purchase price and $1000 is the closing cost.
So now what you do is when you buy, you actually buy the property and you actually pay for the property. You just don't pay for the property with your own money. You pay for the property with the money from a transactional lender that wires $9,000 in the account, the title company takes $2,000, pays the seller, pays $6,000, pays the county the back taxes, pays $1,000, pays itself. And then still in the same day, you turn around and you sell the property with the same title company, you sell the property and now you sell it for $30,000. And now the seller wires in $30,000, the title company gives you $30,000 except for it needs to still pay off the $9,000 that you took on as a loan. So therefore it pays off $9,000 and it pays you $21,000 in that deal, right?
So you made $21,000 in that deal without using, again, any of your money. It's just a little bit more coordination. But there's the three ways that you can do deals without using any of your own money. So now you do that… That also, by the way works in the housing world, and it's being done traditional here, but so there's nothing different here. The only difference is there's no tenants, there's no toilets, there's no termites, there's no repairs. There's nothing you need to do. You do this literally from the comfort of your home. You put the property under contract, you market it, you find a buyer, you communicate them, via text messages, via phone. They go out there. You give them the GPS or coordinates of the property, if it doesn't have an address or the address of the property. They go drive themselves out. They come back afterwards. They tell you, "Yeah, I wanna buy the property." You send them your DocuSigned sale agreement, all of which is in our course, DocuSign the sale agreement, they sign it, they send it back, you send it to the title, the title company does what they need to do. You just decide which of these three ways you're gonna use and you make money from the process without spending any dime yourself.
So this is the beautiful part of doing land flipping. It's simpler. It's easier. It's just as profitable if not more profitable than the house flipping and you don't have to deal with any of the hassles that come with houses. And yeah, so that's what I wanted to cover today. Now, in one of the next episodes of The Forever Cash Life podcast, I wanna cover how to do these deals in seller financing, walk you through some more of that, how the cash deals work a little bit more, but the last thing I wanna just say is when you… That was a deal that I showed you about, about a wholesale deal just for cash. You could do the exact same thing with seller financing by just charging a little bit more, having a down-payment that covers what you have to pay for the property and everything else is the same, but more to that in the next podcast. If you're excited about that, if you're interested in that, go to landprofitgenerator.com.
Also check out lpglab.com because in just a couple of weeks, we are going to start a five day free crash course on exactly this method that I'm just gonna share with you, where we're gonna go live interactive inside of our Facebook group where we share with you exactly the steps where to get these lists from, how to select counties, where to get these lists from, how to mail the letters, how to do value analysis, how to sell these properties, how to make the offers, all of it will be covered, and it's all going to be completely for free. So you can register there to the domain, wwwlpglab.com. And with that said, I wish you a great, great rest of the week. Bye-bye.
Announcer: Enjoyed this episode? Then make sure you like, subscribe and post your comments and questions below the video. We're looking forward to hearing from you.
Enjoy this podcast? Share the love!