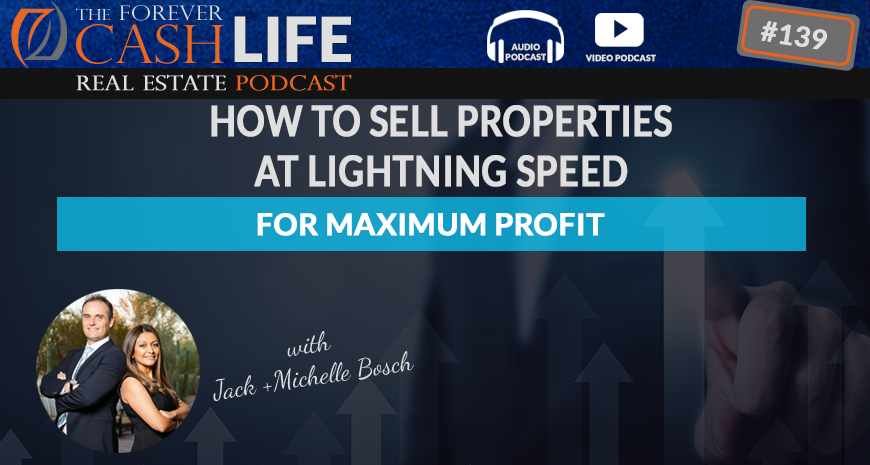 In this episode, Jack Bosch breaks down his strategies for selling land faster and for more profit! Many real estate investors don't understand how to market a piece of land profit – it's not exactly the most flashy property after all. However, there are proven techniques that you can use in order to stand head and shoulders above the competition. If you've been struggling to get your land to sell, this episode will put you on the right path towards an incredible amount of profit.
Listen and enjoy:
What's inside:
Discover how to market your land

Find out why many real estate investors fail at selling land
Learn how Jack Bosch markets his land
Understand how to apply AIDA principles when creating listings
Mentioned in this episode
Tweetables:
Transcription:
Jack: Hello and welcome to another episode of "The Forever Cash Life Real Estate Podcast" where we talk about all things having to do with cash flow and real estate. And in today's episode, we're gonna talk about how to sell properties in lightning speed for maximum profit.
Announcer: Welcome to "The Forever Cash Life Real Estate Investing Podcast" with your host Jack and Michelle Bosch. Together let's uncover the secrets to building true wealth through real estate and living a purpose-driven life.
Jack: All right. So here we are back. So welcome to the episode of selling with lightning speed and for maximum profit. So we're going to focus today on our favorite special kind of real estate method which is land flipping. So with land flipping, you do exactly the same as houses, just completely different. Now just basically, very similar to house flipping, except that you're not dealing with tenants, toilets, termites, not dealing with any kind of trash. You're not dealing with any kind of mortgages, no inspections. You can do this from home. You can do this from anywhere in the world. You can do this remotely from all over the world. It's completely location independent and there's almost no competition. Again, you don't have to inspect anything physically. You don't have to get appraisers involved. It's a simplification of real estate. So we buy these properties, as I covered in the last episode or one of the last episodes, our purchase process works. We find properties that the owners no longer want so they absolutely don't care about these properties. They have the garage sale mentality. There's lots of them out there. We buy them for 5 to 25 cents on the dollar. Like one of our students right now bought a property for $1900 worth $50,000, is listing it for $32,900, and has daily multiple people interested in the property.
Why does the seller not want it anymore? Because very simply, he passed away and it's in the estate of somebody else. The kids don't want it, back taxes haven't been paid in this particular case, and they just don't want it anymore. They would've taken the $5 offer probably for the property. So now what happens? When we go sell these properties, here's the question I always get like, "Well, Jack, in a case where there's not an heir or not an estate to sell, but where somebody just bought out this property for 30 years, how come these people don't go on the market and sell these properties themselves very quickly?" Well, very simple, because they don't have a clue how. Selling land is not hard. It's actually simpler than houses, but it's a completely different thing than selling houses. So, when you sell a house, you typically hire a realtor or if you do it for sale by owner, you get somebody to come in, take a bunch of pictures, right, have a professional real estate photographer come in, they take pictures, they go around, they light it properly, perhaps you even have a staging company stage the property. You do all these things, and then you put it on the MLS, and you price it right and you do a broker's open and you do an open house and you show the property and you constantly hustle there and go do these things. And then what happens is then somebody makes an offer and buys the property, right? That's how it typically works.
In the land side, it works quite a bit different. In the land side, it works different. First of all, you can't stage a piece of land. I mean, what are you gonna do, put like a house on it? No. What are you gonna do, put some furniture on it? No. Of course, it's ridiculous. Right? Secondly, you can't also light a property. Yes, can you go there in the right light when the sun just hits through the trees or when the sunset is there or something, but even that, it's kind of hard to make this piece of property unless it's like these rolling hills, 40 acres with deers grazing and all this kind of stuff, but even that is hard to do. Somebody has to sit there at 4:00 in the morning or 5:00 in the morning and get the pictures right. That's not what we're talking about. So it's extremely hard to make a property, a piece of land, look anything but a piece of land. So, therefore, what we do when we sell these properties, we are actually doing this completely different. So the first, we're gonna talk about three different pieces right now. Number one is the principle of selling land, where do we sell them, and why do we sell them quickly. Number two is actually, we talk about the buyers and being able to communicate with your buyers and present the property in the best possible light for your perfect buyer. And number three, we're gonna talk about how to actually structure your listing. I'll talk about that a little bit and then I got to cover that actually in the next podcast episode.
So the first two pieces… But I'm still gonna at least mention it. So the first principle is the principles of marketing. So the first thing you want to do when you sell land is you wanna go and find out where do your customers hang out, right. And customers typically hang out nowadays online. So people will always look for properties on Zillow. Zillow is one of our number one places we sell the property. It's one of our favorite places to sell the properties. Number two, they're gonna go on to real estate land-specific websites like land.com, landwatch.com, landflip.com, landsofamerica.com. They are all land specific selling websites where some of them get millions of visitors. Landwatch.com made over 2.3 million visitors every single month coming to the website, and it has been increasing like that, it has been in a steady incline for the last 10 years. Land investing is becoming more and more interesting for the last 10 years. The third place people look at is Craigslist, right, the traditional places. You go find anything on Craigslist, why not a piece of land? So you want to be where people are looking for it, right. The fourth one is Facebook. Facebook is 1.6 or 2 billion people or whatever the number is, there are like almost probably 2 billion people on Facebook. And don't quote me on it, but I know it's over 1.5 billion people, and they're just hanging out on average over one hour a day on Facebook. So you want to be on Facebook. You want to be in Facebook groups. There's groups for everything. There's so-called this and that groups where people… it's like basically Swap Mart on Facebook. There is land groups. There's real estate investment groups. There's real estate investor association groups. There's all kinds of farming groups. There's all kinds of groups that you can join, and then you can basically comment there, and make your land available if the group allows that based on their rules, right. So that's another way you can sell properties.
So the next thing, you want to be where people are, and these are some four or five platforms that I just gave you where it totally makes sense for you to be because here's the thing, if you have developed a new kind of I don't know stapler, right, you developed a new stapler that works better than any other stapler in the world, that is the greatest stapler in the world, whatever it is, would you like to put that stapler in a, I don't know, in a Barbie baby kids' store or would you like to put that stapler into a feedlot where they sell stuff for animals or would you like to put that stapler into a OfficeMax, Office Depot, stationery office supplies store? Of course, you want to do a Hobby Lobby or something like that. Michael's, Joanne's, that's exactly where that stapler should be, because that's where people are gonna go look for the stapler. Nobody's gonna go look for a stapler in a hardware store. Nobody's gonna look for a stapler in a feedlot. Nobody's gonna look for a stapler in a grocery store, right? So you've got to put it in the places where it belongs, where people are automatically looking for it and that's the exact same thing that you want to do here with a land sale.
First, be where your customers are. And that gets us to the second point. The second point is that your customers are actually interested in very specific kinds of properties. So not everyone is interested… If you have a 40-acre parcel an hour and a half away from the big city, then you don't want to pitch that property to a builder. A builder is not going to be interested in that property. A builder is only interested in properties in the city or right where the city ends in the outskirts of the city where you can buy 40 acres and put 100 houses on there, right. That's what a builder is looking for, not a property an hour and away from there. But who is looking for that? Well, it's a recreational buyer. It's a camper, a hiker, a dirt biker, ATV or like motocross tunnel guys, those like four-wheeler kind of guys. Because if that area has no fences and is open land, that is perfect. It's people with their RV, they have toys in there, snowmobiles if it's in winter, right, if it's cold and winter there and there's snow. Those are the people that would love to have a little piece of heaven. Like how would you like to have, wouldn't you like, if you think about it, somebody like that wouldn't it be that person's dream come true, to own their own mini ranch or 40 acres, or 20 acres, or 10 acres? Think about it, 10 acres is the size of 10 football fields. It's a lot of space that you can go and hang out and just like bring your friends and bring three-four RVs together, and you have dirt bikes and perhaps there's a lake close by and things like that. So you want to again, you want to market the properties to the right buyer. And the builder doesn't hang out on Facebook, but the builder you can call. If you have an infill lot of two acres where somebody can develop and put 10 houses on there then guess what, you call the builder and say the builder go to Builders Association, look on Google, Google search. XYZ city, Builders Home, Builders Association, comes right up, almost every city has one. And then you search for them, you find them, you contact them and you say, "Hey, I got a lot on this and this on this street. It's buildable and we think it's worth $300,000. You can buy it from us for $200,000." And you put it on a contract for $80,000. $120,000 profit, boom, right there ready for you to go.
That's how you do it. They're gonna look at that they're like, "Oh my God, this thing is worth $300,000 indeed? I can get it for $200,000?" Boom, they're buying it from you in five minutes straight. Having said that, you call the builder with a 40-acre parcel an hour and a half outside of the city, they're gonna hang up on you and it's the same thing. So now we focus on three kinds of properties which are covered in prior podcasts. Property number one is the infill lot. Builder, right. Property number two is the property, the 40 acres, 10, 20, 30, 40 acres in the outskirts of a big city… No, further out like an hour or two-three hours away from the city, but in an area that has something attractive, you think recreational buyers. Those buyers do hang out on Facebook, on Zillow, on Craigslist, on Lands of America, on thelandwatch.com, right. So that's where you post those. And then in the third group is the ones right on the outskirts within like 1 to 30 or so, or 1 to 50 miles away from the city that somebody can live and still commute into the city or somebody can retire there and still be a half an hour, or 45 minutes, or 25 minutes away from the grocery store, the doctors, the medical services, the airport, etc, etc. Those are also interested and they are also hanging out in Facebook and all these different places.
So now comes the next point. The next point is not only do you know who you talk to, you actually now got to build this into your listings. You got to actually build who you talk to into your listings. And the way you do that is the listing consists not…and that brings me back to the first point, your listing does not just consist of an ugly picture of the property and then a two-liner that says this property is available. Because if you go pull up Zillow right now, right, if you pause this video, go pull up Zillow, and then look for land just about anywhere in a rural area or in the outskirts of a big city or even in the city, that's exactly what you'll find. All those house realtors that don't have a first clue on how to sell land are going about this the following way. They're putting a picture of the property usually from Google Maps, right, they don't even go out there, don't even bother driving to the property, they're bringing up their laptop up, Google Maps, they're going to show the property, they're going to take a picture of that. That's what they're gonna upload, and they're gonna say, "Build your dream house here. Buildable property available on 300th Avenue and whatever it is." Period. Then they're gonna let this thing sit. They're not gonna do anything to boost it. They're not going to run any paid advertising to it. They're not gonna do anything. They're not gonna post it in 100 other places. They just post it on the MLS. Therefore it gets syndicated over into Zillow and Trulia and all those other websites, but that's where it just sits looking butt ugly and unattractive.
So this is the next thing you're gonna change. When you put out these properties, I told you, you got to talk to the builder. No, not to the builder. You're gonna talk to the…if it's a property in the outskirts of town, you want to talk to that future retiree. You want to talk to that… if it's very close to the city, to that financial buyer that wants to buy this property that's worth $60,000, you can sell it for $40,000 or $35,000 because you have it on contract for $10,000, right. You buy these properties for 5 to 25 cents on the dollar so you buy it for $10,000 and you sell it for $35,000. They're interested in that because they believe the city will continue to grow and then in the next 10-15 years, will actually [inaudible 00:13:24.426] that property and then the property value should shoot up. But do we have to do this research themselves? For most listings, their people make and do the research yourself. So we want to change that. How about well, if you find out during the property research that you do in the process of actually buying this property or getting this under contract that there is a lot of development, a lot of growth going on, that the city is growing and so on, wouldn't it make sense for you to put that into the listing? Wouldn't it make sense for you to go perhaps to the city and get a 30-year map off future development of the city that every city has and actually take a snippet of that, create a picture of that, and put it into the listing so that you can say, "Hey, this is how the city is estimated to look 20 years from now. Here's the property right smack in the middle of future development. And then, by the way, this property right now, properties surrounded by development are worth $300,000. This property right now is worth $60,000. You can have it for 35,000. And if you hold on to it for 15-20 years, it has a good likelihood that it's gonna be worth $300,000 too." Isn't that a smack incredible sales pitch when you put that together? That's how you want to list properties.
Now you can't really… Having said that, you can't really make any kind of like false promises. You don't say this will be worth $300,000, you say there's no reason, no way to fail here. You say, "Hey, listen, the city is expected to grow and with growth usually comes appreciation. So this is a great property that sits right in the path of growth and appreciation. Cities that were just engulfed are now worth $300,000. Go buy this property right now. The market value is $60,000, buy it for 35,000." You're not making a promise that it's worth $300,000 in 15 years. You're letting people come to their own conclusion, and in the process, they're going to love that listing, right. So those are some of the things that you do. You write the description about that and you follow in your description a process that's called AIDA. AIDA is an age-old copy-writing principle that you can use to actually lay out that listing such that it becomes absolutely irresistible for people. And AIDA stands for number one, attention, number two, interest, number three desire, and number four, action. So in your listing, the way you structure it with pictures and words, you first capture their interest with something, right, their attention with something… sorry, their attention to something, you grab their attention with a headline, with a value proposition, with amazing picture or something like that, then you can raise their interest by telling them things like I just told you, then you create the desire by now offering price drops, offering seller financing, offering kind of like creative terms that make this deal a no brainer and then you make it easy for them to buy, but we'll cover that in another podcast episode.
The key is you also do that with a picture. So when I talk to you about that you can't stage a piece of land. You can't put the furniture on it. It's hard to make that piece of land look like anything else but a piece of land. But what you can do is you can build a dream with a piece of a land because nobody buys the piece of a land. Everyone wants what they want, is what they can do with a piece of land. If it's the perfect hiking place to go, if it's a perfect place to go camping on there, if it's a perfect place to put your RVs on there, if it's a perfect place to go hunting, if it's a perfect place to build that dream home, then you want to talk about the dream home. You want to talk about the hunting. You want to talk about the kayaking. You want to talk about the dirt biking. You want to talk about the things you can do there, the things that are around instead of just talking about what is. And you do that in those pictures, and you do that in writing. But the details about that I will share with you in the next episode or if you want to find out more you simply go to landprofitgenerator.com. Again, landprofitgenerator.com, register there, check out a couple of free videos and things like that and then you will find out much more.
Well, that's that and this concludes our episode right now. Make sure you give us a five-star rating. We have lots more coming in. Land flipping is the best-hidden secret in real estate. There's almost no competition. You can do it from home. You can do it from anywhere in the world. I've done all the deals. We've done all the deals for the last 13 years that we've done from the comfort of right this chair and you don't have to inspect anything. You don't even have to buy the properties. You could use double closings, assignments, transactional funding. You can do all the things that are really difficult in a housing world, you can apply them here, but you have the simplification of real estate with the same or better profits. And plus, when you sell the properties with seller financing, which we'll also cover in the next couple of episodes, you can actually go and actually create massive streams of cash flow from your land, right. So that's that. Thank you very much. You have a great, great rest of the day and make sure you share this podcast, give us five stars, and tell your friends about it. All right. Bye-bye.
Announcer: Enjoyed this episode? Then make sure you like, subscribe, and post your comments and questions below the video. We're looking forward to hearing from you.
Enjoy this podcast? Share the love!