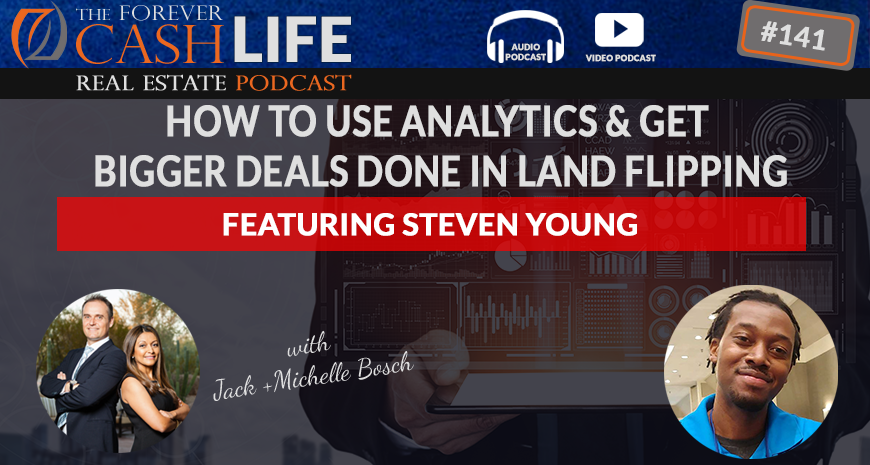 Steven Young is a Land Profit Generator Coach who has been able to quit his day job from the money he's made in land flipping. You'll discover how Steven has been able to put his analytical mind to work by optimizing his deals in order to achieve maximum profits using a number of tools – especially the Investment Dominator! In this episode, Jack Bosch chats to Steven about his journey to get to this point and the lessons he's learned along the way that have enabled him to be able to teach land flipping to a new generation of students. Steven has amazing insights into how to approach new deals as well as how you can ensure that you're wasting as little time as possible in your deal flow.
Listen and enjoy:
What's inside:
Learn about Steven Young's investment journey

Discover how to use analytics to your advantage
Find out why the Investment Dominator is the best tool to increase your land flipping profits
Understand why coaching will take you to the next level
Mentioned in this episode
Tweetables:
Transcription:
Jack: All right then. Hello, everyone. This is Jack Bosch speaking. And welcome to another episode of the "Forever Cash Life Real Estate" podcast with your truly, Jack Bosch. We are going to have a great, great episode today because we have Steven Young here with us who is not only one of our coaches but also a full-time land flipper. And he specializes in analytics and high-price deals. So we're gonna talk about how to get bigger deals done and how to know your numbers quite well. All right. We'll start in just a second. Okay. So here we go. Hey, Steve, how are you doing?
Steven: Great. I'm doing great. Jack, how are you doing today?
Jack: I'm doing excellent, I'm doing excellent. So you live in Florida, right?
Steven: Yes, that's correct. As you can tell from the background.
Jack: I can see lots of beautiful sunshine. I'm here in my home office. So you're in Florida. Jansen and you are part of our Land Profit Generator team, you're part of our coaches but obviously, you didn't just come in as a coach, you came in through the traditional route of learning the land flipping, going through the coaching yourself, mastering the program, and then you came back as a coach. So tell us a little bit about your background first, what did you do before you did land flipping? How did you come around? So just tell us who is Steven? Tell us.
Steven: Right. So first and foremost, I'm like a huge basketball fan and basketball player, I still try to play as much as I can actively. I can't do that now with the current pandemic that's taking place but once it's over, come meet me on the court. But anyways, I actually got my degree from the University of Tampa back in '08 and it was management information systems. So with that degree, you primarily do, you know, data analytics, getting Excel spreadsheets, pivot tables, you know, gathering all that data together and help create a story, right? For the executives for whatever line of business that you're working.
And so I was corporate America all the way from the moment I graduated up until probably late 2016 going into 2017. Me and my wife started getting more interested in real estate. We actually put some money down on a fourplex and very quickly realized we didn't know what we were doing. So I was still working my full-time job and, you know, we were looking for ways to start to replace that job by utilizing passive income. But with that being said, we needed active income, so we started learning about wholesaling houses, you know, you watch a lot of HGTV, you learn about flipping homes or you think you know a lot about flipping homes after watching those shows.
And we actually went to our local REIA here in Orlando and, you know, Jack was one of the main speakers at the event. And I remember prior to us going to the event, I was like, "Ah, there's no way, land's not important, it's boring, it's not sexy, what could you possibly do with land?" And Jack came up on stage and started talking and I was like, "You know what? This is something that we can do." Again, we were working a nine to five, it was simple, we could do it from home, we could do it from anywhere, we only need to dedicate a few hours a day to work in that business.
And so from that point on, as Jack previously mentioned, we just started working the systems, working the program. We may talk about it a little bit later but we got to a point where we were running stagnant and we need to take it to the next level, got coaching and, you know, the next thing we know, we're in the hall of fame for Jack's program, so for your program. So it's been quite a journey.
Jack: That's exciting. So, okay. So corporate America, and can you dive a little bit deeper for a moment into that? What made you start looking at things that were not corporate America related?
Steven: So you probably hear this a thousand times on your podcast and other various real estate podcasts, it was "Rich Dad, Poor Dad." So I already had the interest in real estate by watching HGTV. So I love the rentals and people cleaning, you know, taking something that was garbage and turning into a jewel. And then my wife was reading this book, I don't know how she found out about it, I don't know who told her. She's like, "Read this book, read this book." And I was like, "No, no, I'll get around to it, I'll read it later."
And then two weeks later, I started reading and the knowledge that he was dropping just opened my mind to the possibilities, you know, that was out there. And so with the corporate job, you know, nine to five is really, you know, it's for sure the nine to five but it also be like a nine to seven, nine to eight. And so I mentioned that we had young children, I wanted to spend more time with them. So that book helped me realize that there's other ways to generate income that don't involve me sitting in the office. And then my big reason for wanting to get out was to spend more time with my kids.
Jack: Okay. Like, this was a big step to basically go through college, go through career in management information systems. And I have a little bit of a background in that too, I had taken at least some classes on that and that's what I worked in the industry too myself. So you read the book, it opened your mind, but then doing that step from being full time here in a good and safe position that probably based on the industry didn't pay nothing, right? That's probably a good pay. And Jansen had probably a good job to, or so I assume. And going from that, into that perceive uncertainty off like HGTV and land flip, and then understand land flip came out but did you try other things? You said you tried to wholesaling houses, how did that go? Did that work?
Steven: So actually we never jumped into it. So we were doing some…you know, a variety of education to learn more about it. So we understood the basic needs for wholesaling. But what I didn't like about it was, I didn't want to hear people's sob stories, right? I felt very uncomfortable going into their homes when someone's about to lose the home that they raised their children in. I couldn't do that. And not to mention the time, I can't at the drop of a hat have a lead and rush off from my job to go visit these folks and, you know, do an assessment on the property, try to build rapport when I knew I was on the clock to get back to my job.
Jack: All right. So then really land flipping, so you basically, you are in an educational search, you are going to the REIA meetings, you are reading "Rich Dad Poor Dad," you were educating yourself and then the land flipping came along. And what made the land flipping different from anything else?
Steven: So the number one thing was it's easy, right? So the concept is the same as wholesaling houses but like you always say, no tenants, toilets and termites, that really resonated because it was like, "Wow, that's a lot…" And we had a fourplex too so we understood the issues with all of those things and this was a way to get the same amount of money, if not more, in some cases utilizing, you know, the methods that you teach in land versus going the route of houses. So we never actually dove into the houses. Once we heard you speak, I mean, we knew right away. When you know, you know, right? When the one is the one, that's the one. And we said, this aligns perfectly with the goals that we wanted to reach, and it was gonna be the best method for us to reach those goals so we jumped right on.
Jack: So then you advanced on, you did a few deals using the Land Profit Generator, and then, like you said, you grow stagnant. What happened there? What was the issue there?
Steven: So the big problem was consistency. I think we were really caught up in the rehab of that fourplex, and we were treating this business like a hobby, you know, it was a nice thing to have around in our back pocket. We had did…and maybe part of the problem was we had done our first deal so quickly that we're like, "Oh, this is a piece of cake, we'll send out a mailing every once in a quarter, we'll get around to it." I mean, that first deal, we got our first deal, you came down in I think it was September, a hurricane came through so it delayed your visit for like a Saturday session or a weekend session and by the time you came back, we had already done our first deal in November. So we made $13,000.
Jack: I remember there was a hurricane, was it Irene?
Steven: I think it was Irma.
Jack: Irma, I knew it started with I. So it was Irma and basically I was taking the family down to Florida because like if I go speak somewhere, I don't just go speak, like it's Florida, that's Orlando, let's make it a vacation. So I brought Michelle and Sophia with me and we stayed in the…I don't know, the Waldorf or something like that, beautiful hotel. And then they went to Disney when I went to the REIA speak because I have had enough Disney in my life for the next 15 lifetimes. But then we were supposed to stay the full week, right? Because we spoke like Tuesday, Wednesday night, and then it was supposed to stay for Saturday but then hurricane was coming in. And we literally took the last flight out, one of the last flights out on Thursday to get back home to Phoenix. And then we waited until everything was like restored and came back in November. And then it was like six to eight weeks, you guys had the deal already, how much did you make on that deal, just curiously?
Steven: $13,000.
Jack: $10,000
Steven: Thirteen.
Jack: Whoa, 13. Okay. Very cool. That's a great first deal.
Steven: I mean, having not done anything, that's huge.
Jack: So it's always that first deal, you will remember that forever. So then you're kind of like struggling along and doing a deal every once in a while but so then what made you come back to coaching?
Steven: So we went to one of your live events, I guess that following…or maybe it was towards the end of 2018. I think you were here in Tampa or you were in [inaudible 00:10:37.156] Florida.
Jack: Yeah, in Destin [SP] usually in Florida, like it's a nice area, nice time of the year, January, February we like doing that if we're allowed to do that with epidemic, right?
Steven: Sure. So you came back and I think it was January 2019. And we had already been thinking about it, you know, the following year in 2018, you had introduced the opportunity. And I remember I was like, "Oh, we don't need coaching, we got our first deal, we'll be fine, we'll be good." And then we struggled a whole year and came back, and you were demonstrating stories of folks and other students that had taken their business to the next level. They had really good success, they were doing all the things that they needed to do to be successful.
And we always had the dream, the goal of eventually getting to the hall of fame. I mean, it's just something that we wanted, it was a goal, something that we felt like we could accomplish. Again, we didn't want this business to be a hobby, so, you know, once you started having the coaches come up and they spoke and talked and other students were telling their testimonies, it was a no brainer, it was like let's make the investment so that we can take our business to the next level, and let this be a legacy, you know, for our kids.
Jack: Right. And that was in, you said, '18 or '19.
Steven: That was '19, so I think you had Rich there.
Jack: So since then, how many deals have you done?
Steven: So since then, we've done like 30 plus deals?
Jack: Thirty plus deals? Wow. And you have quit your job, I understand?
Steven: Yes.
Jack: Woohoo.
Steven: Right, exactly. It's been amazing. And that's a big reason why, you know, we jumped into this was to get out of that nine to five, the mundane everyday show up, do a task, go home and this false sense of security which isn't secure at any point, they could just let you go versus now working for yourself. No, it's been great. So there was an opportunity to leave, the company that I was working for had voluntary separation packages and we had already, you know, made a commitment to, you know, be the best we can be with this business. And I said, "All right, I'm done, I'm out." So it's been fantastic.
Jack: Awesome. And now you are a stay-at-home dad?
Steven: Yes. I got that…anywhere you look me up, you'll see that's one of my titles, land flipper and stay-at-home dad, that's me.
Jack: What difference does that make in the life of you and your kids? I mean, isn't that incredible?
Steven: It's unbelievable. I mean, prior to starting this process, you work all day, you come home, you pick them up, you know, shove some food down their throats, dunk them in the tub, and they go to bed, and that's not the way to spend time with family, right? Like I wanted to have them have the opportunity to get to know who their father is, spend time with them. You know, when they have questions, you're there to help them out. And it's interesting, my daughter, you know, shortly after within the first few months, she's like, "I like you being home, daddy, I like you being home."
Jack: How old is she now?
Steven: She's a five, she'll be six in September. So she's getting ready for kindergarten this year.
Jack: That's awesome because mine is 12 and she [inaudible 00:13:58].
Steven: And that's time you can't get back. I actually just spoke to a parent, a neighbor across the street and she's loved this quarantine time. I mean, under the circumstances, obviously, this is a pretty terrible event that's happened to the world but I think it's really given people an opportunity to spend more time with their kids. And there are good days and bad days but, you know, you wouldn't give it up for the world, you wanted to have kids for a reason and so now you're getting that opportunity to spend time with them. I love every minute of it, the upside of it.
Jack: Certainly, it's fantastic. It's like there's this statement somebody said or might even be a book, I don't know, I'm not sure, it's just called "18 Summers," so perhaps a blog article that basically says that the average family or normally…or every almost family, what you have is like in a normal live, you have 18 summers with your kids because your kids are only home for summer holidays, the rest of the time they're in school. And you have 18 summers and you better make the most out of those 18 summers because then the kids are gone, you don't have the next 50 years with your kids, right?
You have 18 summers and then they're off to college, then their peers are more important, then they're gonna go get girlfriends or boyfriends and they're gonna go get married. And then if you're lucky, they're close by and you have a good relationship, and you're visiting them all the time. But more often than not, you still have perhaps a good relationship, but there are thousands of miles or hundreds of miles away, and you can see them like once a month, once a year. So you've got 18 years, 18 summers. And I don't want to just have 18 summers, I want to be having to have truly have 18 years so that when they come from home or I go pick her up from school, we go grab an ice cream or we go home, and we go jump in the pool or things like that, that you can do now too. And that's one of the biggest benefits other than, of course, the money over the land flipping, is that, the ability to just have that. The family is most important thing for us.
Steven: Exactly.
Jack: But very cool. So then, obviously, you got into the hall of fame, also we called on you and Jensen if you guys want to be coaches and you have now been coaches for a little bit, and already have some of your students, or many of you students have successes already, how is that though, how is that being a coach?
Steven: So it's been fantastic, it's interesting. One of my goals this year was to give back to real estate, right? So the best way I feel to do that is either number one, volunteering, so volunteer for your local REIA, wherever they need you to do, just like go do it so that you can help them succeed and they help you succeed. And then I want to help others, right? So coaching is just that, right? The coaches are there to help the player reach a level that they probably couldn't reach on their own. So that's where they're giving them tactics, encouragement. You know, so it's just something that I wanted and thus far it's been fantastic. A lot of the students are very appreciative, you know, they really value the content that you've provided and, you know, they just need a little bit of shoring up to get them to that next level. And I love having the ability to help provide that for them.
Jack: Awesome. So let's jump into some of your specialties and your own deals because at the beginning I had said that where you said that you were really good at analytics. Tell us a little bit about what you do in the area of analytics in your business?
Steven: So for me, I'm like the acquisitions guy, right? So once we get all our, you know, our mailers out to whatever county that we're working as we get calls back, I'm the go-to person to quickly assess the value of the property and, you know, get those offers out to folks. You know, working through that, me and my wife have…you know, we're a two-person team and she really does a lot of the marketing side for our group but I make sure that we're targeting areas that are good areas, we're getting enough mailers out, following up with people. So it's a lot of the boring stuff that is sometimes done in the back office. I mean, I love doing those sorts of things. So for me, that's where I can add the most value, quickly look at something, assess it, and get those offers out and then decide on what areas we need to touch, we need to go after next.
Jack: Okay. So you are looking at the deals from analytical point of view in terms of not just, "Okay, here's another deal, let's go make it happen," but a little bit more strategically, like higher level. What kind of factors do you look at in such cases?
Steven: So you're looking at, you know, population growth, right? There's a couple of great tools out there that can be utilized that can help you do that. And then a big reason that I'm even able to do what I'm able to do is the Investment Dominator system that you have in place. So having that as a tool from end to end to put all of my entries in from the time I mailed them until we get an accepted offer is huge. There's various statuses, there's various labels that you can put on each of these things so that I can pull reports, I can track a lot of the data much simpler, much easier.
And so that helps me categorize each county, each state down to the order, the specific mail order that I have, what letters I used, what handwritten font that I used? I have the ability now to break down all those analytics and help us target specific areas where we had the most success, and other areas where we did it. So utilizing those tools have been instrumental and is what's helped us gain the level of success that we've gained.
Jack: Okay. Very cool. Great. It's very great. So analytics was one of the areas you said you're really good at and then obviously, you also like, over time, I heard you say in our prior conversation that the goal has changed from…in one year, you did 30 plus deals, the goal has changed from the next year doing 30, doing 60 deals to doing higher-end deals, right? So the goal has changed from a number of deals to really like a bottom-line making a certain amount of money, I would think, right?
Steven: Correct.
Jack: So what have you done in order to make that mind shift and what have you done in your actual business to focus on those higher-ends properties?
Steven: So as we were working last year, we noticed that it takes the same amount of effort to do a deal that's gonna make us $2,000 versus the deal that made us $40,000, the difference was just jumping right in and going after those high-value properties. Now there may be a little more conversation that needs to take place with the seller, right? Just to better understand what their motivations are for selling, but the amount of effort that it took was the same. And so we decided rather than putting so much effort into the smaller deals, if I can put that same amount of effort and make that much money, I'd rather do that.
Now that's not to say, you're not gonna move them as quickly because they're higher valued properties, they may take a little bit more time. But we're okay with that because at the end of the day, to walk away with $50,000, $60,000 after a deal, I'd say that was pretty well worth maybe the extra a month that may have taken just to make sure that that property got seen by the right folks at the right time.
Jack: So what's the biggest deal you've done so far?
Steven: So the biggest deal we've done, we made $40,000. That deal, it's a very interesting deal, you may have heard it, maybe not. But we actually got the deal, it was in Orlando and we bought it. But the way we bought it was we used private money, we used my wife's cousin. So we said, "Hey, look, we have a deal, we know it's valuable, we know we can sell it and make money from it. Work with us here, we'll pay you interest-only payments until we sell it."
So the deal ended up taking a little bit longer than we expected, we did end up getting a realtor on it. So we decided to outsource that function so that the realtor could be the brunt, right? Be that toll gate to filter through any sellers that came in so that we can go back into the business and focus on additional deals that we were working. So we did get a realtor on it. It did end up taking a year but that's okay because it was a win, win, win, win, right?
So the cousin made a year's worth of interest-only payments, more money than she would have made in the stock market. The seller, they had already gotten their money because we used private money, so they were happy. The realtor got a nice commission for the amount of effort that he put in for working the deal for us, and we made, you know, $40,000. I love those types of stories because everybody benefited. Now it wasn't easy, right, to get to that point but at the end of the day, it's a fantastic story and really talks to the testament of what this business can do.
Jack: And a little bit creativity because the seller, in this case, might've not held out for a year but you guys were able to buy it and finance it, in this case, helping you and the family member make more money which is exciting. And obviously, in our community, we also have people that would lend that money so we have people, private money lenders, it's in the group that they look at the deals and if the margin is big enough, they're like, "Yeah, it's the safe deal." Like because this deal was promising. How much did you sell it for?
Steven: $60,000.
Jack: Okay. So you got on a contract for less than 20 because if 20 [inaudible 00:24:21.247] like the interest that there wasn't even that much. So, very, very cool. Great. I mean, awesome. So what's the plan for the next year, for the next 12 months? What's your guys' vision and plan and focus?
Steven: So the plan, my wife wrote it down, I think she's got a real…we did 10X. So she was saying $800,000, so that's the plan. The plan is to make at least that much money within the next 12 months. So we're definitely gonna be, again, getting as many mailers out as we possibly can. Even during this current pandemic, the business hasn't stopped, we're still doing everything we typically would do. And I've even told that at local people at the REIA here in Orlando and they're like, "Oh, no," you know, you hear some panic, "What are you guys doing?" You know, you hear people kind of freaking out. And for us, I told them, I said, "Hey, it's business as usual, we're going full speed ahead, cranking out offers, getting calls back." So it's been great to this point. And we're just gonna continue to do that, continue to keep pushing.
Jack: As a matter of fact, a lot of our students are reporting and we see that ourselves too. We're just hiring actually a new land salesperson this week as we record this, the full-time land salesperson in our company. That there's actually more interest in land right now than there was before, and last year was already one of our best years ever. So this is actually…there were some rightful hesitation and fear about the COVID kind of situation coming to March, let's say, of 2020 right now.
But what it turns out is that there's apparently…and this is how I explain it to myself and to those who ask me is it seems like there's such a…that people are so sick and tired of being at home, especially those who actually love the outdoors, like the RV group, the ATV people, the hiker, the biker, the kayaker, and certain things like that that love being outdoors. And even like some of them say like, "Okay, let's go out there, let's go in an RV park or a campground," while the campgrounds were closed, the RV parks were closed, right, in many areas. So they couldn't even go anywhere. And I think that along with them being stuck at home as long as…with them not being able to spend money and actually some people saving money during that time.
I just read an article that saving rates have actually gone up in the pandemic right now. Is that a lot of people said, "You know what, screw it, let's get our own piece of land, so that, if there's an epidemic, we can just take our RV or our tent or whatever it is, and just go out on our own place or build a cabin over time there." And so the properties that be there make like 90% of our deals which is the properties right on the outside of town, as well as the larger kind of like ranchettes or ranch, little ranches in the rural areas, they've been getting a turbo boost of interest from people because they don't want to be in a position anymore of being stuck in some small condo or apartment or a house with a small backyard and not be able to kind of like go places then. And very interesting, like COVID has actually helped our business, even though 2019 was like the best year almost we have had ever, 2020 is turning out to be almost even better. So do you guys see similar things?
Steven: Yeah, we are. We're definitely seeing a lot of activity, a lot of people are looking to buy, like you said, they're looking for a way out, they want to, potentially for the next pandemic, have their land ready to go and people are looking to sell. You know, there's been some stimulus money that has gone out but I don't think it's gonna be enough to help sustain people if this thing goes any longer than it currently has. So if you got an asset that's sitting there doing nothing for you, why not make some money from it?
Jack: Exactly right, exactly right. I'll have to agree with you. So great. So with that said, let's go for a quick lightning round of a few questions, and that is number one is like of all the things in your life and overall in your life, what's the biggest failure you have experienced? Are you there?
Steven: Oh, wow.
Jack: I lost you for a moment. But let me ask again and we can [inaudible 00:28:54] You just stay quiet for a couple of seconds. All right. So of all the things you have experienced or have done in your life, what is the biggest failures you have experienced?
Steven: Oh, wow. I think not taking action sooner, right? Jumping into this. I waited to the point in my career where it was just completely stagnant and there was no real opportunity to move up and it started frustrating me, you know, it started impacting my family. And so I think I stayed in corporate America just a little too long. I had been giving so much and so much that it was to the detriment of my family. And once I recognized where I was heading, I was very disappointed and I felt like, you know, I should have done more at that point to take the steps necessary to get the education that I need. And like I said, my story, I mean, I waited, I mean, my wife had that book for two weeks before I even picked it up and thought that it was important. So definitely, waiting, waiting, waiting for something good to happen versus taking initiative and making the change I wanted, I think that was a big failure for me at the time.
Jack: Okay. All right. I mean, sometimes these things are happening for a reason because by waiting beyond the time you should have, it became stale, it became frustrating and that perhaps allowed you to even open your eyes for other things. That's what basically happened to me. If I would've been all happy in my job, I would have never looked for anything else.
Steven: That's true, that's very true.
Jack: So sometimes it's a good thing to have something happen to you that it's just not…that frustrates you because it can be the trigger to actually take action. So, great. So next question is, what kind of books are you reading? I assume you're a reader, you guys, obviously you read "Rich Dad Poor Dad." What books are you reading these days?
Steven: Right. So "High Performance Habits" by Brendon Burchard, that's a big one. He's got a nice high-performance indicator test that you can take prior to reading the book to kind of assess where you are as far as a high performer. So that's a great book, great mindset book that can help you in your business. And another one that I just read which is interesting is the "The Greatest You" by Trent Shelton. So that's a real nice self-help book, like really taking a look at yourself, understanding, you know, what your opportunities can be and try to understand, you know, what your purpose is in life, so it's a very good book.
Jack: Wonderful. Then the last question I have is just before we finish up, what do you recommend to somebody that is listening right now? Do you have like a last piece of advice to just people who are listening, who are perhaps like sitting here and just are in that paralysis analysis or are in that, "What should I do," or just overall people that are interested in real estate?
Steven: So what I would say is take action, right? Don't be afraid to make a mistake because when you make mistakes, there's opportunities that are present there, there's so many things you can learn by making a mistake. And it's not the end of the world if you do, you can learn from it, you can grow from it. For me, that's the number one way that you learn, by getting out there and trying and making mistakes. So the biggest thing is take action, don't be afraid of making mistakes because there are definitely gonna be opportunities out there for you. And just keep going, keep pushing, you never know what could happen. Just by going out there and making yourself known, you know, letting people know what you do, it's amazing what opportunities can come up just by having that energy and going out there and talking to people.
Jack: I love that you guys are all always swagged out with everybody in your link, in your website there Cash for Plots [SP]. And I guess that's where people can find out about you. If they want to contact you, are you available to answer perhaps with your questions if somebody reaches out to you?
Steven: Definitely. You can go to our Facebook page, The Plot Squad, that's probably one of the best ways that you can reach us. And then if you have specific questions, you can always drop us an email at info@theplotsquad.com.
Jack: All right. Wonderful. We'll put all of that into the show notes. So with that said, thank you very much, Steven. It was wonderful having you. Congratulations to your success.
Steven: Thank you.
Jack: And with that said, guys, this completes another episode off the "Forever Cash Life Real Estate" podcast. Again, give us a five-star review. If you're watching this on YouTube, give us a thumbs up, share it with people around there. This is what happens when you interest in real estate, you see the right answer, you take action, you get going, you go from a few deals to 30 plus deals to hall of fame to being now you guys are coaches in our organization. But that's that. Thank you very much, Steven. And you all have a great day.
Steven: No problem. Bye.
Jack: Thank you. Bye-bye.
Enjoy this podcast? Share the love!