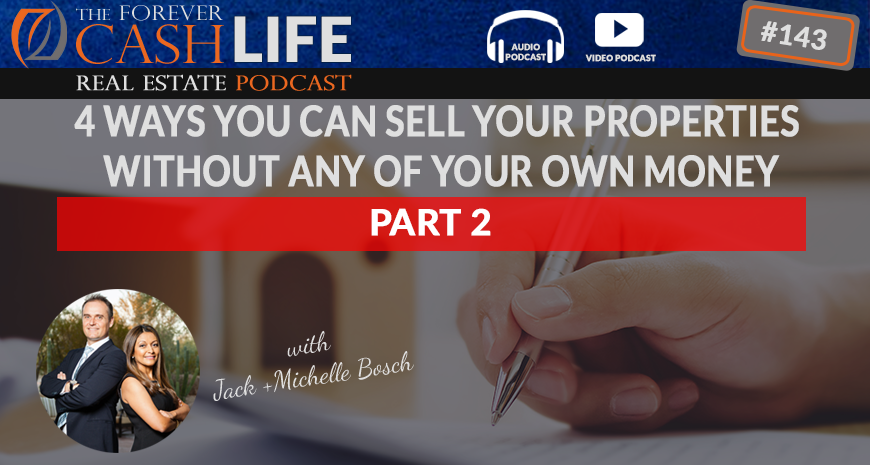 In this episode, we're picking up where we left off last week and discussing two more strategies you can employ in order to finance land deals without having to use any of your own money!
Jack Bosch discusses transactional funding – a type of hyper short-term loan that you can get which allows you purchase the property and repay the loan in a way that is risk-free to the lender.
You'll also find out about how you can work with a money partner – i.e. someone who comes on board to finance a deal in exchange for doing little to no work on the administrative side.
The amazing thing about land flipping is how you can get started without needing to raise a ton of capital – so, there really aren't any excuses for why you shouldn't start your journey to financial freedom today.
Listen and enjoy:
What's inside:
Understand the mechanics of transactional funding

Discover how to work with a money partner
Understand why land flipping allows you to get started without capital
Mentioned in this episode
Tweetables:
Transcription:
So what's the third kind of way? I'm gonna look at my cheat sheets here. The third kind of way is what's called a transitional funding deal. So in a traditional funding deal, let's say the title company doesn't want to do a double closing or they say that they're gonna disclose the dollar amounts to all parties, you don't want to do an assignment for whatever reason. Instead, you want to say you still want to be in control. And you want to make sure that the buyer does not know what you're making here. You don't want to use our extra brand new assignment agreement.
Instead, you say, "I still want to buy it. And I still want to do it. And I still want to do it the same day. But I need to bring in money." Or sometimes it's the title companies, depending on what state you're in, it's the title companies just demand it. They're just like, "No, we will not let you do this deal without you bringing your own money to the table." Now you have a choice. You can go say that, "Well, then forget about it." Go to a different title company. But sometimes and you want to really verify this early on. Because I've seen deals that our students do when a title company says, "Yeah, it's all good. It's all good. Yeah, it's all good. We do the double closing." But then at the last moment, like literally like a week before closing, they're like, "Oh, by the way, we talked to our manager and you need to bring money to the table. We can't do it without your own money."
You're like, "What? What's happening? What's going on? Why in the world not?" They're like, "Oh, sorry, okay, otherwise we can't close." Now you have a choice, you can take that deal now from some… from them away, you can bring it to a different title company, but then you won't, probably won't close in four or five days as you had planned. And they have to start everything again and they have to do a no title search and all these different things. So the other option here is that you do transactional funding. Now, transactional funding, what is transactional funding is it's a vehicle of hard money lending. So what that means is that you have a lender at your hand and the good news is, again, in our student environment, in our student portal, in our students we have suppliers of transactional funding available for you, particularly one gentleman and we are very close to offering it even ourselves, but transactional funding works sort of certain way.
It's a hard money lender that looks at the deals that like I need transactional funding. Transactional funding works such that what they do is they give you the money for one or two days, and actually don't give it to you, they give it to the title company. So let's say again, same scenario here, you need let's say a little bit higher example. Transactional funding typically is only being used at higher, a little bit higher dollar amount, because it's not worth it for a $7,000 deal. You usually have the $7,000 yourself or you can use one of these credit card checks or you can use one way that… just other ways to come up with the money. But if you truly don't have the money, then you use it for the $6,000, $7,000 deal right now, too.
But let's say it's $150,000 property that you have under contract for $60,000 and you have a buyer that is ready to buy it at $100,000. If you don't have the $60,000 in that example, and the title company says you need transaction… you need to bring money to the table, then you go to a transactional funder. Again, we have a couple in our group that we recommend. And if you're interested in that, you can just reach out to us. Again, we have multiple concierges that you can reach out. So come to our group, our land profit generator, real estate investing group, join it and there's multiple concierges that can put you up. So like personal, really personal advisors that can help you put you together with our transactional funders.
And in that particular case, what you do is you contact the transactional funder. The transactional funder is a hard money lender. He's going to look at the deal. And if you have a deal on a contract for 60 and it's worth 150, they're not going to be concerned. They don't look at your credit. They don't look at your experience. They don't look at your criminal history or anything like that. I mean, potentially they might run a background check just to make sure that you're not a criminal, but other than that, they don't care about whether you're married or not, what your income is and so on. They just look at the deal. So they look at the deal and they say like, "Okay, so you need $60,000 to buy on this deal plus closing costs, let's say, $62,000." And they're like, "Okay, no problem. And do you have the buyer lined up?"
So you send them the documents for both the selling deal and the buying side of the things and the selling side of the things. They look at that, they communicate with the title company as the lender, they're going to send you some loan documents, and then they're going to wire the money in. What they usually like to do though is they usually like to wait until they wire the money until the buyer also wired in the money. So they're going to communicate with the title company who says title company confirms, yes, the buyer wired $100,000 in. It's like great. Boom, they wire their money. Why do they do that? They do that because they want to be running a risk-free transaction, because essentially what they're giving you is they're giving you 100% of the money that you need to buy this property but they don't want to be stuck with a situation where the buyer doesn't follow through and now they gave you money, you now own this property because remember this is still a buying and selling transaction.
They help you buy the property, you become the new owner of the property, and then you turn around and you sell the property again. They don't want to help you buy the property and then be stuck with a loan that you can't pay back because you don't have the money to pay it back and you don't have a buyer anymore. So ideally, they want to go say, "Okay, the buyer sent in the money, the buyer is committed. Great, now we're sending in the money." And with that money, the loan documents, they now allow you to sign. You now sign the documents, you signed a loan agreement. So you are now the owner of the property but you owe $60,000 to that transactional funder. Then the same day you go sell the property and what the title company, by the way, what the title company does, they take the $60,000, they take $2,000 for themselves for their effort, then they take $60,000 and send it to the seller. So your $60,000 is now gone, the seller has their $60,000, the seller is happy, you are the owner of the property.
Now that same day, they also…you signed the documents to sell the property for $100,000. The buyer signs the document for it to buy the property for $100,000. The $100,000 is in the account. And what happens now is the title company now uses $60,000 to pay the loan back plus the loan fees because the loan came with fees. And here are the fees typically for a loan. It usually costs around 2 points, basically 2% of the loan amount or typically transactional funders have a minimum fee of like $1,500 or $2,000 plus potentially even a transaction fee. So it's very common that it costs you about $2,500 to get that loan for that transactional funding. But here's the question, you have this property under contract for $60,000. You sell it for $100,000. Without your transactional funding, you can't do that deal. Is it worth spending?
You're about to make $40,000 profit? Is it worth giving up $2,500 of your $40,000 profit and still walk away with a $37,500 profit in order to make the deal happen rather than walk away from the deal because and not make the deal happen? I mean, it's a complete no brainer, right? If you look at it from a financial side, for the lender, it's very profitable for them because they gave $60,000 for two days and they make $2,500 on that, which is a great return. But most importantly, so transactional funding is not cheap. But at the same time, most importantly is what's most important is that you get the deal done. So don't look at it. Please don't look at it from a point of view. It's like, "Oh, my God, they made a 4% return in two days. If they do that, once every week, they're making an outrageous money on their money." True.
Look at it instead of like, "Do I rather have 96% of my deal, like basically… or 95% of the money or would I rather… or 95% of the $40,000 or no money?" And I take 95% of my original profit every day of the week and gladly take transactional funding until you have enough money that you don't need to use transactional funders anymore. So it's a bridge kind of situation. Once you're doing 20 deals a year at $10,000, $20,000 a year, let's say $10,000 a profit, you make $200,000, you don't need transactional funding anymore, right? You now have the money to fund your own deals. So this is something that most students that use this, they only need transactional funding for like, four or five, six times and then they're off on their own and they no longer need it. So therefore, look at it from a point of view that, hey, you're still making $37,500 on a deal that you otherwise wouldn't be able to do. Hallelujah! I'd take that every day of the week, ideally, 10 times a day.
So that's the thing. That's the third different way is transactional funding. The fourth way that you can…But again, you use somebody else's money, they provided the full amount of money for you to buy the property and then you sell it right away. And then the buyer's money comes in, pays that back, pays back some fees. You make just a tiny little bit less money but you now again were able to do the deal without using any of your money. Fourth way to do a deal without using any of your money is by having basically either a joint venture partner that brings in the money or I also call it a money partner.
And the money partner can look like two different ways. Way number one is that it's truly what's called a joint venture. So we just have done a deal like that. With one of our coaches in organization, he found two deals that are worth $150,000 each and that he put on a contract for $32,000 apiece. So what he did is he didn't want to tie up $64,000 of his own money. So he came to us and he says like, "Jack," because he's one of our coaches and he was one of our Hall of Famers, we have a Land Profit Generator Hall of Fame. He's actually our head coach. And he's actually, he's a fantastic guy. He went through our coaching program himself. He did 50 deals in the first year. He did 100 deals in the second year. He's doing over 100 deals in the third year right now. And his margins are going up every single year.
So he came to us, he's like, "Yeah, I don't want to tie up the money right now. Are you guys interested?" So we looked at it and we looked at the deal, we verified the values, we're like, "Okay, good to go." So we happen to have the money available at the time. And we did a joint venture agreement. He found the property, he did all the work and so on. We just wired $64,000 plus closing costs about $66,000 into the title company. We now own this property together with him. And in this case, now he is marketing the property, he's got a lot of interest on the property. One of these.. the next few weeks this property should sell. And if they, let's say, sell for $80,000 or $85,000 apiece, after closing costs, that's a $50,000 profit per deal.
When that happens then it's two deals so it's $100,000 profit, we're just going to split that profit with him 50/50. So we brought in the money, he brought in the deal. He was able to make and once these properties sell and we'll make 100 grand, he's going to be able to make a $50,000 profit without having used any of his own money. Now we make a $50,000 return on our money, which in this case is based on the fact that we put in $66,000, we will make a $50,000 profit, that's about…what is that? It's about almost a 72% return on our money. I'm good with that. I'll wait a year if I have to if it takes that long. It won't take that long but even if it would take a year to sell a property, I'm happy with a 72% return on my money as just the money guy that put the money into the deal.
Now as a money guy, what's important is I can tell you what I did is I looked at the deed and I made sure that a title company was involved so I have title insurance on the property, right? I looked at the deals itself. I looked at the value. I did my own value research. I verified that the values that I've been given by even though it's a friend and a coaching student and a former coaching student now is a coach of us, an expert in his industry, right? Even though he did that, I still made sure that my t's are crossed and i's are dotted. I got a joint venture agreement. I had it reviewed by my attorney for example to make sure because before I give 66K, I want to make sure this thing is worded such that I can have some rights in the deal and get my money back.
So bottom line is as a money guy, in this case, his money partner, I'm not doing any work. I'm using the money that I've invested in to ultimately make anywhere, if you sell it, even if he sells it for cheaper, make anywhere between 50% and a 78% return on my money. Very cool. I love it. That's obviously about 70%. So that's great. So another way to do that way too of having a money partner is ideally done when you already do some deals because when you do some deals, what you can do is you can ask somebody in your circle of influence if they would be willing to do a blanket personal loan or business loan in a certain amount. Like for example, another one of our coaches, he really loves doing seller financing deals.
Now the ideal seller financing deal for us works the following way. You pay put a property under contract for, let's say, 10 cents on the dollar. So it's a $30,000 property you put on a contract for $3,000. You sell it with seller financing for $30,000 or at full market value. But you're asking for only a 15% or 20% down payment. So let's say somebody comes in and gives you a $5,000 down payment on a property that you only put on a contract for $3,000 on so then even if you take closing costs into consideration, let's say, another $1,000 you're in it for the deal for $4,000 but they give you a down payment of $5,000, you can actually do a double closing here with just a down payment. You can buy the property and sell it right away because the down payment is already more than what you need to pay the seller.
So in that scenario, you can buy it, you can sell it with just a down payment and now the down payment in other words pays for more than what you have the property under contract. So you can buy it, spend the $4,000, go sell it or use the buyer's money for that. And then immediately that same day, sell it and get more as a down payment than what you actually paid for the property. So again, it's a way to do the deal without using any of your money because if you do a purchase of the sale in the same day, it can be washed, just the buyer's money can be used. And now you're selling the property with monthly payments of, let's say, $300, $400 a month for 6 to 8 years and you get cash flow without having any money in the deal.
Now, what this coach came across is an area where lots of people wanted to do seller financing but the issue was or is that he had to basically put like about $4,000 per deal into the property but he would only get about $1,000 as a down payment or perhaps $1,500 as a down payment. So on each deal, he would be short $2,500. So in other words, he couldn't do those deals without using any of his own money. You understand it, right? You put a property under contract with closing costs, the money that you have to come up with to buy this property is $4,000. And you have a buyer lined up that wants to do seller financing, but that buyer can only put $1,500 down. So if you're gonna receive the $1,500, you're still out $4,000, you are out $2,500 more than what you actually got from the seller. So then the difference is $2,500.
So you can do that once. You can do that twice. If you have some reserves $20,000, $30,000 in the bank, you can do it 10 times. But you can't do this forever because you're gonna run out of cash. So what he looked at, he says like, "I want to do like 50 or 100 seller financing deals this year because if I do 100 seller financing deals this year, each of them be at, let's say, $400 a month." If you do $400 a month times 100, that's $40,000 a month or $480,000 a year in actual cash flow coming in for the next 6 to 10 years. So he's like, "That's what I want to do. But I can't do it because I don't have… on every one of these deals if I lose an average of, let's say, $2,000 in terms of negative cash flow, because I'm buying for 3 selling for $1,000 down. So I put out 3 to buy it, I only get in 1, I'm negative $2,000. I can't do that. If I want to do 100 deals, I'm going to be out negative $200,000. How do I solve this?"
Well, the way he solved it was that he went to a friend and he explained his business model to them, he had already done like 50 or 75 deals. It's another one of our coaches. He showed them how this all works, he showed them the performance of these notes, he showed them the results and all the things. And again, he says like, "Listen, can you lend me, let's say, 100 grand?" Because you don't really need that much. Because if you just do 50 deals, you have $20,000 a month coming in with cash flow already, you can use a lot of that to pay your buddy back, right? But so he needed just for a time being, he needed some cash in order to do those deals where he puts out 3,000 and he only gets in 1,000. So he's like, "Can you lend me some money?"
So the guy gave him I don't know how much money but perhaps $20,000, $40,000, $50,000 or so. I don't know the exact amount, or even $100,000. Who knows? Gave him the money and then he went to work and he did deal after deal after deal after deal. Each deal added $300, $400 in cash flow to the bank account every month. And each deal though put a hole in it of $2,000. So after a while that was done, but now he had 50 to 70 to 80, 100 deals coming in. And now when you have $20,000 a month coming in, you don't need somebody's money anymore. Because if $20,000 a month coming in every single month, you can use $5,000 of that, $7,000 of that to live on. You can use $3,000 to pay off your debt, or $3,000 to pay to put on the sideline to pay your buddy back. And you can use $10,000 a month to keep doing your own deals and funding that gap.
And that's what he ended up doing. So he ended up doing, it was a temporary loan because your cash flow goes up so quickly, that very simply, simply the excess cash flow soon is enough to cover those kind of gaps. But again, that's the third way. You can get somebody else's money as a company loan and then you use that either to buy properties outright. That's another way. Your first cash flow you can use it or you can use it to just buy somebody's…now a deal comes along that costs $20,000, you have the $20,000. You buy the property, you sell it two weeks later to somebody else for $50,000 and you return the $20,000 to your buddy with an interest rate. That's another way that you can have a money person in here. That's the simpler way of course.
The seller financing way went a little bit more complicated. If you have questions about that, please join our Facebook group or actually even better, we have it coming up very soon and occasionally we do that so if you listen to that later on, still go to www.landprofitmaster.com because we have sometimes multi-day free training classes where we explain concepts like that just in detail. So go there, landprofitmaster.com and register for it. Check it out. These sessions are coming up every few weeks and where we go live for multiple days in a row for free to really show you how this business works. So with that said guys, that concludes our episode of "The Forever Cash Life" real estate podcast. Again, four ways to flip deals without using any money. That said, give us a five-star review, give us a thumbs up, share this video, put your comments below, put your questions below. Go join our Facebook group. Go to landprofitmaster.com. Register to be part of one of our three-day or five-day free training series that we're doing on a regular basis. All right, bye-bye.
Enjoy this podcast? Share the love!