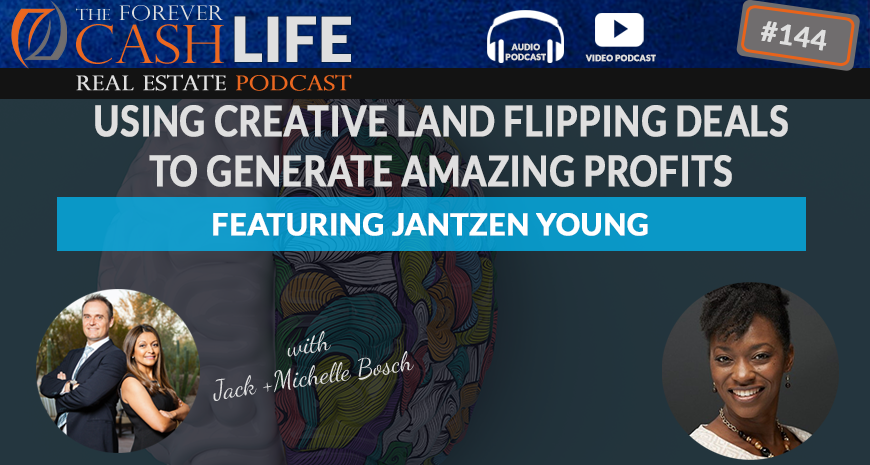 Jantzen Young operates a land flipping business with her husband Steven (who we interviewed a few weeks ago) and whereas Steven is in charge of the numbers, Jantzen is in charge of the vision. In this episode, Jack Bosch chats to Jantzen about her career and why land flipping has become her main vehicle for attaining financial freedom.
As a Land Profit Generator coach, Jantzen has incredible insights into the mindset shifts you can make in order to increase your profits while doing fewer deals (bigger isn't better, better is better!). Land Flipping has been an amazing force for good in Jantzen's life and she wants to empower more people to take the step and attain their own financial independence.
Listen and enjoy:
What's inside:
Discover why Jantzen Young become a land flipper
Find out the mindset shifts you should make to level up your business
Get incredible insights from a land flipping coach
Mentioned in this episode
Tweetables:
Transcription:
Jack: Hello everyone. This is Jack Bosch speaking, and welcome to another episode of "The Forever Cash Life Real Estate Podcast." We're gonna talk about putting creative deals together, right, creative solutions out of deals that perhaps otherwise might not happen. And our guest is an experienced land flipper.
Man: Welcome to "The Forever Cash Life Real Estate Investing Podcast" with your hosts, Jack and Michelle Bosch. Together, let's uncover the secrets to building true wealth through real estate and living a purpose-driven life.
Jack: All right, so here we are. So I already told you our guest is an experienced land flipper, and I'm super excited to introduce to you Jansen. Jansen Young, how are you doing?
Jansen: Hi, I am doing great. How are you?
Jack: I'm doing fantastic Jansen. Great. So, Jansen, you are a land flipper, you're a coach in our organization also, you and your husband Steve have your parents, you have a dog puppy, a 50 pound puppy. Well, tell us a little about yourself? Tell us about your path, about you yourself, your path, where you are, just who is Jansen?
Jansen: Sure, awesome. Well, first of all, thank you so much for having me. I was watching the interview with my husband just to make sure I don't repeat a lot of the stuff. And you are in luck, I can go for hours for good.
Jack: Yeah.
Jansen: You can cut me off.
Jack: A few weeks ago, just like three, four weeks ago, well, I don't know, a few weeks ago we interviewed Steve, your husband, who is also obviously a full time land flipper and a coach in our organization. So, yeah, so now the better half of the Youngs is here on the show.
Jansen: That's right. So he's really more our analytics guy, our number cruncher. I'm more in the creative side and I absolutely love it. So a little bit about me, I was born here in Florida and I've been here for some odd years. We won't go quite into those details.
Jack: Like 24.
Jansen: Yeah. That sounds about right, you know, 24 or so. I went to school here in University of Tampa and that's where I met my husband. He was a basketball player and I was a cheerleader, and I'm like, "I am not dating any of those athletes, because they are so egotistical and crazy." And then I met my husband who just swept me off my feet, so here we are.
Yeah, so both of us started our careers in financial services. He was working for a firm in Tampa, I was working for a firm in the Orlando area. And if you're from up north or the West Coast this might seem like Florida, two cities are fine. Florida is massive. So when we got married, we, you know, lived in the middle, and both of us had over an hour commute to get to work and come back every night, which we did for five years. You know, you do what you have to do. And, you know, we had really, really good jobs right out of college, especially my career path was going great.
But what was surprising to me is that we were still broke. I remember when we got married, I told my husband, I was like, "The day that I make $100,000, we are gonna be balling, we're gonna buy a mansion, I'm gonna get the car of my dreams." And you're smiling, because I think you know, 100K will come and just go. I don't know where that number came from, but it was not the number we needed or were looking for. And so we were kinda asking ourselves like, "Why are we in this situation?" We had good education, we had good jobs, we had the number that I thought we needed, and we were still, you know, maybe not paycheck to paycheck but if anything were to happen, you're just a couple weeks away from real trouble.
Jack: I know exactly how it feels. I went through the same thing. We may have got promoted three times in five years and started making good money and everything, and then at the end of the day is like, "Why do I only have like 500 bucks left to buy groceries?" So your expenses go up when you move all of that to the top then everything goes up, and that's the trap everyone falls into. Yes.
Jansen: That creep, exactly. And it's funny that you mentioned like the $500 in the bank. I think we were at another event maybe a couple years ago, and you were talking about having that level of comfort. Like as long as I've got 500, I know I'm okay. I was the girl that was like as long as I've 20 bucks, we're good. So I'm used to living on the edge and my super frugal husband was like, "We can't. We have to have separate bank accounts," because I was driving him crazy.
So, you know, we were progressing in our careers. We weren't exactly getting…like my bank account wasn't reflecting what I thought should have been happening. So we both went back and got our MBAs, which, of course, is supposed to solve the problem, right, get in to more debt, so you can take some money to make money or whatever. And it just didn't. You know, my career still went pretty well, but it just wasn't doing that for my husband. And the grind just kinda got to both of us and once I got pregnant with my first child, I was like, "Well, something's got to give."
So we decided one of us had to get a job closer to the other person, because I didn't wanna have a baby on the highway. So he ended up getting a job closer to me, so both of us moved closer to the Orlando area. We were within six minutes of our jobs, both of us, which is a great boost to our quality of life. But even after that, you still get stuck in a loop, right? It's a prettier loop in a nicer neighborhood, but you're still in that cycle. And that's when we found real estate and were elated to realize there is a way out, there is another way to do this.
Jack: Yeah. People think like, "Oh, no I just need to get that $100,000 job and I'll be fine." But no, it's just a bigger hamster wheel, it just keeps going. So what we really need is something that…well, what is your realization what you need, real estate does… what was the appeal of real estate in that moment?
Jansen: I like the idea of making money without having to work for it. But before I got to that concept, real estate…
Jack: We all do, we all do.
Jansen: Exactly. But before I got to that concept, I think Steven talked about "Rich Dad, Poor Dad." And for the first time budgeting made sense for me. I mean, my thought was, I've always been a huge investor. I always max out my 401(k). I love the stock market. I mean, financial services, like, of course, this is where I should also be investing. But I liked the idea that I could control my finances myself. So either I can control that on the budgeting end and making my life more efficient. And for us, getting rid of a lot of stuff that we didn't really need, not only going out to eat which is I actually love going out to eat so that's something I'm personally not willing to give up on.
But there were other things that we were doing, buying ridiculous amounts of clothes. And then you think about the 80/20 rule, I'm really only wearing 20% of my closet anyway. So what's with all this ridiculous space? So we gave a lot of stuff away. There was a huge purging process and then we started looking at our finances the same way. So if I say that I love education and I love feeding my brain when I look at my bank account, Barnes & Noble and Amazon should be like everywhere. And it wasn't, right, there was a lot of Wendy's and McDonald's. And that's not really the kind of person in life that I wanted to live.
And so for us, it was about being more efficient, making our bank statements align with what we say that our actual goals are, and that was a huge shift for us. So that was on the managing our outgoing side, and then managing the incoming side again, "Rich Dad Poor Dad" just opened up our eyes to the possibility of rentals and passive income and financial independence, and all of these different concepts.
Jack: Great. So then what did you do? What came next? So I know, I mean, Steve talked about it a few weeks ago already, but I understand you guys joined the REIA, right?
Jansen: Yeah. That was…. well, we joined YouTube University, so we started learning everything that we possibly could on YouTube. And YouTube is dangerous, because it makes you think that you're an expert when you have like this much knowledge. So I went out there, and I'm sucking up every, you know, video that I can. I'm gonna go and I'm gonna rock the world with so much lease option that's what I'm gonna do. And I was driving for dollars, looking for houses that way. And I heard on YouTube, "Okay, you find good deals on Craigslist." I'm like, "Right, I'm gonna go check out Craigslist. Baby, there is a fourplex in our own neighborhood, like, in our own city, we should totally buy it." My husband was like, "How do you know how to buy a fourplex?" I'm like, "Well, I don't know. But the person on the other end of the phone, I'm sure they do." So that was our first step. I'm definitely like you, just jump and build a parachute on the way down.
And fortunately, the person that had listed the ad on Craigslist was a wholesaler very deep into the real estate investment community in Orlando. And he could tell, you know, like you greenies [SP] are going to be in serious trouble. You need some support. And we're so grateful to that relationship, that one deal. We were, again, learning from YouTube University, we had our own financing kind of in place with a hard money lender. And when that fell through, three days before closing mind you, he gave up…You know, I called him with my tail between my legs, and I'm like, "We're not investors, and we're frauds. I'm so sorry. We screwed up."
And, you know, he had every right to say, "Yeah, well I'm gonna take your deposit you're gonna lose this. You're gonna be blacklisted in this community." And instead, he was like, "Jansen, calm down, how can I help you?" And that piece right there has stayed with me throughout this entire real estate process and it's also why Steven and I are so passionate about giving back to this real estate community, because it's not the moguls and the sharks that you see in "Shark Tank." It's not like that at all. It really is a community of people who are on a path to improving themselves, their families, their communities and are passionate about giving that back. And I just I love who that is.
Jack: Yeah, beautiful. Of course, there are some of the sharks out there too, but it's beautiful that you come across that one, and there's many like that. So that deal did not go through then, right?
Jansen: Actually, so three days before closing didn't… we lost our funding. After a 10-minute phone call of him, you know, talking us off this cliff, he called the title company. In 30 minutes, the title company called me back. They're like, "Oh, no problem, we found this private money lender. He just, you know, got out of one deal. He's looking to put his money somewhere else. You're funded." Never met the guy, no idea who he was from a can of paint, but he funded our first deal. And at 12.9%, better than good, so we treated him very well.
Jack: Awesome. And do you still own this deal or was that a wholesale deal?
Jansen: Yeah, no. We still own it to this day. And after the improvement, we were able to refinance out of that and took the money right out of that, and put it into a commercial building that we also own now.
Jack: Wonderful. So you're playing the cash flow game. But then where does land come in to that?
Jansen: Well, it's… I really am passionate about passive income, and rentals was initially my way to get there. That's still a really important piece for me, but it is capital-intensive. Apartments cost money. So after a while, we did use a loan from our 401(k) to get started in that game, but after a while you wanna be done with those payments and just like move on with your life, so we needed more cash. And we were at a local real estate investment meeting, and that's been you were invited to come speak in Orlando and everything made sense. I mean, there were three key reasons why we said yes to you, and let me be clear.
We get national speakers every month, who all have amazing products. Land is just one tiny piece of real estate world, but three reasons why we came to you. One, we were both working full time. We were very busy in the middle of a rehab and we needed something that we could do remotely when our kids are sleeping. You know, one of our biggest whys was retirement, because we have this time with our two little kids, three and five. And we weren't spending time with them at all. I'm like "why the heck did I even become a mom?"
If I just wanted to pour my money into something, there are many other ways I could have done this. So I needed something that I could do remotely. I needed something that would provide passive income, and that was by far the most important piece. And when you talked about being able to sell the land with a mortgage, I never thought of being a note owner, or a note holder, or note buyer. And they actually had someone come to the REIA and talk about that before you showed up. I was like, "Ah, that's for like people, I don't have two pennies right now." So that was…
Jack: How do you create a note if you don't already like, yeah, that's another point like, how do I buy it? With these note buyers when I talk to them it's like, "yeah, you can buy notes and you get 15% on your money." It's like, "Yeah, but the first requirement is you have to have money to get 15% on." So when we started, we had nothing, right? And now, of course, even when we have money, now we're attracting the note buyers because they're realizing that when they work with us, they can actually build their own notes that have 100% returns per year, 120% returns a year. I mean, we have done deals that have over 10 years something like a 1200% return. And they're like, looking…
Jansen: Salivating, right?
Jack: And they're like, "Well that is that, is that even… how does that work?" And then anyway. But, yeah, so that's the thing like in order to buy notes, I mean, you can flip notes and you can make money with that. But, usually, you have to have money, yes, so.
Jansen: Yeah I know absolutely. So, yeah, we needed something we could do remotely. We needed something that provided passive income. And there was something else that just really just blew me away when you were talking about it. Oh, just the idea that we didn't have to worry about the tenants anymore. We were still relatively new when we heard you speak so although we decided from the beginning, we didn't want another job. We wanted someone out like passive, passive income. So we always had property managers from day one, but there are still things that rate and it still touches your bank accounts, you still have to worry like why did this one unit not pay, you know. So I liked the fact that…
Jack: I authorized $1,700 repair today and $4,500 last week, and that's on single family rentals that you have and allowing the apartment complexes there's much bigger stuff right now. But, yeah, I know how you feel, yes, exactly. So no tenants, no tenants' cash flow, and you could do something while your kids are asleep. Which is, by the way, my brother finally in Germany started now flipping land. And with his wife, and they have a two-year-old baby, right.
So now she's working, and he's working, and they're like this is their path to have at the very least her come home. Because he just started the different new company, so he is like networking, but they are still working at nights on this business just a couple of hours here and there in order to get her free from her job. Because she's like working part time which really means they give her the full workload in half of the time. And paying her half, and plus the baby just like the same things. So we're pretty confident that within like I don't know, a few months we have them at the point where she can throw in the towel or give in her resignation and be just mom. Mom and then…
Jansen: Exactly.
Jack: When my nephew is, when he is in, I don't know, in pre-kindergarten or kindergarten or the things like that or in a daycare, she does the land work, right, it's perfect. But, yeah, I totally see where you're coming from and that makes total sense. So you come see us, saw us, speak, you got involved. And now let's fast forward what happened since? You guys enjoy… you guys came into our coaching program. How many deals did you do like last year?
Jansen: Last year 28, I think. Twenty eight.
Jack: All right and then you did something.. like a lot of people say like, "If they do 28 this year, they're gonna do 56 next year." You guys had a shift in that, right, that instead of going for more volume, you go for what?
Jansen: We're going for profit. So there's really good book, it's "Profit First." I forget the gentleman's name, I think, it's…
Jack: Mike Michalowicz.
Jansen: Thank you. Mike Michalowicz.
Jack: Actually if you listen to this podcast, if you go back all the way a bunch of episodes actually Michelle and I actually interviewed him in one of the probably 30, 40 podcast episodes that we did. So just search in our podcast for Mike Michalowicz and we interviewed him right there.
Jansen: I absolutely will. I really like his perspective that…. a lot of companies that I talked to, we are part of a lot of entrepreneurial organizations and listen to a lot of podcasts and stuff, so there is this idea you need to think bigger, bigger is better. And that's… I'm not opposed to the idea of stretching yourself to achieve the best that you can, but being the best that you can be doesn't necessarily mean making the most money in the room, like, what does that even mean, right? So the person that has the most deals, has the most headaches really. That's that many more closings, that many more buyers to negotiate with, that many more sellers to get through versus doing a lot less of those deals. And so you're only really working a deal, working a big deal a couple times a year, a few times a year. And you walk away with the same or in our case, much more money than you did when you were doing all the little ones.
Jack: Right. So what is the biggest thing you're working on right now, for example?
Jansen: So right now it's not closed yet. So right now, we have a deal in Flagler County in Florida on the east coast. And that one should net us about $65,000. I am still in negotiations with the buyer's side. So if it works out with owner financing, it'll be much more than that.
Jack: Oh yeah. [crosstalk 00:19:48] that it'll be 110,000 or so, yeah.
Jansen: Again, salivating, salivating over this. And honestly, we're even debating like whether we take it, whether we take the cash or do the owner financing. It just depends.
Jack: Right. Well, 65 grand that's the point exactly. So you do 5 65 grand deals a year you have over $300,000 in income.
Jansen: Yeah. And then it goes back to that whole idea of what were our expenses to begin with, managing the outside part of the house. And I'm not saying I do not advocate for people living like in a tent, eating peanut butter and jelly sandwiches every day. Trust me, that's not how I live. But if you're able to manage that space or certainly credit card debt and student loans, other things that you can get off your plate, especially, if you have good income anyway. Just be more thoughtful about it.
Jack: Right, wonderful. Great, now I love that. That's beautiful, $65,000 deal's in the pipeline right now. And the focus is not bigger is better but better is better. So, I'm 100% with you. That's why, for example, we use the money we make with our land flips and so on. We first for a while we put that into single families. But now, these are still, we got almost 50 single families. They give us more headache than the three apartment complexes we have that add up to almost 300 units, over 300 units, right?
So 300 units give much less headache, because you have a completely different management team in place than on the other one. So it's always like what is better? Is bigger better or better better? Now better is better, right? So it makes this the same thing in the deal structure here. So we use our… and I love that, can you get me… correct me if I'm wrong, but basically what you're doing right now, you're not opposed to buying more rental units, right?
Jansen: Oh, no.
Jack: So you're using the land business as your cash machine in order to buy more of these things that bring in cash flow for like ever, ever, ever, ever, right?
Jansen: Exactly, exactly. And that's why we're on the fence about the notes, right? I loved that in the beginning just to like by me time, right, but the notes run out. And you talked about this in your book. There's the forever cash that's the apartment that never ends. There is that temporary cash which is a great vehicle. And I told this to my students and even people that I meet that will, you know, can stand me talking real estate for hours on end, those notes is a great vehicle in your transition days.
Like, when you're, you know, trying to get out of the rat race, just get that passive income up anyway that you possibly can. And then, you know, if you've got a 10-year note, you've piled on a bunch of 10 and 5 and 15-year notes. Well shoot, if you have bigger starting out than 10 years, well, you've got bigger problems. But, at least, you know, you've got 10 years to get things going. And then, you know, after you've got other things moving, you can manage your day-to-day without notes.
Jack: So literally, you have 10 years to get something going. You work on this a little bit, you build up like say $5,000 or $10,000 in notes. And then you basically you take off, you take off a month or two or three just chill like, recharge from all those years of working for wherever you worked, right then. And now you have another seven years left to figure out what to do with the rest of your life? Because at that point of time, the notes are gonna start coming down, and you either to have to get new jobs, or you use that time to put the pedal to the metal and do more and more and more deals, and more and more cash flow and you use that then so you start here then you build it up there. And use that then to funnel it over into other investments, and that's exactly what we call the wealth wheel, that's exactly the path that the wealthy get wealthier, right?
If you look at it, Warren Buffet I just saw a statistic the other today, at age 50, he was…. Well, at age 30, he was worth like nothing. At age 40, he was worth like a couple of three… few million dollars, right, two, three million dollars. So means it's a lot of money, but 69 billion now, it's like nothing. At age 50, he was worth like $64 million or so. Don't get.. honest, it's still… it's a lot more money.
Jansen: It's a big jump.
Jack: But once you'll get rid of the concept of a job, once you get rid of the concept of this scarcity in your life, and you can now have all day long to do what you love, and to do what you enjoy, in this case land flipping, then your results are going to reflect a much larger result. Results are gonna grow, and then you can start compounding these effects massively, which is what you guys are doing right now. Have you bought any more rental properties?
Jansen: So it's funny that you mentioned that, we have now got into the space that it took me awhile to get there. I don't have to do it all on my own. I wasn't prepared to let go of this, but I am ready now. So actually another one of the coaches, Christina Walls [SP] we've been friends for a long time. And she's always been talking…she does mobile homes, that's her deal, but she's been talking about a mobile home park for ever and I was like okay, yeah, if something happens, you know, let me know. And lo and behold, she got one under contract and she IM'd me, she's like, "Girl, I need some money for this thing like who's gonna be an equity partner?"
And then just then my husband turned around, he was like, "When am I gonna move over my 401K? Like, I got to do something with that thing." And I was like, "I got your money." So now I'm super excited that we're finally gonna be able to invest in a mobile home park with a really good friend of mine. The numbers look phenomenal on this deal. Great cash flow, so yeah that is our next big purchase, and the first one where we don't have to do any work.
Jack: Right. And Steve quit his job.
Jansen: Oh, yeah. Yes.
Jack: You are not yet, right?
Jansen: No.
Jack: But how far are you away from that?
Jansen: So I was supposed to quit in December.
Jack: Okay.
Jansen: And I'm actually financially in a position to do that. We've been working on a project I promise you no less than five years. I've been begging for this particular project to happen. And we finally got funding for it in January. So when they were telling me rumors on Thanksgiving and Christmas, "It's coming, it's coming." I'm like, "Okay, I'm leaving. I'm leaving" Then they kind of put that carrot in front of me. So I want this to be my little legacy. I've been with the firm for 13 years, and I'm in a bit of a position. And it is a second family to me, but once this project is fed, my manager is aware. My director is aware. I do have one foot out the door, and they're very supportive of my next phase. In fact, one of them is a private money lender for me.
Jack: All right. Well, even better. There we go, you use your network. People like, "I don't know where to get the money from." Well, open your mouth, talk to people. They're all of a sudden, there's money that people can invest. Having said that, in many deals do you buy those deals yourself or you just do double closings and things like that?
Jansen: So it depends. If it's an area that I've been in for a while, and I know I've got a strong buyer pool there, and just to be clear in the market that we were working in before it was very residential so a lot of developments. So I had great relationships with builders so I could literally text one of six people and between those text messages someone was gonna take the property. In an instance like that, I will more than likely just buy it because I know there's very low risk for me. If I'm in a new area, I do my very best not to do it unless the numbers are absolutely solid. And I even go a step further and confirm with a few realtors in the area as well. So I just wanna make sure. I just hesitate to say that with other students who are less experienced flippers here and are like, "I got the money, I'll just buy it." Look the double closings, wholesalings, these are great tools to help you mitigate your risk. So unless you really are comfortable with what you're buying I don't recommend doing that especially in the beginning.
Jack: Yeah. This is true everywhere, and then in the house area you can't really rehab a house without owning it. But we're not rehabbing anything, right, we're not even touching it. We're not even seeing it for that matter. So it's cool like it's great to have that, have that nuance approach to it. So when you get started though, now actually let's talk about the other way that when you… let's talk that way. When you got started though you… did you buy anything rather from the get go usually probably not, right.
Jansen: No, no. We 100% follow the method. Our very first deal, we wholesaled it to a wholesaler, go figure.
Jack: Means you sold it to Jamie [SP], but that's a different thing.
Jansen: Okay. We were happy 13 grand, I'll take it. I was happy. Subsequent deals were double closes. We've only purchased…. Steven talked about the one in Orlando, you know, that was our biggest close deal to date. Oh, no, no yeah. So we have purchased about six other deals from last year. Yeah, we did.
Jack: Okay, cool. So now you fast forward to right now you're now a coach for the land profit generator family. And how has that experience been being able to give back and be able to see the success of your students?
Jansen: It is phenomenal. So, you know, you get naturally very, very excited when you do a deal, especially, when you're early and you're doing your first few deals. I didn't expect to have that much excitement when my first student got her deal. I'm telling you when that email came through, we were both celebrating, that call was so loud. But it's nice to see…I mean, I know the system works for me, and I talk about it all the time. People are sick of me talking about it. That's okay, I'm winning them slowly, one at a time. But it's really great to see when my students are able to.. when the light bulb goes off and they're finally able to cross that hurdle and get that deal done.
Because it's not about the deal, right, it's about changing lives, changing families, changing generations. And that's really, really exciting especially because my students much like the whole community here in land flipping, and I would even say in the real estate community is so very diverse. And all of the different backgrounds you kind of come into this world with your own hangups and you look around and you're "This is a great equalizer." Financial independence, like owning your wallet, taking control of your household is a great equalizer. And especially right now with all this unrest with racial relations, I'm really happy to see the conversation of Black wealth of local wealth, family wealth being brought to the table. And real estate has to be a part of that conversation.
Jack: Yeah, yes. I mean, particularly in the land flipping area where you don't meet the sellers, you don't meet the buyers, you don't meet anyone. I've never had anyone tell me, "No, I don't want to sell to you because you have a German accent, right?" And nobody sell to Michelle like "No I won't sell to you, because you're Hispanic," right? As a matter of fact when we put her name on the letter, more people respond than respond to me. So, just like it's a true equalizer on all ends. So if you can select some counties, pick some lists, get some letters out, follow the system, make some offers, put them out for market, you can do.. make money, no matter where you're from, what your background is, and it's a true equalizer which is really beautiful, yeah.
Jansen: I love that. And you said something, just going through the steps of the land flipping and something else I just wanna make sure that the audience is aware of. If you're on the fence about whether or not this is for you, or if you've been doing it for a while and are kind of wondering, "what the heck, I think I was doing everything right." We were really attracted to land flipping, because it's simple. And that has stayed true throughout. Sure, every deal has its nuances, and we get an opportunity to be a little creative in each one, but it's a pretty simple approach to real estate.
Simple is not the same as easy. There are still going to be little hurdles along the way, and one of the biggest things that I like to talk my students through is that that little hurdle that you think is a big mountain is just a conversation away to turning into a pebble, right? It's just you have to know who to talk to, if you go to talk to your friends who have no idea about real estate, have no idea about lands, of course, it's gonna stay a mountain. But don't be afraid to come into the community, join the Facebook group, pop on this podcast. You'll see they're just pebbles. They look like mountains to you because you haven't crossed it yet.
Jack: And that's a great point with like simple and easy, because you guys did a couple of deals at first on your own, right, after getting our more basic programs. And then you got which are still complete programs, and then you joined the coaching program of it afterwards, right? Because the simplicity let you do deals, but then the scaling still requires some focuses, some hand holding, and some system set up and things like that. And then you went from how many deals per year on your own to how many deal do you like to 20 something deals, 28 was it?
Jansen: So we started 14 months into the program doing it on our own, and we did five deals which was not bad, that was a phenomenal supplement to our income. But we weren't looking for a supplement, we were really looking for a replacement, and for that, we knew we needed help to get to that next level. Because there is Rich Strauss, another one of the coaches, he was actually our coach in the beginning, but he has this saying it's like it's not really…you don't know if you're committed to something until you get to the point where it stops being fun. When, it's like 11:00 at night and you know you have to follow up with the title because like something is held up with the death certificate like "got to call this fellow again" like that… it's not fun at 11:00 and you're tired. You've been working all day. But that's… we needed somebody to remind us what we were doing this for and why it was so important that we keep that, you know, keep that energy going.
Jack: And it's a transformation you really go through, right? It's like a personal transformation to a degree that somebody holds you to that standard and brings you through and all of a sudden it becomes your standard after awhile. So like there's now, now it's not a question yeah 11:00 sure, let's go, call. What's the problem? So yeah so beautiful, wonderful. Well, great, so what do you say to somebody who is kind of sitting on the fence and wanting to.. thinking about should.. is that something I should be looking at?
Jansen: Oh, I don't know why you're sitting on the fence. So just do it.
Jack: Right short and sweet. Right now, you said you read you're an accomplished professional in the finance industry. You probably are also readers, right?
Jansen: Absolutely.
Jack: What books are you reading right now?
Jansen: So I gave it away earlier. I'm in the middle of "Profit First" right now. Before that, I was going through "The E Myth" which I think is a really great book just to help especially if you have a partnership. It's really important for us with my husband making sure that it's clear what his job is, and what my job is. And if you're working with business as a partnership, it's totally okay to have one CEO, it's totally okay to have one acquisitions person. It just builds accountability and trust me, it is better for your marriage to do that than to say, "Oh, we'll just do everything," because then passive aggression comes in. I'm telling you, you don't wanna go there, get an org chart.
Jack: I know that. Michelle and I've been working together for 18 years. The co-founder of that..almost all of the business processes that we created, actually she created, or she created to 90% then I just added somethings to it based on our call, based on how we operate that's our her natural gift, more than me. And then we luckily naturally felt in the role where she's done the more things that like that she did the beginning part, the purchasing part of the thing acquisition of the property, I did the disposition. And every time we go into we have like a head on thing, it's always when we both try to do the same thing.
And then it becomes a fight of the egos. It becomes a fight of like "No, I want to do it this way versus that way." So I 100% stand behind what you say like you got have your roles, and there's not one role that's more important than the other one. There's no titles. It's just in order to get it done, we have one party being in charge of something and therefore, accountable for it and you have the other party being charged for something else. And it is better for the marriage. Yes, absolutely.
Jansen: Yes.
Jack: It is. So great, so with that said, thank you very much Jansen, that was absolutely wonderful to have you on the air. Love your energy, love your spirit, love your story. I'm so excited that you guys are on this path. I'm glad that I was able to come to Orlando and tell you guys about this. And I'm glad you guys were willing to listen because there were another 150 people in the room, of which, 80% or so didn't listen to that and many of them are now coming just like "Well I see half of my… I see so many of my people of my REIA being successful with this. What is this?"
Jansen: You're actually causing a little bit of a problem. So, in our REIAs, not right now because we're all virtual. But every month at the beginning of the meeting everyone is invited to come up to the front and announce their deal to the whole room. Well, the last REIA that we had, half of the deals were for land. And the president was just like, "What is going on?" So, you're causing problems Jack. We need to repair this back. [crosstalk 00:38:42]
Jack: Hey, I only come up there when they invite me. And that's only one of the two or three REIAs in the country that I actually go to, so. Because, I'm a family guy, I don't need to go to travel, so I just love spending my time with my daughter, with my wife, and with the family and just jumping in the pool and usually these things are like gonna include the Saturday session. And I don't want to be on Saturday and that the only times I usually do it when we go to Orlando, or, when in Orlando, when you guys said, the REIA there invites me is if school is out and I can take the family with me. We spend an entire week out there. We go to all the parks and all the things. And then I just spend Saturday for two thirds of the day teaching a class and then we'll go back for dinner and then we fly back home the next day. That's how I sometimes then do it.
Jansen: I'm so glad that our sunshine can lure you in, so that's great.
Jack: Yeah, because in Arizona we don't have enough. So all right wonderful. But you guys have beautiful parts and things, and it's just beautiful out there. With that said, thank you very much Jansen. I love that. And for everyone listening, go check out our website, go check out landprofitgenerator.com. Also check out our Facebook group, Land Profit Generator Real Estate Investing. And give us five-star reviews. And if you're watching this on YouTube, give us a thumbs up. Put your comments below, and we'll see you in the next episode. Thank you very much.
Jansen: Thank you.
Man: Enjoyed this episode? Then make sure you like, subscribe, and post your comments and questions below the video. We're looking forward to hearing from you.
Enjoy this podcast? Share the love!