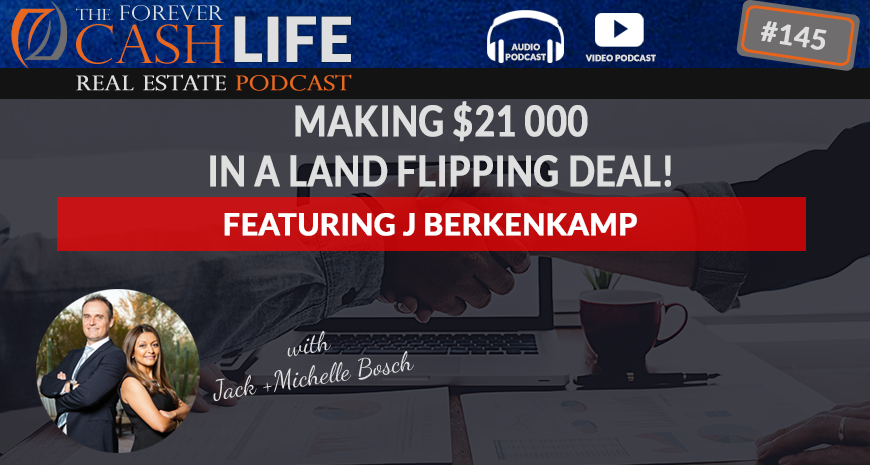 J Berkenkamp is a relatively new land investor and has already made incredible profits using the Land Profit Generator system! In this episode, Jack Bosch goes step-by-step through a deal that netted this investor a tidy $21 000 in profit. You'll see how following the process and being consistent will allow you to emulate successful land investors in order to create financial independence of your own.
Listen and enjoy:
What's inside:
Discover the mechanics of a land flipping deal
Find out why trusting the system is so important
Understand how you can emulate this deal
Mentioned in this episode
Tweetables:
Transcription:
Jack: Hello everyone, this is Jack Bosch speaking and welcome to another episode of The Forever Cash Life Real Estate Podcast with yours truly, Jack Bosch. And today we have Jay Berricom [SP] on the line, here, and he's gonna talk to us about a deal that he's done that he made $21,000. So, we'll just come right back after this quick intro.
Announcer: Welcome to The Forever Cash Life Real Estate Investing Podcast, with your hosts Jack and Michelle Bosch. Together, let's uncover the secrets to building true wealth through real estate and living a purpose-driven life.
Jack: All right, so here we're back, so great. So, Jay, first of all, welcome.
Jay: Thank you.
Jack: All right, well, I'm super excited to have you here. So, tell us, you're one of our land investors, right? You're one of the land flippers, the Land Profit Generator followers, and you…tell us a little bit about your background. Do you have a background in real estate? Do you have a background in something else? Who is Jay?
Jay: Well, I've been flipping houses, but I've also had a contract and gaining in a contracting business for years.
Jack: Okay.
Jay: And I was flipping houses. I bought your program probably 10 years ago. I was in the middle of flipping houses and never did anything until I started up last August.
Jack: Okay, wonderful. That's great. So you see, that often happens. We have quite a few people that had gotten our program a long time ago, used it as shelf-help, right? And then all of a sudden, like in the last couple of years, come back to it as land becomes much more sexy, as land's been…as people are realizing that there's so much competition in the house world, that they wanna start looking for another method here, so… And in your case, you have obviously come to the… Let me see if this works here. It should be. It's connected here. You have come to us for the land and pulled up the 10-year old program, right? Now since then, obviously, we have an updated version, so you obviously have access to that, right? I hope you do.
Jay: Yes, absolutely.
Jack: Okay, wonderful. So you guys, we don't believe in selling somebody a course twice, but if we have an upgrade to our course, you always get access to it. So, now, tell us about your $21,000 deal. So you bought a 40-acre parcel, that's a 40-acre parcel. So tell us about just how it went down.
Jay: Well, I just followed the course. I sent out the mailers to the county in Colorado, and a guy came back to me, he told me he thought it was worth about $100 grand. Showed him some numbers, spoke to him, told him what he…asked him what he really wanted. It was a little more than what we were supposed to offer, but it worked out great. He said he wanted $24,000, I ran the numbers, there was still enough meat on the bone, so I said I can do that, and we put it under contract.
Jack: All right, for $24,000. So he wanted the $100,000 and he thought it's worth $100,000, but he wanted $24,000. That's another example of just like how people say one thing, but then ultimately they need…sometimes they need money, and $24,000 is a good amount of money. So what happened next?
Jay: You know, I just…once again, I just followed the course like you just said and put it on Zillow and Facebook Marketplace, Craigslist. And it was winter, so it took a while. It sat for a bit, but I was getting great views and some sales, but not really any interest. And then, once the weather broke, people started going out and looking at the property.
Jack: Right. Yeah, I mean, 40 acres… For how much did you advertise it for?
Jay: I started at $50,000, and I sold it at $45,000.
Jack: All right, so there's something interesting you said. If you're operating in an area where there's an actual winter, where that's like… And, obviously, Colorado has like Rocky Mountains, and I don't know if it was in the Rockies, but overall, all of Colorado is higher elevation, a lot of it then has snow and so on. So you might have a little bit of a delay in the sale if you buy this property in winter. So this is what happened to you. So you bought it in winter. And then so just like people were inquiring? Were they calling about it? Were they just not…nobody would buy it? Or how did it kind of work?
Jay: You know, and a lot of people inquired about it. Where it was in Colorado, there aren't a lot of trees, but there was some topography there, and this did have trees on it. And it was near great fishing and hunting. And so it just took a bit. This winter was a little bit rough up there, and people couldn't get access to it.
Jack: All right.
Jay: It just took a bit, and we used all 180 days on our contract.
Jack: Okay. So you put the property in a contract for 180 days. And then just like down the wire somebody came and bought it, and that happens. Again, if you're operating in areas, and large properties that people wanna go see, then, I mean a city lot they can drive there, even if the snowstorm is over, right? Wait a few days, streets are clear, you can drive there. If it's somewhere more like one of these hunting, fishing, kind of lots, where you wanna be out there, where that's attractive to people that wanna be out in the outdoors and be close to those fun activities, that seems to be that kind of a property, right?
Jay: Yeah. And, yeah, it's great. I mean the people were really, really happy to get it.
Jack: Awesome. And then they bought it for $45,000. Now is that cash, or did they do a seller financing or anything like that?
Jay: You know, it was actually they financed it through a credit union.
Jack: Oh, okay.
Jay: And we had to do an amend/extend for, I think, a week, week and a half.
Jack: Okay. So, all right, so a credit union. That's interesting because banks typically don't like to lend on land. But I guess if you work with a credit union, where there's a little bit more of a personal relationship, and they know you, and they know your track record, and they know you as a person, and what kind of a customer you are, versus working with like Bank of America, where, literally, I mean I have times where I have seven figures in the bank, and nobody would even know, nobody would even say, "Hi," when I walk into the bank. And with a credit union I think that's completely different. They know you, they understand who you are, they understand… And not like who you are. I mean I don't want to make that arrogant, but they understand your background, they understand you have a solid job, or you have a solid business. They're like, "Yeah, we'll lend you the money," even though it's something that other banks might not do. That's really cool.
Jay: Yeah, the most difficult part was getting the…they needed an appraisal, and COVID had just started.
Jack: Ooh, okay.
Jay: And so that's why they needed the extension.
Jack: Right. So, yeah, that's the thing, if you start needing appraisals and, COVID, when it just started when everything clamped down… Right now in most states, people have figured out how to do business outside of COVID or in spite of COVID, but there, if it's right at the beginning, everything like just shut down and nobody knew what to do. So I bet that was probably…it must have been a little nerve-wracking, right?
Jay: Yeah, yeah, that and the loan processor had gone to Disney World and was…then put in quarantine, himself with his family for two weeks.
Jack: Oh, wow.
Jay: I'd forgotten about that.
Jack: Well, there's never a boring day in land flipping. All right, so, that is funny. And so, then ultimately, though, they followed through, [crosstalk 00:07:13]
Jay: Yeah, it worked great. Yeah, everything worked great.
Jack: And then you made… You've sold for $45,000, you had it under contract for $24,000. Who paid for closing costs?
Jay: They did, the buyers.
Jack: All right, did you negotiate that?
Jay: Yes. We just put it in the contract, and they were fine with it.
Jack: Okay. See, that's where I think people always assume that you have to do certain things like the standard way, and the standard way being the way that realtors think is the standard way. And because it's on the board of realtors approved, whatever, Colorado contract, or Arizona, or whatever state you're in, or Texas and so on, and that is what most people don't understand, is that these board of realtors approved, contracted on the realtors' word and used in that state, they're not the law. I mean, they are within the law, but they are not written because that's the only way to do it, all right? It is not illegal… Let me say it the other way, it's perfectly legal to have the other party cover all the closing costs, as you have just done.
It just might not be customary when buying a house, and you have brokers involved. They wanna minimize the work so that, therefore, they say, "Why don't we just split this?" And then it's customary that one party pays this, the other party pays that. But we're not doing customary deals, right? We're doing seller to buyer, direct principal to principal deals where you can negotiate anything the way you want it. And, there, probably, your background as a real estate flipper came in…house flipper came in handy, that you knew that you could do those kind of things.
Jay: Yeah, and it was just a conversation upfront.
Jack: Yeah, a conversation upfront, beautiful, "So, here's how we do it, boom, boom, boom, boom." They're like, "Okay," because they didn't know any better, and it's not like it cost them a lot of money. Closing costs for this property was what, like $2,000?
Jay: It was even less. It was…
Jack: [crosstalk 00:09:08]
Jay: Yeah, it was probably… It was an investor-friendly title company, their fees weren't much and, I mean, title insurance was probably $600 or $700 tops.
Jack: All right. So that probably is $1,500, $1,600 with all the other kind of appraisal fee and things like that. So great, so that's… Congratulations, man, that was awesome. Now you said since then you have a few other deals in the works?
Jay: Yeah, yeah, I'm supposed to close on another one in a couple weeks, here, and then another in a few weeks down the road.
Jack: Okay, so how much are these gonna make?
Jay: One should make…I think it's about…one should do $8 grand, another should do $12 grand.
Jack: All right, so that's another $20,000, so there's $41,000 coming in with this one and now the other ones. I mean, that was my start. That was my salary when I had a job, right there. So it's obviously a few years ago, but I don't think they pay much more these days anyway. So congratulations, that's good. So now, what would you tell somebody that is thinking about land flipping? What do you tell them to do?
Jay: You know, I think if you just follow the system, it works itself out. Sometimes it takes a little longer depending on how dedicated you are, but consistency is the way to go with it.
Jack: Consistency is the way to go, that's exactly right. So, great, that's awesome. So now what's the goal for the rest of the year now
Jay: You know, I'm just trying to keep going forward with getting my mailings out, getting more deals under my belt. I'm in the coaching program following what my coach has to say. Just hopefully get…I would like to get up to about 20 deals by the end of the year.
Jack: All right, that's a good goal, Twenty deals, and let's say an average of 10 is $200,000 for the year. That's probably a good year in most people's book.
Jay: Yeah, absolutely.
Jack: Very good, very good. Well, awesome. Well, thank you very much. How are your enjoying the coaching program?
Jay: I like it a lot. You know, it's…when I have questions, they get answered. It's been good.
Jack: That's awesome. And, obviously, you get…did you get any kind of guidance on those deals on…in terms of how to structure them and how to stick on them, and so on, stick with them?
Jay: Yeah, you know, on the latter ones more so than the first one. Because the first one was just proof of concept for me.
Jack: And it was snowed in. I mean, there's only so much you can do with a snowed-in lot, right?
Jay: Yeah, yeah.
Jack: You just have to wait until the weather breaks.
Jay: Yeah, exactly.
Jack: Yeah. But the other ones, what kind of discussions are you having on those?
Jay: On the new ones?
Jack: Yeah.
Jay: Lots. I mean, I've pretty much probably done everything wrong in the book and relearned. I mean, I'm working one as a wrap.
Jack: Okay.
Jay: I've got a different one, and that one's not signed on the other side yet, but I've got the owner to finance it. I've had to do an amend/extend on a couple that have run out of the 180 days. It was another different mountain lot for a larger acreage.
Jack: Okay.
Jay: I've got a couple golf course lots with huge HOA fees on it and it just…
Jack: They're a little bit challenging sometimes, but there is ways to get rid of them, yes.
Jay: Yeah, you know, it's just a matter of marketing and getting into the right price, too.
Jack: The right price, the right person, the right target, and so on, so that's… I'm glad you're having these conversations in the coaching program, that's great.
Jay: Yeah, my coach has been great.
Jack: Awesome. Wonderful. So what about that? That's really all we wanted to do today. We're gonna do a short session today. So with that said, thank you very much for being on the line today and then sharing with us your success. Congratulations to the $21,000. And then ahead of time, knock on wood, congratulations on the other $20,000 that are coming in. So that's a $40,000 profit that already pays for coaching and more than that. And, so, with that, I'm super excited about that. So with that said, thank you very much, Jay, for being on the line.
Jay: Sure. Hey, Jack, thank you very much. I do appreciate you.
Jack: You're very welcome. I'm super excited. Stories like this, successes like that, that's why we're doing this because I always said, Michelle and I said, we could stop working tomorrow. We could just go get ourselves a beach house and just sit out there, drink margaritas, and look over the ocean. But what's the fun with that? I'm 50 years old, I'm intending to live another 50 years, there's got to be something to do in that time. And when we thought about that, we came up, even 10 years ago that we…12 years ago when we started teaching it, what came up with it is coaching and teaching and helping others and creating that legacy of helping other people to succeed in their lives and the implication that it has for others in their lives.
So I'm super excited that you're one of the ones that are taking action, pulling through, making it happen. So with that said, guys, everyone, thank you very much. That concludes our podcast for today. As always, if you're listening to this on iTunes, give us a five-star review. And don't just enter the five stars, but also actually, give us a review. If you're listening, watching this on YouTube, or if you listen to it on Spotify, or something like that, also do a thumbs-up review of five stars. And share it with your friends because the more people hear about that, the more lives can be changed. All right, with that said, thank you very much. Bye-bye.
Jay: Thanks, Jack.
Announcer: Enjoyed this episode? Then make sure you like, subscribe and post your comments and questions below the video. We're looking forward to hearing from you.
Enjoy this podcast? Share the love!