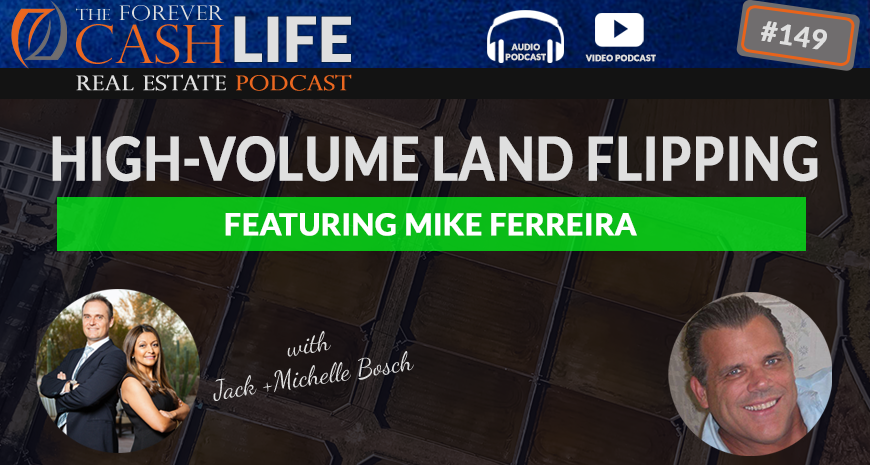 Mike Ferreira has been land flipping since 2014 and is incredibly passionate about helping others attain their own financial freedom. What sets Mike apart is his unique approach to deals – where instead of looking for a small amount of high-value deals, he is buying & selling small pockets of land at a gigantic scale.
In this episode; Jack Bosch chats to Mike about his journey with land flipping, how he approaches his deals, and why he decided to become a Land Profit Generator coach.
Listen and enjoy:
What's inside:
Find out how Mike Ferreira buys & sells land at scale
Discover why someone would become a Land Profit Generator Coach
Learn why you should forget about the idea that there is too much competition in land
Mentioned in this episode
Tweetables:
Transcription:
Jack: Hello, everyone. And welcome to another episode of "The Forever Cash Life Real Estate" podcast. And today we are going to talk about a land flipping strategy of doing high volume with smaller deals. So we'll get started in just one second.
Announcer: Welcome to "The Forever Cash Life Real Estate Investing Podcast" with your hosts, Jack and Michelle Bosch. Together, let's uncover the secrets to building true wealth through real estate, and living a purpose-driven life.
Jack: All right. So with that said as I mentioned earlier, I am super excited. This is your host Jack Bosch again. Today, we are interviewing our good friend, Mike Ferreira, how are you doing?
Mike: I'm doing great, Jack.
Jack: Wonderful. So, Mike is a very experienced land flipper. You have been land flipping for how long? Like almost 10 years.
Mike: Part-time since 2014, full time since 2015.
Jack: All right. So about… Good. So that's fantastic. And you have specialized in a little bit of a different, well, the same niche that our land flippers do and everyone that we teach does, but typically our land flippers are trying to get to the big deals. They want to get like the big deals, the big home run. You have taken a little bit of a different approach in that what you're focusing in on is volume of smaller deals.
But first, before we go into that, let's first ask you, just tell us a little bit about yourself. How did you get into the land business? What's your background? Tell us your story.
Mike: Okay, Jack. Well, in the past before I got into land, I had a business buying and selling gold and silver. One of those companies where back in the day, everyone would just pile all their gold, their silver into a box. They would send it to me. I would figure out, well, I wouldn't, but someone would figure out what it's worth and then send them a check. The cash for gold type thing.
And that had a period of time where that was an incredible business with a high volume, but then some things changed. Lots of regulations came up out of the blue and the market changed. So there was a time where that really wasn't ideal for me anymore. So I decided I wanted to get into something else.
Like a lot of people, my first thought went to house flipping. And fortunately for me, before I went too deep into that rabbit hole, I decided to completely gut and renovate my own house. When I went through that experience, I realized that I wanted nothing to do with that whatsoever. I was done. So I went down some rabbit holes…
Jack: That makes sense.
Mike: Yeah. I went down some rabbit holes.
Jack: I don't blame you. We have the painters in the house right now and it's like herding cats. And we have a general contractor who actually oversees everything, but still is like telling you they're there one day and they're not there. And it's just, no, I don't want to deal with that either.
Mike: Yeah. And then at one point, I discovered this program that actually was a DVD set right there.
Jack: Right there, yeah.
Mike: It wasn't online at that time and it had this guy standing next to a tree telling you all about how to buy and sell land and I was very excited. I bought it, and within a few weeks I stuck it up on my shelf because I kept having conflicted feelings about my previous business. Well, maybe I should just stick with that and make it work. One thing led to another. After another year or two of some intense pain of not having a type of business I wanted, I picked those DVDs back up and learned the process and went from there and it has been a great ride ever since.
Jack: Wonderful. So how many deals a year do you currently do?
Mike: Let's see. I average I'd say about 20 a month so that's a couple 100, 240, 250 a year or something like that, it comes out to.
Jack: Twenty a month.
Mike: Some are more, some. But yeah.
Jack: Okay. So now, if a house flipper tells you that they do 20 per month, they have a team of like 15 people in order to do that. Well, how big is your team?
Mike: Well, it's me, my wife, I'm very lucky, is a CPA. So she handles all the terms, customers, and she does that all. I don't have anything to do with that part of it. She also helps me out with documents and on a rare occasion, I'll use a VA for a particular task or something but other than that, for my personal business, I have focused more on systems and automation than having a large team to do it.
Jack: So in other words, it is you and your wife.
Mike: Pretty much. Yes.
Jack: I knew that already. Obviously you're one of our coaches actually in our land profit coaching program, but I wanted the audience to hear that from you, not me telling them about you. So literally 20 deals a month with basically as you and your wife. And your wife you said helps more with the seller financing. So tell us your strategy. So 20 deals a month. Well, how does your typical deal look like? What are you buying for? What are you selling for? How do you structure it? You're using a little bit of a different strategy, a different focus. Same strategy, but focus, a little bit different focus than many of our students.
Mike: Well, I have different areas and a few different product types that I specialize in I guess you would say. I have some which are the ultra-low buy prices, maybe $300, for acre and a half, two and a half acres of land. And I would take that and turn around and sell it from anywhere from $3,500 to $4,999 with owner financing, low down payment, low monthly payments, high interest, 16%. That's one product.
Jack: How long is the terms issued? Three, five years?
Mike: Yeah. Somewhere between three and five years for the most part. It kind of depends. And part of it depends on actually how low the taxes are. If it's something that it's only $3, $4 a year taxes, which I have some of those. I actually have some that the taxes are so low that the County doesn't even bother sending a tax bill. They just say, "Hey, you're good. Don't worry about it and there's no property taxes on it." So I love those.
Jack: That seem better. Okay. Now, what's the monthly payment typically, the range of the monthly payment on those?
Mike: On those it's usually just under $100 a month. I do like $99 down, $199 document fee then maybe somewhere around $99 a month.
Jack: So, okay. So that pays you the $100 down, $200 document fee, that's $300, and you bought them for $300. Now, how do you deal with closing costs and then $100 a month? So that doesn't sound like a whole lot, but if you do 20 of them a month, I mean, that's $2,000 a month that you generate extra every month and that goes up very quickly.
So if you do 20 of those a month, that's $2,000. That's $24,000. Not all of them are going to be settled financing deals, but it would be $24,000 a month that you create in cashflow over the course of one year if you would do 100% of them like that.
Mike: Correct.
Jack: So, and then obviously the cashflow lasts for about three years, but if you do that year after year after year, you're still gonna end up $40,000, $50,000, $60,000 a month in cashflow. And obviously some get paid off quicker and so on so it's probably not that high, but this is fantastic. I mean, I'm stressing that because people think a hundred bucks a month, Äh, that's not that much," but in volume, you can make multiple six figures here per year just having these little deals come in and having them pay you. So I love that. Okay, anything you want to add to that?
Mike: Yeah. I'll tell you, I guess some of the reasons that I do that, and that type of product type is number one, it turns from being a major investment decision to an impulse purchase. So that means a large percentage, the majority of my customers will checkout on my website for the down payment and doc fee in the middle of the night. I wake up and I find that there have been purchases made. I've never spoken to them. I've never emailed them. I've never gotten a million Facebook messages from them. And that's…obviously, I like that. The other thing…
Jack: It's like when I go at night sometimes and I end up looking around and I find a nice, good offer on a, I don't know, on the wine that I like, and I end up buying a case of wine.
Mike: Exactly.
Mike: [inaudible 00:09:39] in the house all the time. Sorry, she's listening in here. So yeah, it's an impulse decision. Yes. It's like, "Oh man, that piece of land, it's like it's $5,000, but it's really only $100 down, $200 doc fee is 300 bucks. I have 300 bucks. I can put it on my credit card. So you allow them to put them on their credit card, right?
Mike: Absolutely. And the thing, my philosophy and a broader picture is too is I am placing many, many bets all across the table instead of a few bets on larger properties. So that if I have larger properties and I have a few people default, suddenly I have a large drop in my income. The way I have it now, I can have dozens of people default and it's not noticeable for me.
Jack: Very nice. Very nice. Okay. So now let's talk about closing costs. Now, the first thing that comes to mind when you say like, well, you're buying this property for 300 bucks, and then you're getting basically a $300 down payment, yes that's equal, but how do closing costs play into this? Aren't those destroying the deal in such case? And I know the answer, but…
Mike: Not at all. I self-close everything. My process is when I have an accepted offer, then we prepare a deed. Ninety-nine percent of the time I email the deed to the seller with instructions to print it out, take it to their bank or to their local UPS store, get it notarized, and witnessed in places that it needs to be witnessed, some do some don't, and then mail it to me.
And when I get it, I take it, I scan it, send it up to Simplifile, record it with the County. Maybe that'll cost me 15 bucks, then take a regular old business check. Send them a business check for the $300 or the $2000 or whatever it happens to be if it's another type of property. And I usually send that priority mail so there's tracking because they can get a little nervous at times, and that's it. That's my closing process for the buy-side.
Jack: I love it. So, so you're doing self closes. Now, obviously we teach self closes as part of our program and in order to do a self-close, you got to do some kind of a title search. Then usually you probably do this yourself or you use an abstractor service for that?
Mike: I do. For me, I do it myself. I've done it so many times that it doesn't take me long at all. I just jump in and by the time I could order the service, I probably have it done.
Jack: Right. I agree. And it's not hard to do a self-close. It's not hard to do a title search, you just got to know what you're doing about it. So how you do that. So I'm actually gonna make a note to myself that I'm gonna actually do a podcast episode about how to do a title search. Let me just make a note here.
So, okay. So we won't jump into that too much here, but in the next few weeks, there's going to be a podcast coming out with talking about how to do a title search. Really the key to it, in just a few words, is that you basically start searching in the County records for that person and the combination of that person with that property to see if anything has been recorded against that property.
Mike: Exactly.
Jack: Usually, at these $3,000 properties, whoever the seller is, they didn't take a mortgage on a $3,000 property or $5,000 property, they just paid them. They just bought them 20, 30 years ago and they've been sitting on them not using them. So usually the property ownership situation is very simple on those. Do you agree?
Mike: Absolutely.
Jack: So great. So now you said there's a couple of other kinds of properties that you go after.
Mike: Yeah. I can do some that are more like rural mobile home-friendly lots. Those are always in demand. People love to have a place to put their mobile home, get out of the trailer park type of situation. So those sometimes I need to pay a little bit more and charge a little bit more and it's the margins just depend a little bit upon the area, but those are always easy, easy deals to do because the demand is so high.
Jack: Do you sell those also with seller financing or you sell those with…do you actually rent the land as…so they put the mobile home on a land and pay you a land lease basically?
Mike: No. I like to keep my life as simple as possible, and in my paperwork, they cannot do anything to the land except walk on it or maybe pitch a tent and camp on it on a weekend or ride their dirt bike on it or something like that. They can't do anything to the land until it's paid off and that's just, for my clientele, that seems to be best for everybody.
Jack: All right. So very good. So now comes the question of what kind of automation systems do you use in order to make sure that you can do 20 deals? And as I know, you got a boat, you go hang out with the family out there. You don't strike me as a guy that is super stressed out and just constantly running and doing in order to do 20 deals. It seems like life is good. You got very nice cash flow coming in because, think about it for the last several years, you've been doing 20 deals a month. What percentage of your deals are seller financing deals?
Mike: It varies. I'd say at least 80% to 90% of them are. Now, a lot of them do get paid off quickly so they're almost cash deals.
Jack: Yeah, but still, just for the audience to think through it like if somebody has this as a goal, that's like 20 deals a month. Even if 10 of them end up being seller financing deals, you're building up $1,000 month in cash flow after one year. That's $10,000 or more even $12,000 round it down to $10,000. Over the years, you're building up a double, a very nice ongoing that you have to rebuild every few years obviously because they're getting paid off, but it still is a very nice cashflow but getting the deals done still requires a little bit of work.
So how do you make your life easier on those things? In fact, can you share with us just some basic principles of the automation and an organization that you put into your life in order to be able to do that kind of volume and still be as easy going and relaxed as I know you to be?
Mike: Well, a big thing that took it to the next level for me more recently in my business life was Investment Dominator that has really, that's been a great help. Eliminated deals potentially slipping through the cracks.
Jack: Which is our CRM software that accompanies our course. Usually, they go hand in hand together. The best way to implement this is with the software. So, yeah, so of interest for everyone listening to this.
Mike: And as far as dealing with the terms customers, my wife has her own setup but a part of it is QuickBooks online and Intuit payments taking the automated debits coming out every month. So there's not a whole lot of labor involved in keeping up with the payments.
Jack: In terms of marketing, for example, do you put them up yourself all over the place? What kind of platforms do you like for marketing?
Mike: I have been very spoiled lately, I'll tell you, because sales have been so hot that I have been actually I'll say, unfortunately, I've been a little lazy and not making the absolute best ad quality that I can. I throw the listing up on my website, but I've worked over the years, I've worked many of the same areas over and over and over mailing to the same areas about every six months, over and over and over. So if I get some new property, well, it's almost exactly the same as something I've sold in the past. So I just clone my listing from before, make a few little tweaks in it, change some pictures around, and it's done. It doesn't take a long time.
Jack: Beautiful. There's a message in this. And this is a message that I always tell our students is that if you can, don't jump from county to county, to county, to county, to county, to county. Identify those gold mines that you have and then go back again and again and again, because property A, just like you said, property A, once you flip it and property B, C, D, and E in the same area are going to look exactly, almost exactly the same.
You can use 80% of the same pictures, you can use 80% of the same text, you can use the same structure. You just do copy paste and you adjust a few things and boom your listing is… Your effort of research is minimal. Your effort of making an offer is minimal, your effort of listing the property is minimal and you really can multiply your business without multiplying your time investment.
Mike: Yes. And there's two other benefits to that as well. One is I build credibility with sellers because I have gotten comment after comment from sellers that say, "You know, I get these letters every once in a while from all different people, but I've been getting letters from you for years so I know you're not going anywhere. You've been here. You're still here year after year. There's another letter from Mike wanting to buy my land." So they trust me because they know I'm not fly by night. Other side of it on the sell-side…
Jack: And times and circumstances always change. So just because we've had that so many times that somebody… I remember one time a lady had three properties and in year one, she sold us one property. Well, then we go back six months, 6 to 12 months later, and she's like, "I'm ready to sell the second property now." And then 6 to 12 months later, "I'm ready to sell the third property now." All of them at 90% discounts. But for some reason she wasn't ready to let go of the other two properties in year one.
Time and circumstances change, and at some point they're like, "You know what? We've been getting a letter for so many years. I'm finally ready to let go of this piece and I choose you because of the consistency." Love it, yes, can totally confirm that.
Mike: And then it's a similar thing on the sell-side. It's gotten to the point, a lot of the areas I work besides people signing up for my buyers list and maybe they are interested in the property and it's sold and they're like, "Darn, I just missed it." Well, then they know eventually there's going to be more properties in that area coming from me.
And I've got a lot of repeat business because they buy one then someone wants another and another and their friend wants another and they know I am the guy to see for this area or that area, this subdivision, that subdivision because I just do everything I can to dominate those areas and those are my areas.
Jack Very beautiful. Very beautiful. And that's a key lesson. That's a business lesson. It's the business lesson of knowing your market, going deep in your market and building…not just building that credibility into both sides, but really what you just explained means it's just another word for you have built a buyer's list in that market that knows, likes and trusts you and that's just waiting for additional deals. You have built referral business.
It's all the classic pieces of a business. Like if you do that, in a business… And I keep telling during these Corona times right now that a good friend of ours who owns three restaurants in town, he just shut down his dining room again and yet he's not necessarily suffering from it because delivery and things, because he has over the years, his restaurant has existed for 30 years, over the years, he has built so much goodwill in the community and so many customers that have gone there and eaten there and have good memories that they're all like rushing to support him and support them during these times. Or they're thinking, "Where do I order out from? Oh, let me go there. Let me go order out from there."
So his business is actually very stable, even through times like that because he's built his business the proper way to repeat business to actually, to building a buyer's list, which in this case is a consumer list, like a guest list that go eat there. And it's the same exact thing, only that probably people don't need to buy a new piece of land every week or so or every day but they'll still come back for more if they need one for their brother or for their sister or for their parents or for their kids because… Now, do you know what the people do on these pieces of land?
Mike: Well, that kind of varies to land. Some of the land I sell are popular with people who like to go hunting. Some people are just buying for speculative purposes. It might be just right off an interstate, but it's undeveloped and not buildable at this time for some reason, but they want to buy it because it's cheap and they want to wait and see what happens. Maybe Walmart will put a distribution center there. So there's that.
The abandoned subdivisions. Now, this can't happen in all of them, but there are some abandoned subdivisions that have become very popular with people who like to go camping and four-wheeling. And the authorities will have a problem with them going four-wheeling out there on public property and such. However, in many cases, if they happen to be a landowner out in this abandoned subdivision, they're given a pass and it's okay. So for less than $100 a month, now they have a huge recreational area that they can enjoy. So it's well beyond just owning that piece of land.
Jack: Wonderful. Great. I mean, that is fantastic, I love those. I love how strategic you go about that, how have you picked your niche, and how you just sticking to this route and dominating certain markets and applying real good sound business principles to your strategy there. So fantastic. So now let me ask you, if somebody… Now you also coach with our organization right now, so how has that been for you?
Mike: I am loving it. See, with my business, I do derive satisfaction from my business because I do have an ability to help people on both sides. I can solve people's financial difficulties by buying their land and that is satisfying. I can also fulfill a dream for somebody who's always wanted to own land, but under normal circumstances, they cannot, whereas almost anybody eventually can scrape up a few hundred dollars. So those people are so happy they feel so blessed that they finally get to make this dream come true.
So I have that satisfaction, but neither of those situations give me the opportunity to help somebody really build wealth and really transform their lives. A few hundred dollars or a couple of thousand dollars help someone temporarily but does not transform their lives. Vacant land doesn't necessarily transform someone's life when they buy it but teaching someone a business like this that has just bestowed so many blessings on me and my family is just very, very fulfilling to be able to do this personally.
Jack: Lovely. Thank you very much for sharing that. Great. So with that said, I do want to just jump into one extra area, and that I forgot that I wanted to talk about that. And I appreciate you having those… That's why we reached out to you when we were looking to add a coach because we knew you're that kind of a giving person and that's who we want to surround ourselves in our own team with and want our team members to be like that. So, thank you.
One question I have is like, so you're obviously focusing on these lower price properties more or less and you're starting out with low down, low monthly payment. How about the default rate? Do you experience a high default rate and if yes, what do you do to actually foreclose on these things? Doesn't that destroy a lot of the profits? And I know the answer, the answer is no but I want the audience kind of to see what process you have for that or what your solution is for that.
Mike: During normal times, I would have an average of four to five defaults per month. It goes up and down, but that's kind of like how it seems to run. Strangely enough, since the Corona thing has come up, my defaults have gone way down. People are paying better, less late payments, people paying their land off early. I don't understand it, but it's just what's happening.
Jack: I have actually seen the same thing in our apartment complexes. While we have some people that are not paying rent and are using and playing the system and not paying the rent and waiting for us to be able to evict them whenever that is allowed again, and then either then they pay or then they just get evicted then they have three months' worth of free rent, living for free.
The rest of them is actually paying almost impeccable, and our overall collections are on par or even higher than they were before even though we have like a good 10% of the people who are just not paying. So it's like, it's very interesting. Usually, we have like a few that don't pay and a bunch struggling and it's all of these second-class C kind of properties, but right now everyone is paying or they're just playing the system and playing the game and not paying at all. So it seems like with all the extra money that the Fed's pumped into the…I think that people have a little bit extra money to make those payments. So that's good news that they're paying them off but… Go ahead.
Mike: Yeah. In a situation where there is a default, we have a process, obviously when they get late to a certain point, they get a letter that's a 10-day demand letter for lack of a better term, where they need to pay this certain amount in 10 days or else they're going to lose the property. If they don't contact us and don't pay, then the next step after that has expired, they get a letter that they have forfeited the property, basically.
And I put a little something in there. I try to be nice, so we end up on good terms. I say, you know, we're not going to put any bad information on your credit report at this time, not that I would anyway, and in the future, if your situation turns around, we'd be happy to discuss financing another property with you. I try to make it so it's kind of not an adverse ending, kind of a nice ending with a little hope there at the end.
Jack: At the same time so your documents, you must not use a deed of trust or note then or you're probably using not even a land contract. You're probably using a lease-purchase agreement I would assume, right?
Mike: Well, I have been using a land contract that I've adapted over time that covers a lot of things including not allowing it to be recorded. There's different things. In hindsight, I do wish I had gone with a lease-purchase and I may change my system at some time to do the lease-purchase because it's just cleaner and it eliminates that potential for a problem.
However, in my experience, and I've had, I don't know, I'm sure well over a hundred defaults, there's only one of two things that happens. Either they contact me, and they apologize profusely, they're so sorry, their truck broke down or whatever happened. Uncle Willie has to be bailed out of jail. And they're very, very sorry, but they have to let go of the property and, you know, please, and they're worried I'm going to sue them or something. I say, no, I'm sorry for your troubles but it's okay, don't worry about it. Then I'll have them sign a little something. Or they just disappear, don't reply, respond to anything, they're gone forever.
And so it's just the idea of someone who can't afford to pay their $99 payment suddenly hiring a high-powered attorney to try to force it to go to foreclosure. In my experience, that doesn't happen.
Jack: Okay. And I agree with you, I hundred percent agree with you that this doesn't happen. Either they come forward or they just disappear from the face of the earth and never be heard again. So it makes sense that you send them those letters and that you do the proper process and so on. And again, for those who want to use a lease-purchase agreement, again, even our Investment Dominator software has those documents and has that process in there that you can basically lease them to them with a rent credit. And then if you don't pay, you basically have to evict them from a piece of land which is really just sending them a notice of abandonment which is basically what you're doing and so it all makes sense.
Wonderful, Mike, so thank you very much for being on the show with us. So if you have like…perhaps you have like some last words that you would recommend, that you would want to tell somebody who is in the, let's say, in the middle of…who is deciding on whether this land thing is something they want to look into. What would you tell somebody like that?
Mike: I would say, number one, do not hesitate. It works. The sooner you get going and the sooner you take action, the sooner you're going to get to the place that you see other people have gotten to. So do not delay, don't wait. Just get that out of your head.
And just the other thing that I am just so sick of hearing over and over and over from people as an excuse is they say, "Oh god, all these people are getting into the land business, all these courses, everything's going on, there's going to be too much competition," and that is absolutely false. There are other people. They actually are a benefit to my business, not a detriment. So forget about the idea that there's competition. It's not an issue whatsoever.
Jack: Right. Our competition would have to go up a hundredfold before it becomes an issue, so I agree with you. It's like there's people in the house flipping world where the competition is a thousand-fold of what it is in land, and they're still doing 200 deals a year. They're still in multifamily, whether your competition is like a million what it is right now with institutional guys, and they're still doing buying 1,000 units, 1,000 apartment units a year. Our competition is not an issue, particularly if it's not there. It's barely…very minimal in the world we live in. So that's that. Thank you very much, Mike. I loved it.
Thanks so much for being on the show and enjoy your summer, enjoy your boat. And we were so glad and so excited and so happy to have you also as one of our team members, as one of our coaches. So with that said, thanks for being on the show.
Mike: Thank you, Jack. It was a pleasure.
Jack: Wonderful. And with that, everyone, this concludes another episode of "The Forever Cash Life Real Estate Podcast" As always, give us a thumbs up. If you're watching this on YouTube, give us a five-star review. If you're watching this on iTunes, literally just don't just say five stars, but actually comment on it. Give us a five-star review. We'll love it. It helps us to spread the word about this amazing land flipping method. With that, bye bye everyone. Thank you.
Announcer: Welcome to "The Forever Cash Life Real Estate Investing Podcast" with your hosts, Jack and Michelle Bosch. Together, let's uncover the secrets to building true wealth through real estate, and living a purpose-driven life.
Enjoy this podcast? Share the love!