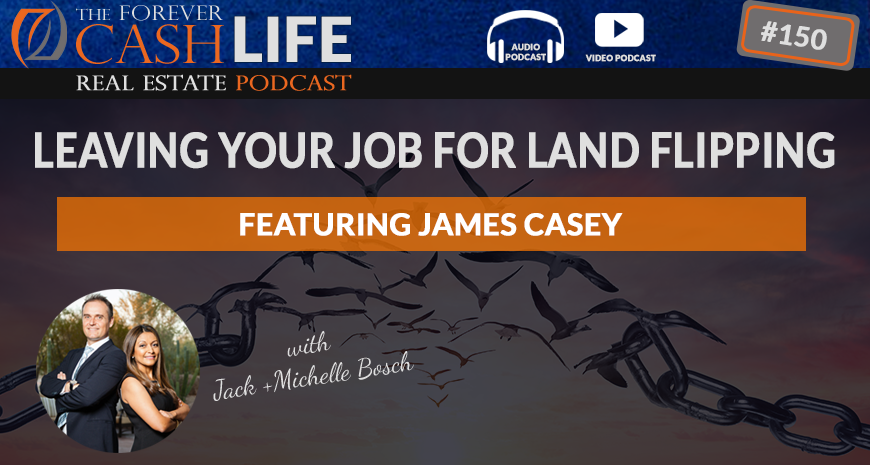 James Casey used to work in corporate America doing four people's jobs in a career that he was, frankly, sick and tired of. He wanted to have money to better people's lives but could never break through to that next level. Until, of course, he discovered Land Flipping. Now, James has quit his job and lives entirely off of his land deals.
In this episode, Jack Bosch talks to James about his transition from a full-time corporate life to the exciting, prosperous world of land. You'll hear stories of real deals and all the ups and downs that come with them. James also shares his strategies for finding good deals and why he believes you need to stick to the Land Profit Generator system in order to get the best results.
Listen and enjoy:
What's inside:
Find out why James Casey quit his job to become a full-time land flipper
Discover how James thinks about his deals
Learn why James says you need to follow the Land Profit Generator system
Mentioned in this episode
Tweetables:
Transcription:
Jack: Hello, everyone and welcome to another show, another episode of "The Forever Cash Life Real Estate Podcast" where we talk about land flipping, we talk about cash flow, we talk about wealth creation. And my guest today is James Casey, and we're gonna talk about his land deals. But first, we do our quick intro.
Announcer: Welcome to "The Forever Cash Life Real Estate Investing Podcast" with your hosts Jack and Michelle Bosch. Together, let's uncover the secrets to building true wealth through real estate and living a purpose-driven life.
Jack: All right. So we're back, and as I mentioned already, James Casey is one of our students who has come across our path and has for the last three years rocked it in the land world. So first of all, welcome, James.
James: Hey, Jack, how's it going? Thanks for having me, man. This is such an honor and a privilege to be talking to you today.
Jack: I'm excited to have you on here. So, James, let's jump right into it. Give us a little bit of your background and how did you find us? First, give us a little bit of your background. What's your story?
James: So, I live in Los Angeles, California, in North Hollywood, and just born and raised here my whole life. And, I mean, going through a lot of different things as far as family stuff that has kind of gotten to me being motivated and getting me where I'm at. My father was an alcoholic, my sister is completely disabled. And so I had a lot of things that were kind of pushing me in not so good directions and all the time, and so I always had to push through and overcome and be better. My mom was always hard-working and she kind of showed me what hard work was all about.
So then, I ended up through school, college, all of that stuff, got into corporate America. Up until 2017 when I met you, I was working in corporate America for over 15 years as an environmental specialist, and just tired of it. I was doing four people's jobs. I was making okay money as far as middle class city goes, but I always wanted more. I strived to just be excellent. And really, I have a very altruistic personality where I really wanna be in a position to be able to give back to people and change the world. I mean, I always tell people and they think I'm absolutely crazy. They're like, "How can you think you can change the world?" And I said, "Well, I'm gonna get there." And hopefully, Jack, with your guidance and help, it's really helped me in the last three years. Like I said, in 2017, I met you in…
Jack: Awesome. We all can change the world, by the way, we all can. We might not be able to change the world at the level of a, I don't know, Mother Teresa. I mean, she didn't change the world. She changed those lives. She never tried to change the world. She changed the place that God put her, right, so that's [inaudible 00:03:06] changing. So, we might never go out and change the world at the level of somebody that invents the cure for all illnesses, right, but we can change the world one person at a time. And that's, of course, you can change the world because you don't know the ripple effect of that, right? But yeah, go ahead. I love that.
James: Definitely. I mean, you think about the poverty and, obviously, the race issues that are going on and it's just, it's incredible because there's so much abundance in the world that how is there poor people? I mean, there's so much out there for people to tap into or learn about or even just people to give back a little bit to those who are just struggling a little bit. But, anyway, so that's, like, kind of the future of, hopefully, James Casey is helping out some of those people. But even, I've had a great experience just being in your group, Jack. And I get students of yours who, they see my posts on your page. So I thank you for letting me post there and just kind of giving them hope. Because I get people who contact me, they think all of a sudden, I do, like, a few deals and I'm, like, a land guru now, like, dah, dah, dah, dah.
Like, "No, no, no, guys. I'm not the expert. Jack and his team is the expert," but they contact me. I got my good buddy Brian Mitchell who…what's up, Brian? He's just trying so hard to get his first deal. He's got a lot of land that he's bought or got under contract, but isn't over that hurdle yet so he's constantly throwing ideas off of me and I love to help these people. And I had a slew of just others especially after the last post that I had just, of your people just kind of coming to me. And I love to try to help as much as I can. Again, I always tell him and I said, "I'm still getting through it. I've lived the last few years off of lands, but by no means do I feel like I've gotten to the mountaintop and all of that."
But anyway, so I met you in 2018, actually, here in LA at a Prosperity Through Land Real Estate group that my mom was actually a part of, the Lovejoys or Lovejoy, The Loves. You know the Loves pretty well. They've been to a lot of your events. And so my mom drove me to this thing…
Jack: Steve & Robin Love. And yeah, Robin is not doing too well, but Steve is still doing the show. Yeah.
James: Oh, man. Yeah. Well, that's sad to hear. Hopefully, he does a little bit better, gets through it, or she does.
Jack: Robin had a stroke and she is rehabilitating from it from what I understand. But, yeah, they're running a great rehab. So, wonderful, that's where your mom actually saw me. Okay, great.
James: Yeah. So my mom was a bit of a…she's always been, I think, for the last 20 years, I would call her a seminar junkie. You talk about it in your live events and you talk about how this is gonna be the last seminar you're ever gonna go to. And to tell you the truth, the last live event, well, actually, really in 2018 in October or September. I can't remember when it was. That was my last seminar because I met you at the live event. I bought Land Profit Generator here in L.A. at that little event, went and saw you on the following Saturday. And at the time, I had already owned about two or three pieces of land. And I was just thinking, "Oh, this is just a buy and hold kind of situation." I had the corporate America mindset, 401(k) ideas of, "Okay, I'm gonna just hold these for like a miniscule return and just resell them and retire or something."
So, when I met you, it all just came together, it clicked. I was already into land. And I'm like, "This is the guy. This is the land guy. And I'm gonna learn everything I can off of this guy, and I'm gonna make it work." So, really after that, I went to the live event in October or September. And literally after the live event, I had done…it was a really… I mean, people would think I was crazy now if I tell them. But it was, like, a $3,000 deal. I bought it for $1,000. I sold it for $4,000 up in Utah. Happened to actually go on vacation to go pick up the check at the title office on the way to this wedding I was going to in Utah and landed that first deal. And I said, "This is it. I can do this."
And I actually quit my job in November, and ever since, I've been doing land and living off of land. I pulled $10 grand out of my 401(k) and just started the business. I laid down the groundwork at that live event in September, October of 2017. I also got Investment Dominator. And it was a game changer because I did that first deal without it. And I mean it was not too difficult because everything's in Land Profit Generator as far as the forms and far as the letters, as far as the contracts and stuff like that. But once I got ID, I said, "Oh, my God. This makes it almost super too easy to just get everything in the system." You click buttons. I'm very computer savvy, so anybody else who is, they're like, "Oh, my God. This thing is crazy. It just does everything." And you guys just added, like, this notes section, which really helps me because I have a couple seller-financed deals. And I'm like, "Wow." Because I was managing all these notes manually and doing the invoices and all that stuff. So that's pretty cool, too.
But anyway, so yeah, it all really skyrocketed in 2018. And again, I'm not doing the 10, 20-deals-a-month type of deal, but I can get a good 8 to 10 done in a year and live off of that pretty comfortably. I'm averaging about $10,000 per deal. Like, I've done these few deals that are $20,000 that really…I try to stay around the $13,000, $18,000, $20,000, but I'm not gonna turn down $10 grand, you know?
Jack: Oh, of course not. Of course not. And if you do 8 to 10 of those, that's a six-figure income right there. And you can live most everywhere in the country with that and then you just grow from there, if you desire to grow from there. But to your point about the Investment Dominator, as a matter of fact, we don't even, because of what you said, that it just makes sense to have them together, we don't even sell them separately anymore now. So it's now like you wanna do this business, you don't just buy a home-study course that becomes self-help for most people out there, and we don't wanna be in the business of self-help. We don't wanna be in the business of just giving somebody something that they never open and look at. We wanna be in the business of changing people's lives.
So, therefore, when people come to us now, we really ask them to get both together because the Investment Dominator, our software, our CRM, our deal management workflow software really helps you implement the program so much better, as you mentioned.
James: Yeah. No, it makes complete sense. I mean, I think even after, like I said, I met you in June 2017 and I got the Land Profit Generator, but guess what? Monday, I had to go back to work. I met you on a Saturday and I bought Land Profit and I was super into it. But I went back to work and I'm back in corporate America, again, doing four people's jobs and just working 60 hours a week. And I think it took me a good month before I even cracked open the system and really got in, even though I was, like, so pumped when I left there, you know, life gets in the way and you just…you know.
But once I delved in…I always tell especially your students, people who are interested or even your newer students who talk to me all the time is I went…they're like, "Well, where do you start?" I said, "You gotta start with the training. You gotta educate yourself on exactly how to do this business." And I always say, "Get the Land Profit Generator, watch the videos. When you're done watching them, watch them again. And when you're done watching them, watch them again." And then you're gonna even have to go back and watch a couple different sections again as you evolve and start doing things," you know?"
"Okay. You get your counties down and then what do you do now?" "Okay, I gotta go read the mailing out the letters section." And then you're like, "Okay. I got an offer. How do I set up my phone system?" or whatever the case may be. I use LandCalls. And I mean, it's just been tremendous. For the first few months, I didn't have LandCalls and I'm like, "What am I gonna do? I'm on the freeway and I got somebody calling me."
And, of course, at the beginning, you're dying to get that first deal. So it's like I'm practically swerving in traffic trying to answer the phone because somebody is calling me and I'm like, "There's no way this is gonna work. I can't be…" One, I had a job. And I can't just answer the calls when I'm in a Fortune 500 meeting with a bunch of directors and executives, so you let them go. And then you're worried, "Oh, my God. Now I just lost that lead or something like that." So when I got LandCalls, I mean, that just changed everything because…
Jack: [inaudible 00:12:18] recommended landcalls.com, but yeah.
James: Yeah. I mean, because they call in and you know who's interested, and then everything is easy after that.
Jack: Yeah, that's why I don't get it why, like, other people in the industry always pitch these blind offers, blind offers, blind offers. They work, but the response rate is lower, you miss deals because you just miss them by a few hundred or a few thousand dollars because nobody has talked to the seller. And you need to do so much more research upfront if the area is not all the same. And I much rather send something out that people contact me that wanna sell and then spend a little extra time on those to get the offer right and to get it accepted.
And just this morning, one of my students from, actually, this is from Germany, sent me an email, sent me a message saying he got a deal accepted for $18,000 that's worth $80,000. I was like, "Right." All right, so that would have not happened with a blind offer. So you just, you got…I don't get it why people do that. I mean, there's a space for blind offers, but later on, when I already know you very well and you know the values, then you can go blind offers because you know exactly what to offer to get those deals. But, yeah, it's fantastic and I love it.
So, tell us about one of your…like, before we started the recording, you started telling me about a deal that you've been just doing, just wrapping up last week or so that, where actually a couple of things went wrong. But then it turns, well, initially that you made a couple of mistakes, but then it was like, kind of who you mailed to or something. You forgot to exclude or include somebody and then [inaudible 00:13:58], and you still ended up making, like, $20,000 on the deal. So, tell us that deal right now.
James: Yeah, I mean, so I always find…if you go back to some of your first videos on Land Profit Generator, it talks about how…I like to get the quick-hitting deals. And so doing your filtering, I use AgentPro a lot for my list, which I admit some of the information is outdated, but there's always skip tracing, and I always end up finding really good deals through there, so I use that. So, when you go through the AgentPro system, there's a bunch of filters you can do. And I always do out-of-state owners because those are gonna be the most motivated. I mean, I would say 90% of the deals I've ever gotten was somebody who didn't live right next to the property.
Now, with that said, so I did this last list and, man, I printed out, God, probably over 1,000. I still have a couple of them. Actually, I'll show you. This is the rest of the list right here in this box, right, printed out that, you know, I was, like, I looked… My wife did the list for me and I said, "Well, did you filter for out-of-state because this is an awful lot for…?" Because usually, if you filter for out-of-state, you're not getting the volume. You're getting slightly less because there aren't, everybody doesn't live out-of-state next to the property, right? So I go, "What did you do? How did you get so many?"
And I started looking at the addresses in the particular area I was targeting. I mean 99% of the letters, the people lived right next door to the property or they lived in that same city or town. And I was like, "Oh, man. This is not gonna be good. One, it's gonna overwhelm my system because everybody and their mom is gonna call." So I said, I thought this was a huge mistake. But slowly but surely, I said, "These are good leads. We're still gonna mail them." So we slowly filtered in. We do a 400, 500-mailing, and we filter in maybe 100 of those and we send those out. That way, the system doesn't get too overwhelmed.
So then I ended up…somebody called me back and I look up their address, I'm like, "Okay, here's the property." They literally own a huge 40-acre estate right above where these two…it's a half-acre and a quarter-acre property, and they live right next door. And they live in this big mansion, 40 acres, and then they own all these little parcels kind of around their estate. I guess they want a little bit of buffer because 40 acres wasn't enough, you know?
Jack: Right.
James: They had opportunities through time. So I talked to this old man, he's about 80 years old. And he's basically, he's like, "Yeah, I'm retiring…well, I retired or whatever, and I'm old and my wife passed away about three years ago. And I have all these properties and I'm paying taxes on it. And I don't know why because I don't even leave my house." And especially with COVID going on right now, it's like, he's not leaving his house.
So, he's basically…and he tells me just a little bit of his background. And he was a civil engineer and all this stuff and he made tons of money. And so, long story short, he is rich, and he doesn't want any of these properties and he doesn't wanna leave them to his son. I even talked to his son and the son's like, "Yeah, I mean, I'm rich, too." No, he didn't say that. But based on conversation, all I hear is, "Okay, I'm rich, too." Because based on his story, that's what I heard. So he's like, "Yeah, I don't want these pieces of dirt. I don't know what to do with them. I'm not a builder. I'm not a real estate guy." He's like, "That's your job. You're the real estate guy. You do something with them." And I said, "I will gladly do something with them."
So, I got these two lots, half-acre, quarter-acre under contract for $9,000. And marketed them, got them on Facebook Marketplace, Craigslist, whatever. And in about three weeks, I had tons of people really, really interested. And a lot of times…actually, I had the neighbor next door, I went out to the property because I only live maybe two hours from that location. And I put up my "for sale" sign. And literally, within two hours, I had the neighbor calling me and he wanted to buy the property. And I said, "I'll give you a pretty good deal since you live right next door." And it turns out he lost his job due to COVID and he couldn't buy the property. He said, "I'm sorry," he's like," Can you wait a little bit?" I said, "No. I mean, this is a hot property. I have people calling me, texting me every single day. This is my business. I gotta sell it."
So, anyways, a couple weeks went by and I got a real motivated person. So, they showed up, signed a contract. They said, "Hey, we'll get you the cashier's check on Monday." I went and met him on Monday. I mean, that was the check I had posted in the post, it was the $32,000 check. Now, I didn't get all of the $32,000 profit, but $20,000 of that, which is definitely a good chunk, I think is definitely a solid deal for sure.
Jack: That is perfectly fine. A $20,000 check is good any day of the week, and particularly with the filtering thing right now. Now, having said that, we are not at all again sending out to in-state owners, but you're right. It's not very typical that you get the deal from the guy who literally lives right next door. Because if they sell the property, then the question arises, is like, "Okay, is there anything wrong with the property? Why is he selling it so cheap? What does he know that we don't know?" But then that's where the story comes in. That's where the power of not doing a blind offer comes in. That where the sort of power comes of actually talking to them or calling them back. So even if you have LandCalls take care of the calls for you, you can still call occasional sellers back and say, like, "Okay. So tell me a little bit more about this," right? And then it turns out that it's an 80-year-old gentleman that has more money than he needs for the remainder of his days. And his kids are very typical. They're like, "Yeah, no, I don't want this dirt. No, I'm not… I wanna live in New York City, living la vida loca, right, so [inaudible 00:20:28].
James: Yeah. Yeah, it's funny you say that, Jack, because his son actually, he lives in India, not India. He lives in England and he only just flew back…he happened to just fly back right when I called his dad and got him on the line and got their whole story. And so he lives in England. He owns a manufacturing company making wind turbines in the ocean, 100 employees or whatever. And he's just like, "Yeah, I don't even wanna come back to the States when my dad passes away and deal with his estate." So he's like, "You're the expert. Well, whatever the offer is, we'll take it." He had told me at the time, yeah, he's got a lot of other properties and all that. "So once you get these ones done, come back to me and I'll basically give you some more."
And I thought, "Oh, man, I'm in Vegas and I just hit the damn slot machine because I found this one client." And it turns out the other few properties aren't…one, they're not really gonna sell them because they're kind of more attached to their estate. But he did tell me, "I got a neighbor across the street, same deal. He's 80 years old, got tons of money. He's got some properties that he's willing to liquidate." And so hopefully, they're gonna turn me on to that person.
So, it's all about building these relationships. And those phone conversations are just so…I have turned no-deals into exceptional deals just because I'm able to talk to people and get…a lot of it is listening and then a lot of it is just building that rapport. They know you're a good guy, they know that you're gonna help them and basically put money in their pocket. And so they end up trusting you and building that rapport. And some of these people beyond these land deals would really do anything for me. If I called them up and I said I needed help, I mean, that's how I feel based on phone conversations that I have for them. Now, if that's a reality or not, you know, obviously.
Jack: No, but what you're saying is that…what I'm hearing you say is that you're really doing this the right way. And the right way is to care about the people you're buying these properties from. It's not stealing properties from little, old grandmas. It is [inaudible 00:22:44] just like this. It's like you would never steal a property from a little, old grandma. As a matter of fact, most states in the country have laws against that, that if you do that, they can actually come after you.
So, no. This is an older gentleman that…and this is a typical case, not while they're older. Sometimes, somebody told me like, "I'm too old to wait for this property to go up in value." I was like, "Sir, you don't sound very old." He's like, "Well, I'm 57." I'm like, "Well, that's not old." But hey, who am I to judge, right? If he feels he's too old, then he feels he's too old. So, it makes total sense that…but, yeah, this is the thing, we are not stealing properties from little, old grandmas. We're building a relationship with people, understanding what their needs are, understanding where they are, making them an offer. And they're like, "Yeah," even if it's a little less than they were expecting, they're like, "Yeah, I don't care. I don't want it. You can have it. And the kids don't want it." And then you literally become good friends, and so much that they refer you to their neighbors or…
Also keep that in mind, James, that even though they're not selling the other lots right now yet, make sure you stay in contact with the guy. Like, Let me hop in here," so if there's problems, it's like, "Hey, just wanted to check in to see if you're ever ready to sell the other ones. Let me know." And sooner or later, you'll have them say, "You know what? Why are we holding on to the other buffer around the 40 acres still, anyway? Let's just also sell them." And you might have a year, a year from now or two years from now, get all the other ones and make another $50,000 or $100 grand, I think.
James: Yeah. I mean, that's the dream, right, Jack? I mean, you talk about the people who just don't want it. I think the second deal I did after joining, after going to the live event in 2017, it's a deal I talk about all the time, I post about all the time. But it's a lady who lived in Florida, again, an older person, never coming back to California. And people…it's funny because your students go, "How are you doing deals in California? Isn't California too expensive?" I said, "No, guys. I live right here. And I live in Los Angeles. And I thought initially when I started, I thought the same thing." I said, "How the heck am I gonna do deals in California?" Like, "I can't afford to buy them. They're not…impossible."
There are small areas in every single state. I'm not just gonna…because I don't want everybody coming to California. But there are areas in every single state where even you think, "Oh, well, around Phoenix, how am I gonna get a deal around Phoenix?" But there are some small areas there that are in the path of growth. The city has plans or the county has plans to move people there because of the population and homelessness and whatever the case may be. People need housing. And so, anyways, people ask me all the time, "How are you doing deals?" So, I do deals all the time in California. I do deals all the time in Arizona. I do deals up in Oregon, I do deals in Utah. And so, this one deal…
Interviewer: If I can quickly jump in on that and then, yes, let's hear about that deal. There's, yeah, for example, one of the areas that we failed spectacularly and that we tell everyone that we failed was we picked by mistake Napa or Sonoma County. Yeah, so how stupid do you have to be to go into a county where every lot is worth $500,000 or $1 million and everyone is creating $100 bottles of wine and so on? Well, it's not that I was stupid, but it made sense because it's, Sonoma's a little of a growth county, right outside of the big city. And the big city is growing, lots of people, lots of money. They wanna go and have their own piece of land.
Well, so we sent 900 letters and we got nothing from there. And then, ultimately, we did get a deal and then we made $30,000. But that was by actually attending an auction. It's a long story. But from the mailings, we got really nothing directly. But then, now students report to me that they get deals in Sonoma County all the time, just that there's…and obviously, they don't get the $1-million-an-acre Napa Wine Country areas, but there's some pockets and areas and little towns where an acre is only worth $50,000, and that they're picking it up for $10,000 and selling it for $30,000. So, even there, it works. You just gotta be, a little bit, using a little finer comb in those areas. But now, tell me about that deal.
James: Yeah. So, like I said, the second deal that I did, I think after the live event, October 2018, just so incredible. Old lady, lives in Florida, in her 80s. She actually owned a bunch of parcels at some point in this particular area. And this was the last one that she was just kind of holding on to. And I built rapport up with her, talked to her on the phone, got her whole life story. And she's like, "Yeah. I'm gonna get rid of this one. I'm never going back to California. I'm staying in Florida. I can't even fly anymore," all this stuff. And it's sort of like a…for her, it was like a camping lot, even though it was in a very up and coming residential neighborhood. She said, "Yeah, we used to just go on the lot and camp on it and I'm not going to do any camping." I said, "Oh, okay, fantastic."
So, anyways, I got the property under contract for $152. She owed maybe $200 in back taxes. So I'm like, "Of course, yeah. I mean, I'll cover everything, cover all the closing." I closed the deal. It was only my second deal, but I was able to close it myself and I resold it not even a month later for $10,000. So, $300…and I paid out of my pocket, I had that…I told you, I pulled that $10 grand out of my 401(k). And so I said, "Well, I can skim off 300 bucks to buy this property and just to lock it down." And, you know, so I did. And it's funny because that one I could have totally double-closed on because she was all the way in Florida, nobody was stealing this deal from me or anything like that. So, anyway, so that was, what, $9,700, give or take.
Interviewer: Yeah, for a 30-times return on your money, right? It was [inaudible 00:28:57] the nine-time or 10-time or eight-time return on your money, who's counting? But that's beautiful. I mean, that's what we're talking about. So, I love it. So, man. So, we got to wrap up right now. Just one thing. I have a couple of last questions and that is, if you think back to the early days, you said your mom was a seminar junkie. I love that you haven't gone back to any live event because when we do live events, I always say in the first half-a-day, like, that, "I want this live event to be your very last live event because after you're learning this, you don't need anyone else's stuff anymore. You don't need anyone's things anymore." Which obviously has been true for you, which I'm very excited about. But so have you had, were there any times of doubt in between or you just played with it and it just worked or when in times of doubt, where do you go to get over some kind of a hurdle or an internal hurdle and to get back to a good place of moving forward? Because you've been pretty aggressive with even quitting your job within a fairly short time.
James: Yeah. I mean, I definitely had, there's areas that…with this business, I think the biggest thing that can overcome you, believe it or not, is laziness. You know, you get…I've gotten, you know, boom. In one month, I got a $20,000 deal and I got a $10,000 deal. And now, all of a sudden, I'm floating on the most money I've ever had in my bank account in my lifetime at one time. I mean, when I worked in corporate America, I'd get my normal salary. That would be $4,000, $5,000 or whatever, but then it would go right out the door on bills. So, I've done it where I had two, three deals in one month, and boom. Now, all of a sudden, I got $30Gs just sitting in my bank account, all my bills are paid. And so you get lazy and you start just kind of coasting.
And I think that's really where the danger zone comes into play. Especially a person like me, I mean, all I'm doing is land. So, when I get into coasting mode, I really gotta shake things up. And luckily, I have my super intelligent, crazy motivated entrepreneur wife, who is kicking me in the butt. And, Jack, I'm sure you can attest to that. When you start getting a little swaverly [SP], I'm sure, in your life, you got the backboard of your wife to just kind of kick you in the butt and say, "Hey, buddy. I know you're sitting pretty right now, but in two or three months when you're stressing out over money, it's not gonna be pretty, so you better get on it and keep consistent."
So I think the biggest thing you need to do in this business is keep consistent. Keep to your system, keep mailing, do those things. Go on your vacations, but when you're done with your vacations, you gotta come back to work because this is really a full-time job and you can't forget it. And I think sometimes that's probably one of my biggest hurdles is I start sitting pretty and I start forgetting that I'm running a business. And I think that can happen to a lot of your students and a lot of people out there. I think just in general, with being an entrepreneur, you gotta keep your foot on the pedal all the time because you never know. I mean, you have some dry months where you mail your heart out, you're doing your system and just nothing is really working out. And it's not a testament to a bad system. It's just a testament to the way the world works and how the numbers go
Interviewer: Right. Something like COVID hit and then the first two, three weeks of COVID, nothing kind of happened, but then everyone started buying land like crazy. And so it's, you have those kind of little phases sometimes where just, for whatever reason, Murphy's laws where just nothing moves. But then all of a sudden, you sell, like, four in one week or five in one week. And then, that's just the nature of it. So, I love your honesty. Thank you very much. Yes, it's at the end of the day, right, if you point to somebody, there's always three fingers pointing back to you, right? So it's like you can't blame somebody else. You gotta put in the work, you gotta do the pieces.
So, that's that. I mean the last question I have, what do you tell somebody who is, like, someone on the fence and sitting there and is, like, considering this and is like, hey, this is, obviously, they can go to our Land Profit Generator Real Estate Group on Facebook. They can check it out. There's like, I think in the last 36 hours, there are, like, four brand new first-deal success students being posted. That is very normal. Every week, we get between, like, five and 15 success stories from students about their first deal or their second. Sometimes, it's the second or third deal. But often it's like, it's two brand new people's success stories. But what do you tell somebody that…or you can go to our website, landprofitfun.com. landprofitfun.com, it's like fun, like having fun. But what do you tell somebody, James, that is, like, on the fence? What is your recommendation to them?
James: You know, it's funny because I've talked to a few people in the last few weeks. They've tried to friend request me on Facebook and talk to me. And I just, I tell them, it's no joke. These deals are real, but you have to put in the work and you have to do the training. And you have to listen to the videos and stay motivated and follow the steps. If you follow the steps, you will attain and achieve success. A lot of times, I see these students who, they've already dabbled in real estate. They've already been house flippers. They think they know everything already. But obviously, they don't because they're not having any success anymore at house flipping, so they're looking to land. And they think, "Oh, well, based on what Jack says, this is gonna be super easy, and I've already got my systems and I know what to do."
But those are the people right off the bat that I can tell you will fail because they're not willing to be teachable. And you got to be teachable, and you got to follow the steps and you gotta do it by the letter and, literally, send out the letters. And I get people all the time, "Well, I can do it all online. I can do this. I can do that. I'm very tech savvy." It's like, that's not Jack's model. If you want a different land system that uses that model, you're not gonna be happy with Jack's model, because you're gonna deviate, and you're not gonna achieve success. So, get in line, stay in line. That's it.
Jack: Oh, I'm glad you remember that. So, yeah, that's one of our big mottos, always, the mantras. All right. With that said, thank you very much, James. I'm super excited. All I'll just say is congratulations, keep going, don't be complacent, right? You can, with just a few more fine-tunes or a few more things, you can probably double that and with not working much more. So, with that said, everyone, thank you very much. Or even, like, a $100 grand a year or more is fantastic. It's like, it allows you to live that stressless lifestyle and plus, you're playing the entrepreneurial game that you can write off a whole bunch more than you were able to write off as an employee.
That's what people forget is like, "Well, I made $100 grand as an employee, now I'm making $100 grand land flipping. Isn't that the same?" It's, like, no, it's not. You're probably taking home 50% more as a land flipper because you can write off a whole bunch of stuff. Every trip you do now to visit family can become potentially a, you gotta check with your CPA, can become a trip where that's a write-off because you might check out areas to potentially invest in land, right? You gotta be there, you got to do that.
So you can do all these different things. You can write off vehicles, you can write off meals, you can write off all the stuff that before you couldn't write off. So you make $100 grand, you're really taking home $75,000 or $80,000 of that versus making $100 grand, taking home $40,000 or $50,000 or $60,000 or whatever it is. So you're taking home substantially more money. You could probably experience that already, too, right?
James: Oh, yeah, definitely. Well, I use Warren, your guy and the team over there at Terrell. And they're amazing. I mean, I'm always surprised at how much money they get me back at the end of every year. And everybody's worried about these tax deadlines, and my taxes were done back in January because I'm waiting for that check to come in at the beginning of the year so, yeah, definitely CPAs. And I always go…I make everything a vacation and I write it all off. So, every time I go touch a piece of land, it's a vacation and it's a write-off.
Jack: There we go. All right. So, that's that. Everyone, thank you very much. This concludes our next show. Again, we put some links and things in the show notes here. But also, as always, give us a five-star review. Go check out landprofitgenerator.com or landprofitfun.com. Go check out our Facebook group, Land Profit Generator Real Estate Investing Group on Facebook where James just posted this last deal and where lots of our students are hanging out and helping each other, sharing deals. And just, it's one of the most giving groups that I've ever seen on Facebook. So, that's that. Thank you very much and thank you, James.
James: Thanks, guys. Have a great day.
Announcer: Enjoyed this episode? Then make sure you like, subscribe, and post your comments and questions below the video. We're looking forward to hearing from you.
Enjoy this podcast? Share the love!