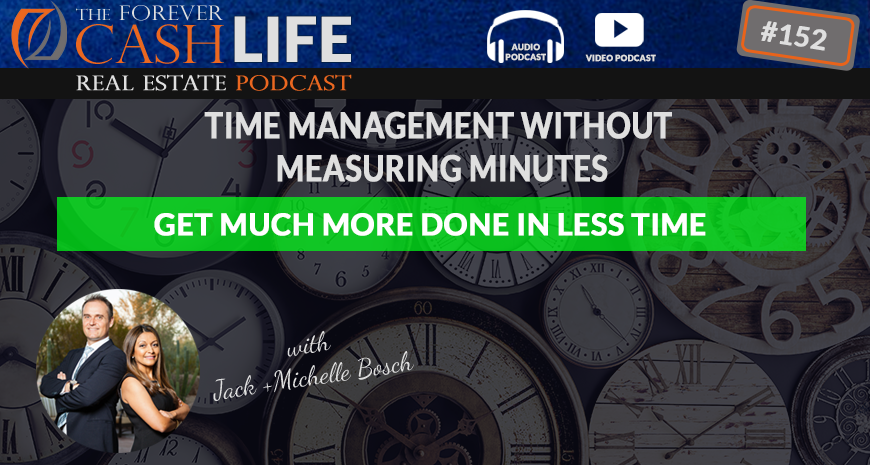 Time management is a crucial tool to help you stay productive and avoid burnout – and while many people think this involves micromanaging your life hour by hour, it doesn't have to be that complicated. In this episode, Jack Bosch introduces you to the Structured Rhythms of Success: a method that he and his wife Michelle have been using to maximize their time and achieve amazing results! You'll learn about a proven method that breaks down your week to allow you to focus on one thing at a time while leveraging the way that human brains operate.
If you've been feeling like you're treading water week after week, this episode will help you find a rhythm and ultimately lead you to greater productivity and higher profits.
Listen and enjoy:
What's inside:
Find out how to structure your time
Learn why multitasking is a bad idea
Understand why it's important to make time to play
Mentioned in this episode
Tweetables:
Transcription:
Jack (00:00):
Hello, and welcome to another episode of the Forever Cash Life Real Estate podcast. This is yours truly, Jack Bosch, and today we are going to talk about the concept of time management. A bunch of the top selling books in the non-fiction area always about time management. Now, while I'm not the master of time management, we are using certain time management tools in order to make our life more effective and obviously more efficient. Obviously, considering that we own 400 apartment units and single family homes and manage them, considering that we run an educational business where we teach people where our mission is to create 1000 millionaires in the next two years, and where we have seminars and events and things like that. Considering that we've done 4,000 deals and we have a full time team selling land and flipping land for us, that I'm also obviously involved in.
Jack (00:57):
And the fact that I've obviously married, that I have a beautiful and super smart and wonderful 12 year old daughter, and we're taking two or three months of the year vacation if COVID allows us. We just came back from a vacation. Considering all of that, there's got to be some time management principles being involved. Otherwise, you just run crazy with all the things that we do. Having said that, I want to go through you today to some of the coolest time management principles that I know, but before we do that, let's get quickly our intro going.
Speaker 2 (01:32):
Welcome to the Forever Cash Life Real Estate Investing podcast, with your host, Jack and Michelle Bosch. Together, let's uncover the secrets to building true wealth through real estate and living a purpose driven life.
Jack (01:46):
All right. As I already said, we are talking about time management today. Time management, there's multiple things that you can do in time management. Time management, I want to separate it into two different things. One is how you manage your year, your quarter, your month, your week and your day, or let's say your week. Then the other one is how you manage your day. First of all, let's start big. The first thing we do is we actually put together a year long plan, which is more or less goals instead of actual plans. Because you can plan for a year, but you got to understand that lots of stuff is going to go different. Let's look at it.
Jack (02:34):
We were in January, February of 2020, we had very different plans for 2020, then what happened when corona hit, when Covid hit? All of a sudden Covid hits and your plans change. That's very, very normal, but still, we planned a year. First of all, the first thing we do is we plan the year around what's most important to us, which is our daughter and which is our personal life. We look at the chunks of the entire year, we look at her school calendar, and we go see, when does she have vacation? When she's off from school, that's when we plan vacation trips for us.
Jack (03:14):
Christmas usually we celebrate here, and the day after Christmas, we're gone somewhere for two weeks because her school has a two, two and a half week break. Spring break, we're usually gone somewhere. Summer, it's like a two months break, we're usually gone at least a month or so. Now, having said that, that then drives certain things we do. If we want to go on a buying spree, if we want to go buy 100 pieces of land, we're not going to schedule that in June, July, and August, when we are basically traveling around the world and when our team perhaps needs more of our input in order to purchase properties.
Jack (03:51):
We're going to go plan that in the first half of the year, from January to May or from August until about November, December. These are just some logical things that you do based on your overall planning of the year. But then there's also something, there's the natural thing of the calendar years, Michelle talked about them, there's also these, as Michelle, my wife and business partner and our structure genius in our company, as she talks about, unnatural, but very useful rhythm of the quarter.
Jack (04:22):
Quarter is 90 days long, which is a long time, but it's also very short. It passes very quickly. In a quarter, we do have goals, and what we call them, sprints, for the quarter. We basically say, "August starts, we are going to go on a sprint from August, September, October, or August, September," 60-day sprint or so, but usually we use quarters for that. Then you go, "July, August, September is a quarter, and then October, November, December is a quarter." But you can also do that off calendar quarters. If you know that you're going to be on vacation in July, then you look at the next 90 days is August, September, October. Then the next 90 days would be November, December, January. You can do that too. It's not all set in stone.
Jack (05:12):
But generally speaking, the annual calendar quarter is a great measure, because it's long enough for you to actually accomplish something major. For example, with our coaching student, it's always our goal that in the first three months they get their first deal, ideally bought and sold, depends on the speed that they progress. If you do what we ask you to do, and three weeks into starting coaching with us, you have your first letters out, then say, four weeks into it you have your first offers out, that means five or six weeks into it you have your first offer accepted. That means you have another six weeks now to sell this property. You close on a deal and you have accomplished a quarter goal.
Jack (05:55):
The second quarter then, will be about repeating that, scaling that, growing that, and then the next quarter will be about setting systems in place that you can literally scale while having a life of leisure and literally living the life that you want to live. Quarters have their purpose. You can plan quarters, and even if something goes wrong, a quarter's typically 13 weeks, so if you slack for a week or you get sick for a week or something happens or a week, or you're in-laws come and visit you for a week, then there's still enough weeks left in the quarter to put the pedal to the metal, to adjust, to catch up and not lose the goal inside of what the goal was for the quarter. That's an important concept.
Jack (06:39):
Then obviously, the month is an important concept, even though we typically don't pay attention to that that much, it's more the week as well as the quarter. But obviously the month can be good too, particularly if we have certain promotions going on. And then ultimately, we go down to the week. Now, the week is probably one of the most important or if not, could be pretty much the most important concept of all of them, of course, with the day. Because if you plan your week right, in consideration of your 13 week month, you go from big to small. You set your goals for the year, then you go plan out the quarter, and then based on the quarter, since it says 13 weeks, you go and you know what you need to do this week in order to bring yourself forward towards that goal. It's like a reverse engineering of your goal.
Jack (07:42):
If you want to be at 13 weeks at a deal sold, then you know that this week you got to get counties, then you got to go get lists. If that takes a week to get the list of filtering down, then it takes another week to send out the letters, then it takes another week to make the offers, then it takes another two weeks to get them accepted, then you can reverse engineer back what you need to do in every week in order to make things happen. Having said that though, if you train like an athlete, if you operate like an athlete, you also need to make sure that you have built in the proper rhythms of success into your week.
Jack (08:23):
What does that mean? A rhythm of success is something, if you look at an athlete, an athlete does… Even if you take, let's say, a bodybuilder. A bodybuilder doesn't typically work out seven days a week. Because your muscles, when you work them out, they break down and then they need time to build back up. When you work out your pecs, let's say, or your arms and your shoulders on your back one day, you don't work out that muscle group the next day. It's same thing in business. If you work on something, if you work five days a week or six days a week, you got to take a day off. You got to take a day or two to rejuvenate from the work that you're doing, whatever you do.
Jack (09:09):
Because chances are land flipping is not the only thing you do. Chances are you have also a family, chances are you might still have a job, chances are you might still do things for another business or so on. Therefore, what you want to do is you want to schedule out what we call, plan, produce and play days. Not play dates, but days. What that means is a plan day is a day that you dedicate to planning activities. Planning activities are non-revenue generating activities. For example, if you have a virtual assistant that you need to train, you train them on a plan day.
Jack (09:51):
If you need to go and process lists or something like that, if you choose to get a list and you filter it down yourself and you get a list from the county that has 50,000 records on there and you want to identify the land that's worth between five and, I don't know, a few hundred thousand dollars, and you've got to go through those processes and you want to identify the out-of-state owners and the in-state owners, and you choose to do that all yourself for example, there are services that do this for you for 40 bucks, but still, if you choose to do that… Our land profit generator owners have access to that.
Jack (10:23):
If you choose to do that yourself, then that would be a planning day activity. Because even though it brings your business forward, it is not a revenue generating activity. If you have team members and you have meetings, that you do on a plan day. The days when I produce podcasts are plan days. The days where we have a whole bunch of staff meetings are planned days. Now, on the contrary to that, the days where you generate listings, when we put up properties on websites for sale, these are potentially a revenue generating activities. Those you do on a produce day. You basically categorize your week into days that you focus on the minutia, on accounting, on planning, on meetings, on things like that, on training, on learning, on studying, on reviewing the modules and things like that. Those you do on a plan day.
Jack (11:23):
Then the activities of making offers, those are revenue generating activities. Not necessarily actively revenue generating, but without offers, you can't get deals. You're making offers, which there's money involved, so it's called a revenue generating activity. Then the selling activities are the revenue generating activities. You scheduled those, marketing your properties, renewing your listings, tweaking your listings, changing your pictures and then uploading your pictures, putting it on a new platform, all those things you schedule in days, and on produce days, there's ideally no planning activity happening. You separate those two days from each other.
Jack (12:06):
You have days where you just plan and days where you just produce. Then you also, very important, and that's probably for an entrepreneur, the hardest thing to do and I fail at it all the time, you schedule free days. Basically play days. Play days are days when you're without the bad conscience, you have put them on a calendar, a day where you do not open the laptop, where you do not answer email, where you do not pick up the phone for business calls, and where you just have fun with your family. You sleep in, you cook breakfast for the family. Sundays, for example, is a play day for us. Religiously it's pretty much the case. Now, do I sneak sometimes to the office and do something? Yes. I have found myself doing that, but mostly I regret it because it takes away from the disconnect from that day.
Jack (13:04):
Sundays, Sophia and I make breakfast together. That's our thing. She makes pancakes, I make pancakes. She makes the thing, I try to be on keto so I threw keto pancakes, she makes the regular pancakes. Michelle makes a fruit plate. I make an omelet or tortilla Espanola with some potatoes and onions and things and peppers in it, or a scrambled egg or something like that. We put all the things in it. We make coffee, make cappuccino's for each other. We bring all out fresh squeezed orange juice and things like that, and we just have a beautiful family breakfast on Sunday. Then we jump in the pool and then we go take showers. We go get ready for the day, and by that time it's probably mid afternoon already. Then we go out somewhere, we go out to the mall, we go out to sort around if it's not too hot in Arizona, where we have, I think, 34 consecutive days, close to 40 consecutive days of over 110 degrees right now in summer.
Jack (14:02):
But we go indoor somewhere. We go in the mall, or pre-COVID, we go to a movie and things like that. Perhaps we go out for dinner somewhere or pick up dinner, and then we watch a movie at home or so. We just have a family day without opening the laptop. Now, you can sprinkle as many of those into your calendar as you want, but you want to be diligent with them and not having be infected with work. Because, for example, this weekend we had friends over, we cooked in the morning, we jumped in the pool, we had fun, and then in the afternoon, friends came over and they stayed out until the evening, social distancing of course, six feet away. But then that was a wonderful day.
Jack (14:51):
But nothing was done about the business. These are the things, now you have your week broken down. Now let's jump into the actual day. Obviously a free day I already described, a play day I already explained. The next day that I want to explain is the plan day. In the plan day, what you do, even on a plan day, let's say if you have two plan days, three produce days, and two free days for the week, that adds up to seven. In the plan days, you don't want to do 17 things every day. Instead, what you want to do is what we call chunk times.
Jack (15:30):
That's another concept. Chunking time means that you schedule yourself up a two or three or four hour window. Yes, you take breaks between to grab a coffee. As a matter of fact, let me have a sip. But you schedule yourself breaks in there. But the subject matter that you're working on is the same subject matter for all two or three or four hours. In other words, if you're analyzing counties and if you're selecting counties, then that's what you do. You go for the next two hours, you go around all over the country, and you select different counties that you want to go and send your next set of mailings to to get more land deals. You don't do this for 10 minutes and then you do deal analysis and then you make offers and then you go create a listing. No. You select for two hours or one hour, whatever the timeline that you blocked for yourself, is scheduled for county selection or for deal analysis.
Jack (16:30):
The offers came in, you need to do deal analysis, you need to do value the analysis. That would be a plan activity, because it's not revenue generating. You schedule a four hour window, because you got 50 phone calls that came in on your 1,000 letters that you sent out yourself, and you need to now do the analysis of what are these 50 properties worth? You schedule a four hour window, and even within that window, you chunk the properties by county. Because what you don't want to do is have to jump from thing to thing to thing. You even don't want to jump from county to county to county to county. You go into one county, there's 10 phone calls that came in, you go bring up the website, you bring up Google maps, you bring up Zillow, then you go property number one, boom, plug it in. What's the assessed value? Where is it located? Where's it located on Zillow? What are my comparables? What is it worth? This is what it's worth. Done.
Jack (17:31):
Second property, boom, plug it into the county website. What is it there? You get into the zone. By doing that, your productivity actually explodes. You do 10 times more in that time than you would do if you would do one property in one county, then you go to another county in another state. That means you've got to find a new set of websites. You got to familiar yourself familiar with it, with their layout, with the way they operate, with the way they show data, with the way they show the maps, with the way they show everything.
Jack (18:04):
Or worse, you go jump into a completely different aspect of your business, let's say you now jump into selecting counties. Now, you just analyzed properties and your mindset is that of value analysis, and now you're jumping through county selection, which has nothing to do with it. Your Brain is proven to take 15, 20 minutes to even be able to shift properly and get into the zone there. What most people actually do wrong is that constant multitasking, when people say they do great. We, as humans, are not set up for multitasking from what I've read from scientific books. Try this, by the way, try to write an email while somebody is talking to you and tell me, either you paid attention and your email looks like crap, or you've wrote your email and you have no clue what that person just told you.
Jack (18:58):
As a result, this is just the simplest example. Jumping from thing to thing, or worse, doing two things at the same time, just does not work. We say it works and society and the environmental pressures, the work pressures force us to jump around sometimes and it's unavoidable, but if you can avoid it, and you can because it's your life and it's your business, chunk your time. That is the same thing on produce days. On produce days, say if you create listings. You don't create listings and put them on Facebook Marketplace and on Zillow and on thing, all at the same time. What you do is you schedule a day, or half a day, or whatever number of hours you have available, and just create listing. You create one listing, then you create the next listing, then you create the next listing, then you create the next listing.
Jack (19:48):
As a matter of fact, if you have 10 properties to create listings for, you actually might even want to do it even more chunking. You create a chunking time where you just create pictures for your properties. You create 15 pictures for property one, 15 pictures for property two, for property three, for property four, because what you are basically, is you are in picture creating mode. Your brain is now in a graphic design picture creating mode. Then you jump out of that and now you have created all the pictures for these 10 listings. Now you go into text writing mode. You write the description for property one, you write the description for property two, you write the description for proper three, because you are in creative writing mode. You dedicate an hour or two hours for that. That you now have all the pictures and you have all the descriptions done for the listings.
Jack (20:44):
Then you chunk another two hours to put them all together. You say property one, text here, now the pictures. Boom, boom, boom, line them all up. Property two, text here, now the pictures. Line them all up. Text here. Then now this is done, that perhaps took an hour to put that together for all 10 properties, because you had all the pieces together for it already, and now you go and select one platform. Again, chunking that. You don't go take property one and put it on Zillow and Craigslist and LandWatch and Facebook Marketplace and Facebook groups, and then you go to property two.
Jack (21:23):
What I would do is I would open Zillow and I go submit property one, submit property two, submit property three, submit property four, submit property five. Submit them all at once. Comes to notifications for verification of them, you verify them one after the other. Now today, you uploaded all your properties on Zillow. Tomorrow let's say, or this afternoon, you chunk another time, you take your property listings and you go on Facebook Marketplace. Upload property one, upload property two, upload property three. Exact same thing. So that over the course of a few days or of a few chunks, even if you do them in the same day, you now have your 10 properties listed all over the place. That's how you get stuff done in the best and fastest possible way.
Jack (22:13):
Where people get lost, if they go put one property in Zillow, and then all of a sudden they struggle with Facebook, and they spent all day trying to get that property on Facebook. Now the evening comes and what have you accomplished? You put one property on Zillow, even though you have 10 properties that you could market, and that's all you accomplished. If Zillow worked and you got it on Zillow without problems, then why not put all of them at once, one after the other, on Zillow? If you then move on to Facebook and you struggle, guess what? You accomplished a whole lot. You got 10 properties on one platform. That's the key. And then if both of them worked, you've got 10 properties on two platforms in one day. Then the next day you go put them on the other different platforms like on Craigslist and different places like that.
Jack (23:00):
But again, each of these things requires a different train of thought, a different focus. Zillow works different than Facebook than Craigslist. You go into one train of thought and you do as much as you can in that train of thought, and while in that area of focus. This is how you get stuff done. You make your annual plan of what your goals are, you reverse engineer from that. If your goal is 24 deals a year, that's two deals a month. Two deals a month requires, let's say, if you get a deal for every 1,000 letters you send out, requires 2,000 letters a month to be sent out. You need to schedule your letters, you need to select your counties, and now you say basically, that means if you get started in the first three months, get your first deal bought and sold, that would be the goal.
Jack (23:50):
But if you're already doing this, then you need to schedule those pieces, and then you look at the different four areas that you need to do stuff in. What are these? Selecting counties and getting lists. Five different areas. Selecting counties and getting lists, mailing out letters, analyzing deals and making offers, and then listing the actual sale. That's six steps. Then obviously there's a seventh step, which is closing the sale, but that is the only one that you can not really control in terms of when it comes in. Because whenever that buyer comes in, is ready to buy, that's when you do have to jump out of your structured day and structured week and make that sale happen and get that thing done.
Jack (24:33):
But even then, once it's in the title company, you don't have to jump any moment. You schedule once a week, or every two days, you schedule some block time is to follow up with title companies on the deals that are in escrow. Even that, you don't just put random leaves like, "I got to follow up then, let me stop what I'm doing. Let me go over there." No. You schedule it in, such that you can have it, if they're in the east coast, you're in the west coast, you do it in the morning. If you're the east coast there, they're in the west coast, you do it in the afternoon. So that you account for time zone changes.
Jack (25:06):
But these are the six different areas that you need to do. Ideally, as you do these deals on an ongoing basis, you actually need to do those six deals every single week. You need to send out letters every week, you need to not select counties every week, perhaps you only do that once a month or once every two months to expand your business. It's down to five things now that you have to do every week, which is getting more lists over to the mailing house, sending out more letters, that could actually even be combined. Now it's down really to four areas that you do every week. You send out new letters, you analyze deals, you make offers and you create listings and you update your listings. Those are the four things that you need to do on an ongoing basis, added by occasionally selecting new counties and getting new lists, and by obviously talking to buyers and selling this property.
Jack (25:59):
If you do that, if you look at your week, you'd say, "Mondays, I send out new letters. Tuesdays, I analyze properties and make offers. Wednesdays, I create listings and refresh my listings. Thursdays, I go and look for new counties or process new lists and have them ready for next week. Friday, Saturday, Sunday, I take off." If you do that, you now have identified, which are your play, produce and plan dates. You also have a schedule that if you'll keep that schedule, it's going to keep you on track on your two or three deals a month, and it's going to keep you on track for your quarterly goal, and it's going to keep you on track for your annual goal.
Jack (26:42):
If after a quarter you see that you're falling behind on your goal, you can make the adjustments because you have three more quarters left for the year. You can increase your mailings, or if you see that you're ahead of your goal and you want to either adjust your goals, or you really, truly only want to do 25 or 24 deals, you can reduce your number of mailings, you can reduce the number of effort in order to get there, or just level up, and then readjust your goals in order to now get to 50 deals a year, whichever you really want to get to.
Jack (27:13):
I hope that makes sense. That concludes our podcast right now. Time management is really cool. It's something that I would have not been caught dead saying, 10 years ago or five years ago, that time management is cool, but I've learned to appreciate it because it is actually incredibly powerful if you use it and do it in a intelligent and scalable way. For example, last thing I'm going to say, I'm not a fan of this constant, minute-by-minute time management. That's not how I operate. But I'm a big fan of having big blocks of time blocked and having certain accomplishments done for the day. If I just blocked four hours in the day in order to get my biggest accomplishments done, then I can still jet around and take care of all kinds of fires and all kinds of urgent things, the other four hours of a day.
Jack (28:09):
But I guarantee you, if you block off four hours of your day, or if you have a full time job and you do land business in the side, and even if it's just an hour or two hours at night, if you block that off, then you will be able to catapult your business forward, faster than you can ever imagine. With that said, thank you very much for attention. Again, as always, come visit us in our Facebook group, Land Profit Generator Real Estate Investing. We're going to have a new multi-day training class starting there, I think September 14th, so make sure you go to lpglab.com and register for it. And then join us into our Facebook group, Land Profit Generator Real Estate Investing. Also, don't forget to give us a five star review on our podcast. With that said, thank you very much. Bye bye.
Speaker 2 (28:56):
Enjoy this episode? Then make sure you like, subscribe and post your comments and questions below the video. We're looking forward to hearing from you.
Enjoy this podcast? Share the love!