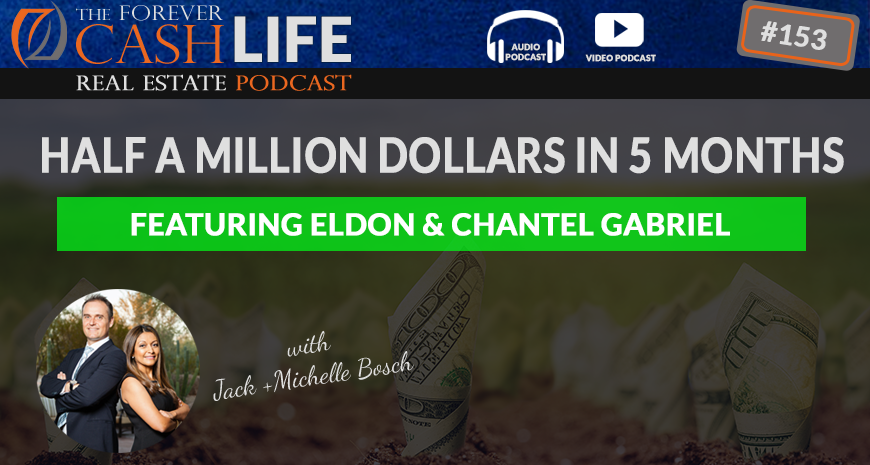 Eldon Gabriel and his wife Chantel are a powerhouse team of land flippers from Canada who have spent hours pouring over the Land Profit Generator training material. By trusting the system and following the steps, they have generated insane revenue in record time.
In this episode, Jack Bosch chats to them about their journey in land flipping and discuss some of their deals – including the two separate occasions when they bought a property for just $1! This duo have shown the power of the Land Profit Generator and why it has transformed the lives of so many people all over the world.
Listen and enjoy:
What's inside:
Find out why Eldon & Chantel binge watch the Land Profit Generator
Discover how they bought two properties for $1 each
Learn how the team made half a million dollars in 5 months
Mentioned in this episode
Tweetables:
Transcription:
Jack: Hello everyone, and welcome to another episode of "The Forever Cash Life Real Estate podcast" where we talk about all things cash flow and land flipping. So, today, we are having, as our guests, a couple who has taken our Land Profit Generator method and taken it from zero to $500,000 in five months. You want to know how? Well, right after this.
Announcer: Welcome to "The Forever Cash Life Real Estate Investing Podcast" with your host Jack and Michelle Bosch. Together, let's uncover the secrets to building true wealth through real estate and living a purpose-driven life.
Jack: Okay. So here we are. So, let's get going, Again, our guest today are Chantel [SP] and Gabriel [SP]. You pronounce it Gabriel with…?
Gabriel: Gabriel.
Jack: Gabriel, okay. It's my German accent that messes it up. Any mispronunciation, I can always blame my German accent. It comes in very convenient. How are you guys doing?
Gabriel: We're doing very well.
Jack: Wonderful.
Chantel: We're doing great.
Jack: Great. Great to have you here. So, let's jump right in. So give us, first of all, before…you guys have taken overland business from zero to $500,000 in market value of properties under contract or sold in a matter of five months. That is obviously absolutely fantastic. But before we jump into that, tell us a little bit about yourself. Tell us about… Give us a little bit your history. What's your story? Tell us about yourself?
Gabriel: Well, we're business owners here. We're in Canada. We're roughly about three hours away from the city of Toronto.
Jack: You said?
Gabriel: Canada. So, our prior history, we actually we own a nutrition and health business where we sell supplements, fitness accessories, and apparel, things of that nature. And we actually knew during our time doing that business, it wasn't really scaling the way we wanted it to scale. We started like everybody else, we started from one store then we scaled to two stores. And then we really realized the second store has actually given us more time than we have to consume to actually focus on the business. So we just said we needed to make a shift to be able to, you know, scale back so we can be able to focus on making more money with less time. And then that's what really geared us towards real estate investing into land.
Jack: Yeah. Now, how did you come across the land business lessness and how did you come across us?
Gabriel: Well, through Instagram you get to see…and social media, you get to see little advertisements here and there, people talking about, like, tax deeds and tax investing. And then one time it popped, I clicked on it then someone said, "Oh, yeah, you're Canadian, you could buy in the U.S." And we're like, "That's interesting, you could buy in the U.S." So, we started digging more into that looking into that and we found it was actual real, you can actually buy tax deeds in the U.S. as a Canadian. And then we said, "You know what, it only makes sense doing it one-offs. Yeah. Okay, you buy one property, and then what? What do you do? How do you sell it?"
So then we said, "You know what, if there's a…you can actually buy property through auctions and taxes, how do you actually turn this into a real business in the U.S.?" Because again, as we're Canadians, we don't have time to actually travel back and forth actually go look at the property, you know, see it get it appraised and things of that nature. So we just said, "You know what, there's got to be an easier way." And then we just said, "Hey, people buy and sell land in the U.S., like they buy houses." So we just said, "Hey, we'll just look into that and see how the land how that works." And then once we see now it was really easy.
Jack: All right. So then you came across us somewhere in a website or just you googled us or something?
Gabriel: Yeah, actually doing that same process, your name did come up. We've seen a lot of your videos on YouTube. We've seen a lot of your old interviews, your old seminars and things like that. So we were like, "This guy, Jack. He seems like he knows what he's talking about."
Jack: Okay. How cool? I'm always interested in hearing how people hear about us, how they get it because everyone has a different path. But I know some people that invest in all kinds of stuff and they're sick and tired of investing, they want to invest in something simpler. Some people can't get this to work and now they come over here. Some people are referred to us, so I'm always curious to hear about it. So your path came from understanding you wanted to invest, and you realized you can invest in the U.S. And it came to tax deeds, which is something that we don't teach that much anymore, but it's more like a side thing.
When you go off to land, some properties are going to have back taxes, most are not going to have back taxes. But you get into the tax deeds world, which is actually interesting enough, the same way we came into the land business. We [inaudible 00:04:36] more than everything we ever gotten in that environment or in front of us that was affordable was land. So, therefore, that's how we got into the land area until we realized that we're gonna have to go after tax than even property. So, wonderful. So now you get started, you got our program, you have the land profit generator, right?
Gabriel: Right.
Jack: And you got started and then five months later, we get a video from you saying…from the both of you driving the car jamming to some really cool music, and basically like stating, "Hey, we just basically broke $500,000 here." So, give us the scoop on that.
Gabriel: All right. Well, I can say honestly that day, I remember it was a Friday night. We bought your program and we binge-watched your program that whole weekend. And in fact, we actually binge-watched it for a few months. We've played that LGP program, I would say, roughly about 50 times. And again, it's just because we needed to understand it completely. And actually going through that steps learning it, watching it so many times, it just became natural for us now how do we actually do the business? We know step A, you got to do this. And step B, you got to do that. So anytime we do come up with any type of deal that's a so-called scenario or a problem, we just go back to the program. And the program says, "Hey, you got to do this." And we follow it through.
Or if there's something that we became with a hiccup, we looked at the program again and we said, "Oh, that's where we made the mistake." And we went back to it again. So following your program step by step, we just did exactly what you said. We took our egos out, we didn't have no type of input, we should do this, or this should be better. We just did exactly what the program did. And that's how we ended up to that result.
Jack: That's fantastic. That's great. And now tell us, so the business consists of 18 properties, right? Have you [inaudible 00:06:32] a few more?
Gabriel: At that point, since then we picked up, I believe 14 other properties.
Jack: So now you're up to 32 properties adding up to what? A million dollars, up three-quarters.
Gabriel: We wish at this point. I would say roughly, I would think about 650 right now.
Jack: That's pretty good, $650,000. And you picked up these properties, you have them on a contract I assume, right, or have you bought them outright?
Gabriel: Right. Some of them we do bought outright, and then some of them we still do have them under contract.
Jack: Nice. Good. And then you turn around and you sold some of them already, right?
Gabriel: Yes, we sold a few. I believe what we sold about seven or eight of them.
Chantel: This weekend? Yes.
Gabriel: This weekend alone we sold about seven or eight.
Jack: Oh, this weekend you sold seven or eight?
Gabriel: Yeah.
Jack: Fantastic. "Well, what did you do this weekend?" "Well, I went bowling. What did you do?" "Well, I made 100 grand, or 50 grand, or whatever it is." What's the profit of those if I may ask? Even if they're smaller deals or perhaps not.
Chantel: So with these ones, these were low deals that we picked up. So, I think the profit on those ones would have been 10,000 total.
Jack: That's okay. Sometimes you pick up smaller deals, but, "Hey, what did you do this weekend?" "Oh no, I slept. I went to the bars with my friends. What did you do?" "Oh, I made 10 grand. Whoo, congratulations. I mean, a lot of people will feel for that [inaudible 00:07:58]. So that's fantastic. So tell us about… Let's see. Let's jump into some of these deals. So, first of all, you do our process, right? [inaudible 00:08:07] Have you outsourced some of the pieces or you're doing it all yourself?
Gabriel: No, we do it all ourselves.
Jack: Okay. So the phone calls and everything?
Gabriel: Yes.
Chantel: I do the phone calls for the sellers as well as the purchasers, and he does all the marketing.
Jack: All right. Okay. And that's right. That's about how Michelle and I separated out too. I mean, we both took the phone calls, but I still was… She quit her job first, and then I was still traveling and representing, she threw a bunch of phone calls during today. And now, so let's talk about… So, what was the first deal like? Let's talk about that.
Gabriel: The first deal, that one was actually a very interesting deal. We sent the letter out, the person called us back, the guy's like, "Yeah, I want to sell this property. And also, I have another property just down the street I want to sell." And we're like, "Hey, okay, great." So we took a look at those properties, and the funny thing is it actually was a smaller property. I think it was 0.1 an acre, 0.11 or 0.12, one of those things. That was the main one we actually sent the letter out for, but also found out he actually had 1 acre that was actually worth about $70,000. So we ended up grabbing both of those under…I believe it was under $2,000. So yeah, that was one. So, that automatically put us up roughly about 80,000…
Jack: Have you sold those already?
Chantel: One was sold.
Gabriel: One was sold already.
Jack: Okay. And one property made you than $2,000 you spent on those, right?
Gabriel: Right.
Jack: Okay. Go on, guys. Tell me a little bit more. Give me something.
Gabriel: Okay. Well, another interesting deal we got out was we bought two properties so far for $1. One lady… One property was…
Jack: Wait, did you say you got them bought for $1?
Gabriel: Yeah, we have two separate occasions we bought two properties for $1.
Jack: For $1. Okay. Now, did it have some back taxes?
Gabriel: One had back taxes, and yeah, the other one was free and clear.
Jack: All right. Okay.
Gabriel: So the first lady, we… The first one was pretty much a flu. We're just like, at this point, we'd seen it was a high back taxes and we're like, "You know what, we're gonna… This is our first sent mail out. So like, you know what, we know we're not gonna make real money out of this one, let's just put the offer out for $1 and let's see what happens." And out of the bunch that came back, the lady signed back for the dollar. So like, "Okay, wow, great. We have this property for $1." And that one still hasn't sold yet, that's still being marketed. That one's a little more tricky because it is landlocked. Also, it's in a different side of town where it's really difficult for this property. But this other property now…
Jack: It cost you $, so okay.
Gabriel: Yeah, it cost $1, so exactly. So the second property, the second time we got it for $1, that one is really more Chantel doing her conversation when she was talking with this seller. And she was really, really nice. And she just said certain keywords and Chantel just said, "Oh, no worries, I'll send you an email." And I was like, I looked at her like, "Huh?" while she was in the conversation. She hung up and she said, "Yeah, I'm gonna do this deal and it's gonna be for $1." And she goes, "I'm gonna get it. Watch." I go, "You can't do that. That's outside of the Jack program." She's like, "I'm getting it for $1." And she sent the email out, and I swear less than 20 minutes later, we got an email back, she accepted it for $1.
Jack: Well, as they say, and that's beautiful. Chantel, congratulations for that and for seeing that. Because as you do this, you get the feeling when they're ready. If you do this, that's something you notice when you scale and you really scale big, you outsource the bunkhouse for a call center, you use that ability to tell when somebody is ready for $1 but therefore you get to scale to do as many deals as you ever want to. But yes, for as long as you do it yourself, you can definitely get that, get the feeling to say like, "Okay, they said all the right things, they're ready to drop this property for basically nothing about for $1." Very beautiful. And that one has sold already is that?
Gabriel: Yeah, that one sold already.
Chantel: That one sold this past weekend as well. And then we picked up five for $50.
Gabriel: Yeah, we picked up five for $50. Also, we picked up nine at one shot, and that one I believe was only for $2,000 for nine.
Jack: All right, I mean, you guys are really figuring out how to get the properties for cheap here. That is fantastic. Now, is there anything special you do?
Gabriel: No, no, not at all. We follow the program step by step. You know what, we can't be more direct about it is we just follow the steps. If we have any problems, we just go back to the program and say, "Okay, where did we fail? Or where did we make the mistake?" And we see at this point, "Okay, this is where we did it. We got to change it from here and go right back onto it." So yeah, we don't have any coaching. We just follow the program and it's… Your program really works.
Chantel: Some people binge-watch Netflix and we binge-watch you.
Jack: Oh yeah, there are some people on Netflix, you binge-watch Jack. That's beautiful. So, great. So, now tell me about the most profitable deals that you have done so far.
Gabriel: Yeah, you can go ahead.
Chantel: I guess our owner financing ones are probably our most profitable ones because we have income coming in every single month and people pay on time. And we set our down payments at a decent amount so that we at least paid off the property, and we have something come to pay if anything additional matter rises. And our interest rate's set at 12.9%. So, I think our owner financing deals are probably our most profitable ones.
Jack: Okay. So, you do really follow everything step by step because 12.9 is what we're asking for. So, all right. So tell me about one particular deal, like what did you buy for? What did you get as a down payment? What did you get as an after payment in any of your deals?
Gabriel: That would be a really good one. I'm trying to think right now because there are so many
Chantel: Maybe Wingdale.
Gabriel: Wingdale. Okay, there's just one property that we bought. I believe we bought that one for only $1,000. And that one we didn't even close, that was a double-close. So, what happened with that one, it was a wetland property too. So we don't discriminate. You said it before in the videos, you're not the market. Even though the property's wetlands, it's in a rural area, we took that property. And once we bought that one under contract, we double-closed it and we walked down with that one with 19,000 on that one.
Jack: Nice. That is very, very nice. Congratulations. So with no money out of pocket, 19,000 in your pocket. That's great. So now, how does that… So let's talk about a couple of other things. So, with that, obviously, you guys have rocked this, congratulations. That is absolutely fantastic. So with that said, now, how has this success in this business affected your business that you still have?
Gabriel: Well, this definitely affected it tremendously. So now we've scaled back. We're now pretty much closed our doors, we did 100% online now. So now, we're actually fully committed to actually being 100% land business owners. So we're now in the land business, I would say about 95%.
Jack: Okay. When did you close your doors?
Chantel: Well, since COVID started, our doors were closed. We could have stayed open because we are considered essential, but we didn't want to take the risk to our own selves. So, it was since then and we just wrapped up what we were doing online. And just that's our…he calls it our gas money.
Jack: All right. Yeah, that makes sense. Now, this is really, really cool. So the timing could have not been better really, right? Because really, one business is taking off, the other one, well it's good business, it hit the COVID snag that basically allowed you to stay safe and shut down your doors and move online and making it through gas money, but really, you have the time to take the other business to the stratosphere as you guys are doing. So, what's your thoughts about that?
Gabriel: You know what, it's really intriguing to know that we're in a position now that we can say we don't have to put 100% time in all the time to focus on the business. Like our other business, we constantly was 6 a.m. to 9 p.m. constantly trying to work that business. But on the land side now, it's really part-time hours, literally four to five hours a day, if we wanted to. But because we have that work ethic of working the other business, we work the land business the same way because our goal is to try to retire before we hit 45. So that is really our goal. So, we're putting that work ethic the same way we did with the other business to make sure we can reach that goal.
Jack: Absolutely. And you will be able to reach. You guys are not a day older than 29. So, it's all good. So, with that said… so great. So just one last question. If there's somebody that's watching this right now and is, like, on the fence, or is not sure, or is, like, thinking, "Well, should I do this? Should I not do it?" What would you recommend to somebody like that?
Gabriel: Do it right now. Just buy it right now. And binge-watch it like you binge-watch Netflix.
Jack: Right. So get immersed in it, take the steps forward, get involved. Really learn it, immerse yourself in it.
Chantel: And we've purchased properties with no money, so money shouldn't be the issue, why you don't take advantage of it.
Jack: Wonderful.
Gabriel: Your program is the truth. And the thing is that there's other people that are out there, other companies or other products are out there that they have flaws and we can honestly say that this program has zero flaws. If it doesn't work, it's because you're not working the program.
Jack: Okay. All right. Well, thank you very much. I appreciate that. So, guys, that's it. So with that said, thank you very much. So everyone, just go take action right now. So, with that said, thank you very much for being here with us. And this really concludes this. So go ahead and, everyone, if you're watching this on YouTube or on iTunes or listening through that, take action, come over, go to our website, lpglab.com, go to our Facebook group, go to our website, landprofitgenerator.com. Get started, get in the game, because if you don't, if you try to figure this out on your own, you're just wasting time and energy. So with that said, Thank you very much. Thanks a lot, Chantel, and thank you very much [inaudible 00:19:37]. So, thanks for being on the set.
Gabriel: No thank you. And thank you, Michelle. We appreciate you guys and all the team over there at LPG, you guys are great. Thank you.
Jack: Thank you.
Announcer: Enjoyed this episode? Then make sure you like, subscribe, and post your comments and questions below the video. We're looking forward to hearing from you.
Enjoy this podcast? Share the love!