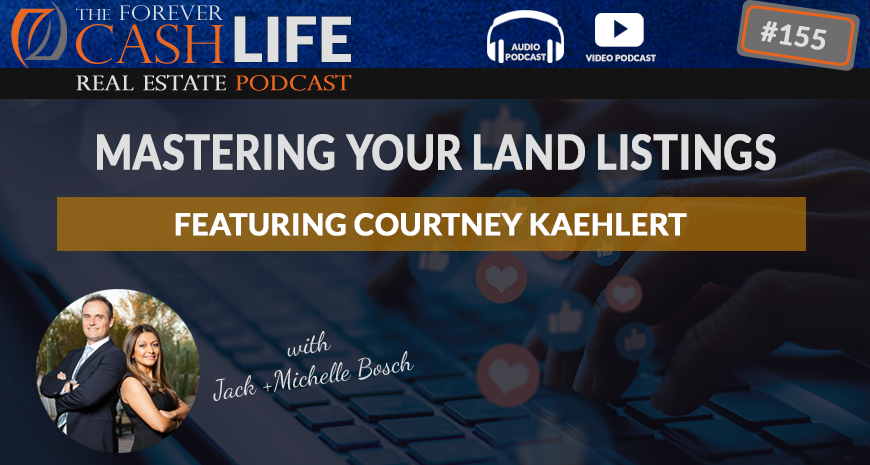 Courtney Kaehlert is a land flipper who has been crushing it in terms of her deals, which is why she has become one of our Land Profit Generator coaches. In this week's episode, Jack Bosch talks to Courtney about her entrepreneurial journey before land flipping and why she decided to go all-in on land.
Courtney also shares insights into how she structures and optimizes her listings. Platforms like Facebook Marketplace can be tricky to navigate, but in this episode you'll get ideas that you can start testing immediately! No more fumbling around in the dark, it's time to implement strategies that you can test and alter in order to find the formula that works for you.
Listen and enjoy:
What's inside:
Find out about Courtney Kaehlert's career history
Discover why Courtney has gone all-in on land
Learn how to optimize your land listings
Mentioned in this episode
Tweetables:
Transcription:
Jack: Hello, everyone, and welcome to another episode of "The "Forever Cash Life Real Estate Podcast." This is yours truly, Jack Bosch, right just back from vacation. So that's why you see my haircut being so short and not shaven. But that'll all change in the next couple of days again. But now, today, I want to talk about land flipping. I want to have a special guest interview who's doing really, really well with that and has particularly a specialty in selling to neighbors and in marketing. So we're gonna talk a lot about land marketing today.
Man: Welcome to "The Forever Cash Life Real Estate Investing Podcast," with your host Jack and Michelle Bosh. Together, let's uncover the secrets to building true wealth through real estate and living a purpose-driven life.
Jack: All right, so we are back again. Again, this is Jack Bosch and I'm super excited for you to be on our "Forever Cash Life" show. And my guest today is one of our really, really good friends, Courtney, well, Courtney Bronson, Courtney Taylor, it says here in the thing Courtney Bronson so do you want me to…it's Courtney, let's just call you, let's stick with the first thing. I'm going back and forth with last names because Courtney and her husband, Casey, are early, early students of ours, and really over the time have become dear friends of us. And Michelle and Sophia actually went to their wedding, right? And I couldn't go because I had to go to a different wedding in a different part of the country. But first of all, how are you doing, Courtney?
Courtney: Great. We're having a good time, just plugging away here, keeping busy.
Jack: Awesome. Wonderful. So, first of all, for those who don't know, Courtney and Casey, or Courtney in this case…Casey would not care, nobody cares about Casey right now.
Courtney: He's too busy working.
Jack: It's Courtney's show right now. Right? So, give us a little bit…So, you're doing land flipping, obviously, but it's not everything you have done always. So, give us a little bit about your background. Tell us your story, first of all.
Courtney: Well, let's see, years ago, my then-boyfriend but now husband and I were both working in the restaurant industry. Anywhere from waiting tables, I was a bartender, we worked…he worked at a cheesecake factory and I worked at a TGI Fridays. And we were looking for a little bit something more than just being in the restaurant industry. So, we, technically Casey, bought a $5 ebook to how to make extra money on the side and we, kind of, turned it into a business where we both quit our jobs and ran a medical supply business for about seven years. It was just the two of us, like I said, a $5 ebook. We created a team about we had seven employees at one point and about half a million in sales a year. So, definitely got us out of the J-O-B, the just over broke mindset. But unfortunately that business we were always working in it. It always pulled us back, you know, we didn't have much freedom. We were kind of shackled to always having like the 9 to 5 job and we wanted more. We didn't want to have to be at a desk or have to be in our office. So…
Jack: So, I remember…just quickly if I may jump in. I remember that medical supply business was basically test strips, right? That's a genius idea that you had there that or that you got out of a book that there's a whole bunch of people who are diabetic and they're not using all the test strips and they need money and so they're selling these test strips, sealed and everything, all original, on the secondary market. So, you would go around or have somebody go around and buy it from them and then sell them again wholesale to somebody else like that would sell them at a higher price, right? So, you basically were in test strip wholesaling.
Courtney: Yes, yes, exactly. We also did work with, you know, people here in the community and supplied individuals as well. So, were just trying to pass on savings. But yeah, we had a driver that would go out six days a week and with that had to be what we call the route coordinator. So, an operator that was basically working with the driver and that was usually me. So, you know, we did hire out but, you know, when people don't show up then that's me. So, I very much enjoyed the freedom but every vacation I still had to work. I remember sitting in a beautiful hotel in Cabo and being like, "I'll see you in a couple of hours, go for a walk" and having to, you know…at least I was in Cabo but still, you know, it's frustrating to still know I couldn't enjoy my vacation as fully so…
Jack: Yeah, coordinate the route and that means you really know the inside out of the city living very well.
Courtney: Oh, yeah. Very much so.
Jack: Every corner there. So, great. So this is…I mean, I love the spirit of that because really the spirit that comes from that is like whatever it takes kind of spirit, right? You guys worked, again, as a bartender, waitress, table service, waitress in the TGI Fridays and Casey in a Cheesecake Factory and you guys had a dream and you became resourceful. Instead of saying like, "Oh, I can't do it, I need a million dollars, I need $100,000 to start," you just literally went into like, screw that, there's an idea here, we can do that. Put signs out on the street, people call, you pick up their test supplies that are fully sealed and properly done, and then resell them somewhere else. Fantastic. Now, is it the world's most scalable business? No. Is it a business that you want to run forever? No. But it got us out of your job. It got us going and it got us to put your sights high, right?
Courtney: Right, there was definitely a ceiling to what we could make. You know, everybody's like, "Why don't you put one in every city?" And it just wasn't very scalable. It left us open for a lot of people to take advantage of us and basically, we got to the point where everybody was, and I just didn't wanna do it, we needed a different opportunity to create our financial…
Jack: And there are certain businesses they're just simply not designed to scale multi-city. Like, I remember one of my financial mentors telling me one time about this big franchise company that started buying up and building car washes, like big full-service car washes all around the country. And he says like, "They're gonna break down, they're gonna fail." And soon enough, a few years they fail because once you get into that multi-city kind of thing, you're building up so much overhead that your overhead…because then you need a city manager, and you need drivers there, and you need this, and you start needing all these layers of management that kills all the profits that you possibly can do. So, you guys saw that, that was great. And so, what did you do? What happened next?
Courtney: Well, we went to a Jack Bosch seminar. And…
Jack: Okay, that was not planted. I didn't know she was saying that.
Courtney: Yeah, no, really. You know, we did actually check into a few other seminars, there was, you know, tax-delinquent method and stuff. So, we kind of were looking for something else, but we wanted something else that was already kind of structured. Because the other business we built from the ground up, you know, a $5 ebook, you know, to half a million in sales, and it was very challenging. And we just wanted something that, you know, we know we could do and already have the systems and processes in place. So, went to a seminar and ended up buying that program, and then it sat on the shelf for a little bit, honestly, I'm not gonna lie so…
Jack: Shelf-help. I know.
Courtney: Yep, yep, other business just kept pulling us back in. So, we finally got dedicated, I think it was like 2015 where we're like, "All right, we're gonna open this and start watching the modules." And we just started doing the process of it. So, that was great. Learned how to do it and we are kind of that weird success story for a first-time, like, mailing where you send them out, I think we sent like 200 mailings. And Michelle always jokes how we failed forward because, you know, calls come in and we didn't return them, like for a month, like, "I don't wanna call them, you call them. I don't wanna do this, you do this." And finally, returned the calls and got a deal under contract. And believe it or not, Casey put it on Facebook, pre-Marketplace, like this is before you're able to [inaudible 00:08:34] so and found a neighbor or guy that grew up in the area and took it off our hands within a couple of weeks and $25,000 profit. So, this is what we did on the side of our other business. I mean, yes, we had to definitely put, you know, a couple of hours aside a week to make this happen. But yeah, so that's a huge win.
Jack: That's a humongous win, particularly 200 letters. That doesn't happen all the time, does not happen that often, actually.
Courtney: No, no. Yeah, this is not a normal story of…like I said, Michelle says we fail forward, you know, like we hadn't…how much more opportunity would we have had if we called people back faster?
Jack: Yeah, exactly, what you did ultimately later on did, right? Half a year later and you still got deals from that then.
Courtney: Yeah, absolutely.
Jack: To everyone watching or listening, that's the crazy thing about land flipping that there's so little competition, and of course, there is some competition in some markets. There's a few other people doing this, but compared to houses, there's so little competition that you can literally forget about calling people back for like months at a time. And then you call them back and their like, "Oh, yeah, I'm still interested in selling," and nobody else contacted them in the meantime, right? So, now you are there like, yeah, okay, and then you still get deals done that way. So, now then I understand you joined…at some point of time, you joined coaching, right?
Courtney: Yes. So, after that first deal, our business pulled us back into it and we just stopped, like, for an entire year. Like, "Oh, we got one deal, we're done," which I do not recommend because, you know, why wouldn't you keep the momentum? But then about nine months later, we're like, we got to get into coaching program because obviously we know this works. So, I think we started in like 2017 is when we started the coaching program, had an excellent coach helped guide us through a lot of, you know, challenging situations. And a year later, we sold our business and went all-in to land. So, ditched the other one, and I have a lot less stress.
Jack: Right. So, now what's happen to, like…other than COVID, before COVID, but how was your life looked like then?
Courtney: With the other business or…you mean with the previous business that I had, correct?
Jack: No, no, no, right now. So, how does your life look like since then?
Courtney: Oh, I mean, my life, I'm very blessed. But my life hasn't changed much like my business is still there, we're selling land faster, I can't keep it in my inventory fast enough, or I can't get contracts under signs fast enough. So, yeah, it's been very fortunate. I actually…we were just talking about this the other day that if we were still in our old business, like, it would have taken us under. Like, there's no way that business would have survived what's going on right now and…
Jack: You were saying your life hasn't changed much with COVID, your life hasn't changed much. But compared to the prior business, your life has changed a bit.
Courtney: Oh, yeah. Yeah. I mean, I, you know, had to wake up with an alarm. I had to be places, you know, here and answer phones from this time to this time. And then by the end of the day, I was too tired. Now, I don't wake up to an alarm, I walk my dog for an hour if I feel like it. So, that's the biggest difference is just having the freedom to schedule my day, how I want when I want is nice.
Jack: And the other part about COVID is actually a good point. I mean, so many businesses have been affected by that, your business would have…the other business was a medical supply business would have been majorly affected by that too, right?
Courtney: Very, very much so. It would have probably definitely taken us under now. Like, looking back to all the little details of it, I don't see how it could have survived. So, it's just nice, you know.
Jack: Makes total sense. So, good. So, now, what do you like most about the land business?
Courtney: Well, I love the freedom that it has. I feel kind of guilty saying this but, I mean, now with all the children at home it's different, but I have more quality time with like my furbabies, my pets than most of my friends do with their actual children. So, like, it kind of saddens me, but it also is like my quality of life, my stress levels are, you know, non-existent. It's very nice and a peaceful life to live to, you know, just…I love working at home. So that's been consistent for me and it's been a blessing in disguise. I really would be…I can't imagine, like, where we would have been if we didn't take this path. You know, this was definitely the correct path for us.
Jack: Awesome. So, you also took with coaching or after coaching…I think it didn't even exist back then. You guys also took our Maximizer training, like, you took that not too long ago, right? How was that?
Courtney: That was awesome. So, when did we take that? That was, I think, after our coaching.
Jack: It was after coaching, yeah. So, you took the Maximizer program because back then it wasn't included in coaching yet.
Courtney: Correct. Right. Yes, that is correct. So, yeah, we took that course, you know, learned how to set up everything in Investment Dominator, which is very user-friendly and easy to use to, you know, move your leads through. And, you know, they set you up with some leads so you can actually go through the process of mailing letters out. And I think it was two years later, we got a call from the leads that we got from that class, the Maximizer class, and got a deal and it was a quick turnaround, sell it to the neighbor. And I think it was like about an $8,000 profit from a lead that we got from that class that came through 2 years later.
Jack: Wow. Now, one thing that's about that Maximizer is you took that two-day intensive class obviously where you guys…as you know, where we teach you the use of our CRM software, the Investment Dominator, and give you a complete walkthrough to the Land Profit Generator program after you had done already dozens and dozens of deals. And did you still, like…from a point of view, like, did you still learn anything in the class?
Courtney: Oh, absolutely. Well, one, just helping get our website set up. But it helps understand the process more of how the system works, you know, because you can actually see your leads go in and see where they're at and status with them. So, yeah, and it was just great to be around other people that are also in the land business. So, just even, you know, like-minds getting together, it was very, very helpful. And this was back when we could all you know, gather in one spot and take the class together. So…
Jack: Sure. So, awesome. So, great. Fantastic. So, now, the next question I have is now it's time to jump into a few deals and into some of the things. Particularly to the selling side. So because you had…we know each other for many years, and I know you're selling properties like hotcakes. You said earlier, you can't get them in fast enough. So, what are you doing on the selling side that gets you to sell these properties so fast?
Courtney: Consistency. With every property that comes in, it goes through the same process. I make sure, whether it's myself or my VA who's doing the marketing, is on top of it weekly. You don't let…there's not a Friday that doesn't go by…Friday's our marketing day, especially on Facebook. So, that's every Friday spent, you know, like said, whether it's myself or a VA, and it is consistency. It's constantly, you know, weekly posting here and tweaking your ads if you didn't get a response. It seems like many just put their ad out and, kind of, you know, wait to see. You know, if I don't get a response, I tweak it.
Jack: But wait, don't get a response and it's, like, "Oh, this doesn't work," no.
Courtney: Yeah.
Jack: Many times I do occasionally sometimes when one of our coaching students or [inaudible 00:16:33] usually, it's with coaching students that they do everything right, but they're struggling with the selling still. So, sometimes they reach out to me, it's like, "Okay, let's do a quick call." And I can always tell that they're doing everything right but there's a few tweaks that they just need to make. And once those tweaks are made, boom, usually within a matter of a couple of weeks, the propery is under contract for sale. And so, yeah. So, number one, you do consistency every week, you post, repost, adjust. And then number two, you tweak the listings based on how much feedback and responses you've gotten. Now, what are some of the tweaks you do just that you…Could say like the top five tweaks that you find are useful on a listing if it doesn't get enough traction?
Courtney: Well, if it's not getting enough traction, we're talking about like Facebook Marketplace, I will delete it and put it back on, especially on Friday. Like, I had one property over like 14 days just only had a couple hundred views, which is not very good whatsoever. So, I took it off, put it back on Friday, and the next day by 24 hours, I had a couple hundred views. So, knowing that your ad is not sticking. The other thing I do is when I first place my ad, I kind of make my pictures plain-Jane. But once it sticks, I'll go back and edit it and I have a little bit more pizzazzy pictures that I put that might say, you know, maybe the first time I go to market it, I'm just looking for cash price so I made sure the cash price is real big. What my coach told me, which I love, is a lot of times people just look at the pictures and not at the ad. So, in the pictures, I'll put the details of the property. So, even if they're not looking at my ad, they're looking at my ad because it's in the picture. So just…
Jack: Yeah, so we're living in an Instagram society of quick pictures, 10 seconds and moves on, scroll through Facebook thing, and people don't read anymore. You can have like…I think when we do our coaches session, the coaches all complain or students also complain that the buyers just ask question after question after question of stuff that is already in the listing because they're not reading the listing, right? So, this is really smart by putting actually certain…not too much detail of course, right? Because otherwise, it becomes a book again in the picture. But a few key pieces in the picture you get them to see what you want the most important pieces you want them to see. Very cool. And I don't know if I ever heard that but you're using plain-Jane pictures first and then you edit them. Why do you do that?
Courtney: To make sure my ad sticks. I've noticed especially with Facebook Marketplace, if my featured ad is a little too obnoxious, it doesn't like it and I don't get a lot of views. But if I do a simple ad, it seems to stick and I get a lot of views. And then again I'll like, okay, this week I'm gonna more market my cash price. See how many, you know, people I have interacting with me. And then if that's not working, then I maybe switch it and just go for, you know, the $500 down and just talk about the finance option. So, I kind of also target cash and then the finance options separately as well.
Jack: That makes sense. That's beautiful. Any other tips that you do?
Courtney: Well, the first thing I do when a property comes in is always neighbor letters, that is definitely my first step. So, before I even get my Facebook and Craigslist ads out, I always have my neighbor letters out already. And when I do send them out, my first one, because I do send multiple ones if I need to, we've been saying all offers considered. And we don't even put a price on it because we just want the neighbors to call us because they do a lot of the due diligence for us. And we had a neighbor even walk a property and take pictures of it for us. We didn't ask, and they didn't end up buying it, but there was…you know, he just created my ad, so thanks. So, that is definitely always step one. And then I'll go on to Market on Facebook and Craigslist, and, you know, hit the Zillow if that's not working.
But, and like I said, we're always pivoting our angles if we're not getting a response. Basically, I give my property about two weeks to get sold. And if it's not, then I pivot. Give it another two weeks, if not, change it again. So, it's kind of our method. And ever since we've kind of gotten this down, property is going out a lot faster. I felt like in the past, we kind of might have a property for a couple months and getting close to the end of the contract and now it's like, oh, shoot, did we get that into title? Because I already found the buyer. Oh, it's going too fast almost.
Jack: And that's beautiful. That's the beauty of mastery, right? Because when you really…and also, I mean, you started this in 2015, okay, you dragged your feet until '17. But then you did deals like where you got into coaching, when, '17 or '18 you said?
Courtney: We got into coaching in '17 and then sold our business in '18. So, it was a year after coaching.
Jack: Until the business was sold, even the land business still somewhat slow because your business sucked you in so much. Yeah. But then in '18, which is now 2 years, which is very typical…So, the first year, you do deals and you quit your job, your full-time on another job, but you sold your business, but you're full-time into this now. And then over time, you keep tweaking and keep making better. That's so it's truly a mastery project. So, loving it, and now you've been selling these properties very, very quickly. I'm saying that because a lot of our students are coming to us. It's like, "Well, Jack, deals are not selling after a week or two weeks." It's like, "Well, you haven't reached mastery yet," right? Work with us, work through the two-day Maximizer process where you learn these things. Work with us as a coaching student and you'll be accompanied by a coach over the course of a year.
And as a matter of fact, after you guys reach mastery, you're now part of our coaches too, Courtney, right? So, you came on board as one of our coaches after we're seeing that you're, like, flipping these properties and boom, boom, boom, they're just going off like hotcakes. We're like, "We want her to be part of our coaching group because that is the level of mastery that our coaches provide inside of our organization." So, we love having you as a coach, obviously, and we love your success that you just recently….actually today, you reported a couple of your students are having some really good deals done, right?
Courtney: Yeah. Yeah, super exciting. I am new to coaching. But yeah, wow, my student just got one deal, like, cash in her pocket with $8,000 profit, and the other one will profit her about $25,000. And the earnest money is already in the bank [inaudible 00:23:25] thing so, you know, it's gonna move forward somebody doesn't hopefully put down that much. But yeah, so super excited for them.
Jack: That is fantastic. So, congratulations to them and congratulations to you. Great. So, here's the thing. So, what would you tell somebody that is kind of on…Well, before we do that, I wanna point out one other thing. You guys are like the biggest concert fans in the world, right? So, wasn't it last year that you guys went to, like, 50 concerts or something like that?
Courtney: I hit around…yeah, around 40, 45. I think Casey was maybe a little bit closer to 50. So, yeah, that's our cup of tea.
Jack: That's crazy. So, now you basically…now concerts don't usually end at 8 p.m., right? So, now this business must be…it's like the perfect business for you guys because you can go out until midnight or 1:00 or 2:00, whenever long the concert lasts, and then just sleep in and then go do it again next week.
Courtney: Yeah, yeah. We have about three concerts a month on normal life, but three to four.
Jack: Yeah, I know, I feel for you. You're probably suffering a lot from that.
Courtney: Yeah, good thing YouTube's been helping me provide with some entertainment with live music so…
Jack: That's true, it's very true. Great. So with that, what do you think is the…what would you call the number one impact that this business had on you?
Courtney: Number one impact. Overall, just happiness. I mean, like, the reality is, life is good. I mean, I do this with my husband, I wouldn't have it any other way, we make an amazing team. I think it has strengthened our relationship as well just having, you know, to do this together as a team. I feel the other business more tore us apart, honestly, because there was so much stress involved with it. This is a different ballgame where we're seeing each other grow. He definitely is amazing with the buyers and, you know, so it's exciting to see how we both have grown but also grown together and this. So, just like that overall happiness of day-to-day life, waking up and loving what you do have. The freedom to, you know, travel when I want, do what I want. You know, with the other business, if I wasn't there, I either had to bring it with me, or it had to stop, like, we shut it down. This, I mean, people are still making it happen, you know, title companies are doing their job, the marketing's still working.
So, it's just overall happiness, and the freedom, it's just kind of like a big weight has been lifted off your shoulders, you know. And it took a while to get here. It wasn't like this happened in three months and it is a lot of hard work, but it just keeps getting easier and easier. It's so funny, I remember years ago saying, "Just wait for a couple years and we'll be like, 'This is so easy,'" you know, like because all your systems are set up and you already have a buyers list and, you know, just kind of talking to a few people every day and making it happen.
Jack: That's exactly right. I 100% agree with you on it that over time as [inaudible 00:26:34] great mastery, it is just fantastic. And mastery, it becomes second nature, you don't think about all these details anymore because you've seen them before, you've done it before, it's a process that you know, but it's the same thing when you ride a bicycle, right? I mean, if you ride a bicycle, the first you need is the helping wheels, right? And then over time you take them off and you're shaking, and then over time you get better and better.
And even if I look at Sophia, she don't ride a whole lot of bicycle because half of the year is totally hot. But when we got her a new bike, she was like…even though she has been riding bikes forever, she was still a little like careful and so on. And I rode my bike all my youth everywhere and so on. So, I'm like, I'm jumping up on sidewalks and jumping down and popping up on rocks and hopping down a rock, she's like, "How do I do that?" And then it's like, "Well, it comes with practice." And so now she is wanting…when the summer is over, we got to go get her a little lighter bike and she wants to practice some of these things, and the more you do it, the more it becomes simple, and the more it becomes second nature, and the more it becomes easy.
So, wonderful. So with that, the last question I have for you is like, what would you tell somebody who's just kind of on the fence right now whether or not they should engage in this, and should get going with this, and should get started with this, and should get enrolling in the Maximizer or in coaching or in any of the things we have, what would you tell somebody?
Courtney: Well, I wish I did it a lot faster. So, I'd say, you know, commit and do it. I mean, it's just like going to school or taking a class or, you know, going to get a license to be a mechanic. Like, you're paying for a class, you're gonna need to show up, you're gonna to need to participate, and then when you get done, you will know how to do this, except now you get to know how to create your own business, create your own freedom. So, it would be, you know, if you're, should I do this, should I not? Just do it. I mean, it works.
There's so many successful students, there's so many resources available now today. I love the Facebook group that is available, it is beyond helpful. I'm still learning as we go and I definitely…it's just a lovely community to be a part of but, you know, like where were you three years ago? If you don't do something different, you're still gonna be in the same spot, where you are now. So, if you wanna make a change, do it and commit and don't drag your feet. I wish we hit this ground running, like, we'd be, you know, owning an island right now. But so, yeah, just do it and started it. It's just a simple course and it will teach you how to be financially free.
Jack: Wonderful. When I was in Bora Bora right now, we saw that they were…not too long ago there, we saw that there was an island for sale for less than half a million dollars. So, that's only like 50 $10,000 deals or 25 deals at $20,000 and you can have your own island in Bora Bora, right? So, wonderful. Thank you very much. I second that information that so many people tell us that once they get started and really focus on it, they get in line, they stay in line, they do what it takes, they follow things, they get the advice, to get into the programs, they do it. It's not for no reason is that we call our program the Harvard of real estate, Havard of land flipping because you end up coming out with a mastery at the end of the day of being able to do that. So, with said, Courtney, thank you very much for being on the show. Thank you very much for being here with me, I mean, and so yeah, Courtney, thank you very much for being here with me. I really enjoyed it and with that said, thank you very much, everyone.
Man: Enjoy this episode? Then make sure you like, subscribe, and post your comments and questions below the video. We're looking forward to hearing from you.
Enjoy this podcast? Share the love!