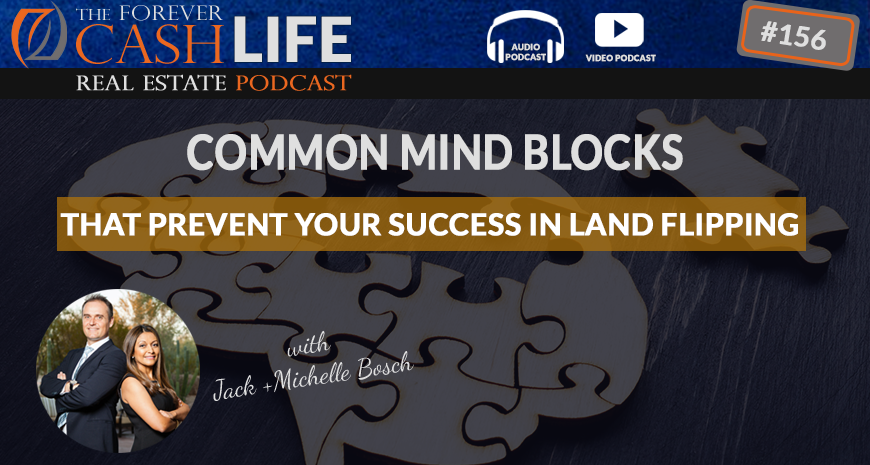 Many new land flippers have misconceptions that prevent them from taking steps forward in order to achieve their success. Perhaps you refuse to believe that there are people out there who are willing to sell their properties at a 90% discount. Maybe you think that you'll never make it in this business.
In this episode, Jack Bosch dispels those myths by talking about the reasons why land owners sell their properties and why you need to shift your mindset when it comes to land. You have to remember that this is a rather unique asset class and therefore it comes with its own set of rules. It's time to stop making excuses and take the leap to financial freedom!
Listen and enjoy:
What's inside:
Find out about the mind blocks preventing you from success
Understand why owners are willing to sell their land for cheap
Learn why anyone can flip land, even if they don't have capital
Discover why it's time to start your land flipping journey
Mentioned in this episode
Tweetables:
Transcription:
Jack: Hello, and welcome to another episode of "The Forever Cash Life Real Estate Investing Podcast." My name is Jack Bosch, and I'm your host. And today we're going to talk about the most common mind blocks, mental blocks that people have that prevent them to be successful in this, or for that matter, in any other business. So let's get started with what's holding you back and get it out of the way.
Announcer: Welcome to "The Forever Cash Life Real Estate Investing Podcast," with your host Jack and Michelle Bosh. Together, let's uncover the secrets to building true wealth through real estate and living a purpose-driven life.
Jack: Okay, so let's get started. My name is Jack Bosch, again, and you are on "The Forever Cash Life Real Estate Investing Podcast." So we're gonna talk about some mind blocks, mental blocks, things that internally keep you from being successful. Now, there's two levels to this kind of internal block. One is the stuff you tell yourself about this business. And one is the stuff you tell yourself about yourself. We're gonna start with the stuff you tell yourself about this business.
So, first of all, here's our famous claim to fame, right? We've done over 4,000 deals. We are looking at…we have done over 4,000 deals. And our claim to fame is that you can go out there and buy properties, pieces of land, for $0.05 to $0.25 on the dollar and turn around and flip them for half price or full price. Half price usually is a wholesale or closer to full price with seller financing, and make thousands of dollars in the process. Sometimes, tens of thousands. Sometimes, every once in a while, even six figures on one deal.
So now the first thing that somebody says like, "Well, okay, Jack, I can understand the deal that you can find properties below market value. Like house flippers find a $300,000 house for below market value. But you're telling us that we can get $100,000 deal for $25,000 grand? Is that what you're telling us?" And the answer is yes, I'm telling you, you can do that. Now, here's the thing. Now, what people say is like, "Well…" or that you can get a property for $0.10 on the dollar that somebody gives you a property for $500 bucks?" Yes, I'm telling you that's true.
So people say, "Well, Jack, that's too good to be true." Well, let me answer you to that. Four thousand deals, the proof is in the pudding. Hundreds of students that are doing deals like…and then in our Facebook group, The Land Profit Generator Real Estate Investing Group, there's almost daily success stories with $20,000, $42,000, sometimes also only $1,200 dollars. But the bottom line deals every single day that are students are doing showing that this works. So now the question of this is too good to be true, comes from a point of view that you're used to…from two points of view. For our first point of view is that you're used to working really hard for every dollar that you make, right? And hard work will be necessary in this business too. But the second point of view is that the point of view is like why in the world would anyone be willing to give a property, a perfectly fine property, away with a 90% to 95% discount?" So let's address both of those.
So the first thing is that…let's answer actually the second one first. So the first thing is the way what we're focusing on is the kind of properties that, in many cases have been in families for a long time. So somebody bought the property 30 years ago, has held on to it for 30 years ago. I mean, I just literally analyzed…one of our students analyzed a deal where the owner has bought the property in 1983. So that's '93, 2003, 2013, so that's 37 years that they have held that property. Now the property taxes on the property are almost $1,000 a year. So that means over the last 37 years, they have in today's money, pretty much paid $37,000 in property taxes on that property, right? And what have they done with it? Nothing because it's land. That's the one big distinguishing factor on houses versus land.
If that would have been a house, the person would have been able to rent it and he would have been able to rent it for $1,000 a month, meaning that a certain portion of it would have been just the fee attributed to the property taxes. Or if that property had $1,000 a year in property taxes like basically $80 a month of the rent would be attributed to property taxes and the tenant would end up paying the property taxes for it. However, in our situation here, it's land. So since it's land, there is no rent coming in. It's land in a residential area, there's houses all around, it's an empty lot, there's no rent that came from that property. So in other words, this person is probably now a little bit older, and they're sick and tired of having that property, and sick and tired of paying these property taxes.
So, now comes the next thing. So now they're like getting older, they're not necessarily old. Perhaps they bought it in the 20s or 30s, but now they're in their 60s, or perhaps 70s. And they're like, "Hey, I don't want this thing anymore." Usually, in many cases, they bought this property because they had plans to down the road retire on the property. Probably built a retirement home, moved from Minnesota to Texas, or to Florida or to Tennessee or to Kentucky, or wherever you want, or just even move within Minnesota to a lake, and it's a lakeside property and built that house there that they can go to.
But now…usually one of a few things happen. Number one, either they are health-wise not that fit anymore, and therefore, there's like, "Yeah, you know what? I don't wanna really move there anymore because I need to be close to my doctors." Number two, their spouse unfortunately dies. So now they're like, "What's the fun of that? I don't wanna go off on my own and live somewhere. I wanna be close to friends and family, to the church." Or everyone is in great health and the children have now grandbabies, right? And they all live in the same town. They're like, "Why in the world would I wanna move right now? It sounded like a great idea at the time. But right now, I mean, I wanna be close to the babies, right? I don't wanna move anywhere, because there's a baby here, and I want to I want to experience that new generation with me." Or the just simply say "You know what? It was great. We had our boating days, and we had our fun days and our hiking days and our off days. But now, we just want to be around friends and family and our church and we're embedded in the community, and we just don't wanna move there anymore."
So now it comes to the next thing. So now they're looking to sell, they're looking to this problem. They have been paying property taxes for 37 years, they have no more interest in that property. They go to their kids and say, "Hey, kids, do you want this property?" And the kids are like, "You know what, Dad? I thought it was a good idea back then, but hey, I'm livin' la vida loca right now in New York, or I'm building my career. I won't ever go out there. I really don't have an interest on it." So the next thing they do is they go perhaps and list it with a realtor. So now if you ever gone and looked at a realtors listing, you've gotta be puking, because the realtors are house realtors, and they're not trained to sell land. So then selling land is not harder, it's just different, right?
So, when you sell land, you got to paint a picture of what you can do with the land. And what the realtor does is they put a picture from Google Earth on there. They say, "The property's worth $70,000. They put a $70,000 price point on there. And they say, "Great property. Build your dream home." And that's it. And then the property sits there. They offer no financing, they offer no, yeah, no seller financing, they offer no cash purchase discounts, nothing whatsoever.
Now, if this is a property in a subdivision that is growing, somebody might still churn that property up, pick that property up. If this property is a little bit outside of the town where there's some more selection, a listing like that 9 out of 10 times does not sell. However, a listing done properly with the proper storytelling, the proper pictures and the proper exposure, will sell often like this, as we have shown in our students are showing all the time. So as a result and particularly at a discount. If put the property in a Craigslisting with a great headline, with a great description, with a market price discount or reseller financing, with some nice description of what's around, your dream build, you address directly your target buyer, this property sells like in a matter of typically days or weeks, right? Not in a matter of not selling after six months. If you have a 6 months listing at $70,000, a bunch of people go and peek at it. But since there's not even a map to it, there's no picture to it, there's no description of what you can do with it, there's nothing that they will do with it, and therefore, nobody buys the property.
So now they're like discouraged. They're like, "Oh, man, I guess my property is not worth that much anyway." And now your letter arrives. And your letter arrives says, "Hey, if you wanna get rid of the burden of property ownership for this $70,000 property, let's say you go up to 25%, I'm gonna offer you about $18,000 for that property. Would you be interested?" And they look at that and it's like, "Man, I have a choice. My kids don't want the property. I don't want the property. I put it up with a realtor and he couldn't sell it," which really he didn't sell it because he did a crappy job, "I really don't want this thing. Eighteen grand sounds like a good amount of money. I can buy myself a new car with that. I can pay the medical bills. I can renovate the house with that. Let's go for it." And they'll accept your offer for $18,000 on a $70,000 property.
So what do you do next is you turn around and put this property up for $49,000, and put a bunch of great pictures on there and put a nice description on there and put that blaster all over the internet. And boom, you sell that property in no time. And you contact your neighbors and all this kind of stuff, all the things that we teach in our coaching and in our land profit generator programs, and property sells very, very quickly.
So that, to your first point is like, "Well, this is too good to be true. Why would a seller sell those properties?" Because the seller is in a different mindset. Have you ever gone through a car…? Like, have you ever gone to…I mean, I follow to some degree, a guy called Gary Vaynerchuk. He speaks really foul language, but he has a very brilliant mindset. So I've watched him has he sometimes…he's a multi, multi-millionaire, probably approaching $100 million or more in net worth. But he still goes sometimes on garage sales, because he loves the hunt of the deal, like the chase of the deal. So he goes to a garage sale and he finds a little matchbox cars that are worth anywhere between $5 or $50 bucks apiece, and he buys them at like 0.50 cents apiece, and he buys an entire box of them for like $100 bucks, 200 of them for $100 bucks or so, and then he makes like several thousand dollars with them.
Why in the world wouldn't the owner of that just go check out on eBay what they're worth, and then go sell them there themselves, right? Because owners are, once they set up their mind that they no longer want that property, they're just like sticking to that where basically it's a garage sale mentality. Like, we have had…let's say we have had a table, we have a table out there that cost us $9,000. We have ordered a new table because the table's 14 year old. We moved into the new house, it doesn't fit anymore. Hey, if somebody offers me 500 bucks for that table, I'll probably sell that table. It's an oversized, seven-foot round table, beautiful, gorgeous table in almost immaculate condition, and so on. If somebody pays me $500 or $1,000, I sell the table because I've gotten the use out of the table, right? I've used it. I enjoyed that table, and it needs to move out of the house very soon, right?
So within the next few months, we're probably gonna give that table to a consignment store, who is probably gonna charge $3,000 for it, and they give us $1,000 for it. And we are just happy with that, because we got the use of it and we're done with it, and we just need to move it out of the house. Have you ever seen a garage sale where you can readily see a $1,000 bicycle for sale for $100 bucks? It's a perfectly good bike, right? But it's probably only used three times and you can buy it for $100 bucks, because they want to get it out of the garage. That's the kind of seller that we're going to go after, right? That's who we're going to go after.
Now, the next mindset shift that you have to understand is that because it's land, holding on to the land is gonna continue to cost the people money, right? It's gonna continue to cost them money. They don't wanna keep paying property taxes. They don't wanna keep mowing the lawn. They don't wanna keep maintaining the property. They don't wanna keep getting violations from the city if the weeds are too tall. They just want to get rid of that property.
So now that you understood that, that because of property taxes and because of life and circumstances that have changed, and because of perhaps a bad experience with a bad realtor that couldn't sell the property because they did a crappy, crappy job, they're willing to sell these properties to us for just almost nothing. Also, we're dealing with heirs a lot. Heirs don't care about the property value. They don't wanna go and evaluate it. They just you offer them a few thousand dollars or a few hundred dollars, they're like, "Yeah. Go. Take it. Done. I don't want this thing, right."
I mean, you even see that if you ever watched the show in Las Vegas, the show at the pawn store there. Pawn, P-A-W-N, pawn something, right, where they're going through a Vegas pawn store and they literally come with like, I don't know, I'm coming with a tool. They say like, "This tool is signed by John Lennon." And it's like, "Oh, fantastic." Great. They bring in somebody who evaluates the signature. They look at it and it's like, "Yes, indeed. This is John Lennon's signature. This thing is worth $10,000." And then guy right in front of them, even the expert next to them says, like, "Okay. So how much are you offering me for it?" And the guy in the pawn score says, "Okay, I'm gonna offer you $3,000 for that."
Now, why in the world? The guy just told him it's worth $10,000 and they still accept $3,000. Or they say like, "I can't sell it for $3,000. Can you do $5,000?" And they settle on $4,000, and the guy buys it for $4,000. Why? Because he explains to them very simply, listen, "We're a pawn shop, and I need to sell that product or that thing afterwards. I need to sell this." Oh, that's as a power bank that I just got, a charger basically, with a few reports here. "But we need to sell this thing, and I can't buy it at $10,000 and sell it at $10,000. That way I don't make any money."
So they buy it at $4,000, and then they go sell it at $7,000 or $8,000 in order to get it out of the market quickly. And the seller accepted because the $3,000 or $4,000 in their pocket is more important than getting maximum market value. They're in a situation or at a live point that they just need cash. And a tool with John Lennon's signature on there is not even as urgent as selling a piece of land because that tool doesn't suck out any money more out of this guy. He has it in a safe at home. But if you have a piece of land, it actually costs property taxes on an ongoing basis.
So, first of all, because of this many reasons, there's many, many, many people who wanna get rid of their piece of property, piece of land that all it does is suck extra property taxes out of their pocket. So, therefore, it happens all the time that people buy these properties. So, mindset number one shift from why would anyone do that to there is plenty of people who wanna sell these properties for nothing. The next kind of thing is that now, once you have the properties, why would they buy my property? Why would I be able to sell this property? Well, the mind shift there is that, I already alluded to it, is because the most sellers, number one, don't have an idea of where to put the property.
They don't know that they can put it on Zillow themselves. They think Zillow is only for realtors. It's not. You could put it on there. They don't even know about Facebook Marketplace. They've never even been there. They don't even know that it exists. They don't even know that you could post it there. They have never heard of land.com or landwatch.com or landflip.com. They've never heard of Facebook groups that talk about buying and selling real estate that you could put your properties up there. They haven't ever heard about…like, they've have heard about Craigslist, but they don't know how to put something on Craigslist. They don't wanna know how to do that. And by the way, out of all these things, the only thing that the realtors use is Zillow. Everything else the realtors don't know how to use either, right? So, therefore, now you got the ability to put this property in like five times as many places as the realtor even knows about.
The next thing is why would they buy your property? Because now you are actually you're not selling this property at $70,000, because if you do, it's gonna take another half a year, a year to sell. You're gonna take the property that you now offered $18,000 on and put it on the market for $40,000 to $49,900, which is a $20,000 discount of market value. And right there, you're gonna gain traction. You're gonna be seeing that people is like, "Wow. What was that?" Like, you know, property values in that area $70,000 grand and somebody is selling it for $50,000? Let me find out more about it." And right that might sell it.
Or you can do even more, you can also drop it. I mean, if you have it under $18,000, can you drop it to $39,900, right, and still make basically $21,000 or after closing costs, $20,000? Can you sell it for $34,900, and still make a $15,000 profit? Yes. And is $15,000 better than what you probably make in your job or what most people making their jobs? A hundred percent, right? It's, for many people, $15,000, like you do 3 deals like that and it replaces the average American income for the year.
So the next thing is then…so by you knowing not only where you post it, but how to post it, right, you can push this lower price market value, lower price, sale price, and sell it because of it's a discount, sell it quickly that way. Or what you can also do is you can keep the price at $60,000 or $65,000 or $70,000 and then offer a down payment. Offer $20,000 and say, "Hey, pay me a $10,000 down payment and do monthly payment." Now, in this case, you probably wouldn't wanna do that because if you pay $18,000 plus closing costs, let's say, $19,000 for the property, and you only get $10,000 down, you're still $9,000 in the hole.
But what if you get a deal that's worth $35,000 and you pay $3,500 for it. Can you sell that deal at $35,000 with a $5,000 down payment, which is more something like a 13% down payment, which is very reasonable. And so now you get a $5,000 down payment, which pays for the closing costs and everything and basically you pay $3,500, you get $5,000 right back, you can even do it such that the money comes from the buyer and you basically do what's called a double closing. And the buyer brings in $5,000. That $5,000 the way it's going to be used $3,500 for the seller $1,500 dollars for the closing of the purchase and the sale. And now you have you have, with zero money out of pocket, you now receive starting next month you receive the following month you start receiving your $500 a month monthly payments for the next 8 to 10 years on this property.
You can do that too, right? But because why would you sell this property? Number one, because you put it on five more different places. Number two, because you're now offering something that the prior owner didn't offer when he listed it with a realtor, which is seller financing. Heck, it works everywhere, even our home. We had our house for sale. We moved a year, a year and a half ago into this beautiful 7,000 square-foot custom home. But before we had a 5,400 square-foot house that was backing up on a road that over the last 10 years that we lived there went from a small road to a big road with lots of traffic. Well, that was bad choice from us 10 years ago to buy that house, but it was okay. It was okay. We lived happily ever after there.
But now when we sold it, we had trouble selling it because it was a budding that street. So what we did is exactly the same thing. We asked for top market price, nobody would buy it. We started offering selling financing on it because we pretty much had it paid off, and we offered seller financing on it, and boom, within a matter of a few weeks, somebody came up and paid us $100,000 down, made $100,000 down payment and bought this property with seller financing, and now makes nice monthly payments with a 2-year balloon. So within two years, we get the rest of the money when he goes refinances on his property, right?
So typically on land, we don't do balloons, but the point here is the same piece that you gotta change your mind about selling. Selling is about offering great price, great terms, having a great listing, and having it all over the place. When you do those four things, again, great price, great terms, great listing, and listing it all over the place, when you do those four things, your properties will sell. As a matter of fact, we have students that go on places like Zillow, buy properties from long-term owners there, make lower offers, buy properties there that have crappy listings, just make the listings amazing again, and go back out and list that same property for twice as what the other guy couldn't sell it for, and list it for twice as much and sell it in a matter of a couple of weeks, because the listing is one of the most important pieces on that property.
Okay. So that's another piece here. Now the other part is that that internally, you're asking yourself is like, "Well, why should I be able to do this?" Well, here's the thing… Or, "Why should I deserve to make $40,000 in a deal like that, or $24,000 or $30,000 on a deal?" Well, here's the thing, you are used to working hour for hour for hour. So this is what we have been trained in. Society has trained us to just learn. Society has been training us to learn to work for…trade dollars for hours, right? You get a job, you work 40 hours, you get paid for 40 hours. You work overtime, you get overtime, if you an hourly job, if you're in McDonald's or something like that.
When I started out as a college student or even before as a high school student, I worked in the liquor store bringing out cases of beer, if I worked three hours, I got paid three hours. I was paid once a week, I worked a few afternoons in the afternoon and evening. I worked Saturday morning. And at the end of Saturday, I would get cash. I don't know whatever it was, $100 bucks, $200 bucks. And that was for the work of the week. And we are trained to exchange hours.
So it's hard to conceive to the human mind that you can work the same time, like the same number of hours, but make an almost unlimited amount of money. Now, unlimited means it's relative, of course, but there really is no direct ceiling. So, for example, one of our students right now is doing a deal. Actually, she's a coach, too, Michelle Brown. She's doing a deal right now that for the same time that you do that somebody else might do might make $1,500 dollars on a deal, if they buy something for $200 and sell it for $2,000 after a couple of closing costs, they're making $1,500 dollars. She does puts the same effort. And let's say it's a 6-hour effort on the deal or a 10-hour effort total with creating listing and everything and selling.
So the first person puts in 10 hours and sells and makes $1,500 dollars. She puts in 10 hours, but because her deal is a $200,000 deal that she has under contract for $80,000 and she's selling it for $160,000…it might not be the exact numbers, but this is just as an example, sells it for $160,0000, she's making $80,000 on that deal. So, in other words, when you do land flipping, you're leaving the dollar per hour economy.
It's the same thing when people ask, "How in the world can somebody like Jeff Bezos, the founder of Amazon, be worth $170 billion?" How is that fair? He hasn't put in the hours to be worth $170 billion." Guys, if you think that way, you're living in the limited world, and you will never be able to take the lid off your income. You gotta take the lid off your income by understanding that there's a world out there where the effort is not in immediate direct relation with the output, right? So in other words, that Jeff Bezos is able to leverage his time. Yes, at the beginning, he worked in this tiny little office, if you ever seen that picture. There's like a picture where he is like a little $25 banner that says amazon.com, and he works on a little plastic fold-up table or something similar to that, and that's how Amazon started.
But then he was able to leverage people, leverage the stock market, leverage capital, leverage organizations in order to catapult him to that up, but he's still the risk taker on it. But the point is, he lives in an environment, in an economy where you don't…where him working an hour more is not going to make Amazon any more or less money. It's by him reaching a bigger market share that he reaches that. It's by Amazon's brand becoming big, by Amazon's processes being optimized. And it's the exact same thing here. You, once you have started with your business at the beginning, yes, you have to put some time in, and you have to put some effort in there, but it's the same effort doing an $80,000 deal than it is a $2,000 deal. As a matter of fact, sometimes, the $80,000 deal is easier, because more people are interested in the $80,000 deal, because it's a more attractive property. And people with deeper pockets, with more money are interested in the $80,000 deal. And as a result, it's sometimes the easier sale.
Now, getting the deal requires a little bit more effort in terms of mailings and things like that, but then selling the deal is often easier. So having said that, once you're in the groups, once you're doing some deals, it's the same thing. Now, you soon gotta get to the end of the hours for effort for deal kind of environment, where it says like, the more hours you put in, the more deals you do, the more money you make. That has a very clear ceiling in your life, and you're realizing this already. Because if the hardest working people would make all the money, then all like say somebody that works in the kitchens in the restaurants, like, the guys, if you ever watched some of these restaurants have glass front, so you can look into the kitchen. That's freaking hard work to work in that kitchen, yet, some of those guys, they walk home with $1,500 to $2,000 a month from that work.
So hard work doesn't translate into a lot of money. It's smart work, and it's not just smart work, but it's also doing this in a way that you leverage time and effort and systems that lets you get to those deals. So again, so you sell those deals by using systems, not by you knocking on doors, not by you cold calling people. You're selling those properties by putting them out on different places. You're selling these properties by having a virtual assistant that now for every deal, like, let's say you do a deal for $10,000, your first deal, you use that money, you hire a virtual assistant it cost $1,000 or $2,000 a month. And now basically that virtual assistant now can do the deal analysis for you, now can do the pieces can do some of these, can create the listings for you. Now can talk to buyers, or can put them all over the place, which frees you up to do more deals.
But the mindset the block that you have to overcome is that block of, "Hey, if I put in 20 hours, I should be getting 20 hours' worth of deals." No, as you did, we are living in an environment here where if you put into proper systems, if you put the proper listing, if you use the property technology like our investment Dominator software, and if you get trained on it particularly, then you can take this business and you can, with the same amount of time, you can do multiple amounts of deals and catapult your income way, way higher than you could with almost any job in the world.
There's probably some specialist jobs that…I mean, I know a few attorneys that charge like $500 an hour. With that, you can work 2,000 hours a year full-time, all day long, you make billable hours, you make $1 million dollars. I know a guy that is in mergers and acquisitions that charges $20,000 for a 4-hour meeting. Yes, you can do those things, but even there, it's an hour per hour. He works 4 hours, he gets $20,000 grand, so he's hourly rate is, what's that, $5,000 hourly rate. But even that is an hourly rate, he still has a ceiling on it. Having said that, if you practice and make this business a real business, there's literally no ceiling that you can reach.
Now, also the last thing if you wanted the mind block that it sounds like no one will take…we talked about, nobody will take those deals. Well, seller financing makes it attractive. Seller financing is one of the keys that make these properties attractive, because once you can…because there's lots of people who wanna buy your $35,000 or the $80,000 property or the $20,000 property or even a $10,000 property, but they don't have 10 grand in their pocket. But you offer them the ability to pay $1,000, $2,000, or $10,000, whatever the different price points are as a down payment and then make monthly payments, you can sell these properties like hotcakes all day long.
So now, so if you think about it, if you summarize that, what you gotta understand is that there are millions of pieces of land in this country. There is millions of owners. Out of those millions of owners, a lot of them love their land. They don't wanna sell it for pennies on the dollar. But there is a subset of them. There is a percentage of them that are sick and tired of owning these properties and they each have a garage sale mentality, they just wanna get rid of these properties, they do not care. Those are the ones we want to focus on.
Then what we do is we could do, we do what the realtors are not doing. We create an attractive listing, we create a listing that tells a story. That is we offer a great prize, a discounted price 50%, 60% of market value, and you put it up for 20%, it's still more than doubling your money, or we offer reseller financing great, amazing terms, low down, low monthly payments is the key here. And then we put it all over the place. We put it all over the place. And with that, we are not just increasing our chances of selling the property by like a little bit, but like we're taking our property, our chances of selling the property and increasing it a hundredfold. And that's what makes our properties sell quickly.
So and then the other part you gotta remember is that you no longer…in this business, you're not in the hours for dollars economy. You're not in the hours for dollars. If you tend to spend 10 hours, in the highest paying job at $400 an hour, you make $4,000. If you spend 10 hours chasing or following up or doing the right kind of deal, you can make $80,000, $127,000. You can make…the most I've ever seen anyone do is $250,000 on one land deal alone.
So you gotta get out of that mindset that you can't do that. This is doable. This is doable for everyone because 8 out of 10…like, 80% of all our steps can be outsourced can be automated. And we actually have coming up a session very soon on September 14th, I believe it starts. And then if you're listening to this after September 14th, still go to the website I'm gonna give you right now which is called lpglab.com. Go register there because every once in a while, we're doing five or seven-day training classes where we teach you the exact ins and outs of how this program works. So go register there right now and then join our Facebook group, The Land Profit Generator Real Estate Investing Group.
All right, but most importantly, don't let the itty bitty shitty committee come in and destroy your dream. You can do this. This works. You just have to have understanding. You understand why people are letting go of their properties, why they sometimes like…why these realtors can but don't sell these properties, but why we sell these properties like hotcakes? Because we are following a different process of having the right listing in the right places all over the place with the right offer with a low offer and with a seller financing offer that just explodes our ability to sell these properties.
So with that said, thank you very much. This concludes our podcast for today. Go and give us a five-star review on iTunes, if you're listening to it there. Give us a thumbs up anywhere else you're watching it. Share it with your friends, because that allows us to get more traction and change more people's lives. With that said, that thank you very much. Bye-bye.
Announcer: Enjoyed this episode? Then make sure you like, subscribe, and post your comments and questions below the video. We're looking forward to hearing from you.
Enjoy this podcast? Share the love!