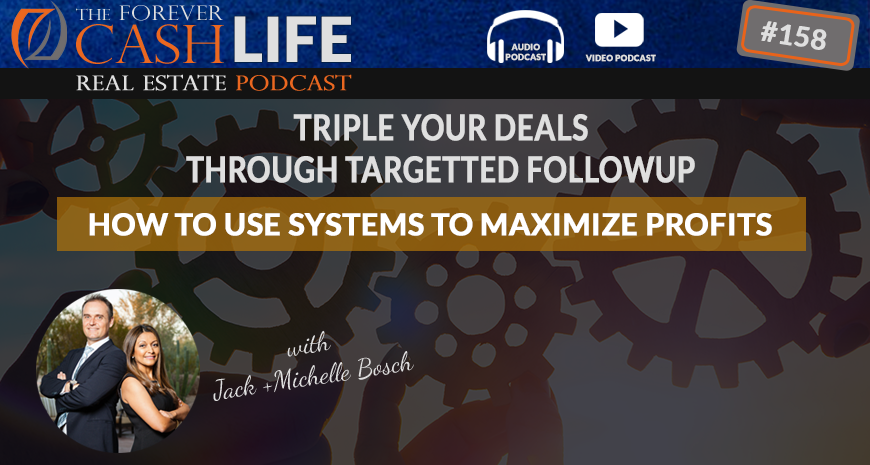 Automation is the key to scaling any business, and land flipping is no exception. In this episode, Jack Bosch discusses how and why you need to implement processes in your land flipping business when it comes to following up on deals. Too many people rely on their memory to keep track of all the tasks they need to get done which eventually means that things will slip through the cracks, resulting in lost deals. Luckily, we have developed the Investment Dominator – a CRM that is specifically designed to optimize your workflow and get deals rolling in!
Listen and enjoy:
What's inside:
Find out how to automate your follow-up strategy
Discover why you shouldn't rely exclusively on your memory
Understand why the Investment Dominator is key to a successful land flipping business
Mentioned in this episode
Tweetables:
Transcription:
Jack: Hello, everyone and welcome to another episode of "The Forever Cash Life Real Estate Podcast." My name is Jack Bosch and in this episode, we're going to talk about the power of systems and follow-up, how literally you can double or triple the amount of deals that you get with using the proper systems and the proper follow-up. All right, let's get going.
Man: Welcome to "The Forever Cash Life Real Estate Investing Podcast," with your host, Jack and Michelle Bosch. Together, let's uncover the secrets to building true wealth through real estate and living a purpose-driven life.
Jack: All right. So here we are back with our podcast on systems and follow-up in real estate, particularly in land flipping. So as you guys know, I am the co-creator of the Land Profit Generator Real Estate Land Flipping method and Land Flipper Generator method, and you can find out more information under www.landprofitgenerator.com. And we also have coming up very soon, end of September 14th already…actually it's a seven-day, five to seven-day detailed training, free training class inside of our Facebook group. You can actually register for it now under the website, www.lpglab. We call it the lab because we are going to basically dissect how our method works and share with you that step-by-step in live sessions, both Michelle and I [inaudible 00:01:29.930] my co-founder [inaudible 00:01:31.130] two co-founders, Michelle [inaudible 00:01:33.701] I'm gonna go to that for a week-long, every day we're gonna come live and we're gonna share with you exactly how this all works.
So with this said, let's talk about systems, because here's the thing. I can talk about land flipping, like all day long, as a matter of fact, more than all day long, probably all week long, days and days at a time, because there's so much you can talk about. And at the same time, it's such a simple process, right? Remember, a process is, like, five steps. You go contact owners, right, you select [inaudible 00:02:02.346] you select an area you wanna do business in, you get a list, if you wanna dissect this more, there's seven steps. But basically, you identify the area, you get some leads, you send off the letters, right, to them, they contact you back, you do a deal analysis, you make offers, you get deals under contract and you go sell those deals. That's it. There's no mortgages involved, there's no appraisals involved, there's no shopping in your car sitting with old ladies at a kitchen table making them cry to give you a cheaper deal. There's none of that stuff involved here. It's just as simple as it is. Having said that, everyone can get a deal but in order to get consistent deals on an ongoing basis, you need to have systems, you need to have automation, and you need to have follow-up.
Now how do you do that? Well, we have a system that we call the Investment Dominator, and the Land Profit Generator and the Investment Dominator go hand-in-hand together. As a matter of fact, as of pretty much right now, we no longer even make the net profit generator home study courses available without the Investment Dominator system. As a matter of fact, we actually now making the Investment Dominator available and adding to it the system so that you learn software and you learn our method with the software in our program. And that's what the…and in the LPG lab, we're gonna show you exactly how these two play a role together. Having said that, systems that you need to pay attention to. You need to have an automation system that you can get those letters out, that you don't talk to the sellers, that they have actually been talked to by somebody else. Because this is not about you creating more work for yourself, this is about you having more freedom in your life, right?
So the second thing you need to do is you need to have follow-up. So let's look at that. Let's say you take 1,000 letters, you send out 1,000 letters. You get, let's say, it's a 2%, 3% response rate, something not so fantastic but not so bad either, right, the [inaudible 00:04:03.339] quarter of a percent response rate, really have to say it's 2%, 3%. Let's say you get 25 phone calls from them or 30 phone calls from those [inaudible 00:04:11.380] So now, what you do after you get 25 to 30 phone calls, you gotta do some deal analysis on them. You figure out what these properties are worth and you make offers. So now what happens is of these 30, let's say it's 30, of these 30 on average every time we send [00:04:27.286] anywhere between 25 and 40, at the beginning if might be all the way up to 50, but over time it settles in around a 25 to 35 kind of offers you get, one deal accepted. So that means you set up 30 offers, you can reasonably expect to get 1 offer expected. So now you have one deal. However, you send out 1,000 letters. You got 25 or 30, let's say 30 phone calls. Twenty-nine of those 30 people have not yet accepted, right? So what do you do? What do you do? Do you just move onto the next county? Do you just move onto the next batch of letters? No, the key is in the follow-up. The key is in the follow-up.
So one of the things you want to do is you wanna go and develop a process that you within a certain time period, reach out to those sellers one more time. Send them a second offer, do a phone call, send them a postcard, do anything that you want to and for our coaching students, we have an actually detailed process for that. But we do something to stay in contact with them so that they don't just drop off. Because it's very possible that, let's say, the husband got the offer and the husband thought it was junk mail and tore it away, when the wife was waiting for the offer because she wanted to get rid of this piece of crap property, which is not a piece of crap property. It might be a $50,000 piece of property but she wanted to get rid of that before it cost them more property taxes, right, or [inaudible 00:05:54.014] Or the other way around, right? They must go and wait. Or the post office delivered it to the neighbor's address by mistake. The post office right now is horrible, but they're taking forever to deliver stuff [00:06:07.018]. Because of Covid-related post office delays, it got there, you give them 10 days to accept and it got there the 12th day. They look at it and it's like, oh man, it's already expired and they say like, "Let me call them back." But then, they put it somewhere, they put some newspapers on it, they put some other stuff on it, they forget. Have you ever gotten a piece of paper in the mail and you forgotten to follow-up? And you said, "Oh, let me follow-up with them" and then you lose it? Now if you're highly structured, you might have not had the experience, but then ask your spouse, ask your children, ask your friends, right? Of course. People that are not totally super well organized constantly lose stuff. So as a result, you're like, "I just had to chase to their living room looking for a remote control for our TV. It ended up being underneath the couch. Go figure. I didn't put it there, right, but somehow it got there."
So things happen, stuff gets put in different places. You know, for some they're like, "Forget about it," and they're like, "Oh, it's an old offer. I got it four weeks ago." Two weeks pass, they forgot about it. They find it again and they're like, "Oh man, now they're not gonna accept anymore," they throw it away. However, you're still gonna honor that offer so if you don't follow-up, you're not gonna get those offers accepted. So follow-up is the key piece. Now what other systems do you need in order to get deals done? Now by the way, why do I say you can double or triple your deals, because with proper follow-up, you can get instead of 1 deal of these 30, you can get 2 or 3 potentially out of those 30 offers that I just explained in this scenario. Pretty much a day-to-day scenario, right? So that's one of things you want to do. Now the same thing is actually on the selling side. If you wanna sell a property, when you sell it , you put it on Craigslist, you put it on Facebook Marketplace, you put it on Zillow. And people contact you and say like, "Hey, is this property still available?" So the first answer is, "Yes, the property, it's still available." But then, you don't just say, "Yes, it's still available" because that ends the conversation. You go and you say, "Hey, yes, it's available. What are you looking for?" And they're gonna be like, "Oh well, I'm looking for about one to five acres in this area" and they're like, "Okay, great. What are you looking to do with the property, you want the property?" "Well, I'm kind of looking a place with good road access that I can bring my RV to that has electricity to it because I'm kind of, instead of being in an RV park, I wanna be in a property out of my own land, right? It shouldn't be about not too far away from the city." Well, great. The property that you asked me about that fulfills all the criteria. So you go into a sales conversation. But what most people do is they don't…that is instant final offering. Because what most people do, they're like, "Hey, is this property still available?" "Yes. The details are in the website." Now you send them to the website. Now they go to the website. Hey, guess what? Are they really gonna go to the website, read through all the stuff, and look at the map and look at everything, and read through every detail? No, they're way too lazy. They're like, "If they're not gonna give me anymore information, I'm gonna go somewhere else." And then, they go click on the next listing in that same area and if that person is willing to engage a little more and follow-up a little more, then they buy that person. But now you say you do better than that. You say, "Yes, the property's available. What questions do you have about it?" They ask you a few questions, you answer them. You say, "Great. Would you like to buy the property?" They're like, "Well first, I wanna see it." Say, "Great, let me give you the directions to the property." You give them the GPS coordinates or the address, whatever you have for the property. And then you're like, "Okay, when are you planning to look at it?" "Okay, this Saturday." Good. So what happens is let me know…what a lot of people do as a mistake, they say, "Let me know afterwards how you will like it." And then, they put the ball into the court of the buyer to remember to call them back after they looked at the property. Now here's the thing. In reality, only half of the people who say, perhaps even less of the people who say they're gonna go look at the property, actually went to look at the property. So if they didn't go look at the property, then what's gonna happen? If they didn't look at the property, they're not gonna contact you again. And if you don't follow-up, that's the end of the story. So you got somebody that was interested enough to pick up the phone or text you or email you and ask all these questions, and the conversation went back and forth, like, eight times, and then you're not gonna follow-up? Of course you need to follow-up. You need to follow-up freaking until they tell you, "leave me alone. I picked another property" or "leave me alone, I changed my mind and don't wanna buy anything at all." Until they say one of those two things, you got to follow-up every single week, twice a week, then over time once a week, then over time twice a month, then over time once a month. You just gotta go harass in the best sense, most loving way of the word, the person until they say, "No, I'm no longer interested in that property." Right?
So here's how you do it. You basically go the weekend has passed, you use our invest [inaudible 00:11:08.947] you set up a task. You can set up task for yourselves. You're like, "Jim Smith called in, interested in property, whatever, 1234." Great. I want to set a task for myself on Monday morning to call him back or text him back or email him back, whichever conversation you have chosen with him or they have chosen with you [inaudible 00:11:27.946] and then contact them back. If it's Facebook, text messages, you go Facebook Messenger, "Hey, just wanna follow-up. You said you wanted to look at the property on Monday. Have you had a chance to go look at it?" And they're like, "Oh man, I forgot. Thank you very much." Now I haven't gotten it. But so it's like, okay, when are you going to look at the property?" "Well, I haven't…I can probably look until next week." Okay, great. So next week. Now in the meantime you can say, "Listen, I got another five people interested in their property. Would you like to place a deposit on the property to lock it down?" What? Don't just let another week past before they go, okay, perhaps they forget again. Then it's another week and they keep dragging you along. It's first come, first serve, guys, right? So if somebody else now comes and buys the property, it's gone. So basically said, would you like to look? Like, "No, I don't want to, but I'm gonna go for sure look at it on Saturday." Good. You know what? What happens on Thursday, Friday, you contact them again. It's like, "Hey, you still planning to look at the property? Because I got people looking at and…so make sure you go there." You put some pressure on them to make sure that if they truly want the property, they go jump in the car and they go look at the property. Now they looked at the property and now if they don't like it, then they still won't call you back. If they do like it, they probably call you back. But either way, Monday comes around, another task, you follow-up again. "Hey, have you had a chance now this weekend to go look at the property?" They're like, "Yes, I did. But you know what? I didn't like this, this or this or that." "Well, what didn't you like about it?" Now engage them again, right? Perhaps this is something that you can turn into a positive, something that they hadn't considered. But either way, if they liked it, perhaps they were busy. They were bogged down with work and they said, "Oh man, thank you for calling me. Yes, yes, yes, I loved it. I meant to reach out for you but my mother-in-law came visiting, this came happening, this happening. My kid put a, I don't know, something on her toe, we had to bring her to the emergency room." You know, stuff happens in people's life and you, if you follow-up, you can get these deals done.
Now how do you follow-up if you have 10 people, let's say you have 5 properties, and on each property's 10 people that are inquiring about it. How are you gonna keep 50 pieces, 50 different people organized? Right? I can tell you, I won't be able to do that unless you have a system. You need a buyers list and you need to have an ability to have notes in a buyers list. You need to have an ability to associate those buyers to a property that you're interested in. You have to have the ability to set tasks and all those different things you can do with our software Investment Dominator. So when you have the Investment Dominator, you don't have to actually rely on your memory to memorize things like that. You can literally enter it into the system, you can have the system remind you and therefore, you can have those proper follow-up things. The same again on the purchasing side. You want to put a reminder in that three weeks after you sent those letters, you need to go and send them a second offer, or you reach out with the voicemail, or you reach out with a text message or something. Then you need to set yourself reminders for that and you can do that if you have the proper system. So all of that is crucially important. The same thing, you have a deal in escrow. Escrow company, title companies right now are being flooded with refinancing requests because we're at the record low interest rates again. So everyone that has bought a 4.5%, 5% interest rate a year or so or two ago, they're now refinancing at 2.8% or something crazy like that, right? So now, the title companies are busy and they're making way more money refinancing those properties than going through a somewhat complicated closing process on a $50,000 or $25,000 or $35,000 or $45,000 land fees. So therefore, you need to be on top of them. Again, how you need to do that? You need to follow-up with a title companies. Make sure that they don't put your deal to the bottom of the stack. But if you have a buyer lined up, you have a seller lined up, don't let it take 60 days for the title company to close. They should be able to close in 4, 5 days. When everything's ready, the documents when they go out, money's being wired in, signatures are being recorded and it's all done. So it all comes down to systems and follow-up. Gotta follow-up with your sellers, you gotta follow-up with your buyers, you gotta follow-up with your title company, you gotta follow-up, follow-up, follow-up. And luckily, we have a system called the Investment Dominator that allows you to do that. So with that said, I want to say thank you, you can find out more about that, if you go to lpglab.com. Register there. Then also one of our concierges will actually reach out to you, will welcome you, will chat with you and if you wanna learn more about the Investment Dominator, they can tell you at that point more. And then, honestly in our five or seven-day session, we're gonna lay out exactly how this entire process works. So with that said, thank you very much for attention. This concludes our newest episode of "The Forever Cash Life Real Estate Podcast." Good luck, stay in touch, join our Facebook group, go to lpglab.com, register for upcoming five day or seven day training class. This is 100% for free and I'll see you there. Bye-bye.
Man: Enjoy this episode? Then make sure you like, subscribe and post your comments and questions below the video. We're looking forward to hearing from you.
Enjoy this podcast? Share the love!