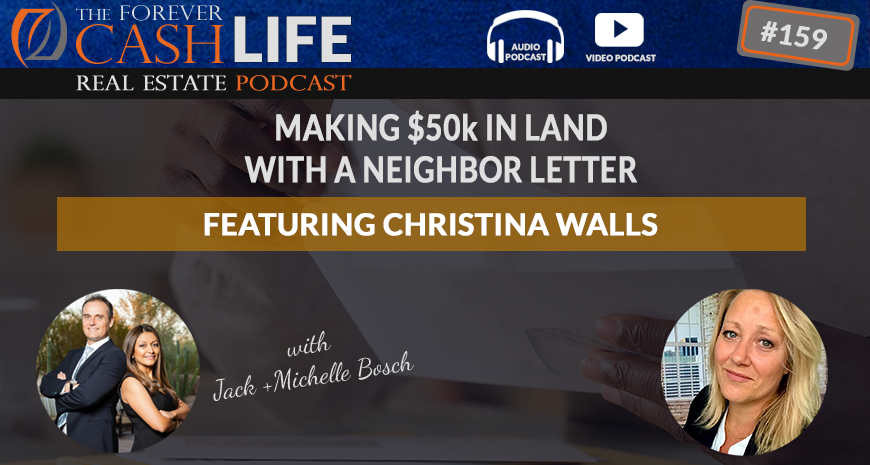 Christina Walls hit the ground running with land flipping and has not looked back! In this episode, Christina walks through a deal where she made almost $50 000 in profits just by sending out a neighbor letter. This episode perfectly illustrates some of the many reasons that land flipping is our preferred method for generating cash – where else will you find a seller willing to let go of their property at a 99% discount? Seem too good to be true? Well, listen and find out why the sellers we target are desperate to get rid of their properties – using real life examples from Christina's land flipping career.
Listen and enjoy:
What's inside:
Find out how Christina Walls made $50k profit by using a neighbor letter
Understand why sellers are willing to get rid of their land for cents on the dollar
Discover Christina's history with land flipping
Peek under the hood of the business of a successful land flipper
Mentioned in this episode
Tweetables:
Transcription:
Jack Bosch: Hello, everyone, and welcome to another episode of "The Forever Cash Life Real Estate Podcast," where we talk about all things in real estate, cashflow, cash, and deals, particularly around land flipping. Today, we're gonna talk about, with our guest, Christina Walls, about the mung setters, a deal that she made 50 grand on by selling it to the neighbor. All right. Let's get going in just one second.
Announcer: Welcome to "The Forever Cash Life Real Estate Investing Podcast," with your host Jack and Michelle Bosch. Together, let's uncover the secrets to building true wealth through real estate and living a purpose-driven life.
Jack: All right. We are here. Welcome. With your host Jack Bosch here, I'm excited to bring to you today another episode of our Forever Cash Real Estate Podcast, and our guest today is Christina Walls. Christina, how are you doing?
Christina Walls: I'm doing great. How are you? Thanks for having me.
Jack: I'm super excited to have you. So, Christina is one of our favorite people here in universe of land flipping because she's always full of energy, she's always doing deals, she's always posting motivational things in the group. So, Christina, give us a little bit of your…the overall views. Let's start first of all, welcome to the show, but then let's start right away and give us a little bit of your history. Who is Christina Walls? Tell us about a little bit how did you get into land flipping or before, what's your story? Tell us your story.
Christina: So, I guess my story, I was born and raised in Ohio and moved to Florida, oh, some 20-some years ago, something like that. And I wanted to do investing. I knew there was something that I wanted to do for many, many years. I just had no knowledge, and I had a son, and I was raising him, and I had another business. And I honestly was like, "I don't know how to do it. I don't have the money to do it." And I just never pursued it until my son started driving at 16 and I said, "You know what, I'm just going to figure it out." And I started going to CFRI which is a local REI group in Central Florida in Orlando. And I took a couple classes and then I went actually to a sun Saturday morning and that's where you were giving a class. Jack Bosch was giving a land flipping class. And as I was sitting there, two other people that had done it and were actually doing deals were sitting in front of me, and I listened to you, and I listened to them, and I thought, "Oh my gosh. I could do this. I don't have to flip a house. I can do it from anywhere, you know." And it just, kinda, resonated with me.
And literally, I got the program and in 30 days, I closed my first deal, made $8,000 and that was it. I was like, "Wow, that was easy. Let's do it again." And so, I just kept replicating it. I mean, on some levels you continue to replicate it. Every deal is different, but it's the same process.
Jack: Yeah. Right. And so, now in the meantime, now, fast forward, you have now sold your other business, sold it, or closed it? You sold it and you're doing land full-time. All right?
Christina: That's correct. Yeah.
Jack: Hallelujah. Right. Congratulations.
Christina: Yeah.
Jack: And it's only like two months now that you're doing it full-time, right? You just let the other one go. What was the other one?
Christina: We had a move-in move-out cleaning service. We worked with property managers for years.
Jack: Okay. Yeah. So, no more tenants and no more moving in and out now I guess. It's all right. Done with that. Good. I don't blame you for that. So, now, since June 1st, you are full-time land flipper. Fantastic. One of the things that always stands out when I see your posts is you talk about, you had your struggles in life or something like that. What would you think pulled you always through to the thing because your postings that you do in our Facebook group where our land flippers hang out with, they're often even on your own page. They see on Facebook. They're deep. They're good. I can tell that you probably went through some hardships in there in your life, but you always seem so positive. What gets you through that to being always a positive?
Christina: Well, I have no desire to sit in a hole and be miserable. You know, I have no desire to not achieve things in life. And at this point in my life, I look at anything that I've been through as a lesson and a lesson that I needed to learn in order to grow. And so, I mean, I don't sit around and feel bad. I don't sit around and stay stuck in a situation. I know if I take action and if I begin to move forward, then you know, I'll get the results that I want. So, I mean, it just, kind of, took going through challenges and actually going through them, not giving up, because it was a challenge.
Jack: Yeah. That makes total sense. I mean, that makes total sense. I mean, that really is a strong statement. I mean, so many people, it's so easy to just go and something doesn't work to go mope and just be sad and so on, but you can't. Like I remember also, like, I always, like when something negative happens, I'm just almost like self-talk. It's like, "Now, it does matter. Come on, move forward. Something else is gonna come up. It's just a setback." And you talk yourself into the positive and you keep going and then all of a sudden, positive things happen. So, that's a beautiful way of describing it that you just said that you're not interested in just sitting around to being sad and moping and stuff.
Good. So, then let's talk about land flipping for a little bit. So, let's look into a deal. At the beginning in the introduction, I said that you have been doing a deal that made you $50,000 by just quickly flipping it to the neighbor. And I know the details of the deal. And that's why it's like, let's talk about that one because I just think it's a cool deal from a psychology point of view of the seller, from the quickness of it. So, walk us through the deal for a moment.
Christina: So, we were doing research on this area and we couldn't tell if the land was in a golf community or outside of the golf community just because we just couldn't tell where the border was. So, we ran comps and comped it as if it were outside of the golf community. I sent an offer to the owner. I offered him $1,500 for the lot and he signed it and accepted it. And when he signed it and accepted it, I then went on property appraiser's website and saw that he had paid $200,000 for it. And I was like, "Wow. Okay." So, we then did…
Jack: So, step number one, like I literally was on a coaching call with one of our students, or like a pre-coaching call with one of our students. I had a question about it, just like, "How come these people accept the offers like I presented a bunch of offers and people didn't accept it?" Well, she only had sent out 200 letters. So, and her letter is more like a crap shot yet, but it's not enough letters, but she's like, "They all said no because it's not enough." But what people need to understand is that what we're going after is those people that really don't want their property anymore, no matter what they paid for it. So, did you ever talk to the seller?
Christina: I did. I spoke to him and he was like, "You know, I'm giving you this property almost for free, you know?" But he'd been paying HOAs on it. He had owned it for quite a few years. He was paying taxes on it. He just was done with it, you know? And so, you know, my offer just happened to come at the right time.
Jack: [inaudible 00:08:16]
Christina: You know, and that's how it works. That's exactly how it works, you know.
Jack: It came at the right time, they were done. They didn't sell it to you because they wanted to maximize anything. They just wanted to get rid of it, right?
Christina: That's correct. Yeah.
Jack: So, now here comes the kicker. What did you do once you had it on a contract?
Christina: I sent all the neighbors a letter according to the program. And that's what I do, you know? And I saw, I mean, maybe 60% to neighbors, you know? So I sent all the neighbors a letter saying, you know, "Hey, I got this lot. Do you wanna buy it?" Of course, I immediately got a response from one of the neighbors and he said, "Yeah, I wanna buy it and at full price." And I rushed it over to the attorney's office ASAP and we literally closed…we would've closed sooner, but the attorneys is an attorney state in North Carolina, they were backed up for six weeks. So, it took us six weeks to close the deal, but I mean, you know, I didn't have to market it, I didn't have to do anything.
Jack: You sold it for how much?
Christina: I sold it for $50,000. So, I made actually $47,000 after closing costs and the cost of the title.
Jack: Right. Well, that's obviously beautiful. So $47,000 profit, but what gets me is that there's two things going on. Like, number one, the seller is literally giving you that property at a 99% discount of market value. Like he paid $200,000, he gives it to it for $99,000 because he just didn't want to have it. Now, having said that, if he's smart, he could have actually now declared the $198,500 loss in his tax return potentially if he specified the right way and potentially gotten something like a $70,000 or $80,000 deduction in his taxes. So, he could have potentially saved $78,000 in his income tax. So, it's not like if you knew that, then it's not like he gave it for $1,500. He got the government's help to give it to you for $1,500. So, that's one extra thing.
The second thing though is so, whether it's debt or not, but it doesn't matter, the point is he gave it away for 99% less than it was worth, for 1% of market value. The second thing though is couldn't he have thought about offering it over to the neighbors?
Christina: Well, yeah. They all could.
Jack: That's exactly my point. They all could but nobody does, right?
Christina: They don't, right. I've sold land to neighbors and they would say, "Hey, what about the other lot across the street?" You know, and I have sold one guy three lots for that exact reason. One of them had to wait for the people to get back from, like, Uruguay or someplace like that in order to get it notarized. And he was willing to wait. And I sold him three lots. They were all adjoining to his, all three different owners, you know, and he could have very easily reached out to the owners themselves.
Jack: Owners themselves. Exactly. Wants a lot and the same thing I learned that on our very, very first deal. That's a big lesson to learn. The very first deal, the first deal that I've ever did. I put the property under contract for $400. We actually bought it first because we didn't even know back then about assignments and double closing, things like that. And then we went and put them sign up there and the neighbor across the street comes over and she's like, "Oh man, what are you doing?" I was like, "I'm selling the properties." like, "Oh man, I wanted to always buy that property." I was like, I think to myself, "It's public record. All you needed to do was go look up who owns it, send them a letter, and get to see if he wants to buy it." Like now, I noticed that across behind our fence, we live on an acre and we were playing around thinking about potentially building a guest casita so that… We only have 7,000 square feet. I know it's not much, but building a guest casita for, like, for my parents to come visit so they have their own space and they can go to the backyard, right to the garage, get a car out, and drive, and so on and then they have their own independence, but then I saw that behind the fence, another house which is an older, much, much smaller house. So, it's probably less than half of ours that it's became empty. There was a dog that was barking sometimes, and now the dog is gone and that there's, like, quiet. There's nothing going on over there.
So, guess what, I looked at the public records. I saw the owner had passed away. I saw that he has passed now to the son. And guess what? Last week, I sent the son a letter saying like, "Hey, if you're interested in selling, contact me." I don't know if he's gonna reach out to me, but the point is, instead of building a guest casita, I can buy that house, make it a little nice, make it nice, put new flooring, paint and windows and things like that in there, and I have a place right there that I can rent that out as an Airbnb and when my parents want to come from Germany, they can live there. And it's under my immediate control because it's literally the next door property to me. But people don't think about that. Sometimes the easiest way to find it is just to go to the neighbor, whether you're selling or buying, right? Either way. Yeah.
Christina: I'm doing the same thing. I wanna build a house, but I wanna live in a specific area. So, I'm going on property appraisers' websites, looking in that area, and sending letters to the vacant landowners. Why not?
Jack: Why not? If you wanna build a house, we bought our last home that way.
Christina: Yeah.
Jack: Like not this one, but the one before. We wanted to live in that subdivision, we wanted to live in a house with a double staircases, beautiful double staircase going up. And there was only…like it was a Toll Brothers community, so, high-end, nice community. And so, yes, the houses are still, kind of, like cookie-cutter, some of them the same, but it's just in a luxury level. And we knew there were like 12 of these houses on the market. And there was another model we also liked. There was another seven houses and none on the market, in the subdivision. So, we just got all their names, send them actually almost the same letter that we used for [inaudible 00:14:37] the land profit generator. And guess what, three called us and one we bought the house from. That's the house we lived until last year for 11 years. For over 10 years, we lived in that house happily ever after. So, yes, you can use this our methods even find your own dream home or your own dream lot.
Christina: And even other assets. I use the neutral letter, so to speak, to buy other retirement assets or income-producing assets.
Jack: Right. Is it you, you have a mobile home park under contract, right, where it is [inaudible 00:15:07]
Christina: Yeah. We're supposed to be closing in the next month or so. And I got that. Literally, I just tweaked the neutral letter and I targeted mobile home parks.
Jack: Yeah. Well, we own a car repair shop in one of the fastest-growing and gentrifying areas in Phoenix, Arizona. There were all, like, back when we bought it was starting to happen in that area. Now, we're the only ugly property on the block because it's one of these old, kind of, mobile home, and one of these old car repair shops with the bar prior, the multicolor and so, like, not so pretty, but we paid $95,000 for it in cash flows at $2,300 a month, and the property itself is now worth about $300,000 to $400,000, $350,000 to $400,000. And we're just keeping it. We're waiting until everything is completely gentrified. And at that point, we go sell it. We might sell it. At that point, it might be worth $500,000 and it's completely paid off. So, yeah. That's what we're doing. Well, great. Christina, I don't wanna hold you too long, but how many deals are you doing right now per year?
Christina: Oh gosh. You know what, I'm not real sure because this year has been so busy. I haven't even been keeping track. The first quarter, I almost made as much first quarter as I did all of last year. So, and I think last month I did like five or six deals, you know. I'm just not counting. I'm too busy to sit around and, you know, count, but probably, I'm probably closing between four and five deals a month.
Jack: Fantastic. And by the way, you also went through our coaching program, right?
Christina: Absolutely.
Jack: Yeah. So, now, you came to our coaching program after you had already done some deals. So, you used our program to call a few deals, and then you want it to scale and you came into coaching for scaling. Did you do what you wanted to do?
Christina: I'm still doing it. Yeah, I did. Well, what I needed, because I can do deals, I have no issue doing deals. Where my issue was, is getting my business to go beyond a certain level. There were just some, kind of, like, techniques I didn't know how to do. There were certain business aspects that I just did not have that my coach was able to teach me, but it's, kind of, like, an ongoing thing because, you know, your coach teaches you the stuff, but you have to implement it. And that's where, like, the rubber meets the road. So, some of the stuff I was able to instantly implement and see benefits and other stuff, kind of, like, takes a little bit longer because it's a growing process, you know. You don't plant a seed and all of us a sudden, you have a tree. It takes time and you got to, you know, apply these different things that you've never done. I almost feel like I'm starting over on many levels because I'm starting to, like, automate things and I'm having to go through, like, different systems. And I'm like, and this to me, this is the harder part. Doing the deals is the easy part. To me, the harder part is the back end of doing a business, you know, and that's where I needed help. I needed help in the back end part and I got it.
Jack: And everyone comes to us for different reasons. So, some students come to us just to get their first few deals done so that they can do, like, their one, two deals a month and then other students come to us to go from there to that the 50, 60 deals or 100 deals a year. And you have done so fantastic that you're even one of our coaches now and we love having you as a coach. But you're 100% right. The hard part is the back office part to scaling because you're starting…it's again, as you said, it's a growth process of becoming a leader of people. It's like in football, you go from being the position player to the quarterback, to the coach, and at some point of time, it's a completely different skill set you got to develop.
And to this day the same happens. As we take our businesses, our different businesses to different levels, we have to constantly relearn. We have to constantly go in another growth spurt. We have to got personal growth. We have to constantly learn new skills. We have to constantly tap into that, but that's the beauty of it to me because I fell in love with the entrepreneurship because there's nothing to test you in life as much as starting your own company. And not that only, everyone can start your own company, but growing that company beyond the one-man show.
Christina: Absolutely.
Jack: The beautiful thing is that you can make a six-figure income as a one-man show in this business, but if you wanna take it, like you want, to take this to the higher level, it becomes an internal growth process as much as it becomes an implementation process.
Christina: Absolutely. The other night, I have a lot of deals going on in a lot of different aspects and I'm putting out a lot of money, more money than I've ever put out in my whole life. And I was laying in bed. I woke up and I was like, kind of, I felt like the stress of it. And I said, "Okay, this isn't how I wanna roll, you know." And I literally, I prayed and I said, "I just need to let this go." And do you know, this is true. I let it go and I just let it go. I'm like, "I am not gonna worry about how I'm gonna deal with this. I'll figure it out as I go. It'll all work out." I woke up the next day and one of my terms buyer decided to pay cash. Well, I needed that cash, you know, and we closed Monday. So, I got that chunk of change that replenished some of the money that I had just put out, you know, grow the business, some of my capital and, you know, it reaffirmed to me that when you take those steps, everything falls in place, you know, but if you don't take those steps, you'll never know, you know. And sometimes it's scary, but you have to take the steps even whenever you don't really know completely what you're doing, you know.
Jack: And you have to take the steps diligently, and in faith, and in trust, and with somebody backing you up, of course, and coaching, but then yeah, if you don't do it, the universe is not going to supply. It's like, "Yeah, no, you did only half of it. Let's do the rest now." You got to do all the steps, but then literally, it supplies. It's the same thing here. Every time we're like, "Okay, we're gonna trust that something's gonna happen and we're going to do the steps and something's gonna happen." We go put the steps. We put the word out, we put the things out and all of a sudden, invariably, it always comes together, but you, kinda, take that step in faith, moving forward and not give up halfway through.
You got to keep going and then, and then it'll happen. So, yeah, very, very, very great. Well, that's the perfect, I think, ending for our interview right now. I'm super excited to see your success. We love having you as part of our coaches team, we love your spirit, your energy, and everything around it. And do you have anything, any, kind of, last word that you might wanna say to any of our students that are, like, on the fence or don't know exactly what they should do or if they should move forward with this weird concept of land flipping? What do you tell them?
Christina: I would tell them to follow the program, you know. Follow the program, do it because it works, you know, just because you feel like it doesn't work doesn't mean it doesn't work. It just means you need to take action, you know, because it works and it really is, kind of, life-changing. It's not only financially life-changing. It's life-changing in that you start meeting new people, you start getting new perspectives, and, you know, LPG is really a great family. And I genuinely, I love. I love the community that it has and the support because I've been doing this solo and if it weren't for the community, oh my gosh, it would, you know, it would have been a lot more challenging.
Jack: Awesome. Well, thank you very much for being here with us, and yeah. Thanks. Thanks and keep going, Christina. Okay.
Christina: All right. Thanks, Jack. Have a good night.
Jack: Thank you. Thank you. You too. Thanks, everyone. All right. So with that, that completes really our latest show of "The Forever Cash Life Real Estate Podcast." Give us five-star reviews, give us a thumbs-up, and we'll talk to you in the next show. Thanks a lot. Thanks. Bye-bye.
Announcer: Enjoyed this episode? Then make sure you like, subscribe, and post your comments and questions below the video. We're looking forward to hearing from you.
Enjoy this podcast? Share the love!