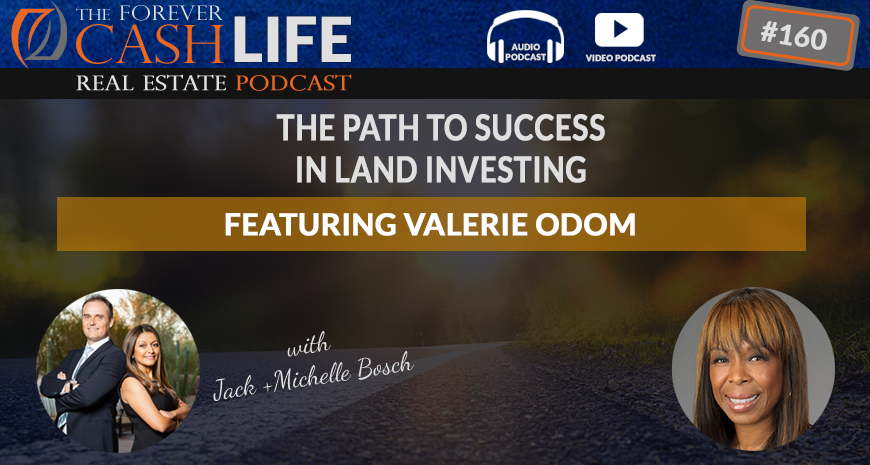 Valerie Odom is one of our star land flipping students. She made the switch from house flipping to land investing because – as she puts it – land takes far less energy than houses. In this episode, Jack Bosch discusses Valerie's journey in real estate to find out how she discovered land and why she made the switch. Valerie also discusses the power of coaching and how it has enabled her to make deals that she never would have dreamed of! 
Listen and enjoy:
What's inside:
Find out why Valerie Odom switched from houses to land
Discover the power of coaching
Learn about the path to success in land investing
Mentioned in this episode
Tweetables:
Transcription:
Jack: Hello, everyone, and welcome to another episode of "The Forever Cash Life Real Estate" podcast where we talk about all things cash, cash flow, and particularly one of our favorite subjects is land flipping. Today, our guest, Valerie Cobban, is gonna share with us how she got to land success. So, we'll get started in just a second.
Man: Welcome to "The Forever Cash Life Real Estate Investing" podcast, with your host Jack and Michelle Bosch. Together, let's uncover the secrets to building true wealth through real estate and living a purpose-driven life.
Jack: All right, so let's get started. So, I'm super excited. I have my guest here today, Valerie Cobban here with us, Valerie, how are you doing?
Valerie: Doing great.
Jack: Doing great. Fantastic. Great. So, you're in Atlanta, Georgia, right?
Valerie: Yes.
Jack: And you are one of our land flippers.
Valerie: I am, I am.
Jack: That is fantastic. That is fantastic. So, tell us, first of all, a little bit about yourself, like give us a little bit of background, give us a little bit of stories of who you are, what brought you to land flipping and so on. Just give us a little bit of information.
Valerie: Let me see, I've been in real estate, selling real estate, and doing real estate investing for about 20 years. And so, I was one of those persons who would buy a house, fix it up and rent it out. And I had probably about 10 or 11 houses. And I got divorced about three years ago and for some reason, my ex-husband got all the houses except one.
Jack: Oh, wow. Okay.
Valerie: So, you know, this has always been my passion and what I like to do, so I just wanted to, kind of, find out how I could do it. And one of the things I learned when I was buying those houses is that I just felt like the bank was making all the money in the deal. Like, I was still paying off those houses. And so, I just was looking for something that I could find that would help me to, you know, maybe buy some houses cash or just have some cash and not have to give it all away to someone…
Jack: Absolutely. So, that's a great reason to get started, but you got to find your cash machine. So, then you came across us. Right? And then you got started with us. Now, you got started and you got into our coaching program, correct?
Together: Yes.
Jack: And also you went into the two-day Maximizer session, right? You took our two-day Maximizer, Land Profit Maximizer Workshop. Now, how was the Maximizer? What do you think about it?
Valerie: I thought it was great. You know, it was kind of a review of some of the things that I already had been learning. But it was nice to actually meet other people that were involved in it. And I made some relationships there where, you know, I'm still in touch with those folks and we talk back and forth. It's kind of nice to not be so isolated, you know, to have somebody you can, sort of, bounce things off of and like I said, it was just very motivating because once I got back it was really kind of amped up.
Jack: Amped up. Did you feel with the knowledge you had about how to use the system that you were better prepared afterwards?
Valerie: I did. I did. I really did. I really did. And I just had more faith in it. Like, before, I was kind of just sort of like, okay, maybe this is gonna work, maybe this is gonna work. But then I met so many people that were, like, gung-ho, they were like, "Oh, this works." You know, there was no hesitation. They were like, "No, this is gonna work, just keep doing it." And so, that gave me more confidence.
Jack: Fantastic. Yeah, now, right, wonderful. So, that's great. And then you advance to the coaching program. And then overall, what happened since? How many deals have you done since now? And how did it all unfold?
Valerie: Okay. So, my first deal, like, I think the first week where I got my deals, I got like six properties. It was really strange but great. And the first deal that came through, a gentleman, he wanted to sell me four properties. And I think the properties were probably worth about $38,000 altogether. And he sold it to me for $6,800. And so, the first deal that I did paid for all the other properties. So, I sold three of the four properties, I got one left, and so I've made money off of each of those…
Jack: The first one paid for all four already. Isn't that beautiful? So, you basically…because you got them for like less than 20% of market value and you sold the first one, they paid for all of them and that's beautiful. And then you sold the other two. Okay. That's exciting. And so congratulations. And then, since then, I think you…before we went live here, we started talking about a deal that was a really big deal or so that…
Valerie: Yes, yes. So, I had sent the letters to a county that I was second-guessing sending the letters. And my coach, Warren, was saying…because I was saying, "Well, you know, these properties are too expensive. I'm not gonna send my letters because I'm gonna waste my money." And he said, "Well, why are you saying they're too expensive?" I said, "Well, you know, for some reason they're valued at…" you know, I put in the values that were suggested, but what I got back were these properties that were worth $1 million, $900,000. And so he said, "Well, you know, you've already done the research." He said, "Why don't you just test it out and see?"
So, I did, and a lady calls me, and her property assessed value was $900,000. And she had a realtor already, and they had been trying to sell the property. And what I found out was the property had been…they had been working on selling it for 15 years. So, I got it. And I had to negotiate with the realtor. And I was saying to Warren, I was like, "Why, on my first deal, is this coming through? This is just too much, you know, I don't know what I'm doing." He's like, "Yes, you do. Just follow the steps. You know what you're doing, just keep talking."
Jack: That's where the power of a coach comes in that can actually get you through those mental hurdles and to the steps of, like, what do I do now, what do I do now? Right?
Valerie: Yes, yes. So, he was really good because there were things that came up, like, they wanted to do an option and I didn't really understand options. So I, you know, emailed Warren and he was good about getting back to me quickly because it was moving very fast.
Jack: That's so great.
Valerie: So, we did an option, and I ended up selling it. I think the realtor was very impressed because she was like, "Gosh, so many people came to see the property." And I had done the neighbor letters, and all kinds of neighbors were coming down the woodwork, and I ended up selling it…I didn't end up selling it the typical way. The buyer that actually came through wanted to do seller financing. But, of course, I didn't have $700,000 to do it. So, the seller allowed me to help her set up the mortgage note, which we did through the title company, and she paid me a big fee. So…
Jack: How how big of a fee?
Valerie: $15,000.
Jack: All right. That's something, yes. Sometimes…considering this is one of your first deals that you've done with all the different tentacles, do you think you've been able to do that without coaching?
Valerie: I don't think so. I mean, I think it would have been a disaster.
Jack: Right. And so, you would have walked away, you would have never noticed that you lost money because you would have not lost money. But that's often the case that people say like, "Well, is coaching gonna make me money?" Well, yeah, because more than anything, it's gonna also help you get deals done that you otherwise wouldn't have been able to get done.
Valerie: Yeah. So, that pretty much almost paid for my coaching right there.
Jack: Right. So, that's fantastic. So, that with the others together pretty much paid for coaching. So, right there. And then, now how has…I don't know if your life yet has changed, but how have you changed, has something in your life changed because of this? Do you walk through the world differently because of this or…?
Valerie: I really…I am, I am. Like, I didn't realize how much of it was gonna be like a spiritual journey, you know.
Jack: No, I totally get it. I'm with you. Right. Yeah.
Valerie: You know, I listened to you on Facebook and, you know, you were talking about, "Fix the well." And I kept saying, I don't understand what he's talking about, fix the well. And then I started to really…I started to listen to my own thoughts and how sometimes I would talk to myself negative and say, "Oh, I can't do that because," or, "I'm not gonna answer that call because that's a waste of my time, they won't want to do it." And then I just started saying, okay, that's something negative that's kind of holding me back from really doing what I should do. I need to answer the call and see what's gonna happen, you know. And so, I started learning that I did have some negative thoughts that I needed to really work on. And so, I just…
Jack: That is so important. I mean, it's really…particularly coaching. But in the two-day workshop, we do that too. But overall, it's like, it's so important to get through those mental blocks and hurdles of things that you're like, "Oh, they won't accept anyway." Well, how do you know, right? Unless you make the offer, they don't. Then if you don't have somebody that challenges those and keeps you moving forward, it's hard to…and I love that you call it a spiritual journey because it really is. It's like when you build success, you have to grow in order to fill the shoes that are there in front of you to fill, right? In order to complete the mission that you have set it up, the you that wants to do this and the you that then ultimately does it are different yous. You grow in the process, right? Is that right?
Valerie: I believe that. I mean, there's a lot of things that…ways that you have to step out of your comfort zone. And I didn't really realize that, I just kind of felt like…I would just, you know, do things and it would all get done. But there's a lot of things where you, kind of, come up against resistance because…and you start procrastinating and you don't wanna make a decision because you're thinking maybe you might make the wrong decision or you're fearing failure. And it's kind of like you got to continue on even though you know that…I mean, there's a possibility it may not work out. But I've started to, kind of, be more in the mindset that, you know, it might not work out, but it might. And if it doesn't work out, I'll probably learn something from it.
Jack: Right. That's the beautiful growth stuff right there. That's the lessons learned right there. So, great. So then, how does the future look like? What are you looking for in the future? How many deals? What's Valerie's life gonna look like right now going forward?
Valerie: Well, you know, I think I've probably done about…I probably sold about 10 deals now.
Jack: Okay. Fantastic.
Valerie: And so, I would like to, kind of, pick up the pace and maybe expand a little bit. I actually got a virtual assistant and so she's been helping me. And I seem to be able to handle a bit more with her onboard. And, you know, I'm wanting to take it to the next level, so…
Jack: So that's, that's exactly the process how it goes. The first part is getting that first deal done, then multiplying and building your systems out, and then scaling the thing up. So it's like you run that at your own speed but basically, for you, it's been how many months right now? Eight, nine months or so since you've been in this?
Valerie: I started in the middle of December.
Jack: Okay. Middle of December and so by now, yeah, it's about eight, nine months. So, that's a great thing. Ten deals, eight, nine months, money from coaching back multiple times over and you're starting to now scale this up to the make this the only gig you do probably, right?
Valerie: Yes, it definitely is. I was a realtor, so I still have, you know, people calling me asking me to help them with their properties and stuff. So, I'm trying to get scale that down because, you know, it takes so much more energy and work to make a dollar over there than it does over here. So, I don't wanna [inaudible 00:13:45.426] money but, kind of, I'm starting to try to have to balance it and, you know, move from one log to the other, I guess, you know.
Jack: Wonderful. Well, great. So, what would you tell somebody who is like on the fence right now and wanting and thinking about whether or not they should do this or whether or not they should jump into this? Well, what would be your advice to them?
Valerie: Well, I mean, I would say, you know, research what's out there and how everything works because I…you know, I was thinking about, before I got into this, trying to go back to flipping houses and, you know, it was just so much competition out there and you have to mail so many letters and it was a lot of investment. And, you know, there's investment in this as well but it's just not on the same scale. And the results come so much faster and you're also not…you know, when you are flipping houses you're looking at if you get a call from someone, you got to get up right from the dinner table and run and try to get that deal. And this is a little bit…you know, the pace is a little bit more manageable. So, you know, you can work with people and you can build a little rapport with them. So, if they end up getting a letter from someone else, they still wanna work with you. So, you know, I just feel like it's a little bit more manageable lifestyle-wise and…
Jack: And it's all built around our lifestyle. It's all built around that. We started with thick accents, I still have a thick accent, but it's probably a little less than when it was back then. But we were like, how do we do this? And I was traveling 100%, I couldn't get up from the dinner table to go meet anyone. It's all designed such that you can do it at your time, that we come home on the weekends…I would come home from a weekend from my job and we would make offers over the weekend, right? We'd look at properties, we would make offers at midnight, at night if I couldn't sleep or so, or if I had to work late at a job. And you can't call somebody back, you can't meet somebody in the kitchen table at midnight, but you can make your offers with this when you can fit it into your schedule. And you pointed out the very, very big piece that I think a lot of people underestimate because they just think like, well, there's the steps. But these steps can be done from the comfort of right where you're sitting with the door shut without seeing anyone any day of the week or day or night or whenever you want and it really makes things easier.
Valerie: Yeah, it does. It does. And, I mean, I feel like, you know, when you're looking at what you're gonna do, you kind of have to really look at, okay, what's the return gonna be? A return is gonna be, you know, I'm gonna get into this house and have to get a loan for $150,000 and I might make $20,000 or $30,000. It's just, you know, there's just no comparison between, you know, sending out a letter and not putting down any earnest money, making a deal with them, and then flipping it. So, I mean, there's other expenses, of course, that go into it…
Jack: Right, right, right. There's a few other basic expenses like a mailbox and some mail and things like that. But yeah, fantastic. Well, thank you very much, Valerie. That was awesome. I'm so excited about your success. I'm so excited, like, when our students are graduated from coaching, we know that they're doing deals, but then when we catch up with them…and you're basically just graduated right now, right? You just graduated right now, that's how we know that you're doing many deals. And now, guess what? Here, fast forward, you probably do 50 deals a year. Make sure you keep letting us know what you're doing. Make sure you keep us in the loop because nothing makes us happier to see all our students out there doing so fantastic. So, with that said, thank you very much for being here with us today. Thanks a lot, Valerie.
Valerie: Thank you for having me.
Man: Enjoyed this episode? Then make sure you like, subscribe, and post your comments and questions below the video. We're looking forward to hearing from you.
Enjoy this podcast? Share the love!