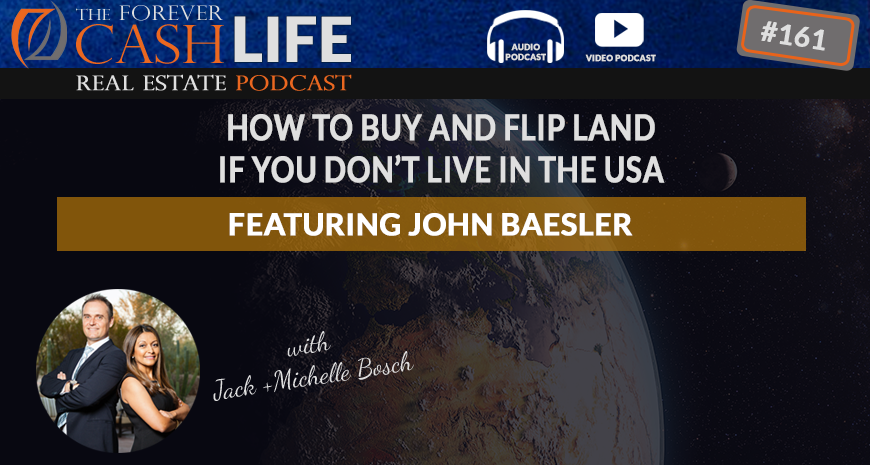 John Baesler lives in Germany and is a full-time land flipper. In this episode, he discusses how he is able to operate his business remotely using the Investment Dominator to automate many of the processes needed to flip land. You'll find out what you need to keep in mind in order to ensure that your systems run as smooth as possible.
John is also one of our land flipping coaches and works with many international land flippers in order to help them set up their own businesses and attain financial freedom of their own.
Listen and enjoy:
What's inside:
Find out how to run a land flipping business from outside the USA
Discover why John Baesler quit his job to become a land flipper
Learn how the Investment Dominator automates and streamlines your business
Mentioned in this episode
Tweetables:
Transcription:
Jack: Hello everyone and welcome to another episode of "The Forever Cash Life Real Estate Podcast" with yours truly, Jack Bosch. And we are going to talk in our podcast…where we talk about land flipping, where we talk about cash flow from land, we talk about other investment methods having to do with cash and cash flow. And today, we're going to talk about how to do land flipping from outside of the United States, basically completely 100% virtually completely location independent, doesn't matter where you will live. All right. We'll get started as always just after this little message.
Announcer: Welcome to "The Forever Cash Life Real Estate Investing Podcast," with your hosts, Jack and Michelle Bosch. Together, let's uncover the secrets to building true wealth through real estate and living a purpose-driven life.
Jack: All right, everyone. So, let's get started. This is Jack Bosch speaking, and I am today having the pleasure of talking with John Bassler [SP] and his German name is Zonca [SP] Bassler. But he is coming to us from Germany and he is doing land flipping from Germany. So, let's call you by your American name John. John, how are you doing today?
John: I'm fine. Thank you, Jack. Thanks for inviting me. How are you?
Jack: I'm doing excellent. Thank you very much. I'm doing great. It's a wonderful week. The weather's nice and the family's healthy and everyone is going good. So, I'm super excited.
John: Glad to hear that.
Jack: And I trust the same is true for you.
John: Yeah, it is. Thank you.
Jack: Wonderful. Wonderful. So, okay. So, John, so tell us a little bit. So, you do land flipping using our land profit methods, right? And you actually do that from Germany, correct?
John: Correct. Yes. 100% from abroad, yeah.
Jack: Yeah. So, tell us a little bit how it came all about, how did you find us, how did you stumble upon land flipping in the first place?
John: All right. I think it was three, three and a half years ago that I started. And I think you presented one time the LPG on an entrepreneur congress in Germany. And well, I didn't attend, but I viewed the recording. And well, at the beginning, Jack, I thought that it couldn't be true, but for somehow I couldn't resist buying the LPG. And it was a decision that I never regretted. And so, I bought the LPG and I started doing land flipping. At that time, I still had my job in the consultancy.
Jack: And by the way, LPG stands for Land Profit Generator which is our entry-level program.
John: Oh, yeah. Sorry.
Jack: So, right now it's Land Profit Generator. Then there's our software, the Investment Dominator, and then together, the training for that is the Maximizer Program that we have been talking about quite a bit right now here, right. So go ahead.
John: Yeah. So, I started three years ago, went through the entire Land Profit Generator program, and started my first deal. It's three years ago. I was very, very, very glad and was very happy with it. Was just a small deal that I had…my first, it was a very small deal. So, I just earned, I think, $2,000 or $2,500, maybe $3,000 but however, I was so proud of myself. And so, I grew my group business and I think one and a half years ago, I quit my job as a consultancy, and I do land flipping now totally from abroad. So, totally from outside from U.S. and I do it… I quit my job and it's now my full-time business. And this is a decision I never regret that I did in my life.
Jack: Yes. Now, I bet. So, yes. So, you had a job with, like, a consulting company, like, management consulting company, were out there traveling a lot probably, in sauna. And then you started land flipping. So, let's talk about that first deal. Now, you will never forget that first deal probably, right?
John: Of course. Never no.
Jack: So, you never forget it. So, what did that first deal do to you in terms of, like, trust in the system and everything?
John: Well, first of all, I mean, it proved to me that the system works. You know I mean, there's such scam of course, on the internet and you can never believe whether it's true or not. And so, I needed for myself to prove for myself that the system works. And I also had to prove to my family that the investment and the time that I invested into the system was worth. And finally, I did, you know, I got a lot under contract and I was able to sell it with a profit. From today's viewpoint, I did so many mistakes. I did so many mistakes, but nevertheless, there was a lot, my first lot and I learned so much with that. You know, Jack, we've already talked about that you have to overcome some obstacles when you do it from abroad, for example, the wet-signature that you have in front of the notary or in the presence of a notary. And there was some obstacles that I had to overcome. So, there was a small deal, but the lesson learned was huge, and I will never forget that deal.
Jack: Yeah. Sometimes I always say the first deal doesn't matter if that's a big deal or a small deal. Now, of course, a big deal is more pleasure, it's even better than a small deal because it's more money, right, but the main important thing is that the first deal teaches you all the lessons. Like it shows you it works. It boosts your self-confidence. It shows those around you that it works. It proves that it was worth it. And it shows that you can do more of these and it makes you more confident in the entire process because now you have done all the steps, right? So, it's that first deal that we also in our coaching program, we are really focusing on getting our students through that first deal. And ideally not just one first deal, but multiple deals so that they can hone the skill because what you're really learning is a skill for life, right?
John: Sure.
Jack: It's a lifelong method. Now, if you ever wanna flip a house in the United States, it's a different process, but the closing process is similar, right? The mailing process, if you do direct mail is similar. It's just obviously dealing with a house is different. So, but you already learned three-quarters of what you need to learn in order to do additional kind of things. So, you learnt the life skill there. So, that's fantastic. So, then you did one deal, then you did more deals and by now, how many deals have you done?
John: It's 50 deals. I think in total, we have done 60 to 70 deals.
Jack: Okay. All right. So, you start as always. You start, like, with a few deals in the first year, with more deals in a second year, and now you said it's about three years, three and a half years. This year, the goal is 50 deals. And I heard just last week or so you got how many deals under contract?
John: Well, just in one day, I had five signed offers in the mailbox.
Jack: Five signed offers, that's fantastic. Now, you also attend that our two-day workshop, right. How was that, like our software? So, you're using our software, right?
John: Yeah. It is a very good tool. When you want to scale, when you want to grow, it is a very good tool because it helps you for all the administrative stuff, of the leads, of the documents, of all the data. So, this is mainly done, most of the tasks is done automatically. And in addition to that, it provides you a fantastic two web pages. So you can have a buyer's site and a seller's page and you get all together in one tool. This is just great. And so, this is Maximizer workshop you're referring to helped me a lot to work within a team with a virtual assistant, with my sales manager, and make my processes, my company processes much easier.
Jack: Awesome. Awesome. So, now let's jump into… we'll talk about it perhaps later a little bit more, but let's jump into the actual…what people are wondering about. So, can you really do this? And obviously, the answer is, yes. Can you really do this from outside of the country or, I mean, the same things we're about to talk about also apply if you buy an RV and you're just traveling with the RV around the country, right? So, if you're basically location independent, if you're traveling with an RV around the country, you could technically bring a printer with you and then stop by a post office and drop off letters, but the RVs usually don't have that much space. So, if you are traveling with an RV or so, you still want to outsource and automate everything as if you're outside of the country, right? So, you are outside of the country. As a matter of fact, you're not just outside of the country, like in Canada or Mexico, you are nine hours' time difference away from at least the West Coast and six hours' time difference away from the East Coast.
Now, that plays obviously, a big role into your systems into the outsourcing. So, let's talk through the different steps that you need to outsource and how you basically outsource them, right. So, let's talk, first of all, our system starts with selecting our counties. But now you can do that from at home because you can do that on the internet, right? Then as soon as…then the next step is sending out letters. Now, how do you send out letters from Germany?
John: Okay. So, first of all, the letters are usually created by the Investment Dominator automatically. This is very convenient. So, and I download them, I just need an internet connection on a laptop, of course, and I download them and send them to a letter house. I use the ITI.
Jack: Mailing house, yes.
John: Based in the U.S.
John: One of the ones we recommend is lpgmailer.com. And right now, an integration is actually happening between another, you know, between potentially that company, another company, and our Investment Dominator so that you literally click a few buttons, and it sends them out right away. So, you outsource all your mailers, basically. You're in Germany, you download them, you then email them over to a or upload them to a website of a mailing house, and they send them out for you.
John: So three, four days later, they're sent out automatically. I don't have to do anything. It's very convenient
Jack: From an American post office with American stamps, with American thing, because it doesn't make sense to send them from Germany. Particularly right now in these COVID times, I think one of our guys that also is in our coaching program, Timone [SP] from Germany, he send me a birthday card. It was very nice of him. He sent me a birthday card. My birthday was in May. He sent the birthday card about three weeks before my birthday and due to COVID and the limited amount of air travel, it arrived here two and a half months later. And three to three and a half months in the mail trying to get from Germany over to here. So, obviously, you cannot send out letters from Germany. You wanna send them out from the United States, and the mailing house does that. How is [crosstalk 00:12:07]
John: In addition to that, so, the sellers that receive the post from Germany would look a little bit suspicious if they receive, when they receive mails from out of the U.S.
Jack: The opening rates would probably go up like crazy because they're like, "What is that?" But then do they actually call back, because they might be like, "Who are these people from outside the country who wanna buy our property?"
John: It's also true of money. I mean, a stamp from here by airmail, it costs a lot of money sending it from Germany to U.S.
Jack: Yes.
John: So, but anyway, I don't want to print them myself. I don't want to print them here. I just want to send it out because I want to scale. I think last year, I sent 25,000 letters. So, I really don't want to do that manually here in my office.
Jack: But 25,000 letters…by the way, if you do the houses, if you do the housing wealth, and with that, you did something like 30 deals or so?
John: Last year I did, yeah, something 20, 25, I think. Yeah.
Jack: All right. So, it looks like you pretty much got a deal for every 1,000 letters. By the way, if you're in the housing area, you have to send something like 10,000 to 20,000 postcards or letters to get one deal. With that same amount of volume, he got almost 25 deals. So, just for a reference point here. So, with that said, so, now the next point is you need to take phone calls, right, because the way we design is that we send out, as you know, we send out letters, then have people call us. We don't do blind offers right off the get go because it would require all this research and it would just make people mad. So, we have them call us first. Now you're nine hours ahead of the West Coast. If you do a deal in California, people are gonna call you at 5:00 PM, which is 2:00 AM your time the next day. How do you handle that?
John: Okay. I have a call center that automatically answers my telephone. So I have the telephone number in the letter, and they send their calls to the telephone. It is automatically routed to a call center and I send them a script and they answer the script. So they answer in the name of my company and ask some five, six, seven basic questions. And whenever I get such a call, the call center sends me a report, a small report by email. And so, the next day and the next morning, I can work with them and send them offers.
Jack: All right. There we go. By the way, you don't have to be outside of the country. That's exactly the way that we recommend it for anyone that lives inside the country too because if you're driving your RV around, or if you just live in New York City, or if you live wherever you wanna live, in Alabama or Phoenix, right, you don't wanna print out letters at home on your home printer. You don't want to have to go and mail out these letters yourself and fold them, stuff them, seal them and bring them to the post office. You don't have to take all these phone calls, right. No, you let the professionals do that, that actually can do that cheaper than you do right. And that's all explained in our programs. It's like automated in our software. And then when you're doing your Maximizer workshop, you actually get trained on those things on how to exactly use them.
So, with that said, so, now the next step is making the offers. Now, the offers, understand I can fast forward a little bit. You do your deal analysis, you make your offers, and to send out offers, you can use that same mailing house again, or you can also, what some students do is there's a couple of people in the United States that specialize on sending those offers out as a service for international people. But if you're in the United States, you don't have to even worry about that. Those are the ones that you do indeed do at home. You use our software again. The software produces them right away. There's a deal analyzer inside. You just basically find out the value, use our value generation method also again, made easy in the system, in the software, then you pull up the calculator, you plug in your number, then you mail or you press another button, out comes your offer. And you basically that one you fold and put into an envelope here and send out to the people.
Now, if you don't live in the country, you use the same mailing house again, correct, or you use the service of a person that does that. We even have team members in our company that offer that service or one of the team members, her mom offers that service for international students to just send out those offers for a couple of bucks a piece or whatever she charge, I don't know. All right. So, the next step now is now, you've got an offer accepted. But where do they…right after they accept it, do they send the offer to you to Germany?
John: Oh, no.
Jack: Or do they send the offer…do you have a mailing address here in the United States and how do you get a mailing address in the United States?
John: Oh, this is really easy. There are hundreds of mailing houses that offer virtual mailboxes. And so, whenever I've got a…so, I have a mail address, a U.S. mail address. And whenever I get a mail from a seller, for example, accepting my offer, I get a scan to my computer…sorry, to my email. And then I can work ahead with that. And this is very convenient. So, the mailing house or the virtual mailbox does the job for me.
Jack: Yeah. So, virtual mailbox is the way to go guys. There is, again, you can have one in the Empire State Building or you can have one in a little town in Alabama. It doesn't matter where you are. It's just what image you wanna portray. And most people just pick one in the city they live in. If you're in the United States or if you're international, you pick some in a city, wherever you want that to be. Like, it doesn't really matter. You can pick Chattanooga, Tennessee or you can pick Atlanta, Georgia, or you can pick Phoenix, Arizona, it doesn't matter. So, you just pick one where the cost is reasonable because, of course, in the Empire State Building, they'll charge you extra because they're rental space for those boxes.
And imagine, this is like, what that is, is a space where it's like a physical office, where it is actually one or two people working there and they have hundreds and hundreds off little mailboxes. So, the post office brings in boxes of mail for all of these and each mailbox is a different company. So, the post office brings 100, brings boxes of mail, and they look who it belongs to, but then they scan those in and then he can see them from Germany, or you can see it from your RV when you're traveling around, right. And you can see it and you can pull up your laptop somewhere where you have a hotspot, or you connect to your hotspot on your phone, or you connect to internet at home and then you pull it up. You can tell them which ones to open. They open it and voila, there is your contract, right. There's your contract, there's your return mail, there's your official notifications from anything.
You can use that for the IRS, you can use it for anything. So, it's perfect. And from there, you just print it out at home, you countersign your offer, you scan it back in, and you email it back to that seller, or you fax it back to the seller, whichever way you want, or you have it, again, you have somebody in the U.S. mail it back. But usually, at that point, you have the buyer's phone number, you have the seller's phone number, you have the seller's email address. You can just communicate to them via email and send those things over to them.
John: Very seldom, very seldom, sorry for interrupting. So, very seldom you need a hard copy, a really hard copy of the agreement. And so, whenever I need a hard copy, I just click on the mail that I needed the hard copy and then just forward it by mail to an email address within the U.S. or also to Germany. So, if you're traveling with an RV, and you know that, you know, will go to visit your family very soon, just forward that mail which is very important, very seldom. Sometimes you want to get the hard copy of agreement on contract, just forward it to somebody and you will get in your mail two or three days later.
Jack: All right. Perfect. It's wonderful. So, that's the other thing. So, if you do need a hard copy, which is really happening, because even under Bill Clinton in 1999, I think the electronic signatures were made legal in the United States. So, the only thing you might get a hard copy of, wanna get a hard copy of, is if it's a deed that's been recorded and is being returned that virtual mailbox, and you want that deed in your hands, then you have that one forwarded to you, but that's, kinda, happens after recording anyway. So, if that takes now six weeks to go over to Mexico, to Germany, or to Austria, Switzerland, or to wherever it is, so we have students now in the United Arab Emirates, we have students in Chile right now, we have students in Asia, in different places. So, if that now takes two to six weeks to get there with the current slowdown in the post office of COVID, then international slowdown in the United States. The speed is still decent. And then it just takes that, but it's okay because it's already recorded, and it's being sent to you.
Awesome. Now, it comes to the last part, marketing. Now, marketing, all of our marketing is online, right? So, you do all those things online and you do all those steps online. It just…you list the properties, you market the properties, you have access to Facebook Marketplace, Facebook LandWatch, all those different places. It's all pretty much exactly the same. You might have to use some incognito or VPN or VPS services, but other than that, it's exactly the same. And then otherwise, you need a phone number obviously, you need an international phone number, but that's it guys. It really is as simple as that. So, you have to have a few international provisions.
So, let's think about that. To you Americans watching right now, do you think…and I'm an American too, obviously, but I'm both. So, have you ever thought about emigrating or, like, leaving the United States for just retiring early and living in Italy, some fishing village somewhere? Hey, why not, right? Take your business with you, right? You ever thought about moving to the Caribbean or so and living there? Hey, take your business with you, right. So, if you can do this from Hamburg… no, you're in Bremen or Hamburg?
John: Hamburg.
Jack: Hamburg. That's what I thought, yes. And if you can do this from Hamburg Germany…my brother does this from Southern Germany, from a town of 10,000 people, then you can do this from really anywhere. So, now, open your eyes. This is an opportunity for you to literally, like, take the lid off. You think about, "Oh, where can I live? Where do I.." No. It's like, if the kids are out of the house or if you don't have kids yet, then where do you wanna live, right? The world is your playground. You can be anywhere you want. And actually that's a subject for you guys, right, because your wife is from South America, right?
John: Yeah. She is my sales manager. She's very good in communicating with people. So she's my sales manager, so she follows up with the sellers, well, and particularly with the buyers, with the buyer with that.
Jack: But you guys have two young children. They're not yet officially in school, right. You have a business that you run together. You could and you have spent extensive times over in South America where she's from and still done deals from there, right.
John: Yeah, we did so. Early this year, we spent some time in Columbia and while being in Columbia on vacation, we just did some phone calls and I think we sold two lots there. So, it's possible from anywhere. And nowadays, all the information available from internet, from Google, from whatever sources. Just an example, last year, I was on vacation in Florida. And so, I had some time and I decided that I will visit one lot that I think was my second or third lot that I got under contract. So, I visited that lot, and I was very excited because it was my second or third lot. And I went there, I traveled there, I rented a car and went there, and I was on the lot. It was just disappointing because it was just a piece of dirt, you know. It was just…there was nothing actually. So, it was still a vacant a lot, but somehow, I mean, it's proved to myself that it is not necessary that you need to walk the property prior to selling it because all the information that is necessary for selling a lot, or also for buying a lot is available on the internet. So, no need to visit a lot in advance.
Jack: Right. So, now, yes, that's exactly right. So, this is wonderful that you've done that because it brought home the point that you really don't need to do it, but you don't know that. You always think you're missing out on something when you haven't seen your lot. So, I always tell people, "Hey, if you are close by to a lot, if you have a chance to go to a lot, don't go through like an extra effort and fly somewhere just to see it the lot, but if you happen to be close by, then go, drive that extra half an hour to go see the lot." And what you'll find is that, yes, you'll get some extra nice pictures of it, but other than that, you really are like, "Okay, that was just an hour or two of wasted time here because I really don't need to do this. I either can get somebody to take pictures of it or if I need them really, or I don't really need them because there's Google Earth, Google Maps, Google Street View, County GIS systems, all these different things that are available for you to get your pictures taken."
So, that's a wonderful lesson learned there. So, now let's quickly go back. So, let's round this all up now. Now, John, since he's so successful from Germany, he actually now came on board with us. He has gone through the Land Profit Generator, he's done the Investment Dominator, he's done the Maximizer, which helped him a lot to really learn those pieces, as he said. And yes, you can confirm that, correct?
John: Yeah.
Jack: And he's actually also become one of our coaches, right. So, he's gone through the coaching program, he's studied it, he's one of our coaches that is now bringing German students and international students, particularly through our program and how is that experience for you, John?
John: Oh, that is a wonderful experience, in particular, when my students have their own success story and sell their first lots. This is always also, yeah, it's also always for myself a great moment to celebrate once my first students sell their first lot and yeah, I mean, it makes me also very… Well, it's also very satisfying task to have other people from abroad being successful in the land business.
Jack: Yeah. And well, for example, I have taught part of this to my brother. So, my brother has been here following us for 18 years. We've been doing this for 18 years, and finally, this year, he decided to jump in, and due to, like, COVID and things like that, I was a little bit busy sometimes because we had to, obviously, adjust our businesses, not the land business. Land business works as always, but our educational side of our business, we had to make some adjustments to things. So, John, actually took on my brother for several coaching sessions. And I'm excited to say that he has three deals under contract right now and is looking to market them right now. And then one of them, he could potentially make $75,000 on there.
So, thank you, John, for your help there and for guiding him along, particularly on the pieces of international setup, which the setup from international, as we have mentioned right now, is a little different, right? You've got to get the phone number, you get the virtual mailbox, you got to get the call center, the mailing house. And while some of these things are highly, highly, highly recommendable if you do this in the United States too, there's a few extra things you need to set up from international. And John was able to walk him through a lot of those, get them set up, get them going. And then as things slowed down for me, I took over my brother again and coached him for the remaining pieces.
So, that's what we do in our coaching program. We do it as a teamwork, right. Sometimes we have a coach that guides you through the beginning part, particularly in our new group coaching program, a coach that starts you in the small groups to the beginning program, then we have almost daily or actually, daily group coaching sessions that happen, but you still have an accountability partner that looks over your shoulder that you check in with, that checks in with you, that makes sure that you progress, that can help you coordinate what one-on-one sessions you need because you do have one-on-one sessions that you still get. You have this entire…we surround you with 360-degree support in our coaching program. And it's the same thing we do in our two-day Maximizer training, right. In our two-day Maximizer training, we have multiple coaches actually teach that session and teach you. One is more technical, one is more business-oriented because in the Maximizer session, you obviously, you learn the use of our software, you use our process. You go through the entire process and learn at every step how to use our software with it, so that you come out of there knowing exactly how to do this business. And so, yeah. So, if you're interested in that, by the way, contact one of our concierges. Let us know here below. Put in a couple of comments so we can put you together with one of our concierges. But now John, so, now, let's talk about what impact has this business made on your life?
John: Oh, it made much impact on my life. So, let's start time-wise. So, and as I mentioned earlier today, I used to work in the consulting company. And as you know, the consultants, well, they don't have a 9:00 to 5:00 job. It's more 9:00 to 9:00 job. So, and I was traveling a lot. So, every Monday or every Tuesday, I traveled to Frankfurt by train, and then I came back three days later. So, I didn't see much of my children during the week. And so, now, sometimes I have busy days too, of course, but I can decide for myself how much time I want to invest in my business, you know. And so, the time-wise it has made a big impact. And now, speaking about COVID, so, before COVID, I had my office, my home office in my house, and during COVID, I had my office in my house. So, there was no change at all. So, I work business as usual. Of course, some counties were impacted by the lockdown, but nevertheless, it was just a delay sometimes of two weeks, you know.
Jack: And that's all open now again.
John: Yeah, it's all over now, you know. So, there was no impact for COVID. And as you know, probably, many of your friends or many of my friends, they are impacted significantly in their job or by unemployment. And this is nothing that I've experienced the last half a year.
Jack: Yeah. Wonderful. So, well, on the contrary, actually, on the selling side of things, things have probably heated up with it.
John: Oh yeah. Oh yeah, during COVID, yeah, definitely.
Jack: Yeah. So, we actually, everyone is reporting ourselves to see that through that, more and more properties are selling quicker because people are sick and tired of being at home and they want a place outside in a green area that they can go and spend their weekends on, and bring an RV, and rent an RV, buy an RV, or something and go out there, or build a cabin and have some natural social distancing going on there. So, yeah. So, this is great. So, I echo that. I mean, the reason, actually, this is funny John, because you were in the consultancy with Anderson, right, or which one was it? [crosstalk 00:32:48.553]
John: Anderson had some difficulties.
Jack: Yeah, that's right. What's the name of it that you worked for?
John: Accenture.
Jack: Accenture, yes. That came out of Anderson. I'm sorry, I'm too old for that. I'm old enough to remember the prior ones because when I worked…if you remember, I worked in a consultancy too. I worked just for the software company that had its own consulting arm for implementation of software. And oftentimes, we would work together with consultants from Accenture. So, his colleagues and me, we were working together on the same, kind of, software implementation projects. So, I know how it went. You start at 9:00 a.m. and you work until sometimes 9:00, 10:00, 11:00, 12:00, midnight, sometimes through the weekends, if it was a deadline. Sometimes I wouldn't even come home for a week and a half. And in that case, they would at least agree to fly Michelle out for the weekend. But would Michelle see me? No, we would spend, she would basically be hanging out in the hotel or take the rental car and check out the city. If I was in Denver, Colorado, she would check out the city. She would check out Denver. I would be working in some cold office space, usually without windows until like 5:00, 6:00, 7:00, 8:00 at night and then I would go, and I would have dinner with her, but at least we would see each other. But that's kind of the world in that consulting world. And that is such a painful world, but the pain of that discontent is what drove us. The pain of that discontent probably, to some degree, drove John to look around and say like, "There's gotta be another option." Is that accurate?
John: Oh yeah, it is.
John: Yeah. So, that's what my experience was. And if that's your experience, that you're in the pain of discontent right now, that you're in the pain of…in a situation that you really don't enjoy…perhaps you still have a safe job, right. Whatever that really means in the COVID environment means that perhaps, your job survived, right. Perhaps, it was a white-collar job that just was moved over to the house, but they still let go of 10%, 20% of their staff or so. If you don't really enjoy what you're doing on a day-to-day basis, you've gotta look into doing something else. And it starts with what we talked about prior, which is having a reason why. So, for me, the reason why was to get out of this job that I had. For him the reason why was to get out of this job that I have. But the reason why was also to get towards being able to be with our families. The reason was towards being able to not have like hotel food all day long, not have to be traveling all day long, not being away from the family. So, it's towards being with the family, towards being in control of your own life, towards actually making more money and being able to spend those times with your family because we actually have this very similar background, right. Just that you're in Hamburg where you're from probably, but you're still, like, your wife wants to visit her family more than once every three years for a week, right? You wanna go spend six weeks a year over there just like we want to go spend six weeks a year over in Europe and spend it with family and six weeks or as much time as we want to spend it with family in Honduras. And we do that, and this business has allowed us to do that, but you gotta define what your reason is. So, with that said, really, do you have anything to add to that, John? Has that hit the note with you?
John: Oh, absolutely. Especially, you know, the degree of freedom increased significantly because I can decide for myself, you know. Of course, I have my buyers and I have to fulfill the needs of my buyers, of course, but I can decide for myself how much time I want to invest in my company and how much…and so, I can decide for myself and when you have a job, you usually can't because you depend on your client, you depend on your boss, and that's no longer the case. So, I really appreciate the type of work that I can decide for myself.
Jack: Right. Right. Exactly right. So, it's like true time freedom. It's freedom to do what's important to you and yes, of course, it's still a business, you've still gotta put in work, you've still gotta put in time, but you do that and every time you do a deal, there's like as much cash in there as a usual deal that you usually make in multiple months or there's cash flow, which we haven't even talked about, which we'll do for another time. You obviously, also have cash flow coming in from land, which is another beautiful thing.
John: Yes. Yes.
Jack: With that said, yeah, I wanted to thank you for being with us. I really enjoyed the session and really, I just, yeah, just wanna thank you. Thank you, John.
John: Yeah. Thank you, Jack, for inviting me, and hope to see many people joining the courses to get them on track to be successful with the Land Profit Generator.
Jack: Wonderful. Yes. Same here. So, great. With that said, but, yeah, thanks a lot.
Announcer: Enjoy this episode? Then make sure you like, subscribe, and post your comments and questions below the video. We're looking forward to hearing from you.
[00:38:04.233]
[Music]
[00:38:17.088]
Enjoy this podcast? Share the love!