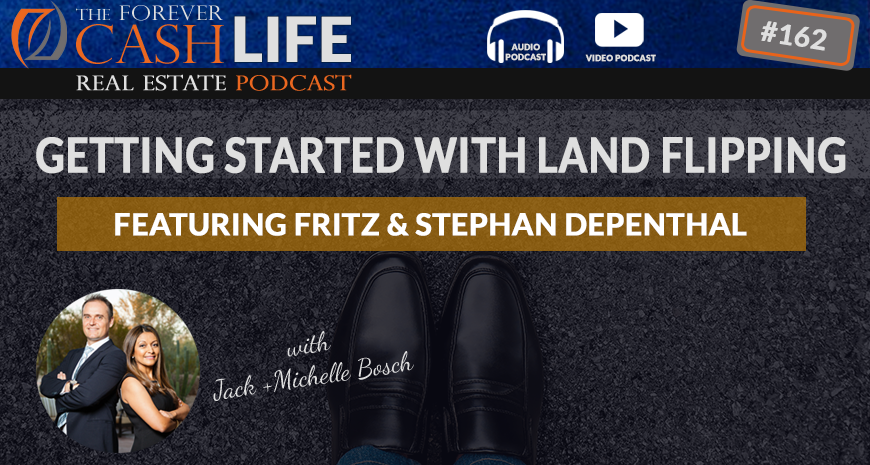 Fritz & Stephan Depenthal are brothers who discovered land flipping after seeing Jack Bosch speak at a conference. In this episode, they discuss how they got started in land and break down their very first deal. You'll learn how they were able to leverage the profit (and confidence) they gained from this in order to make even more money with their next deal!
The brothers also discuss their experience with the coaching program and how it has allowed them to take bold steps forward in their land flipping journey. If you are unsure about how to get started in land, this episode will give you an amazing example of how you can begin your own land flipping journey.
Listen and enjoy:
What's inside:
Learn about the Depenthal's first ever land deal
Discover why it is possible to flip land remotely
Understand the mechanics of a land deal
Mentioned in this episode
Tweetables:
Transcription:
Jack: Hello and welcome to another episode of the Forever Cash Life Real Estate podcast. Today we are going to talk, walk through one of our land deals with two of our students here. So we're gonna get started, who are really cranking it up right now, just got their first deal done a couple of weeks ago, and now are already working on the next couple of deals, so super excited about that. So we'll just get started right after this quick session.
Intro: Welcome to the Forever Cash Life Real Estate Investing Podcast with your hosts Jack and Michelle Bosch. Together let's uncover the secrets to building true wealth through real estate and living a purpose-driven life.
Jack: All right, so here we are. Welcome everyone, and welcome. I want to introduce to you guys Fritz and Stephan Depenthal. Now their names are so German, but you guys were born and raised here in the United States. So welcome, guys.
Stephan: Thank you.
Fritz: Thank you.
Jack: All right. So yeah, before we got officially started they shared with us that their parents are from Germany, and they gave them really good German names, but obviously you guys are, like, the example of American, like, being the melting pot where everyone gets absorbed and so on. So you have the German names, but you guys are 100% Americans. Just like I am an American too. I just have my German accent still. So welcome to the…welcome right now.
Fritz: Well, thank you, Jack.
Stephan: Good to be here with you.
Jack: Okay, wonderful. So first of all, why don't we start with you guys giving us a little bit background about who you are and what brought you to land flipping? Did you have any prior experience in real estate? What attracted you to that? And then we'll go from there. How about that? Who wants to go first?
Stephan: Fritz?
Fritz: I'll take it. So we are, actually there are three on our team. We are three brothers: myself, and then there's Stephan who's with us, and Barton who looks just like Stephan. So, you know, we didn't have to necessarily pull him in. But the three of us started with, you know, the idea was that we'd flip houses, and started that journey. And then it just so happens I was at one of the central Florida realty events, and happened to walk into your presentation with my wife, actually. And she looked at me and said, "You know, that looks like it should be a whole lot easier than building renovations, rehabbing."
Jack: Right.
Fritz: Yeah. So that's where we picked up your course, and it was, you know, gosh, two weeks later that…what did we do first? I think I must have taken a three-day class with you. Stephan I think you were with me as well, right?
Stephan: I'm trying to think where that was. That was in…
Fritz: Yeah, okay, so that's how it worked out. So after the one-hour presentation that I saw in Orlando, we went to a three-hour presentation in…
Stephan: Denver.
Fritz: Denver, if I'm not mistaken.
Jack: The three-day thing in Denver, yes. That's when I still went out and spoke at RIAs. Obviously that doesn't work right now. I only speak about two or three times a year. One of them is the Orlando IEA, which is dear to my heart. They have been great to me. And so there's only, like, two or three RIAs in the country when they call me I say yes and I fly out. And I love the Orlando one because I usually, if it's at the right time of the year, take the family with me, and we spend, like, multiple days there, and used to go to Disney and all kinds of stuff. And then I'd do a little presentation in the evening, because we love hanging out as a family. So you guys came to the three-day event, and then you enrolled in coaching too, right?
Fritz: Right.
Jack: Right. Fantastic. So great. So now I heard what you said is that your wife thought this is a whole bunch easier or simpler in land flipping. It's not easy, but it's simpler in land flipping, right? So there's work involved and everything. And I cannot agree more with that because I have done house flips too, and there is just, like, we did that for a couple of years. And it's, like, why are we doing this complicated stuff if we can make the same or more money over here without doing that? And we went back to only doing land flips. So with that said, now you have been in coaching for a little bit. How has that been so far?
Fritz: It's been good. I mean, you know, we are particularly pleased with the coach that we are currently work with. You know, I mean, I think that clearly there is…let's just say there is a lot to work through, and the coach is tremendously helpful in helping us work through it.
Jack: Absolutely, yes. Yes. And so now you just closed your first deal, what, about three weeks ago approximately?
Stephan: That sounds about right, yep.
Jack: About three weeks ago, I think around August 12th, I know I got the notification that you guys had done the deal. So it might have been a few days prior or not, because we work it out such that when someone of our students do their first deal, everyone gets notified, and I hear about it. So I know when our students are doing deals, and there is a lot of students deals, and that comes through to us because, hey, the first deal is the most important one because once you do that one, you have the recipe down. Now it's just a repetition and a scaling, and there's other skills part of that as well. So tell us about that deal.
Stephan: Well, I mean, what was unique about it, for me, I mean, I've been in real estate for a number of years on the commercial end, but local real estate. So not having actually seen the property, and on top of that it being on an island, was a unique situation. I mean, in terms of getting the deal under contract to purchase, probably no different than everything else we've been learning. You've just got to send out the letters and respond. And, you know, we did get it on the market. We're getting a lot of calls. Gosh, what can you say? Find someone who's interested. And we had to work on a…we didn't have to, but we did work on a contract for deed basis to get it under contract. I think he is absolutely thrilled with the property. We have another piece of property on the same island, and I'm hopeful now that his brother is gonna buy that one. We think he is. And so that's a twofer in terms of…
Jack: That would be fantastic. Now let's go back to that deal. So that's like, yes, you're right. So, like, yeah, you send out some letters. You get some leads. But there is a bit more to that, I would think. Right? So you send out the letters. You got phone calls back. You made your offers. What percentage of market value did you end up offering on that deal?
Stephan: Oh my gosh.
Jack: Like, roughly speaking.
Stephan: Well, I think we probably bought it for 25% of market value.
Jack: Okay, so 25% of market. Now you guys chose to actually purchase it before you put it on the market. Right?
Stephan: Correct.
Jack: Not everyone chooses that. A lot of people do double closings. But there is nothing wrong with purchasing it, particularly if you get it at 25 cents on the dollar and you know it's a solid property. Then you purchase it, so you take the pressure off having to sell it, like, within a certain time period, or you also take the pressure off or the risk off that somebody goes behind your back and goes directly to the seller.
Stephan: Absolutely.
Jack: So, good. Those who are able and willing to do that, they do that. Fantastic. So what's the next step? Where did you market the property?
Stephan: Marketed the property on Facebook and Craigslist. Fritz, you want to speak any more to that? I think that's primarily the two venues.
Fritz: And it's also on our own selling site.
Stephan: That's true.
Jack: Okay, so you have a selling site. And do you know where the buying lead ultimately came from?
Fritz: You know, I believe it came from Facebook Marketplace.
Stephan: I think so too.
Jack: Okay. Yeah, Facebook Marketplace, if done right, is a big traffic machine.
Fritz: Right.
Jack: So you got it under contract, and you sold it. If I heard you right, Stephan, you sold it with seller financing, right? You sold it with seller financing. So they paid you a down payment, and they're making monthly payments?
Stephan: Correct.
Fritz: Right.
Jack: Okay. So how much did you buy the property for in the first place?
Stephan: Well let me see here. I can tell you that.
Jack: Again, roughly speaking.
Stephan: Roughly speaking, give me just a second here. Okay. Bought it for $1354.
Jack: $1354. I think we can all agree that most people can afford to buy a property for $1354. You don't have to go get a bank loan for that. Right? So that's fantastic. I'm thinking we're doing this here for the listeners or for people watching this to also see that they don't have to break the bank to buy a property. Right?
Stephan: Correct.
Jack: That's great. So then you sold it. I understand it was a smaller deal. You sold it for how much?
Stephan: With contract fee, with financing, $8700.
Jack: So $8700 with how much down?
Stephan: He put down 20%.
Fritz: $1700.
Jack: $1700. So now basically you have $1154. You had some closing costs. So you're probably in it for a little over $2000. Then you got $1700 back as a down payment. And then monthly payments of approximately how much?
Stephan: About $450.
Jack: Oh wow. That's a good one. It's a short loan, but $450, that's still good. So basically by the second monthly payment you got all your money including closing costs back.
Stephan: Correct.
Fritz: Yes.
Jack: Hallelujah. That's exactly how we teach you to do. So I'm personally, we're personally comfortable carrying, like, being, let's say, under water for up to a year or so, but we like to have our deals sell such that the down payment and monthly payment gives us all our money back within a year. But you guys did even better than that. You guys got it in two months. So that's fantastic. So then, so now, do you collect on the loan, or do you have somebody else collect on the loan? Is there a loan servicing company?
Fritz: Yeah. We engaged Del Toro.
Jack: Okay. It's one of the companies that we recommend. There's many out there. You can use any one that you want, but one of the ones that we recommend is Del Toro Loan Servicing. They are based out of San Diego, and they do this for a lot of our students. Okay. Fantastic. So good. So see, all in that one sentence, yeah, "We sent out some letters," came quite a bit of more information here. So that's all good. So now what did that first deal…? Now obviously that first deal, even at $8700 with the monthly payments is not gonna make you wealthy yet. Right? But what did that deal do to your guys' confidence in the program?
Stephan: Fritz?
Fritz: Well the first thing I was going to say is that that deal did was make our check account balance go up as opposed to down.
Jack: Okay, good.
Fritz: Which I personally was absolutely thrilled about.
Jack: Okay, good. But then did it do anything else? Or how about the second deal, like the next deal that you have going right now? I think you double closed. You closed on one and the second one already, and you're working on the third or fourth?
Fritz: Yes. Right. So we closed, yeah. We bought the Anderson Island property and turned around and sold it, which is the property that we've been discussing. We have property in Georgia that we purchased. In this case we found a buyer, and then went ahead and closed out the property, and then turned around and closed on it again, and sold it.
Jack: How much did you make on that one?
Fritz: That was…let's see. I think $4500. We paid $4500 to the property, probably another $700 or $800 to close on it, and sold it for $15,000.
Jack: $52,000?
Fritz: No, $15,000.
Jack: Oh, $15,000. Okay.
Fritz: $15,000, yeah.
Jack: Okay. So that's a $10,000 profit right there.
Fritz: Exactly.
Jack: So that's fantastic. That's a $10,000 profit. And now you're dealing, you're working on another deal that you, just before we went live, told us that you put it on the market before you owned it, and a bidding war broke out right away.
Stephan: Correct.
Jack: Right. So you took it back off in order to close on it because you guys prefer to close on it first, which is 100% valid. That's how we do it too. A lot of our students choose to do the double closing, but it doesn't matter. You can do it any way that works. And so you have already closed on that deal, or is it about to be closed?
Stephan: Closed on it last Thursday.
Jack: Last Thursday. And how much did you pay for that one?
Stephan: That was one we paid $7500.
Jack: $7500. And you're already in the bidding war, Fritz or Stephan? Tell me how much was the highest bid in the bidding war?
Fritz: When we went to market, it was rather unique. So we went to market at $32,000, and the price then just started going up. We had offers…
Jack: People literally told you, "I'm offering more, I'm offering more, I'm offering more," and the highest bid was, what, $45,000, you mentioned?
Stephan: Well $41,000 was the highest.
Jack: Okay, $41,000. $7500, let's say with closing cost $8000, to $41,000. That's a $32,000, let's say, swing on the deal. I mean, that's fantastic. Now we're adding it up. You're almost at $50,000 in profits if we add it up, or $45K. That obviously more than pays for coaching already. You guys must be pretty happy at this point.
Fritz: We are.
Stephan: Absolutely.
Jack: Okay, fantastic. So now, how does this compare to other kinds of real estate that you have done already, particularly, like, Stephan, you mentioned you have done commercial and other things?
Stephan: Sure. Well, I mean, first of all, it's so much different because I've always been dealing locally, at least, you know, in the central Missouri area, where this is all over the country. We don't see the property. So it's been very interesting. I mean, dealing with the different title companies, things like that has been different because they do things a little differently. So that's been a learning experience. Yeah. I mean, the whole process is very different than you want you typically encounter…
Jack: Is it harder than house flipping or doing more commercial real estate?
Stephan: Well, I mean, commercial real estate is a little bit harder to get into than normal, residential real estate anyway, and so it takes time also. Of course once you've built up a name in your area, then, you know, things flow a lot better.
Jack: They flow better. Yes, absolutely.
Stephan: So that's been a little bit of a challenge because it's hard to build a brand when you're dealing all over the country.
Jack: Which, by the way though, happens in land too. As you become known in those areas where you do successful deals, as you go back and do more and more deals, you will become known in those areas. And we have students that make six figures in one county or in one part of a county year after year after year, earn multiple six figures. And they only do this in, like, two or three counties around the country where they have become the name of the game, and everyone comes to them. And they're making high six figures just focusing, just becoming that brand. There is multiple ways to approach that. If you want to be the brand, you can do that. Or if you want to go around and just pick up deals wherever you find them, that's the other way. So very cool. Very good. So, Fritz, now why did you guys get into the land flipping other than that your wife said it might be the easier way? Why real estate? Why did you pick real estate? What do you want to accomplish in life with this method now?
Fritz: Well, first of all, with my brothers, I mean, we wanted to do something that we could all do together. And I think that the land flipping business is unique in that we don't live together. I live in Orlando. Stephan lives in central Missouri. I have somebody who lives in St. Louis. Our other brother lives in St. Louis. And so this was really the one business that allowed the three of us to work together being geographically distanced as we are.
Jack: Right.
Fritz: So that's part, yeah. That's part of it. And, you know, I think that, I mean, we all have… I also find it… I mean, this business is unique in that I know of no other business where you can actually enter into the business, send out a few letters, or in our case we send out a lot of letters. But, you know, at some point in time you have someone who actually accepts your offer. And all of a sudden you are now leveraging a piece of a property that you made an offer on, and it may be worth five to six times what you made an offer on. And, you know, when all that magic comes together, it's really a pretty remarkable experience. You just realize that, you know, I know of no other business where, I mean, I'm sure there are other facets to this, but where you can actually enter into the marketplace as we have with our experience and leverage other people's property to make a profit.
Jack: Right. A hundred percent agree. So now, how was the, you also went to the two-day Maximizer training earlier on, right? So how was that experience? Was that helpful to learn all the different, how to use the systems, and how to use the process, and integrate it with the software, and use them both hand in hand?
Fritz: Yeah. Oh yeah. I mean, there's a lot to Investment Dominator, and I would argue there's probably a lot to Investment Dominator. I mean, there's certainly more. It's become, I think it's a pretty sophisticated database, and it's constantly being refined. And so there's probably a lot to it that we still stand to benefit from. Having said that, you know, you need to get your introduction somewhere, and the Land Profit Maximizer, I mean, that course was tremendously helpful.
Jack: Okay, very good. And then that's moving on to coaching. So what did coaching do you for you guys? Did it accelerate your process? How was the experience? What did it do for you guys to be able to succeed the way you are succeeding right now?
Fritz: You know, I would argue that the coach, first of all, coaches bring a lot to the conversation. There's a tremendous amount of experience. But they're also there to keep you on track. In other words, one starts out thinking, well, there's more complexity to this, as with anything, than you might originally anticipate. So a coach is tremendously helpful to make sure you get, you know, you get through those rough spots and kind of an encouragement to keep you going, and to drive your forward. I think without the coaching it would be really easy to get to a certain place and become frustrated and not necessarily have someone. You wouldn't have someone to reach out to and say, "Hey, I'm struggling with this," or, "I need help with that." And, you know, without that coach you're kind of on your own.
Jack: Yeah.
Fritz: I have always found, you know, that having… You know, you're gonna pay one way or the other, right? You'll either pay for a coach, and for sure there's a cost up front, but hopefully you get through those hurdles and those points where you might otherwise struggle more quickly and move forward more quickly. Or you can do it without a coach and you'll find that you struggle possibly a bit more. And, you know, that's painful as well.
Jack: Right. Yeah, absolutely. I would agree with that. I always say that you pay either way. You pay for it either with by investing in yourself and learning and growing with the help of a coach, or you pay for it by making a lot of expensive mistakes that cost you not just wasted money on deals that you might not get that you otherwise would have gotten or even on time because on average the people that do it just take multiple times longer to make it happen than the people that engage in coaching. So very nice. Thank you very much. Thank you very much for that. So great.
So now what's the future hold? What's the goal for you guys going forward? Now that you've cracked the code, we've gotten you to the success, you mastered the system, and, yes, there's always more to learn in Investment Dominator, but you have that really solid foundation of the three pieces together, the trifecta of the program, the software, and the implementation. And then you guys chose the additional piece of the coaching. So now you've gotten two deals done, the third one which there's already a bidding war for. What's the future bring? How are you gonna…? Yeah. What are the plans? What are the goals for the three Depenthal brothers?
Stephan: Well one thing I've always said is, you know, getting started is always the hardest part. When I think back on my career, and I've started different locations, different efforts in real estate, that the first deal is always the hardest.
Jack: Yeah, it always is. That's why we celebrate it. That's why we get the notification about it. That's why. Because that is the one. After that, you will always remember it, first of all, but secondly that's the one where it's like, okay, proof of concept. Done. It works. Okay? And now we got five more in the pipeline or three more in the pipeline. Let's do them again. Let's do the next one, the next one. And now it's a repetition. And then afterwards in phase three of the coaching it's about setting up the systems for true scale. So the first one is the hardest, exactly. That's why my question is: have you guys talked about what the goal is now? Do you have a number in mind for how many in the next 12 months or six months you want to do?
Stephan: Fritz, go ahead.
Fritz: Well yeah. You know, I'd like to figure out how to get to $250,000 a year without too much struggle, you know.
Jack: All right. So is that $250,000 a person or $250,000 as a business?
Fritz: I'm sorry, what was that?
Jack: Was that $250,000 a person, $250,000 a brother, or is that $250,000 total?
Fritz: It's gonna have to be $250,000 a person. I don't intend to share that.
Jack: All right, so $750,000. Great. Well, here, look at it. You're making almost, you're at $45,000 with three properties. So that means with 30 deals like that, and with the same kind, like one $5000, one $30,000, on $10,000. With 30 deals a year, you're at $450,000. So all you need is basically about 50, 55 deals and you're there. So that equals four deals a month. With four deals a month of similar quality, you're at your goal. So let's say five deals a month, if a couple of them are lower end. That's not that much challenging now that you have gone through the first three, and you know what it takes because starting now with your knowledge, it's just a numbers game. Once you're at the point that you are, it becomes a numbers game with some additional coordination kind of effort necessary. So you guys in? You guys ready for the challenge of $250,000 a person in the next 12 months?
Stephan: That would be wonderful. Absolutely.
Fritz: Yeah, for sure.
Jack: All right. So we're gonna hold you to that. So that sounds good. Always my last question is: if somebody is watching this, and they're just looking at it, and they're thinking, like, "Is this really true? Is this really real?" what would you tell them? If they're wondering if they should do it, what would you tell them?
Fritz: I would say it is. I mean, it is absolutely real. Okay? I would say that you need to be prepared to work. In other words, it's not something, you know, it's not necessarily something that you can do casually. I mean, you can, but you won't have, you know, you won't necessarily drive success. So I think it's a matter, if you're willing to commit yourself to it, if you're willing to take advantage, I mean, coaching certainly, to take advantage of that. I would also say this. There are really wonderful webinars that, you know, that are offered every Tuesday. Some of them may be more relevant to what you're doing than others. But I must say that the support there is also fabulous. I mean, the LBG family really does, you know, it's an easy family to plug into, you know, certainly with…
Jack: The Tuesday evening calls you're referring to is our group coaching calls that we do where one of our master coaches come on and teaches and advanced concept. And afterwards it's saved in a database so you can watch it any time in your area. So yeah, that's been a great addition to what we do, and it's become a very, like, it's become one of our most popular things people watch, our students attend. Yeah. We got a great group of coaches too. So awesome. So with that guys, thank you very much. That's really all I wanted to ask you guys. I love the deal. It seems to have been not, like, an overly complex deal in the way that there weren't, like, people that were divorced with eight names on the deed and things like that. They were simple deals. They were straightforward deals. The sellers didn't want them anymore. They gave them to you, and you flipped them, and you made really, really good money. So with that said, I really wanted to thank you for being here with us. And with that, guys, that's pretty much it. So thanks a lot. Thank you for being on the line with us.
Stephan: All righty.
Fritz: Thank you.
Jack: All right.
Stephan: Okay. Bye-bye.
Jack: Thanks a lot.
Enjoy this podcast? Share the love!