There are two main phase to flipping land: 1) Finding and purchasing the land, and 2) selling the land. Let's focus in on one method that can help you do the second part – selling. Specifically, we'll be looking at listing you land on that most wonderful online selling tool, eBay.
First off, why use eBay? Look at the graphic below.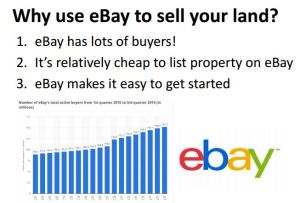 eBay has been online since 1995, and all that time it has focused on keeping its design simple and intuitive for buyers and sellers, and the listing price is relatively cheap for the amount of exposure it gets you.
There are three types of auctions that my team and I have used successfully:
Bids for down payment (with set terms for seller financing)
Bid on purchase price (with delinquent taxes included)
Bid on a final purchase price (with or without a reserve price set beforehand)
How can you structure your listing so that it motivates potential bidders to click that button? Apart from including plenty of calls to action, you will need to include some specific information about the parcel. After choosing the biggest benefit of the land (so that you can market it to your target audience), make sure that your listing includes:
The locations of the land (including city and state)
Lots of pictures – If you live far away, consider using a service like www.wegolook.com
Comparable lots for sale
Terms that are clearly and positively explained (not set forth in scary legal language)
It might take a few listings until you finally find a serious bidder, but include the multiple listing costs in your "closing fees". And while PayPal is great for accepting down payments, they frown on people using their services for regular land payments – it's a quick route to getting your account suspended.
eBay is a great tool for getting your land out in front of a lot of eyes. So why not use it for your next sale and let their established system and clientele work for you?