My Wealth Wheel method is comprised of several steps (as you can see below):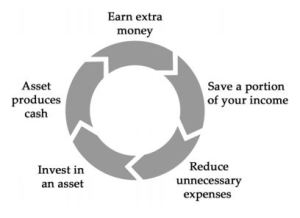 After you have earned and set aside some seed money, the time comes to invest in an asset.
My favorite cash flow assets are rental properties.
If you have saved up some money and are ready to purchase, you might be asking yourself which kind of property you should purchase.
Here is a great article weighing the benefits of different kinds of properties and answers the question "Single Family Houses Versus Multifamily Rentals. Which Is Better?"