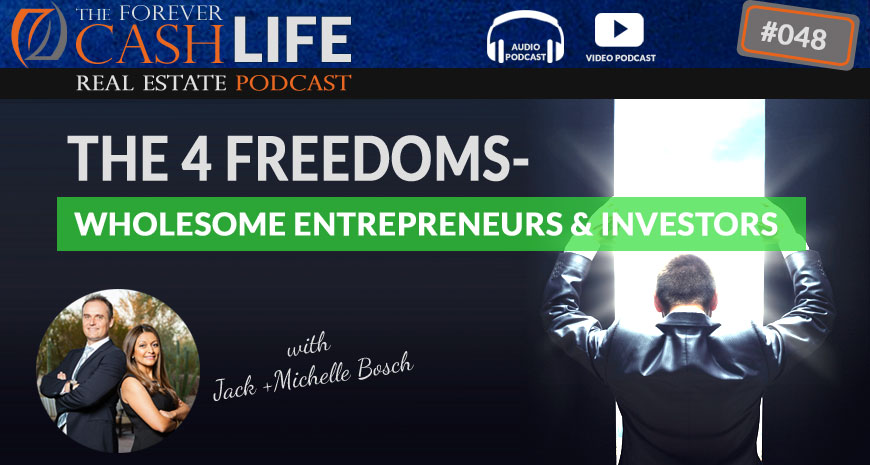 Welcome to episode 48. This episode is our welcome back, re-launch episode after being away for quite some time. We are excited to get back to it and re-launch with not just an audio podcast, but also a video podcast option.
Today we're going to be talking about what it means to be a wholesome entrepreneur and investor. We're going to talk about what we call the 4 freedoms in life and what Forever Cash is and how you go about generating it. If you're ready to invest in yourself, emotionally, and financially, and if you're ready to form a new direction, reinvent yourself, and are willing to do the work it takes to succeed, this podcast is exactly what you need.
Listen and enjoy:
Podcast: Play in new window | Download
What's inside:
Welcome back
What we never learned in school
The trap of the American Dream
Our story of getting out of debt and starting in real estate
The 3 kinds of cash: one-time cash, temporary cash, and forever cash
Stop trading time for dollars and the difference between money and wealth
How to make land cash flow
How to have someone else pay for your monthly expenses
What are the 4 freedoms and how do they impact your life
Mentioned in this episode:
Tweetables:
Transcription:
Michelle: Hi, everyone. This is Michelle Bosch.Jack: And Jack Bosch.
Michelle: And this is the Forever Cash Podcast.
Jack: Podcast.
Michelle: And in this episode of the podcast, we're gonna be talking about who's this podcast for, who is it not, and about the three types of cash.
Jack: So, we'll be ready in just a second.
Male: Welcome to the Forever Cash Real Estate Investing Podcast with your host Jack and Michelle Bosch. Together, let's uncover the secrets to building true wealth through real estate and living a purpose-driven life.
Michelle: Okay. So, we are relaunching the Forever Cash Podcast by popular demand. We had started this two or three years back.
Jack: As an audio podcast only.
Michelle: As an audio podcast only.
Jack: Talking mainly about our main investment technique in real estate, which is land flipping. So you can go back and look at the audio version of this podcast on iTunes, and look at all the 45, 50 episodes there. They're very timely still. But now that we relaunch the podcast, both as an audio and a video podcast, and you might see this video on YouTube and different, we're super excited to talk about a whole bunch more than land flipping. Land flipping will still be a method because we love it, because it's real estate without houses, right? But also we're going to talk about different subjects,
Michelle: Yeah. So this podcast is really by investors, for investors. And it'll talk about all things relating to Forever Cash, real estate investing, but also about being a wholesome and an entrepreneur and a wholesome investor.
Jack: Right.
Michelle: And how we can use our businesses, that we are creating, to basically create for ourselves four freedoms, freedom of money, time, relationships, and purpose.
Jack: Absolutely.
Michelle: And do you wanna start by who is it for, who is it not for?
Jack: Well, absolutely. This podcast is…
Michelle: Should we talk about ourselves?
Jack: We talk about ourselves?
Michelle: Why should they listen to us?
Jack: yeah, we can talk about that. So we've gotta give a little teaser about whether or not this is for you, but very simply, there's Michelle, I'm Jack. We have been in this country for over 20 years, right? Coming to this country in 1995, 1997. Met, fell in love and created a family together. Created a family together. Have a beautiful little daughter. At this time that we create this video, 10-years-old. And back in 2002, at the end of 2002, we were sick and tired of our jobs and recreated a real estate investment system that allows you to make the same money that house flippers do just without the houses, right? By utilizing another asset class in real estate that is land and lots, right? The market is hot. Builders are looking for land and lots all over the place. And, with our method, you can find a piece of land that the owners no longer want, just like there's many houses that the owners either no longer want or just need to get rid of financially and so on, that you can pick up for 5 to 25 cents on the dollar, and you can flip for a massive profit in many cases, similar profits through houses in some cases, even higher profits.
So that's what we have created. We've done several thousand deals together. And since the year 2008, we have also been teaching this out to those who wanna change their lives. But in the process, we have been actually teaching more than that. And that's what this podcast is actually about. It's not just about land flipping. Land flipping is a beautiful way that you with very little money can make and build that financial freedom that you and your family want and deserve and so on. But it is really what comes behind the scenes, is really more of a wealth philosophy. Right, Michelle?
Michelle: Yeah. Absolutely.
Jack: It's a philosophy about what we call Forever Cash, and perhaps you can talk about that a little bit more and then I can share the different cash's. But what does forever cash mean to you?
Michelle: Actually, I wanna back up. And I wanna be able to first specify who is this podcast for and who is it not.
Jack: Absolutely, yes. Let's jump into that.
Michelle: So, this podcast is not for you if you're looking for a normal life and normal results. What I mean by that, if you're basically wanting to coast through life and you want things to be good enough and you're basically striving and looking for average. If that's you, you should stop this recording or this video because this isn't for you.
Jack: And go watch puppy dogs.
Michelle: Or whatever. Yes. It's also not for you if you have no confidence in yourself or in your ideas. That's another big one. It's not for you if you don't want to participate in, you know, elevated and purposeful conversation.
Jack: Absolutely.
Michelle: If that's not you, it's probably a waste of your time. And also, it's not for you if you do not have the situation right now where you can invest in yourself or you don't want to either emotionally or financially, and if you're resistant to direction, reinvention, and just not willing to do the work, basically, and think for yourself. This is who it's not for.
Jack: Right? Because we're going to have some honest discussions here. We're going to have some bold advise. And we also might have some guests on there that have…they're opinionated. And they're very, very successful, and they give you their opinion very clearly and strongly. so you gotta be willing to change something in your life if you don't have yet the success that you desire in your life. All right, go ahead.
Michelle: This podcast is for you if you're willing to take bold action and you believe in self-initiative, resourcefulness, and really in just creating a massive impact in your life and in the life of your family. And not just your family now, but for many generations to come. If you believe in that, then you're at the right place. Yay. It is for you also, if you have a commitment to giving always your very best and in holistic growth. Really working, not just on growing your business but in growing yourself as an individual, then this podcast is for sure for you. And it's also for you if you embody integrity, you know, if you embody authentic conversations through open communication, this is definitely for you. And lastly, if you believe in transformational results that create an impact in your life, like I said, and in generations to come.
Jack: Absolutely. That's the key. That's the keystones, the foundational stones of this podcast, honest conversations, changes, and then that leads you to success. So, wonderful. Thank you very much. So with that, let's jump into now the content.
Michelle: The three…
Jack: The three things.
Michelle: Yeah.
Jack: Part of our financial discovery process has been that we identified…we came to this country with literally nothing, right? The only thing we had was a decent education. So we came here to finish college. So we had a little bit of a head start. But in college, they don't teach you how to start your own business. They don't teach you to think like an entrepreneur. They don't teach you any of the pieces you need to be truly be successful in life. So we came over here and we certainly did fell into almost the trap, what I call of the American dream. Right? The American dream has most people talk about it. The American dream is to get a good job, get a good education, or get a good education, get a good job, work 40, 50 hours a week, take the weekends off, party. Soon enough, buy your first house, buy a couple of cars. Finance all of that, right. And then, perhaps, build up… And what comes with that is a whole usually lot of debt, a whole lot of credit card debt, and a whole lot off the bad debt kind of thing. So well, we did that, right? And soon enough, five years later, we found ourselves in a position that we had, or three years, four years later that we had the house, we had the wedding, we had the two cars, and we're up to here in debt and we have no money left to even live on properly.
Michelle: Our couch was on payments. Our laundry machine was in payments. The dryer was in payments.
Jack: The bed was on payments. The cars, obviously.
Michelle: The refrigerator was on payments. So everything was on payments.
Jack: Everything was on payments, and we realize this is not a way to live. And all of that, and over…through a lot of self-education, a lot of reading books and attending seminars, and really going and changing and challenging the way we looked at life, we came finally to a conclusion that not all cash is created equal. And that really became the foundation for our definition of cash, which is why this podcast is called the Forever Cash Podcast. Forever Cash is not a term in the English language, something really made up. Because, in our definition, there are three kinds of cash in this world. So one is called one-time cash, one is called temporary cash, and one we call forever cash. Now, these three terms were made up by us.
Michelle: Yes.
Jack: And we're hoping that someday they will make it into the American language more than through this podcast, perhaps.
Michelle: Versus Jack and Michele's world.
Jack: Versus Jack and Michele's world, exactly. And basically, what they mean is the following. When you work, you make money, right. You go do a job and you get paid for 40 hours worth of work, and that is defined as one-time cash. Also, if you have real estate already, and then you're doing a flip, right. Let's say you fix a flipper. You buy a house. You get a loan on it. You fix the house up. You flip the house. You made money one time and you're done. Well, we realized that unless you strike it really, really big, and I'm talking like lottery winning or you sell a company for $100 million or something like that, most people will never be able to retire based on one-time cash. It's the kind of cash that keeps you in the rat race. That keeps you going, and going, and going, and going.
Michelle: Going along with that, what I have noticed on one-time cash is that you're usually doing this when you are a beginning investor. And what I mean a beginning investor is not necessarily that you're a beginner to real estate, because there's a lot of people that are seasoned in real estate, but continue to do one-time cash. What I mean by that is that what I've noticed is that there's a parallel between the maturity of…in the time horizon of the investor when they started looking at making cash that is just not one-time cash, but that has a longer time horizon.
Jack: Right? So they're falling into the trap, one-time cash people. Whether you make $20 an hour, or $8 an hour, or $50,000 per deal, they're falling off into the trap of generating income, active income. One-time cash is always active income. You work for it, you get paid for it, and you're done.
Michelle: If the truck runs you over, the cash stops. Like, there's no one to keep on doing this for you.
Jack: Exactly. There's no one to keep on doing it. So that doesn't mean it's bad. It's actually, as a matter of fact, your first focus and your path to financial freedom should potentially be doing more one-time cash activities, but at higher margins, right? If you are right now making $10 an hour, well, the best way to get out of debt right now or a quick way to get out of debt, find something that pays you $100 an hour. If you're making $2,000 on a land flip or on a real estate flip, find something that makes you…do a higher level deal that makes you $20,000. That one solves a lot of problems, but it's still usually doesn't take care of you being able to be financially set for life. So this therefore, the second type of cash then is what we call temporary cash. And temporary cash is a concept where you get paid once…well, no, you work once, sorry. You work once but you get paid again, and again, and again, and again, but with a end date.
An example for that is, you lend somebody $1000, and they pay you 10% interest or 12% interest. So they're gonna give you $120 back on that property. Or perhaps you lend them $100,000 and they give you a $12,000 back. So they pay you $1000 a month, and then after 12 months they pay you the $100,000 dollars back, too. So you now generated $1000 a month income, but it will end. So if you create 10 of those, let's say if you have a $1 million to lend out, you can create $10,000 in cash flow from that. For one year you can put up your feet, but after one year, you have to go get back out and go re-lend the money and re-do that piece again. So that's the definition of temporary cash. It's better because it provides temporary financial stability once you have it at a certain level.
Michelle: And the land business or, you know, investing in land, it lends itself for those very first two types of cash, which are the one-time cash, which is just a flip on your piece of land, or on the temporary cash, which is when you sell your piece of land with seller financing. When you become the bank and you hold a note, and people start making monthly payments. And when you start, you know, you might have, I don't know, five properties that you sell at 200 bucks a piece, and 1000 bucks might not sound as sexy, but when you have 50, 60, 70 of these deals, you know, when you have monthly payments between $200 and $500 a piece, then these start really adding up into an amazing temporary cash flow.
Jack: And that's the concept we're gonna explain about on the future podcasts, that you can sell real estate with what's called seller financing, right? Then we do the seller finance. You can do that with houses, too. So you flip a house, make $20,000. Or you flip a piece of land or lot to a builder, make $20,000, $30,000. Or you can say, you know what, I'll give that piece of land to you, you pay me a down payment, you make monthly payments, which now brings in cash flow. Beautiful concept, beautiful way to do this, and it creates stability. But at some point of time, that thing has paid off. And then you have to start again, which ultimately, to which by the way, why do we share this? Because this is our path, right?
Michelle: Yeah.
Jack: As we started out, we started out having jobs. We started out hating our jobs. And we started out realizing we need to do something else. So the first goal was to consistently replace our income, our job income with real estate deals. So the first deals were just cash deals, and we used some of the cash to pay down debt, to pay off the couch, and the refrigerator, and all those things that Michelle just mentioned. And then once that was paid off, we had some breathing space again because now our expenses were lower, and now we started building up more additional sales often that happened with seller financing, because now we realized if we get $300, $400 a deal, we only need 15 deals to create, like $5000, $6000 a month.
And at that point of time, our expenses were not higher than that, were lower than that, that one was more than we actually made in our jobs. So therefore, that's what became the next goal. So we started building that up, and then soon enough though, we realized we built this all up, I mean, literally 10X after that, but more than 10X. But at some point of time we realized that the loans that we initiated earlier on were starting to be paid off. So we started realizing that we had to re-do this again and again in order to keep the monthly payments at this level, and then that's when the moment we came in where we looked at, well, what else is there? And what else is there is assets that you work for once and you get paid forever and ever, and ever, and ever. And those are called forever cash assets. And what are some of those?
Michelle: Some of those for us have been basically investing in single family homes.
Jack: As rental properties.
Michelle: And for the last two years, it has been investing in multi-family, basically in large apartments. Ninety units plus trying to 10X our efforts basically, and our results, not our efforts, but 10X our results, we have started down the route of multi-family. So as we have grown and we have mature in our investing life, we have basically moved on from, you know, one time, to temporary, to forever cash. And so, if you are a seasoned investor and you're looking into this last type of cash, or even if you're beginning and you're wanting to lay the foundation and the track, then you're at the right place.
Jack: Absolutely.
Michelle: Because we will, we will talk about Forever Cash assets as well.
Jack: All right. So the process is, in this Forever Cash podcast, and we're gonna talk, as I said, what Michelle just said, let me talk about different asset classes. We talk about different ways to look about it. We're gonna talk about a couple of specific techniques and more detail into those. And well talk about everything having to do with creating financial independent. And not just that, but also creating a business, and creating a life, and creating a lifestyle that has those four freedoms that Michelle talked about earlier. Freedom of time, freedom of money, and then freedom of relationships, and ultimately, the most important freedom, the freedom of purpose. And if somebody is in emergency mode right now, in survival mode, then thinking about the freedom of purpose sounds almost preposterous at that level. But you gotta get first, that you gotta first take care of some of these urgent survival needs before you can even think about the further needs after that. Right?
Michelle: Yeah. Absolutely.
Jack: All right. So…
Michelle: So, is there anything that we want them to do?
Jack: Yes. By the way, I forgot to mention all along. Make sure you put comments here below the video. We would love to see your comments. We'll make sure we check it out.
Michelle: We'll answer questions, yeah.
Jack: We answer them. We answer questions. Share those videos with your friends, subscribe to the channel. If you see this here on Facebook, like it, like the page, like the group. Join us in different places that we share. If you love watching this on YouTube, make sure you subscribe to our YouTube channel. There's going to be a ton more of these videos. As a matter of fact, when you're watching this already, there's probably several more already there that you can watch. And if you're enjoying this, comment on it. Let us know about it. And we would be happy to be in contact with you and happy to answer any questions. And ultimately help you to the life that you want, the life that you envisioned, the life that you dare dream.
Michelle: Is there anything that you want to give to them or want to…
Jack: At this time, we'll, in the future videos, we'll put out links and things like that that you can go and you can perhaps download something else. But right now, we're just literally happy.
Michelle: We wanted to get going.
Jack: Wanted to get going. Were just happy for you to just enjoy the… Just subscribe to the channel, like the page, and make sure you comment, and like it, and share it.
Michelle: Great. Well, are we done?
Jack: Right. Yeah, we are done.
Michelle: We are 18 minutes into it, yeah.
Jack: Wonderful. All right.
Michelle: Perfect.
Jack: See you soon.
Michelle: Bye.
Male: Enjoyed this episode? Then make sure you like, subscribe, and post your comments and questions below the video. We're looking forward to hearing from you.

What are you thinking?
First off, we really love feedback, so please click here to give us a quick review in iTunes! Got any thoughts on this episode? We'd love to hear 'em too. Talk to us in the comments below.
Enjoy this podcast? Share the love!