Have you ever noticed how some things seemed to come up again and again back when you were in school? Like in geometry how it felt like you were constantly using the Pythagorean Theorem to solve problems or how everything in the modern economy could trace its source back to the Great Depression.
The fact is that there are watershed moments that have great effects on the world and how we view it, and there are valuable tools that can help us solve a variety of problems once we understand their use. In my mind, the Wealth Wheel is like that. I think it is both a priceless tool for getting ahead financially and an adjustment to the way you see the world.
Please be patient with me if it seems like I have been hammering on this method lately – it's just that I want to make sure that everyone reading my blog understands how to use this series of steps to get to where they want to be. That's why all this week I will be explaining in detail how to use the Wealth Wheel method. As you read my blog posts this week, please feel free to leave your comments below to tell me about your own personal experience.
Wealth Wheel Step #1: Earn extra money and Save a portion of your income.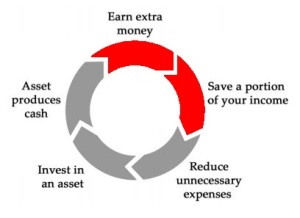 The other week, I had a student ask me how in the world she could expect to retire if right now she is barely making ends meet with a $40K salary, has no savings, and lives in a rented apartment. My answer to her was "follow the steps of the Wealth Wheel".
No matter where you are in life – even if you are confined to your home and living on a shoestring budget, the Wealth heel can help you. If you honestly examine your finances, chances are you can earmark at least a little money: by setting aside up to 10% of what you get from your job or from the government.
Along with setting aside a portion of your income (which you will place into a special seed money bank account) you will need to find a way to earn extra money. I went over this a bit last week, but let me review the pertinent details again.
You need to find a way to make more money without sacrificing a lot of time, which means that getting a second job is out of the question. While mowing lawns or washing cars might put some cash in your pocket, it won't be a lot. Instead, look for ways to make big checks in a small amount of time: flip land or houses, drop ship a product online, clean out your garage or attic and sell your stuff at a yard sale, or if you are an expert in an area hire yourself out for a few short jobs on Craigslist.
Once you have set aside money from your income and earned a little something extra, you will face a real challenge – fighting the temptation to blow it on something. Just keep your head down and keep earning and saving until you have enough to make your first investment.
Tomorrow: reducing unnecessary expenses.